Irina Shayk is speaking out in support of the designers behind Schiaparelli's controversial lion head dress following the backlash that Kylie Jenner faced after rocking the look on Monday.
The 25-year-old reality star sparked a social media firestorm when she wore the black velvet strapless dress that featured a massive embroidered lion head attached at the neckline to Schiaparelli's Spring 2023 show at Paris Fashion Week. Shayk, 37, modeled an almost identical gown when she strutted down the runway later during the show.
"I support these incredible artists who worked tirelessly, with their hands, using wool, silk, and foam, to sculpt this embroidered Lion, and image of Pride, An image that @schiaparelli invokes while exploring themes of strength," the Russia-born supermodel wrote in the caption of an Instagram post that she shared on Tuesday.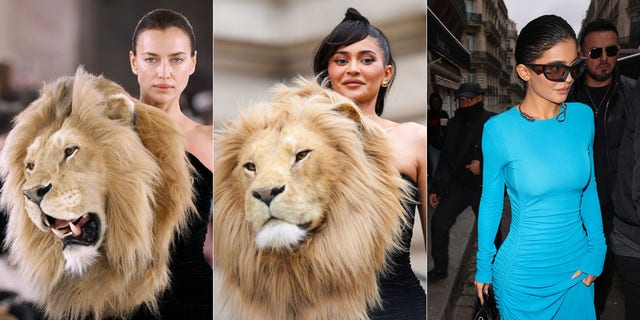 Irina Shayk defended Schiaparelli's headline-making lion head dress that she modeled after Kylie Jenner was blasted for rocking a similar look by the designer. Hours later, Jenner came under fire for wearing Givenchy's controversial noose-shaped necklace.
(Getty)
"I am honored to have been called on as well to lend my art as a woman to this," she added with a black heart emoji, tagging Schiaparelli's creative director Daniel Roseberry.
KYLIE JENNER FACES BACKLASH FOR CONTROVERSIAL LION HEAD DRESS
Shayk's post featured a slideshow of images in which she was seen wearing the dress on the runway, in fittings and backstage as well as a drawing of the design and a snap of Schiaparelli's signature gold toe pumps.
According to the designer's Instagram page, the animal head was created from "hand sculpted foam, wool and silk faux fur, and hand painted to look as life-like as possible, celebrating the glory of the natural world."
The fashion house emphasized, "NO ANIMALS WERE HARMED IN MAKING THIS LOOK."
The lion head dress was part of Schiaparelli's "Inferno Couture" collection, which also included ensembles boasting life-like replicas of a snow leopard and a wolf.
Naomi Campbell was photographed walking the runway in a furry black trench coat with a wolf's head on her shoulder. Shalom Harlow wore a leopard print dress that had a snow leopard's head sewn into the bodice.
In another Instagram post, the fashion house wrote, "The leopard, the lion, and the she-wolf—representing lust, pride, and avarice in Dante's iconic allegory — in hand sculpted foam, resin, wool and silk faux fur, hand painted to look as life-like as possible."
Schiaparelli reiterated, "NO ANIMALS WERE HARMED IN MAKING THIS LOOK."
 

 
 

 
 
View this post on Instagram
 

 
 
 

 
 

 
 
 

 
 
However, some social media users condemned the designs, claiming the animal heads might promote trophy hunting.
One user wrote on Instagram, "The only thing this is glorifying is the killing of these animals, even if this is fake. The lion, cheetah and the wolf seem like they are literally meant to look as if they were killed and used for clothing. How is this celebrating the glory of the natural world. Make it make sense."
Another expressed their dismay, writing, "Sorry but it's a no for me. Whether it's fake or not, it promotes animal cruelty," while an additional comment read: "Celebrate the glory of the natural world???? Doesn't make any sense. This is so wrong. You are promoting animal violence and supporting trophy hunting and poaching."
Jenner shared her look on Instagram and thanked Schiaparelli and Roseberry. "BEAUTY AND THE BEAST. thank you @danielroseberry and @schiaparelli for such a special morning. wow i loved wearing this faux art creation constructed by hand using manmade materials. beautiful beautiful," Jenner wrote alongside a series of photos.
However, some of her followers were critical of her decision to model the design, commenting, "There are times when you just say no. This was one of them."
Another person wrote, "One of your worst fashion mistakes of all time."
 

 
 

 
 
View this post on Instagram
 

 
 
 

 
 

 
 
 

 
 
Shayk's Instagram post was also met with some criticism. One fan wrote, "Irina sorry but no matter what you say, this still promotes animal trophy hunting. A big NO."
Another argued, "Putting a lot of work and effort into creating something doesn't make it the right thing per se. As a designer, as a model, as a photographer with influence … you do have a certain responsibility."
"I understand that the animals are not real, have not been killed but created. Still, it's a visual reference to trophy hunting. Knowingly or not, the campaign sends a very damaging message to the world. One that is defining lifeless, dead animals as luxury. Probably it was driven by the best of intentions, it still makes it a very bad idea. Why not accept the reaction of people who care for the natural world and fight for life every day?"
However, animal rights non-profit organization PETA defended Schiaparelli's designs in a statement to Vanity Fair.
CLICK HERE TO SIGN UP FOR THE ENTERTAINMENT NEWSLETTER
"These fabulously innovative three-dimensional animal heads show that where there's a will, there's a way. We encourage everyone to stick with 100% cruelty-free designs that showcase human ingenuity and prevent animal suffering," the statement read.
Meanwhile, Jenner came under fire again just hours later for donning another controversial look. The Kylie Cosmetics mogul was photographed while wearing Givenchy's noose-shaped necklace, which was heavily criticized when it first debuted in October 2021.
The accessory was featured on the runway as part of Givenchy's Spring/Summer 2022 collection during its Paris Fashion Week show. It quickly drew comparisons to Burberry's 2019 "noose hoodie" scandal. Burberry issued an apology after debuting a hoodie featuring noose-like drawstrings during London Fashion Week.
The fashion website Diet Prada posted a side by side comparison of the noose hoodie and the noose necklace, writing, "You'd think the industry would've learned not to put things that resemble nooses around a model's neck after the whole @Burberry noose hoodie debacle in 2019… This @givenchyofficial necklace that just came down the runway steers dangerously close to that same territory. Really makes you wonder how no one noticed, but alas… history repeats itself."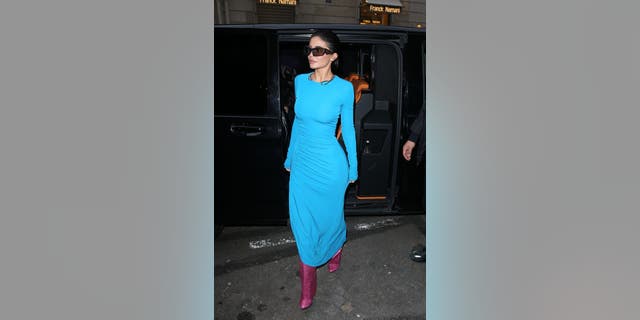 The Kylie Cosmetics mogul was photographed while wearing Givenchy's noose-shaped necklace, which was heavily criticized when it first debuted in October 2021.
( MEGA / GC Images)
On Monday, Jenner shared photos to Instagram in which she was seen wearing the Givenchy necklace, which she paired with a bright blue bodycon dress and sparkly pink boots.
Social media users quickly slammed the fashion choice. One Twitter user wrote, "Kylie Jenner wearing a noose necklace is disgusting ,this woman has no shame at all ,is she picking her outfits on purpose knowing very well they will create controversy?"
A representative for Jenner did not immediately respond to Fox News Digital's request for comment.
CLICK HERE TO GET THE FOX NEWS APP
Fox News Digital's Caroline Thayer contributed to this report.