close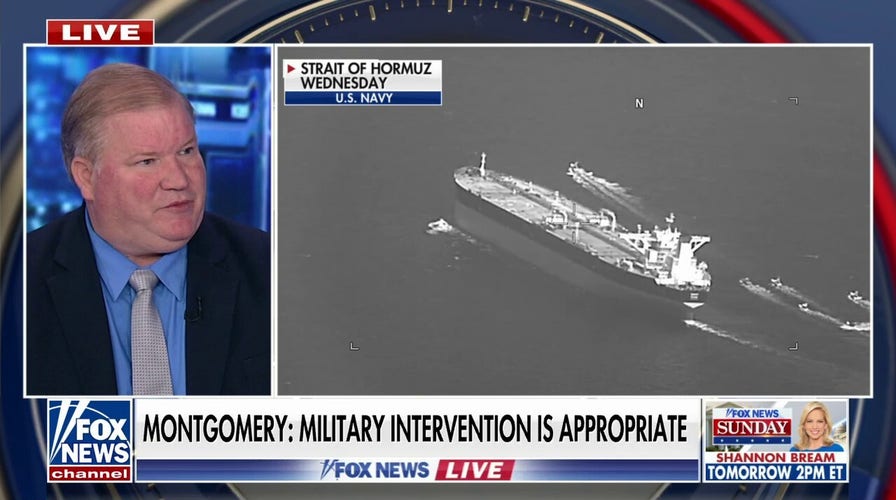 Video
Iran violates international norms, stability: Montgomery
Retired Rear Adm. Mark Montgomery joins "Fox News Live" and says the U.S. must "properly enforce" sanctions on Iran and must increase forces to ensure safe transit.
The Islamic Revolutionary Guard Corps of Iran (IRGC) stands to take control of Iran's economy by gaining full power over the "economic arteries" of the country, according to an anti-regime group.
"The documents unveiled by the MEK unequivocally demonstrate that regime Supreme Leader Ali Khamenei has granted the IRGC complete authority over Iran's economy," Alireza Jafarzadeh, deputy director of the Washington office of the National Council of Resistance of Iran (NCRI), told Fox News Digital.
"This unprecedented move enables the IRGC to not only bypass international sanctions but also amass the requisite resources to carry out domestic oppression, destabilize the region, perpetrate acts of terrorism, cyberwarfare, and expedite the advancement of its missile, drone and nuclear weapons programs," he added.
A group affiliated with the MEK recently obtained a trove of data and defaced the Iranian Foreign Ministry's website, leaking the names of more than 11,000 ministry employees, ministry correspondences and identification documents. The MEK and NCRI are also credited with revealing in 2002 that Iran was developing nuclear weapons capabilities.
US OFFICIALS ATTEND EVENT WHOSE GUEST LIST INCLUDES KNOWN TERRORIST RESPONSIBLE FOR MURDER OF US TROOPS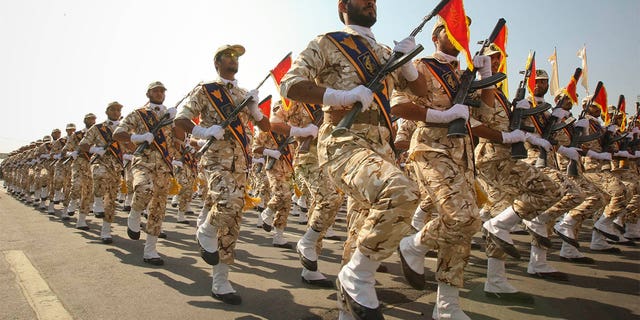 Iranian troops march during a parade to commemorate the anniversary of the Iran-Iraq war. (Reuters / File)
The Mujahedeen-e-Khalq, or MEK, is an active branch of the NCRI that has received strong support from prominent U.S. figures, including former National Security Advisor John Bolton and former Vice President Mike Pence who each met with the group and spoke with members in their Albania base of operation.
MEK provided Fox News Digital with documents, translated, that purportedly passed between high-ranking Iranian officials, including IRGC commanders. The documents include orders and decisions over economic policy, with IRGC command included and military command issuing some of the decisions.
The U.S. government on April 15, 2019, designated the IRGC as a terrorist organization, a designation the Biden administration has not indicated it has any intention of changing.
IDF RELEASES VIDEO OF AIRSTRIKES THAT KILLED ISLAMIC JIHAD SENIOR MEMBERS
Some of the "economic arteries" of which the IRGC will take control include oil field, refinery, petrochemicals, steel and mines. The group will also gain control of scientific research and development – including atomic development.
"It is now more crucial than ever for the European Union and the United States to abandon any aspirations of forging an agreement with Iran's ruling theocracy," Jafarzadeh said. "Engaging in commerce with the Iranian regime is tantamount to endorsing and empowering the IRGC in its nefarious activities."
"Instead, the international community should take decisive action to support the Iranian people in their unwavering pursuit of toppling the oppressive regime of the mullahs," he urged.
The IRGC, by controlling these apparatuses, will be able to directly profit from their industry, which could help them bypass the many sanctions placed on them by different countries.
DOZENS OF TOP US DIPLOMATS URGE BIDEN TO CEASE ALL DIPLOMACY WITH IRAN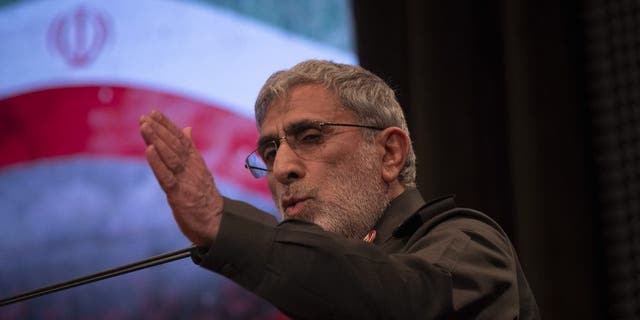 IRGC Quds chief Esmail Qaani (Morteza Nikoubazl / NurPhoto via Getty Images / File)
The group now operates through the Resistance Economy Headquarters of the Defense Ministry. In a letter dated Jan. 10, 2023, IRGC Brigadier Gen. Ishaghi oversaw a meeting that concluded with the requirement that oil and petrochemical groups submit documents, including names of complexes, challenges the groups face and all planning and resources required, which Ishaghi would review.
A letter dated from Nov. 29, 2022, discussed involving a number of institutions and companies "from the branches of the armed forces" in projects in Uzbekistan, including tractor manufacturing and the Shastan Holding Co., which is Iran's largest investment company and operates nine subsidiaries in a wide range of sectors across construction, finance and energy.
All groups in the November letter were ordered to support the armed forces and IRGC, including in the building of cement factories, thermal power plants and exploring mining opportunities.
IRAN HANGS TWO ON BLASPHEMY CHARGES AS EXECUTIONS CONTINUE TO SPIKE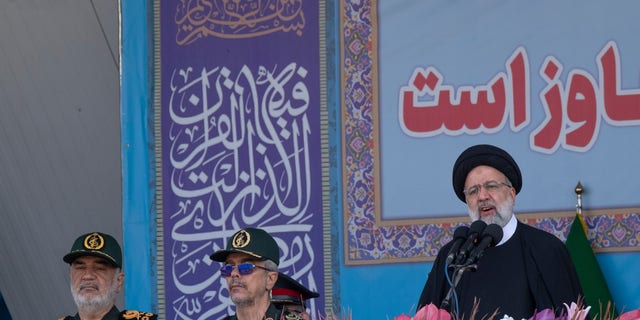 Iranian President Ebrahim Raisi, right, speaks while standing next to commander in chief of the Islamic Revolutionary Guard Corps Hossein Salami, left, and Mohammad Bagheri, chief of staff for the Iranian armed forces, during a military parade marking Iran's Army Day anniversary in Tehran on April 18, 2023. (Morteza Nikoubazl / NurPhoto via Getty Images)
Behnam Ben Taleblu, a senior fellow at the Foundation for Defense of Democracies with a focus on Iranian security and political issues, told Fox News Digital that the IRGC's role and influence over much of Iran's current structures of power remains "an open secret in Washington and Iran" and that many analysts globally understand the IRGC "is the most important economic player."
"Basically, the IRGC is really one of the most powerful, if not the most powerful, entities inside the government of the Islamic Republic, and it's really an upward trajectory for their political, economic fortunes inside Iran after the Iran-Iraq War," Taleblu explained, saying that a revelation of their influence over the country's economy "could have come in 2008, and you could believe it."
Taleblu said the IRGC "was, is and is likely to remain," absent any "wholesale change in Iran," the most important, economic force in the country. "Massive holdings acquired under a false privatization drive," he added, explaining the economic consolidation the group has already achieved.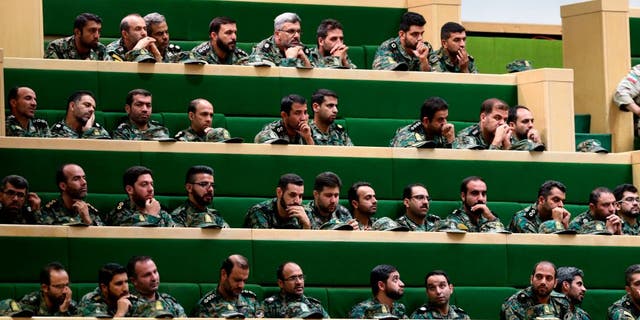 Members of the Iranian Revolutionary Guard listen to a speech in the Iranian parliament in Tehran, October 2018. (Atta Kenare / AFP via Getty Images / File)
CLICK HERE TO GET THE FOX NEWS APP
Taleblu suggested that the U.S. has enough sanction targets left in Iran to continue blunting the IRGC and regime's actions, and that such sanctions going forward will only grow in importance as the IRGC gains more influence in the country.
"The lack of enforcement against critical factors that either underwrite the IRGC activities or that directly support the IRGC activities or are directly under control by IRGC persons, means that Washington is currently doing a poor job of keeping up with this," he said.
Questions to the U.S. State Department and Iranian mission to the U.N. were not returned as of press time.
Fox News Digital's Michael Lee contributed to this report.
Peter Aitken is a Fox News Digital reporter with a focus on national and global news.