close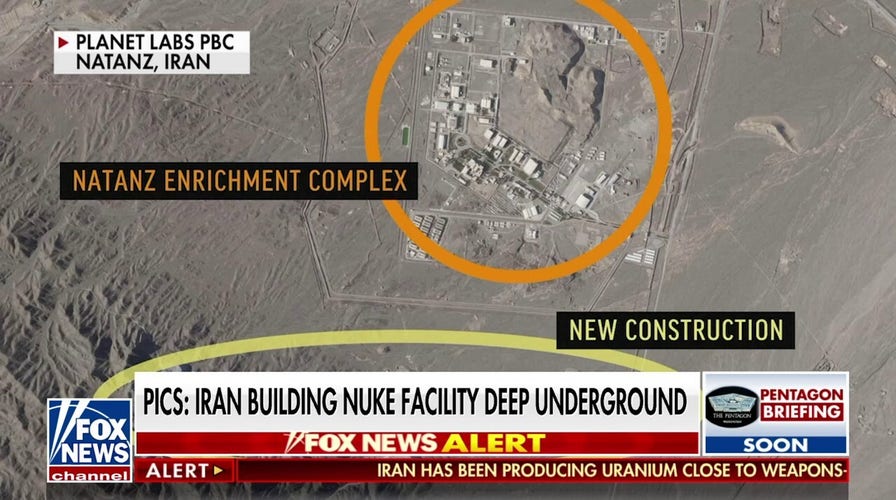 Video
Iran making progress on nuclear facility deep underground
Fox News' Jennifer Griffin reports from the Pentagon on worrisome progress being made on deep underground Iranian nuclear facility.
Iran's election to two major roles in the U.N.'s top body last week drew immediate objection from the U.S. and Israel, which condemned the moves as "absurd."
Tehran on Thursday was selected to sit as vice president on the General Committee for the 78th session, which will begin in September, as well as rapporteur for the General Assembly's committee on disarmament and international security.
International allies like the U.S. and Israel flatly rejected the appointments and immediately sought to distance themselves from the decision to place Iran – which has come under international condemnation for its continued nuclear development, human rights violations and military aid to Russia amid its war effort in Ukraine – in a top position on the General Assembly.
Iran, along with 15 other nations, was elected to join the five permanent members of the Security Council – China, France, Russia, the U.K. and the U.S. – as the assembly's annual vice presidents.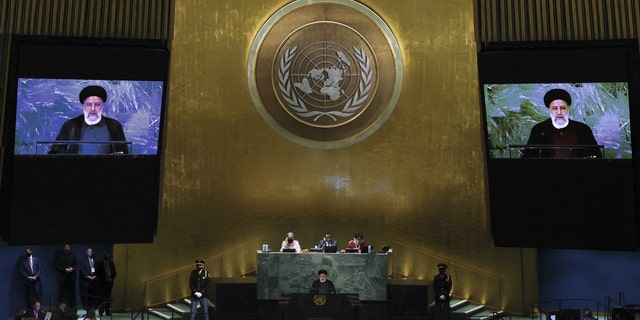 Iran's President Ebrahim Raisi addresses the U.N. General Assembly in New York City, Sept. 21, 2022. (Reuters/Brendan McDermid)
ISRAEL CALLS OUT NUCLEAR WATCHDOG, ACCUSES THEM OF MAKING 'EXTREMELY DANGEROUS' DEAL WITH IRAN
"It is a country that has repeatedly demonstrated a clear lack of respect for the U.N. charter and the authorities of various U.N. bodies," U.S. Ambassador for Management and Reform Chris Lu said during the U.N.'s proceedings Thursday. "Iran cannot act as an honest broker in its role as vice president of the General Assembly because it has shown time and time again that it does not seek to enhance global peace and security but rather works against it."
Lu said the U.S. would continue to oppose any Iranian leadership position in the U.N.
Israel's U.N. representative – who currently sits as one of the body's vice presidents for the 77th assembly – echoed the U.S. opposition and pointed out that "Iran repeatedly threatens the State of Israel using harsh anti-Israel and antisemitic rhetoric."
"It is totally unacceptable that the leadership of a Member State of the United Nations would call another Member State a cancerous growth and publicly call for its annihilation. This is a blatant violation of the Charter of the United Nations," the Israeli ambassador said, according to a U.N. recap of the hearing.
But Tehran's election as a vice president was not the only appointment that caused concern last week.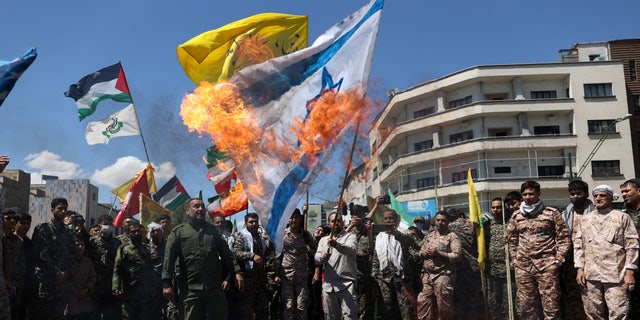 Iranians burn an Israeli flag during a rally in Tehran, April 14, 2023. (Majid Asgaripour/WANA West Asia News Agency via Reuters)
IRAN PREPARED FOR 'WHOLESALE EXPORT' OF WEAPONS TO ITS ALLIES, TOP GENERAL SAYS
Iran was also elected to serve as rapporteur on the committee on disarmament and international security in a move the U.S. called "absurd beyond contemplation," due to Tehran's blatant violation of U.N. regulations surrounding ballistic and nuclear development
"While we fully respect the prerogatives of the regional groups to select their candidates for U.N. offices, we ask the groups to consider those selections carefully and responsibly," U.S. Ambassador Robert Wood said following the decision Thursday. "It is absurd beyond contemplation that Iran would serve in a position of leadership on the General Assembly's committee on disarmament and international security."
Wood also pointed out that not only is Iran ignoring international regulations when it comes to nuclear and missile disarmament, but Tehran also continues to illegally funnel arms across the Middle East.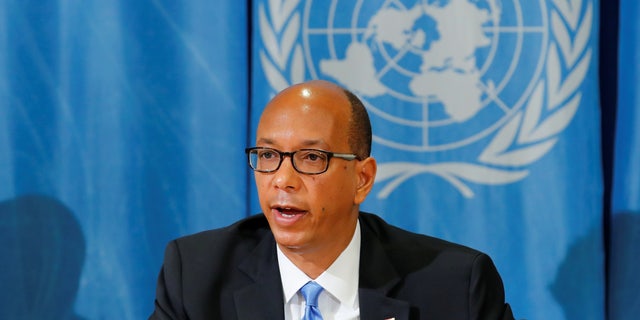 U.S. Ambassador Robert Wood attends a news conference at the United Nations in Geneva, Switzerland, April 19, 2018. (Reuters/Denis Balibouse)
CLICK HERE TO GET THE FOX NEWS APP
Iran's continued weapons smuggling to wars in Yemen and Syria has not only prolonged human suffering, violence and instability across the Middle East, but has also led to proxy wars with major international players like Saudi Arabia and Israel.
"We call on the Iranian government to end its contravention of UNSCR 2231, to stop undermining international peace and security, and to cooperate fully with the IAEA. Until it does, we will continue to oppose Iran's attempts at leadership throughout the U.N. system," Wood added.
Caitlin McFall is a Reporter at Fox News Digital covering Politics, U.S. and World news.