close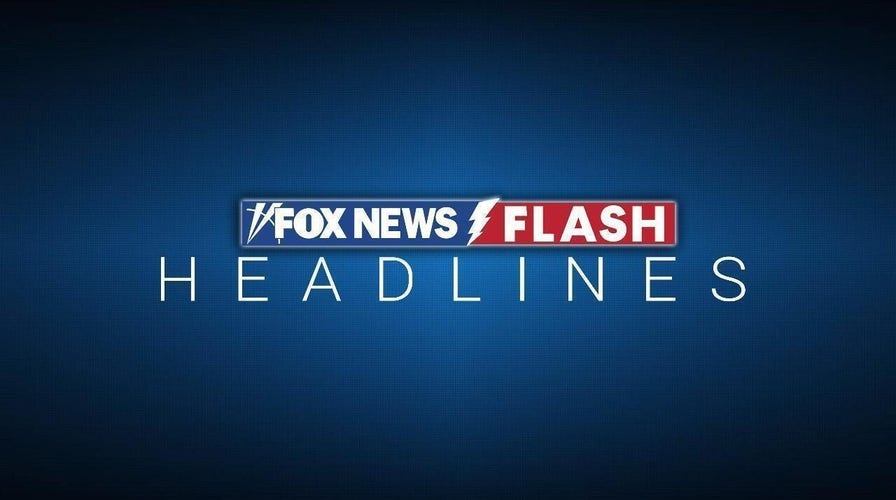 Video
Fox News Flash top headlines for August 22
Fox News Flash top headlines are here. Check out what's clicking on Foxnews.com.
Iran on Tuesday unveiled a new armed drone bearing resemblance to America's MQ-9 Reaper, with state media claiming it has the operational range to reach Israel.
The Mohajer-10 was showcased during a ceremony celebrating the Islamic Republic's Defense Industry Day.
The drone can fly non-stop for 24 hours with an operational range of around 1,200 miles and is capable of carrying a bomb payload of up to 660 pounds, according to the state-run IRNA News Agency.
It also can reach a maximum speed of 130 mph and is "equipped with electronic warfare and intelligence-gathering systems," a report from IRNA added.
US NAVY REJECTS IRANIAN CLAIMS OF 'INTERCEPT' AGAINST US NAVY VESSELS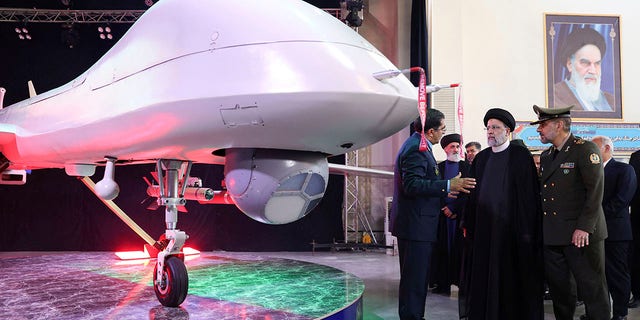 Iranian President Ebrahim Raisi, second right, attends a ceremony unveiling the Mohajer-10 drone. (Iranian Presidency Office/AP)
"Today, we can firmly introduce Iran as an advanced and technologic nation to the world," Iranian President Ebrahim Raisi said on state television during the event, according to The Associated Press.
Footage shared by IRNA showed the drone spinning around on a moving platform with smoke coming out from underneath it.
The drone later was seen purportedly taking off from a runway at an unknown location.
US BEGINS UNLOADING SEIZED IRANIAN OIL FROM TANKER JUST DAYS AFTER PRESSURE FROM BIPARTISAN GROUP OF LAWMAKERS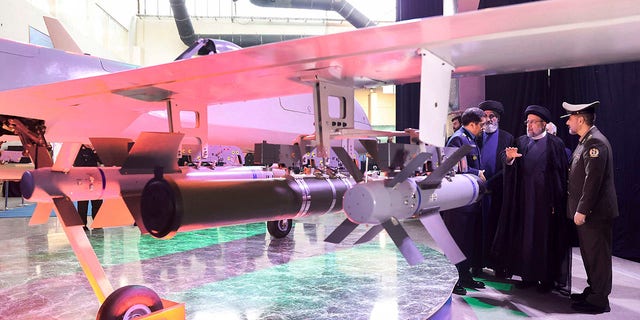 Iran's Defense Ministry unveiled a drone Tuesday resembling America's armed MQ-9 Reaper, claiming the aircraft can stay airborne for 24 hours and can reach Israel. (Iranian Presidency Office/AP)
The authenticity of the footage could not be independently verified.
The AP reports that "Mohajer" means "immigrant" in Farsi and that the Mohajer-10 is the latest in a drone line that has been manufactured in Iran since 1985.
Iran has in the past captured U.S. drones or pieces of them, but there's no evidence that it has taken a General Atomics' Reaper, which is flown by the U.S. Air Force and allied American nations as a "hunter-killer" drone that can operate at high altitudes for long hours and follow a target before attacking. North Korea in July showed off drones mirroring the Reaper, possibly designed from publicly available information about the aircraft, according to the AP.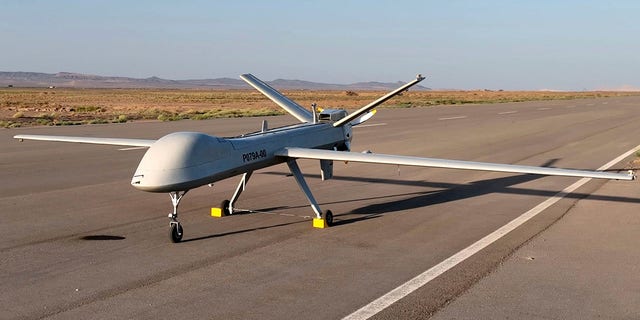 The Mohajer-10 is seen in an undisclosed location in Iran, according to The Associated Press. (Iranian Defense Ministry/AP)
CLICK HERE TO GET THE FOX NEWS APP
In December 2011, Iran seized an RQ-170 Sentinel flown by the CIA to monitor Iranian nuclear sites after it entered Iranian airspace from neighboring Afghanistan. Iran later reverse-engineered the drone to create their own variants. In 2019, Iran shot down a U.S. Navy RQ-4A Global Hawk in the Strait of Hormuz amid high tensions over its collapsed nuclear deal with world powers.
The Associated Press contributed to this report.
Greg Norman is a reporter at Fox News Digital.