close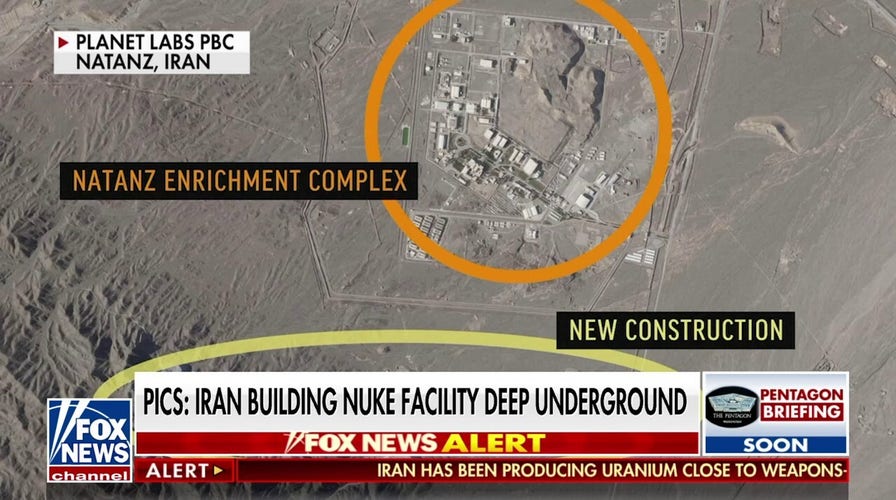 Video
Iran making progress on nuclear facility deep underground
Fox News' Jennifer Griffin reports from the Pentagon on worrisome progress being made on deep underground Iranian nuclear facility.
JERUSALEM — Iran has moved dangerously close to enriching weapons-grade uranium for a nuclear bomb, but the regime has not yet crossed the critical threshold of declaring it has built an atomic weapon.
Fox News Digital reached out to experts on Iran's more than two-decade effort to join the small group of countries that have atomic weapons for explanations about what is stopping Tehran from crossing the nuclear threshold.
"If there is reason to believe that there are a number of retardants that have put a pause in their weapons development, they'd relate back to targeted attacks by the U.S. and Israel, who clearly are very much concerned about stopping the mullahs," stated Lisa Daftari, an Iran expert and editor-in-chief of the Foreign Desk.
Daftari added, "Israel has reportedly conducted at least two dozen targeted operations on Iran's regime in the last 15 or so years, including drone attacks, cyberattacks, if you recall Stuxnet and assassinations of key players in Iran's nuclear program."
IRAN UNVEILS LATEST VERSION OF BALLISTIC MISSILE AMID WIDER TENSIONS OVER NUCLEAR PROGRAM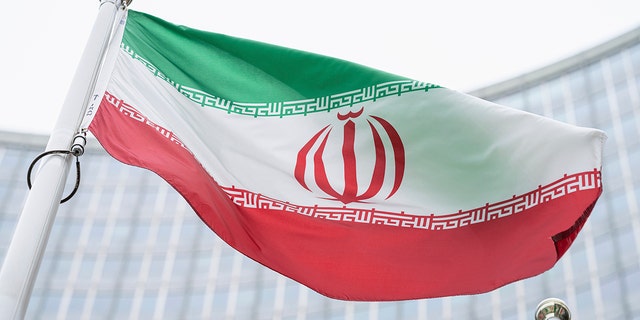 The flag of Iran waves in front of the International Center building at the headquarters of the International Atomic Energy Agency in Vienna, Austria, May 24, 2021.  (AP Photo/Florian Schroetter, FILE)
"We cannot underestimate the power of international pressure on Iran's regime," Daftari told Fox News Digital.
"That pressure has been assuaged under this current administration, who, while stepping away from the nuclear deal, are still hoping to revive some form of normalization agreement with Tehran. Otherwise, when there is consistent and targeted pressure on Iran's regime in the form of enforced sanctions and economic and political isolation, we see a weakened regime and an emboldened Iranian people who are brave enough to take to the streets," she said.
Kamal Kharrazi, a senior adviser to the Supreme Leader of Iran's regime, Ayatollah Ali Khamenei, boasted last year that "Iran is on the nuclear threshold, and this is not something secret," according to a 2022 report in the state-controlled Tehran Times.
Just this year, the International Atomic Energy Agency revealed Iran's regime enriched 84% purity of uranium, 6% shy of the 90% enriched uranium required for a nuclear weapon.
An Iranian military truck carries surface-to-air missiles past a portrait of Iran's Supreme Leader Ayatollah Ali Khamenei during a parade on the country's annual army day April 18, 2018, in Tehran.  (Atta Kenare/AFP via Getty Images)
Iran's regime is testing the resolve of the United States and other world powers who have repeatedly stated they will not permit Iran to build a nuclear weapon. Israel views Tehran's atomic weapon program as an existential threat because Tehran has frequently declared it seeks to obliterate it.
"It's an open question as to whether Khamenei wants to die as the father of the Shiite atomic bomb or as the one who kept the Islamic Republic on the nuclear path without provoking a war or pulling the trigger," Behnam Ben Taleblu, senior fellow and Iran expert at the Foundation for Defense of Democracies, told Fox News Digital.
"Currently, however, Khamenei's perception of diplomatic and security policy success abroad and ascendency at all costs at home may be sufficient to push him over the edge as he continues to age," added Taleblu, who recently authored a comprehensive assessment of Iran's ballistic missile capabilities and intentions.
Fox News Digital reported this week that Iran is burrowing deep into tunnels near a peak of the Zagros Mountains in central Iran to shield a nuclear facility from conventional weapon attacks.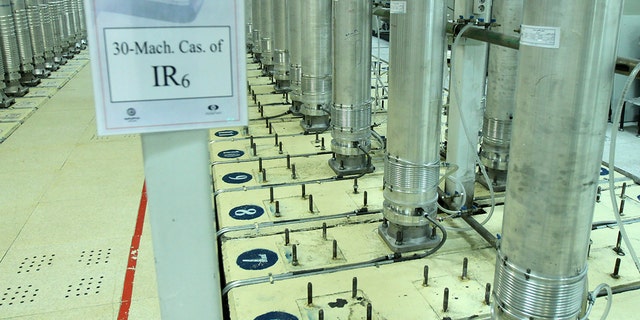 This file photo released Nov. 5, 2019, by the Atomic Energy Organization of Iran, shows centrifuge machines in the Natanz uranium enrichment facility in central Iran. (Atomic Energy Organization of Iran via AP, File)
Aside from the technological impediments for the construction of a modern nuclear weapon, Iran's regime has been confronted with deterrence from Israel and the United States over the years, including Stuxnet computer worm sabotage of the regime's nuclear fuel production system.
"I think Iran's leadership to date has calculated the costs of doing so would outweigh the benefits at this juncture — mainly a destructive attack which targets its entire nuclear infrastructure," Jason Brodsky, policy director of the U.S.-based United Against a Nuclear Iran (UANI), told Fox News Digital.
ISRAEL'S DEFENSE CHIEF WARNS TEHRAN AGAINST FURTHER NUCLEAR DEVELOPMENT: 'WE HAVE THE ABILITY TO HIT IRAN'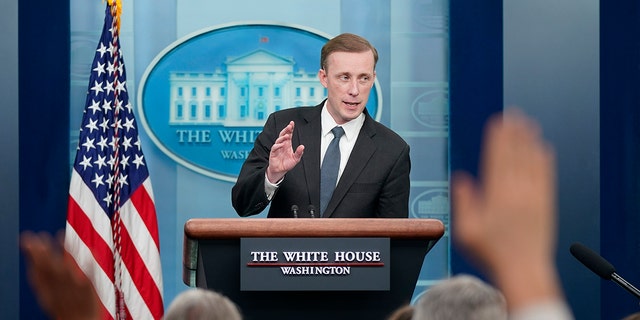 National security adviser Jake Sullivan speaks during a press briefing at the White House March 22, 2022. (AP Photo/Patrick Semansky)
"But my concern is that calculus risks changing as the U.S. and Europe's non-response to Iran's nuclear escalation over the last two years — for example 60% enrichment and production of uranium metal — has emboldened Tehran's leadership to continue testing international red lines."
Brodsky added that "If that perception is not altered, Iran is likely to enrich uranium to weapons-grade levels at 90%. Tehran's risk-aversion to date shows that it can be deterred. But that can quickly change if the Islamic Republic receives no pushback as it advances its nuclear program."
Earlier this month U.S. National Security Adviser Jake Sullivan said in a speech to the Washington Institute for Near East Policy that the Biden administration had "Made it clear to Iran that it can never be permitted to obtain a nuclear weapon. As President Biden has repeatedly reaffirmed, he will take the actions that are necessary to stand by this statement, including recognizing Israel's freedom of actions."
"We've restored unity of purpose between the United States and Europe and much of the world against Iranian provocations, nuclear activities," he said while also noting that the U.S. is exerting pressure on "Iran through sanctions."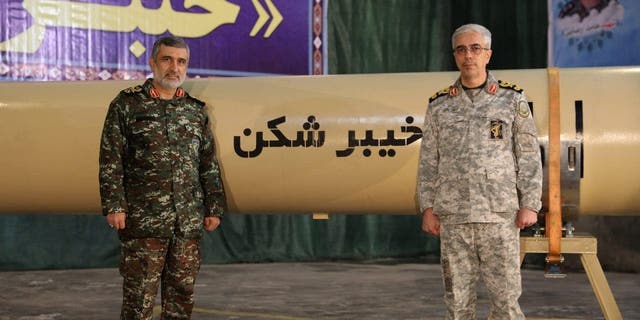 Iranian Armed Forces Chief of Staff Major General Mohammad Bagheri and IRGC Aerospace Force Commander Amir Ali Hajizadeh stand together during the unveiling of a Kheibar Sheka missile at an undisclosed location in Iran Feb. 9, 2022. (West Asia News Agency/Handout via REUTERS )
"Iran has not crossed the threshold into building a nuclear weapon because the supreme leader has not decided to weaponize the program," Joel Rubin, a former deputy assistant secretary of state who served in the Obama administration, told Fox News Digital.
"This position has been confirmed by multiple U.S. intelligence community assessments over the past several years." He continued that "While only the supreme leader can truly say why he has taken this position, it's known that continued diplomatic isolation by the international community that followed the expansion of its nuclear program is causing pain for the Iranian regime."
AIR FORCE SQUADRON IN MIDDLE EAST ARMS UP WITH 'BUNKER BUSTING' BOMBS TO COUNTER IRAN
Rubin said it was clear that Tehran was "Still open to pursuing a diplomatic path as it knows that if it crosses into weapons-grade nuclear arsenals, which it is capable of doing, the nation would be further isolated internationally — even by its allies. It would trigger a regional nuclear arms race, and Tehran would never get out from under the sanctions pressure it currently is experiencing," he said.
"What is clear from recent years is that a firm, verifiable diplomatic agreement with Iran over its nuclear program is the best way to ensure that it never obtains a nuclear weapon. Military threats alone will not get us there," Rubin concluded.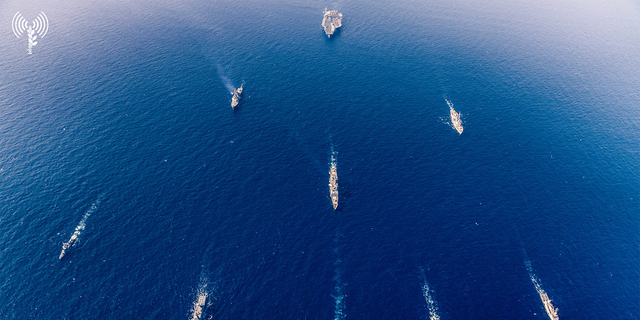 U.S. Central Command and the IDF are taking part in a joint military exercise known as "Exercise Juniper Oak" taking place in Israel and the Eastern Mediterranean Sea.  (IDF Spokesman's Unit)
Low-intensity military deterrence against Iran's regime has been playing out for a number of years, according to Israeli media outlets.
"We have the ability to hit Iran," Israel's defense chief warned this week.
The United States military and Israel Defense Forces launched a joint drill, Juniper Falcon, in February. The IDF's website stated "The exercise tested collective U.S.-Israel readiness and strengthened the interoperability between the two militaries," the IDF stated on its website after the drill.
Yet there are growing concerns the Biden administration is not inflicting enough pressure on Iran's regime to change its conduct. Over 100 former world leaders urged Biden this week to get tough on Iran.
Earlier this week Israel's Defense Minister Yoav Gallant reportedly said during a visit to Hatzor Air Force Base that Israel is preparing for a "complex, difficult and more significant objective."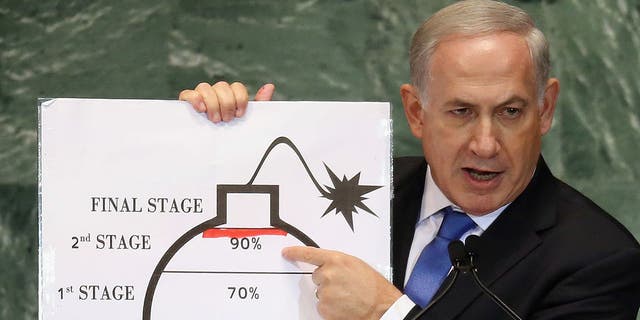 Benjamin Netanyahu, prime minister of Israel, points to a red line he drew on a graphic of a bomb while addressing the United Nations General Assembly Sept. 27, 2012, in New York City. (Mario Tama/Getty Images)
EX-MOSSAD CHIEF SIGNALS ISRAEL BEHIND IRAN NUCLEAR ATTACKS
Military deterrence has been the single greatest factor in slowing Iran's illicit nuclear program. U.S. saber-rattling has influenced a change in the Islamic Republic's behavior.
In 2007, a declassified U.S. National Intelligence Estimate determined with "high confidence" that Iran's regime stopped it nuclear weapons program in 2003. Iran experts believe the Islamic Republic temporarily pulled the plug on its illegal atomic program due to the U.S. invasion of Iraq and fears the U.S. would launch a military incursion into Iran.
The sheer survival of Iran's regime forced the then supreme leader Khomeini to agree to a cease-fire with Iraq in 1988 after eight years of war. At the time he compared the truce to drinking from "a chalice of poison."
CLICK HERE TO GET THE FOX NEWS APP
American pressure prompted Khomeini to release U.S. hostages in 1981 during the diplomatic crisis. All of these examples suggest Iran's regime is enormously vulnerable to military pressure and other forms of leverage that threaten its legitimacy and existence.
"Iran's regime is quite calculating," Daftari said. "As rogue as they have been in capturing oil tankers in the seas, continuing the support of regional terror and, of course, the brutal wholesale executions of innocent protesters, they continue to weigh out the consequences of a heated military confrontation with Israel or the United States."
Benjamin Weinthal reports on Israel, Iran, Syria, Turkey and Europe for Fox News Digital. Benjamin has contributed articles to The Wall Street Journal, The Jerusalem Post, Foreign Policy, Haaretz, Forbes and The New York Post. You can follow Benjamin on Twitter @BenWeinthal.