close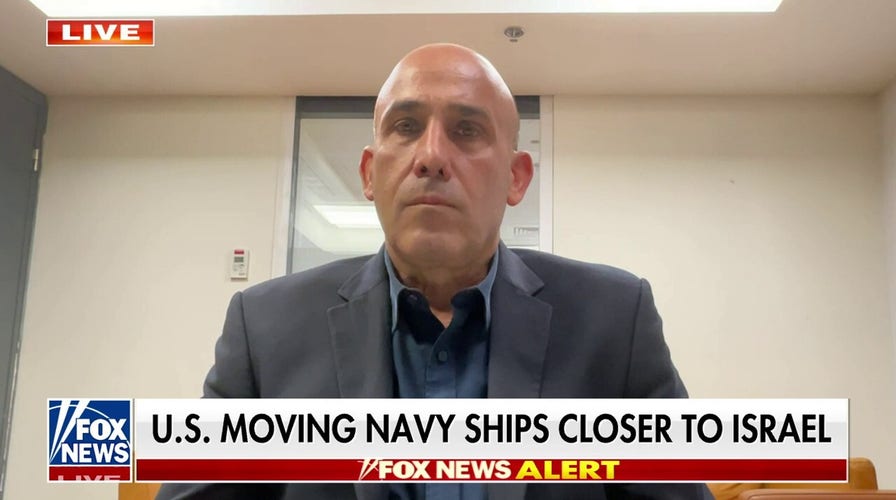 Video
Israel has to 'maneuver massively' inside Gaza: Amir Aviv
Reserve Brigadier General Amir Avivi joined 'Fox News Live' to discuss the latest updates from the Israel-Palestine conflict as the death toll continues to rise.
A report from the think-tank Foundation for Defense of Democracies (FDD) outlines the nearly two dozen proxy groups Iran has funded and armed around Israel's borders, making clear the danger that could be waiting in the coming days.
"I know they're connected to Iran in one way or another, or some of them are affiliated or with groups – they work with Hamas or with [Palestinian] Islamic Jihad… so there's an affiliation there as well," Joe Truzman, of the FDD, told Fox News Digital, explaining the report on these groups and ties are something he's been "tracking for years."
Hamas terrorists launched thousands of missiles at Israel and invaded towns along the Gaza border on Saturday, killing at least 700 people and wounding thousands more and prompting Israel to declare war against the Iran-backed group.
Just before the Hamas attack, Iran's Supreme Leader Ayatollah Ali Khamenei wrote on social media platform X, formerly known as Twitter, that "the usurper regime is coming to an end," in reference to Israel.
BIDEN BLASTED FOR 'APPEASING IRAN' AHEAD OF DEVASTATING ATTACK ON ISRAEL: END THE 'ONE-SIDED CONCESSIONS'
"Today, the Palestinian youth and the anti-oppression, anti-occupation movement in Palestine is more energetic, more alive, and more prepared than ever during the past 70 or 80 years," he wrote. "God willing, the movement will achieve its goals."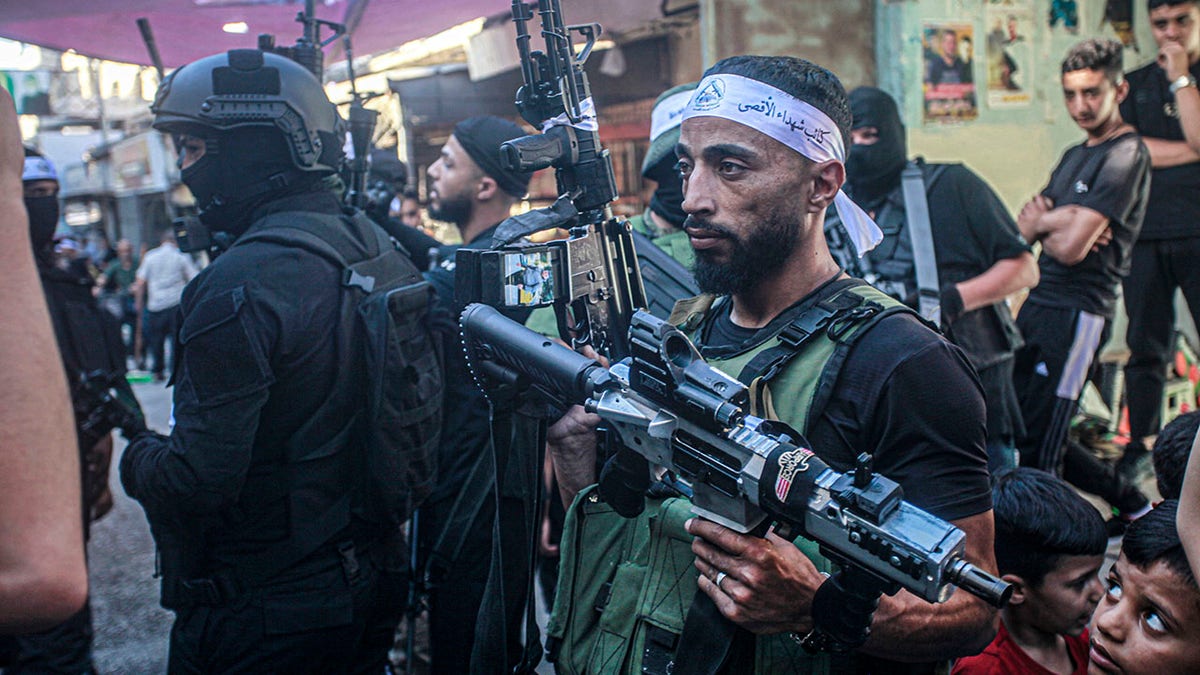 A Palestinian gunman from the Al-Aqsa Martyrs Brigades carries a weapon during a military parade in the Balata refugee camp, east of Nablus, in the West Bank, on July 15, 2023. (Nasser Ishtayeh/SOPA Images/LightRocket via Getty Images))
Lior Haiat, the spokesman for Israel's Foreign Minister Eli Cohen, told Fox News Digital on Saturday, "Those terror organizations [Hamas and Palestinian Islamic Jihad] are working as proxies of the Ayatollah regime" in the Islamic Republic – an assessment that many have echoed, though the U.S. has stressed it is "too early to say" if and to what degree Iran is involved.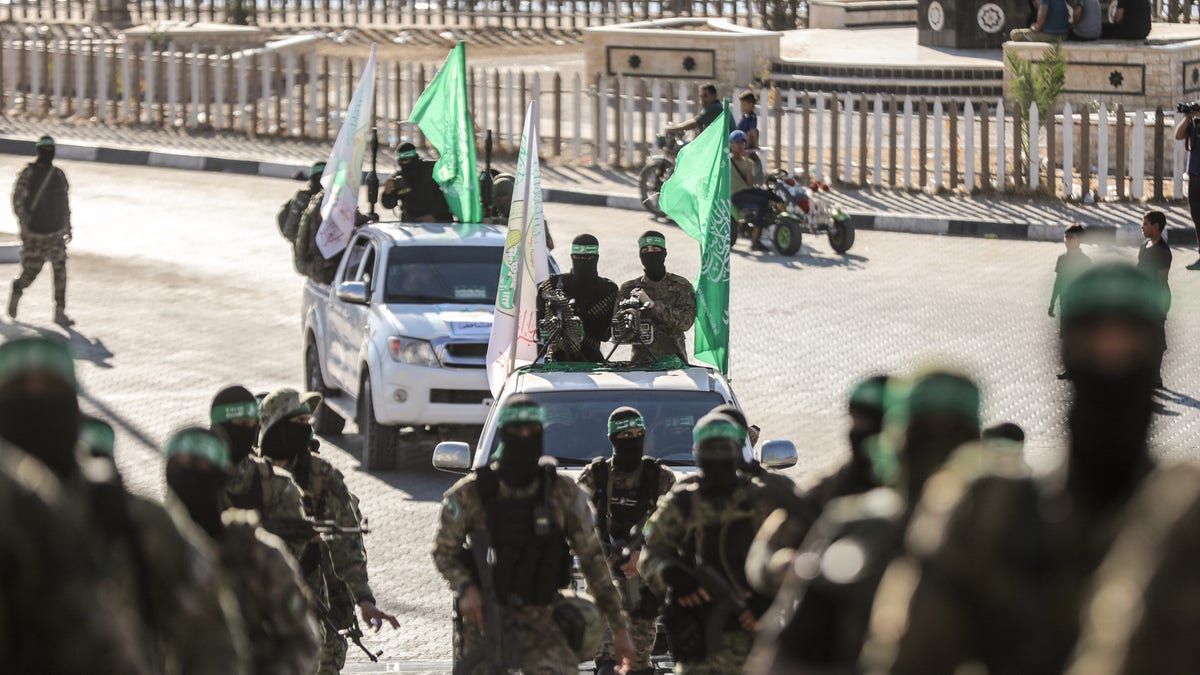 Gunmen from the military wing of Hamas during an anti-Israel military march in Gaza City. (Yousef Masoud/Majority World/Universal Images Group via Getty Images)
According to the FDD report, Iran maintains at least 19 proxy groups along the border with Israel, either supplying the groups with funds or weapons to keep them operating. The report also tracked whether the groups operated in Gaza, the West Bank, Syria or Lebanon.
CORY BOOKER, STAFF SAFE AFTER SHELTERING IN PLACE IN JERUSALEM WHEN HAMAS ATTACKED ISRAEL: SPOKESPERSON
A number of those groups, such as the Al-Aqsa Martyrs Brigades and the Popular Front for the Liberation of Palestine, join Hamas and Hezbollah as terrorist-designated groups, according to the State Department. Others are merely empowered militias.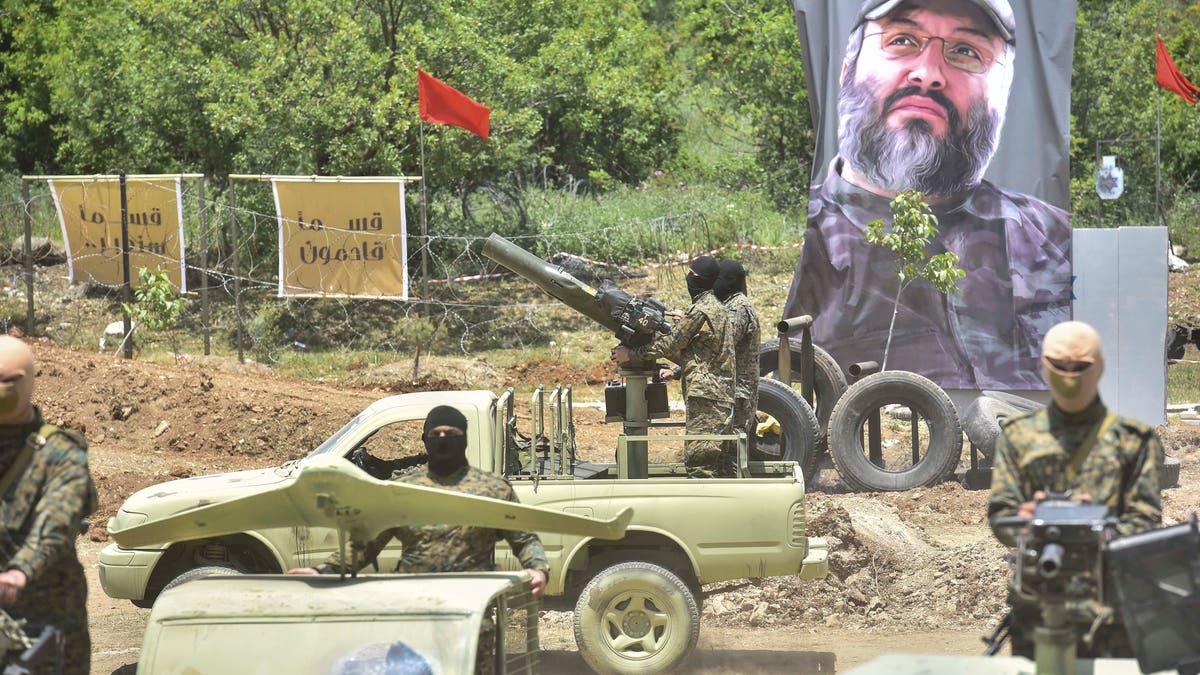 Lebanese Hezbollah fighters take part in cross-border raids, part of a large-scale military exercise, in Aaramta, bordering Israel on May 21, 2023. (Fadel Itani/NurPhoto via Getty Images)
Truzman pointed to Islamic Jihad and the Popular Resistance Committees as of particular concern as the groups push to expand their activities and ranks within the border territories, particularly bases of operation in the West Bank or expanding to cities in the northern West Bank.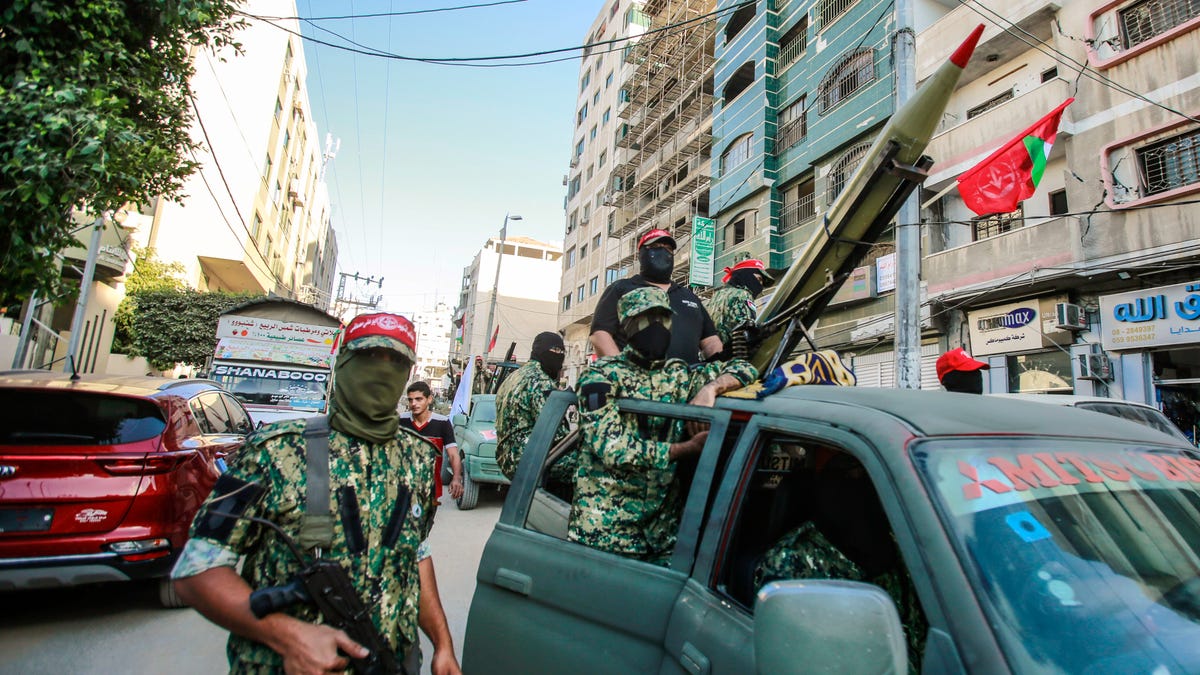 Palestinian militants from the Popular Front for the Liberation of Palestine at a rally just over a week after a cease-fire was reached after an 11-day war between Hamas and Israel in Gaza City. (Ahmed Zakot/SOPA Images/LightRocket via Getty Images)
Islamic Jihad, Truzman said, may have announced the formation of new battalions, but he remains wary of those reports.
US CITIES RAMPING UP PROTECTIONS FOR JEWISH COMMUNITIES, HOUSES OF WORSHIP AFTER HAMAS ATTACK ON ISRAEL
Truzman noted that there are "so many small groups as well," meaning that the report does not list every group Iran funds near Israel's border – just the ones with significant resources from Iran.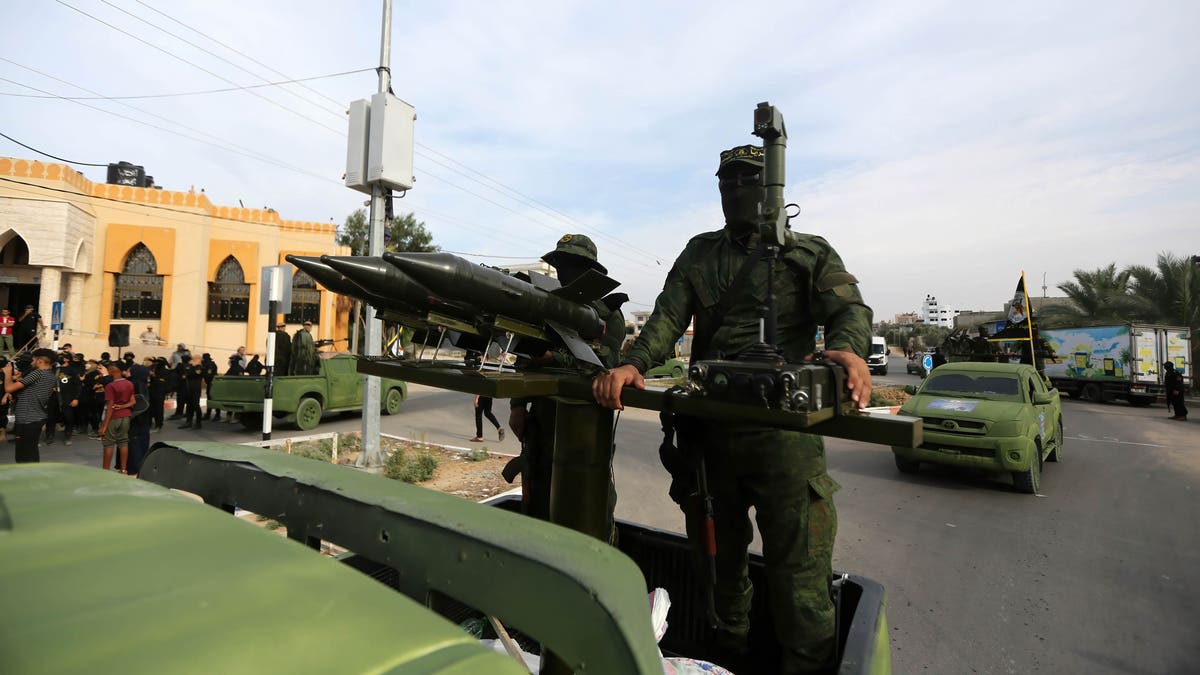 Members of the Al-Quds Brigades, the military wing of the Islamic Jihad movement, participate in an anti-Israel military parade in Gaza City. (Yousef Masoud/SOPA Images/LightRocket via Getty Images)
He questioned whether those smaller groups could have much of an impact if directed by Iran to carry out an attack. Instead, he theorized they would have an impact playing "a supportive role."
"They are the major organizations, Hamas, Islamic Jihad, which operate in Gaza, Lebanon and Syria, and on the West Bank, you have those major organizations, established organizations without a lot of weapons," he argued.
"They have rockets and mortars in Gaza and Lebanon and Syria, not so much the West Bank, but all these other smaller organizations… they take on supportive roles," he continued.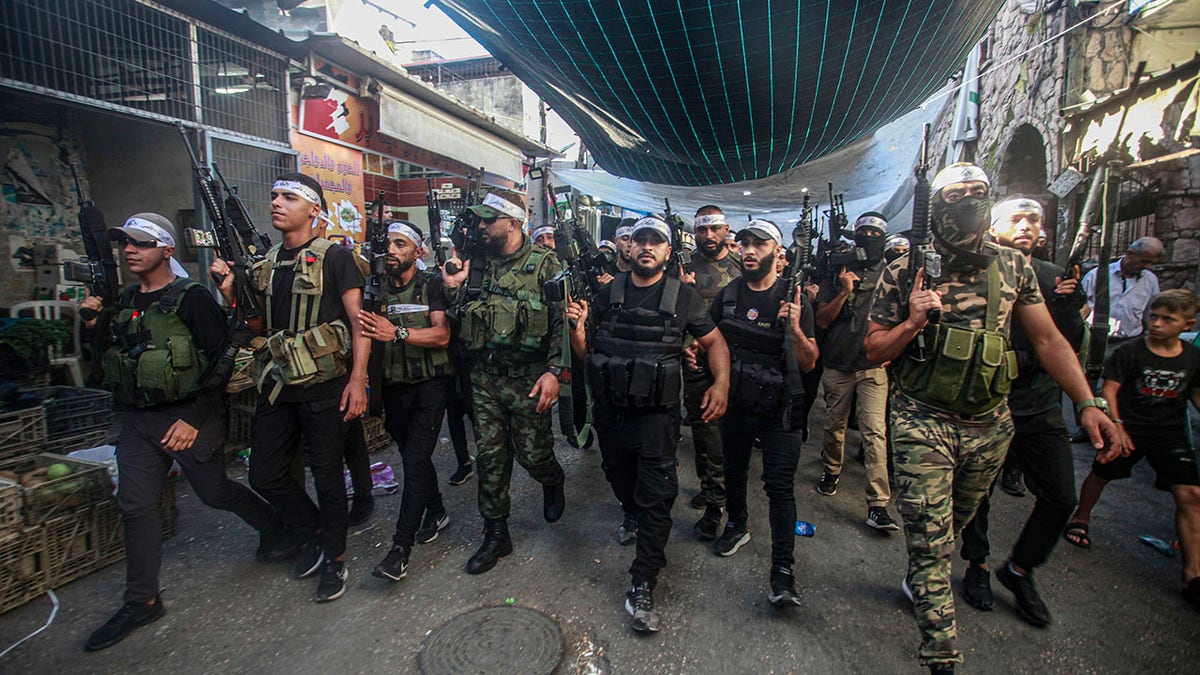 Palestinian gunmen from the Al-Aqsa Martyrs Brigades parade in the Balata refugee camp in the West Bank, July 15, 2023. (Nasser Ishtayeh/SOPA Images/LightRocket via Getty Images)
CLICK HERE TO GET THE FOX NEWS APP
"I would also say that there are two Iraqi groups that have the capability of launching drones and ballistic missiles: That's a big X factor as well," he added. "They operate in Syria, so they can fire because why attack Israel with these, let's say, more sophisticated weapons compared to some of their brethren in the West Bank. So that's, again, a supportive role."
Fox News Digital's Benjamin Weinthal contributed to this report.
Peter Aitken is a Fox News Digital reporter with a focus on national and global news.