The iPhone 14 Plus and iPhone 14 Pro Max models are perfect for those who wish to have big screens for easier reading. However, the downfall of a bigger device is that you have to stretch your hands much further to type, which can get tiresome. That's why Apple included a feature that can make using your iPhone much easier, and it's even available for iPhones with smaller screens as well.
CLICK TO GET KURT'S CYBERGUY NEWSLETTER WITH QUICK TIPS, TECH REVIEWS, SECURITY ALERTS AND EASY HOW-TO'S TO MAKE YOU SMARTER
What is the feature Apple is offering? 
The feature is called Reachability, and it's an accessibility feature that allows iPhone users to pull down the top of their screen displays to the middle of their screen. This makes everything much easier to reach with your thumb than it would normally be. Once the top of your screen is relocated to the middle, you can then operate your iPhone as normal, enjoying the perk of having a larger screen yet still allowing your hands to not have to do all that extra stretching.
How to activate Reachability 
Open your Settings app
Select Accessibility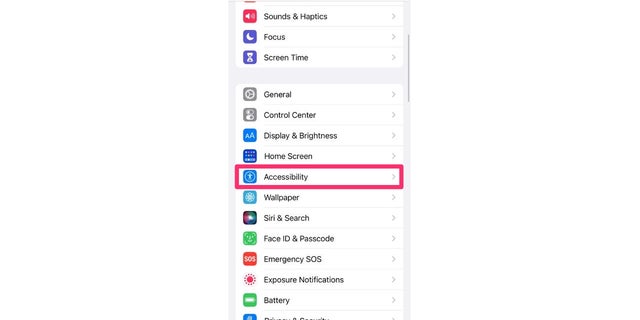 Accessibility in settings of the iPhone.
(CyberGuy.com)
APPLE ADDRESSING IPHONE 14 ISSUE WITH SOFTWARE UPDATE: REPORTS
Under the PHYSICAL AND MOTOR section, select Touch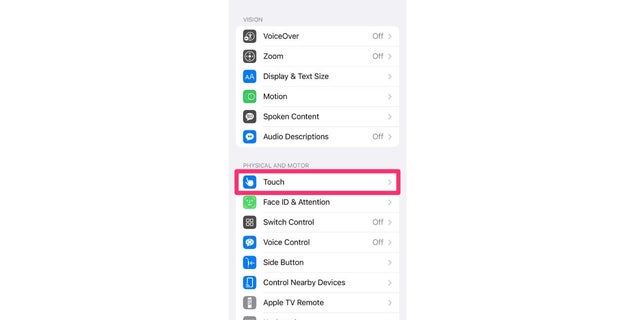 Touch ID in the iPhone's Accessibility menu.
(CyberGuy.com)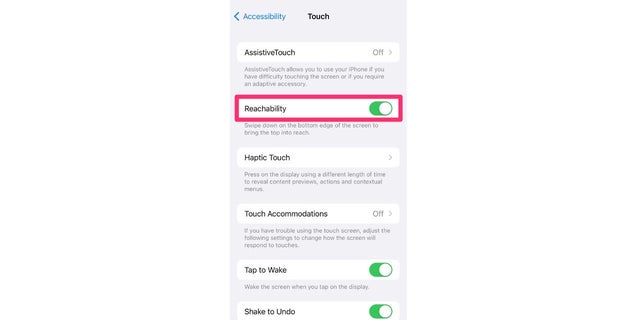 Reachability is an accessibility feature that lets iPhone users pull down the top of a screen display to the middle of the screen. 
(CyberGuy.com)
WHICH APPS ARE DRAINING YOUR PHONE'S BATTERY?
Go back to your Home Screen and short swipe down from just underneath the Spotlight Search tab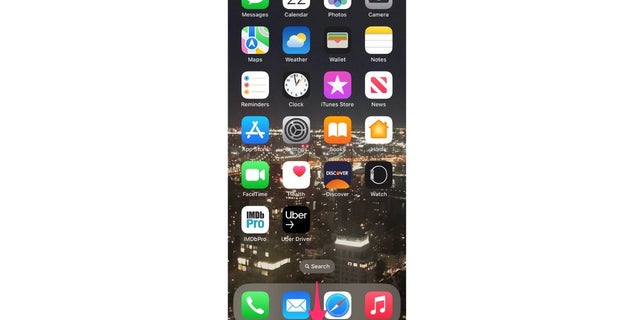 Here's how to do a short swipe on your iPhone.
(CyberGuy.com)
This will bring the top of your screen to the middle of your screen for easier accessibility.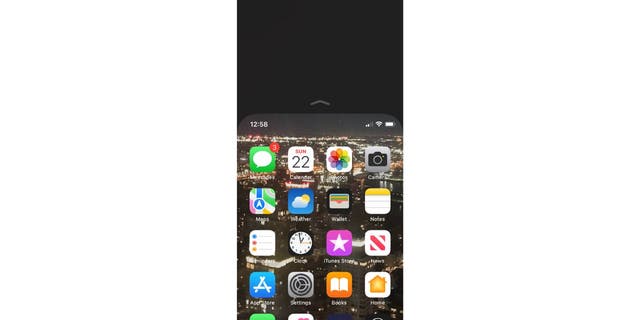 This brings the top of the iPhone screen down to the middle.
(CyberGuy.com)
What if my iPhone has a home button? 
If you have an older iPhone that comes with a home button, follow all the steps listed above to activate Reachability. Once it's activated, double-tap your home button without pushing the button in. If you push the button in, it will reveal your recent apps tray, so make sure you're just tapping it as you would if it were a touchscreen.
Was this helpful? We'd love to hear how you're using your iPhone settings to cater to your needs.
CLICK HERE TO GET THE FOX NEWS APP
For more Apple tips, head over to CyberGuy.com and search "Apple" by clicking the magnifying glass at the top of my website. And be sure to subscribe to my free CyberGuy Report Newsletter by clicking the "Free newsletter" link at the top of my website.
Copyright 2023 CyberGuy.com. All rights reserved. CyberGuy.com articles and content may contain affiliate links that earn a commission when purchases are made.