The Iowa State Fair marks a pivotal hurdle for 2024 GOP presidential hopefuls, as former President Trump confirmed Tuesday he would attend the event, but he will not attend a discussion to be hosted by Gov. Kim Reynolds with other candidates vying for the Republican Party nomination.
Campaign aides on Tuesday confirmed Trump's plan to visit the fair Saturday afternoon, on the 10-day event's first weekend. However, he is not joining Reynolds for a State Fair program her political team is putting on called "Fairside Chats," where GOP presidential hopefuls are to meet with the governor for public conversations.
"[Trump] has 100% name I.D. He's not coming to the fair to introduce himself and get to know Iowans in a way that's introductory," Iowa GOP strategist Jimmy Centers told The Hill.
"That's the big difference here – is that the other candidates that aren't the former president are trying to make a good first and lasting impression," Centers added. "Whereas the former president, whether you love him or hate him, your opinion is probably fairly solidified on him."
IOWA'S REPUBLICAN GOVERNOR TO HOLD INTERVIEWS WITH GOP PRESIDENTIAL CANDIDATES AT STATE FAIR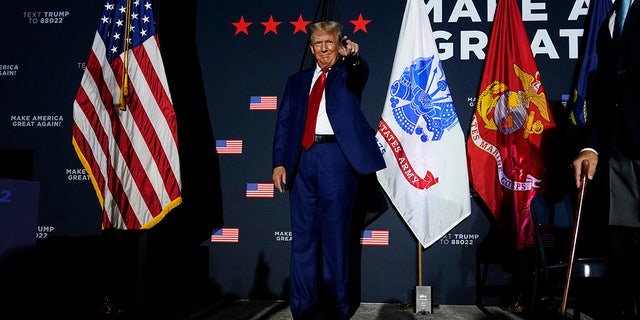 Former President Trump acknowledges a supporter at a campaign rally on Tuesday, Aug. 8, 2023 at Windham High School in Windham, New Hampshire. Trump aides confirmed he will attend the Iowa State Fair this weekend. (AP Photo/Robert F. Bukaty)
Last month, Trump criticized Reynolds – who is popular and influential among Republicans in the leadoff caucus state – in a series of TRUTH Social posts, accusing her of shirking her commitment to remain neutral in the campaign and claiming responsibility for her rise to the governor's office. Other presidential candidates, well aware of her popularity with Iowa voters, defended her, including Florida Gov. Ron DeSantis, who went as far to say that he would consider Reynolds as a potential running mate.
DeSantis, who is nationally polling in the double digits behind Trump while simultaneously also gaining traction in Iowa, could use his attendance of the fair Saturday to his advantage.
"Especially if President Trump doesn't go to the debate, having more of these situations where you're at the same place at the nearly same time or the same time – you have to embrace it and rise to the occasion," Centers said.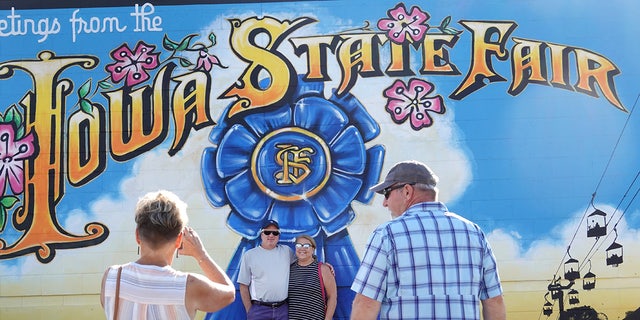 Visitors pose for pictures at the Iowa State Fair on Aug. 19, 2022, in Des Moines, Iowa. GOP presidential hopefuls will flock to the 2023 fair this weekend. (Scott Olson/Getty Images)
IOWA NATIONAL GUARD TROOPS TO BE SENT TO US-MEXICO BORDER IN FEDERALLY FUNDED OPERATION
Reynolds has introduced DeSantis and his wife Casey DeSantis at campaign events, as well as other candidates, including Trump at his first campaign event in Iowa last March. Reynolds introduced South Carolina Sen. Tim Scott at a campaign event in Ankeny last month.
Around the same time, Reynolds had shifted focused away from a half dozen Republican presidential contenders at The Family Leadership Summit by using her planned remarks to sign legislation banning most abortions after six weeks, elevating her own national spotlight.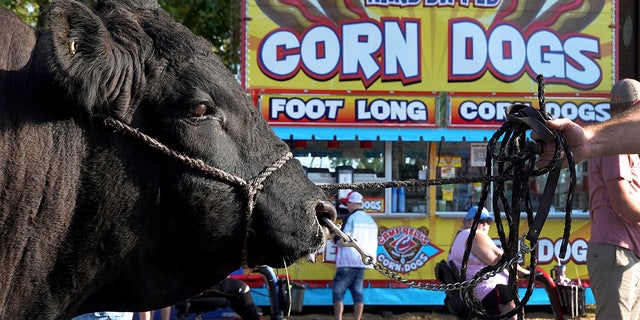 Albert, a super bull weighing 3,042 pounds, is taken for a walk at the Iowa State Fair on Aug.19, 2022 in Des Moines, Iowa. Former President Trump and other 2024 hopefuls are gearing up for the 2023 fair kicking off Thursday. (Scott Olson/Getty Images)
CLICK HERE TO GET THE FOX NEWS APP
Thirteen candidates are participating in the individual public conversations with Reynolds, including DeSantis, Scott, radio host Larry Elder, North Dakota Gov. Doug Burgum, former Vice President Mike Pence, Miami Mayor Francis Suarez, businessman Vivek Ramaswamy, former United Nations Ambassador Nikki Haley, former Arkansas Gov. Asa Hutchinson, businessman Ryan Binkley, businessman Perry Johnson and former Texas Rep. Will Hurd.
The Associated Press contributed to this report.