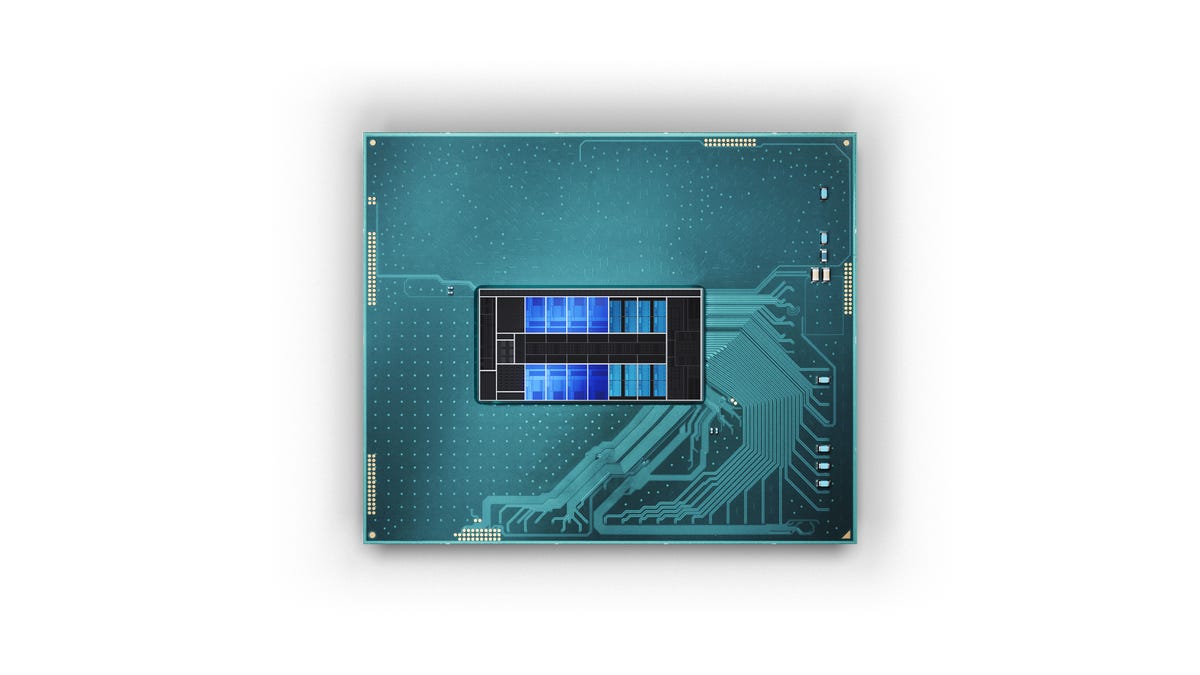 The 13th-gen HX-series processor module.
Intel
Welcome to CES, where Intel routinely drops a boatload of new processors; periodically we'll also see some important capability upgrades to go with them as well. This is one of the lower-key years, and after plowing through the details surrounding all 40-plus new choices, I've concluded that Intel's latest 13th-gen announcements can be pretty much summed up in five key points.
Only a few laptop CPUs promise significant speed gains
That's because the Core i9-13980HX, i9-13950HX, i9-13900HX and i7-13850HX — the premium CPUs intended for gaming and CPU-intensive graphics (like rendering) — have double the efficient cores (E cores) to hit a total of up to 24 cores and support faster DDR5 memory than 12th-gen offerings. The rest just have tweaks and optimizations, which allow for a gentle bump in clock speeds and battery life. For Chromebooks, the Core i3 N series updates to the latest hybrid P core/E core architecture, which means you may experience notable performance improvements in higher end Chromebooks as well.
You'll be able to overclock with any of the HX processors, which you were previously only able to do with the HK versions. All SKUs shown support CPU, GPU, and memory overclocking. Intel's Iris Xe integrated graphics will also be able to take advantage of a new Endurance Gaming setting, intended to extend battery life while gaming. It does this by kicking in Intel's XeSS upscaling and capping the frame rate at 30fps, for all your desperation gaming needs.
The company highlighted laptops from the usual suspects — Acer, Dell, HP, Lenovo, MSI, Asus and Razer — as partners for 13th-gen HX series laptops.
You'll likely see a quick jump to 13th-gen based offerings
The new laptop CPUs and supporting chipsets can generally drop right into the existing motherboards and have the same power and cooling requirements. It's always a faster manufacturing switchover when companies don't need to significantly redesign the hardware.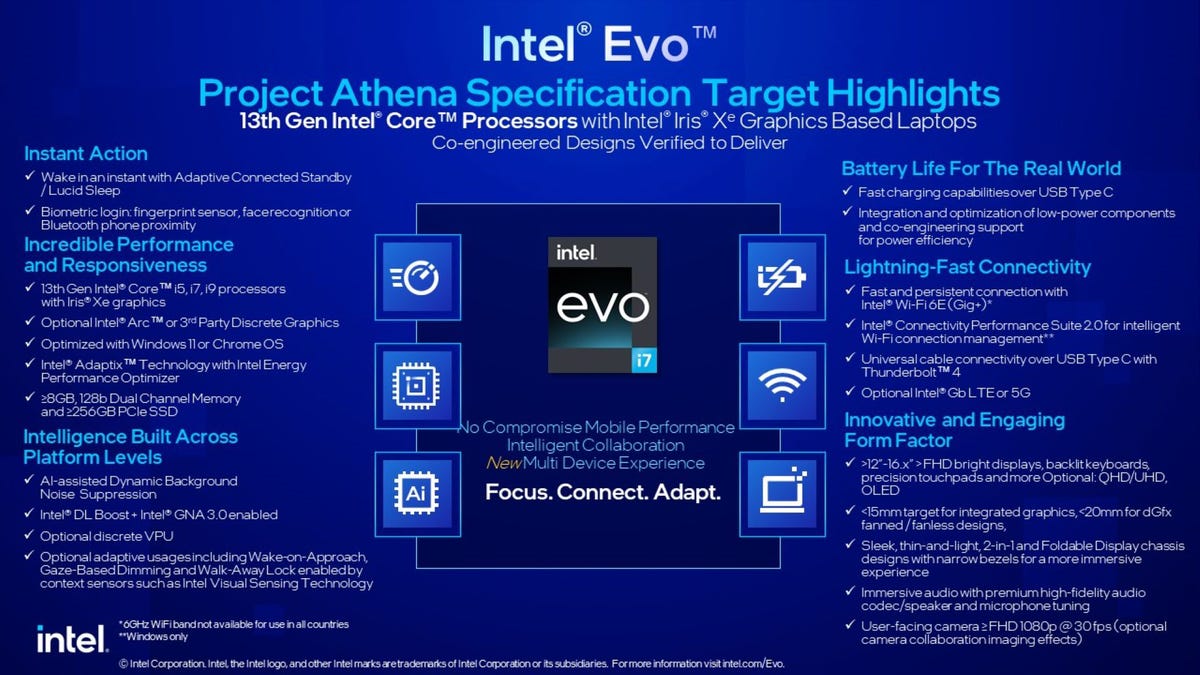 Enlarge Image
Intel

Desktops toddle on
Intel launched its flagship 13th-gen desktop CPUs in September, leaving the mainstream, low power (for all-in-ones and other compact desktops) and inexpensive chips for CES, as it usually does. They're not terribly interesting, since they, too tend to be variations on last year's theme. One bright spot is that Intel's bringing Bluetooth LE audio to desktops via motherboards which use its Killer Wireless modules.
Read more: Best Desktop PCs
Evo expands beyond Intel graphics
Intel's Evo program is its marketing imprimatur for laptops which meet specific criteria that highlights all the wunnerful things you can get when you put Intel inside. These types of programs — AMD Advantage is another — usually require that the laptops incorporate all the latest and greatest hardware the sponsoring company makes. So it's notable that Intel now allows laptops with third-party discrete graphics (in other words, Nvidia and AMD) to qualify, in addition to its own Arc graphics. Also, with noting: Of the laptops launching at CES, I don't remember any incorporating Intel Arc discrete graphics that I heard about prior to the show.
Previously announced features will begin to roll out
The next generation of Thunderbolt 4, with support for DisplayPort 2.1 and 20Gbps USB data transfer, will become available with the laptop processors, but sadly not the desktop versions. Other features include Intel's Unison, which lets iPhone or Android devices send and receive texts, view and transfer photos, videos and files and more with your PC or laptop. We'll also see the Engineered for Evo compatibility program expanding to Bluetooth mice, keyboards and Wi-Fi access points, and Intel's addition of Bluetooth LE Audio (for better, less battery sucking headphone operation) to its Killer Wireless modules. Some laptops will also start to incorporate Intel's Movidius vision processing unit, which Windows can use for improving videoconferencing experiences. 
You can expect a lot more laptop, desktop and component PC news at CES 2023, much of it built around these Intel chip announcements. 
The best laptops in every category
Best Laptop for 2023
Best Windows Laptops
Best Laptop for College 
Best Laptop for High School Students
Best Budget Laptop Under $500 
Best Dell Laptops 
Best 15-Inch Work and Gaming Laptops
Best 2-in-1 Laptop
Best HP Laptops
Best Gaming Laptop 
Best Cheap Gaming Laptop Under $1,000
Best Chromebook: 8 Chromebooks Starting at Under $300