close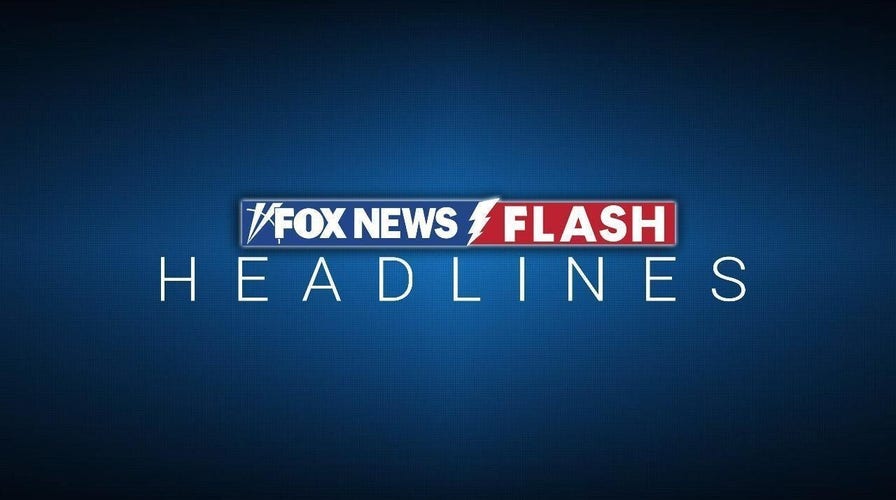 Video
Fox News Flash top headlines for March 15
Fox News Flash top headlines are here. Check out what's clicking on Foxnews.com.
Indonesian authorities said Wednesday they have arrested four foreigners for allegedly trying to smuggle drugs into the country, including a Nigerian man who had swallowed dozens of capsules filled with more than 2.2 pounds of methamphetamine.
A Brazilian man and three Nigerian men were arrested separately between January and March at Soekarno-Hatta international airport in Jakarta and several apartments in the capital, police spokesperson Trunoyudo Wisnu Andika told a news conference in Jakarta.
Indonesia is a major hub for drug trafficking in Southeast Asia and has strict drug laws, with convicted smugglers sometimes executed by firing squad.
Gatot Sugeng Wibowo, chief of customs at Soekarno-Hatta, said officers arrested Malachi Onyekachukwu Umanu, a Nigerian who arrived at the airport from Ethiopia on March 5 with no suitcase or bag.
His suspicious behavior prompted officers to check his body, and an X-ray turned up some 64 capsules inside his stomach. Authorities managed to force all the capsules, which were filled with a total of 2.3 pounds of crystal methamphetamine, out of his stomach within three days, Wibowo said.
HERE'S WHY INDONESIA IS MOVING ITS CAPITAL – AND WHY IT'S SO CONTROVERSIAL
Customs officers at the airport also arrested a Brazilian man, Gustavo Pinto da Silveira, shortly after he arrived from Rio de Janeiro in early January, carrying a backpack, suitcase and surfboard. He initially refused to let officers test the contents of liquids in his luggage.
His resistance led officers to further investigate the substance, which was stored in six toiletry bottles and had a strong odor. Lab tests confirmed the fluid was 2 liters of liquid cocaine. Police said it was worth $1.3 million.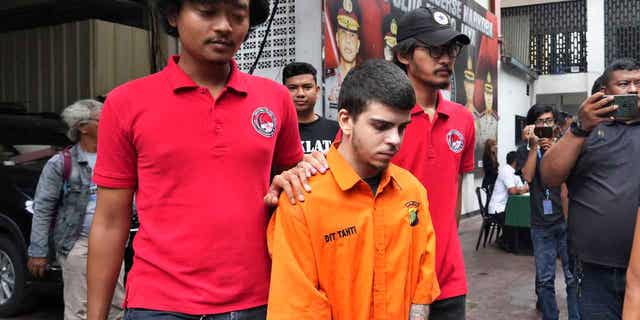 Police officers escort Brazilian national Gustavo Pinto da Silveira prior to a press conference in Jakarta, Indonesia, on March 15, 2023. Indonesian authorities arrested four foreigners who allegedly tried to smuggle drugs into the country. (AP Photo/Tatan Syuflana)
Police also arrested two other Nigerian nationals along with an Indonesian man and woman who tried to smuggle 2.2 pounds of crystal meth from India wrapped in lace fabric through a post office in Jakarta.
Mukti Juharsa, the police director of drug investigations in the capital, believes the recent arrests are all linked to an international syndicate that sought to distribute the drugs in Jakarta.
INDONESIA LANDSLIDE KILLS 30, MANY LIKELY TRAPPED IN HOUSES BURIED BENEATH
"Foreigners shouldn't try to bring drugs to Indonesia. They won't escape being arrested, as customs at all international airports in Indonesia have been improved," Juharsa said.
He said the suspects would be punished according to Indonesia's strict narcotics law, with a minimum of five years' imprisonment and a potential death sentence, as both dealers and distributors of various types of drugs.
The United Nations Office on Drugs and Crime says Indonesia is a major smuggling hub in part because international drug syndicates target its young population. There are 5.6 million drug users in the country of 270 million people, Indonesia's National Narcotics Agency estimates.
In May 2022, Indonesian navy officers made Indonesia's biggest cocaine seizure after finding plastic packages containing nearly 400 pounds of the drug floating at sea near Merak Port on the main island of Java. No one has been arrested.
CLICK HERE TO GET THE FOX NEWS APP
Last July, police secured 106.8 pounds of cocaine in 43 packages plastered with stickers bearing the Israeli flag and the Eiffel Tower, floating at sea near Anambas island. And last December, eight similar packages containing 17.6 pounds of cocaine were found by firewood seekers on neighboring Batam island, next to Singapore.
Most of the more than 150 people on Indonesia's death row were convicted of drug crimes. About one-third of them are foreigners. The country's last executions were in 2016, when one Indonesian and three foreigners were shot by a firing squad.