close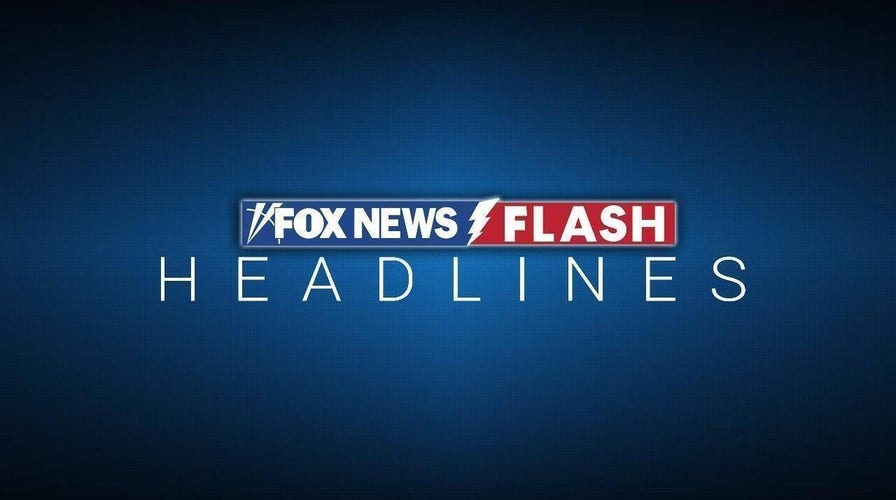 Video
Fox News Flash top headlines for August 14
Fox News Flash top headlines are here. Check out what's clicking on Foxnews.com.
Indonesian domestic workers and activists began a hunger strike on Monday to protest against the parliament's delay in passing a bill to protect domestic workers.
Sunrise-to-sunset fasting protests were happening simultaneously in the capital, Jakarta, and other major cities and will be held every day until the bill is passed, said Lita Anggraini of the National Advocacy Network for Domestic Workers.
"The hunger strike reflects the situation of many domestic workers in this country who don't have protection from the government," Anggraini said. "We call on lawmakers to immediately pass the domestic worker protection bill into law. The more delays, the more workers who will experience violence and discrimination."
In Jakarta, about 40 fasting activists from the Domestic Workers Alliance sat under tents in front of the parliament compound. They held clocks, baby pacifiers, napkins and other cleaning equipment, as well as chains they said symbolized the challenges that domestic servants face in Indonesia.
HERE'S WHY INDONESIA IS MOVING ITS CAPITAL – AND WHY IT'S SO CONTROVERSIAL
Lawmakers first proposed a bill to protect domestic workers in 2004 to address issues of discrimination, abuse and humiliation. Since then it has been updated and removed from the legislative priority list at least three times.
The legislature in 2020 agreed to endorse the bill in a plenary session, but house leadership declined to approve the endorsement citing "administrative reasons."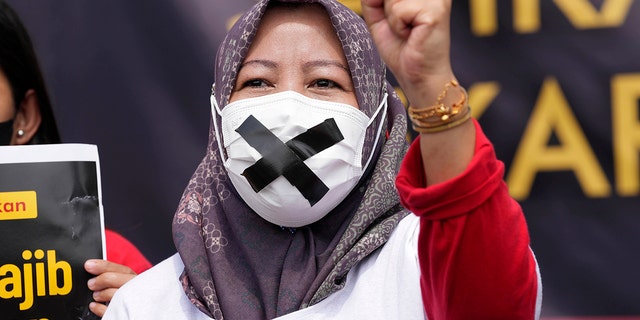 A masked activist shouts slogans during a protest demanding the parliament to pass a bill to protect domestic workers outside the parliament in Jakarta, Indonesia, on Aug. 14, 2023. (AP Photo/Tatan Syuflana)
In January, President Joko Widodo appealed to lawmakers to speed up deliberations on the bill as he pledged to provide better protections for the country's 4.2 million domestic workers. He assigned the Law and Human Rights Ministry and the Manpower Ministry to coordinate efforts to ensure the bill's timely passage.
INDONESIA LANDSLIDE KILLS 30, MANY LIKELY TRAPPED IN HOUSES BURIED BENEATH
"I hope that it can soon be enacted and give better protections for domestic workers, employers and job agencies," Widodo said.
Indonesia has some 4.2 million domestic workers, according to a 2015 survey by the International Labor Organization and the University of Indonesia. That is the most in the world, followed by India with 3.8 million and the Philippines with 2.6 million.
Domestic workers often work long hours without adequate rest or time off. They have no social security and suffer violence as well as economic, physical and psychological intimidation and isolation, the survey said.
Women comprise 84% and children comprise 14% of Indonesia's domestic workers. They are often vulnerable to exploitation and human trafficking. They are also not protected under Indonesian labor laws and regulations.
The bill was developed with input from many stakeholders and includes provisions for employers and employment agencies, said Women's Empowerment and Child Protection Minister Bintang Puspayoga.
CLICK HERE TO GET THE FOX NEWS APP
"The bill is extremely vital. It will provide a legal umbrella for domestic workers and disproportionately affects women and children," Puspayoga said, adding the bill would set the minimum age for domestic workers at 18 years old.
The house approved the bill in March and placed it under a list of "new proposed bills," indicating it would likely be discussed this year. But lawmakers so far appear to be in no hurry to move the bill forward.