close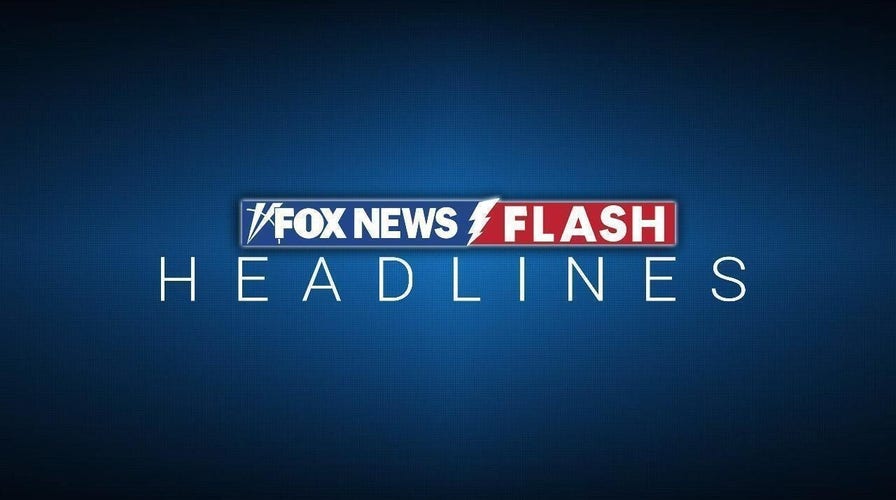 Video
Fox News Flash top headlines for October 5
Fox News Flash top headlines are here. Check out what's clicking on Foxnews.com.
Police in New Delhi have arrested the editor and human resources chief of NewsClick, a news site critical of Prime Minister Narendra Modi's right-wing government.
At least 46 people were questioned when NewsClick's office was raided, and numerous devices have been seized.
The arrests were reportedly made under an anti-terrorism law.
Police in New Delhi have arrested the editor of a news website and one of its administrators after raiding the homes of journalists working for the site, which has been critical of Prime Minister Narendra Modi and his Hindu nationalist-led government.
NewsClick founder and editor Prabir Purkayastha and human resources chief Amit Chakravarty were arrested late Tuesday. Earlier, some journalists associated with the site were detained and had their digital devices seized during extensive raids that were part of an investigation into whether the news outlet had received funds from China. NewsClick denied any financial misconduct.
Suman Nalwa, a police spokesperson, said the arrests were made under an anti-terrorism law.
AFGHAN EMBASSY IN NEW DELHI STILL OPERATING AFTER SCHEDULED CLOSURE
The government has used the wide-ranging law to stifle dissent and to jail activists, journalists and Modi's critics, some of whom have spent years in jail before going to trial.
Nalwa said at least 46 people were questioned during the raids and their devices, including laptops and cellphones, and documents were taken away for examination.
They included current and former employees, freelance contributors and cartoonists.
NewsClick was founded in 2009 and is seen as a rare Indian news outlet willing to criticize Modi. It was also raided by Indian financial enforcement officials in 2021, after which a court blocked the authorities from taking any "coercive measures" against the website.
Indian authorities brought a case against the site and its journalists on Aug. 17, weeks after a New York Times report alleged that it had received funds from an American millionaire who had funded the spread of "Chinese propaganda."
That same month, India's junior minister for information and broadcasting, Anurag Thakur, accused NewsClick of spreading an "anti-India agenda," citing the New York Times report, and of working with the opposition Indian National Congress party. Both NewsClick and the Congress party denied the accusations.
On Wednesday, hundreds of journalists and activists in New Delhi held protests against the raids on NewsClick and the broader crackdown on indepedent media under Modi. Some carried placards with slogans such as, "Stop attacks on media. Stop threatening media."
"Anybody who speaks against the regime is deemed to be anti-national. This has been a long-term strategy, and these events are the latest in this," Manini Chatterjee, a journalist who was part of one protest.
Media watchdogs such as the Committee to Protect Journalists denounced the arrests and raids.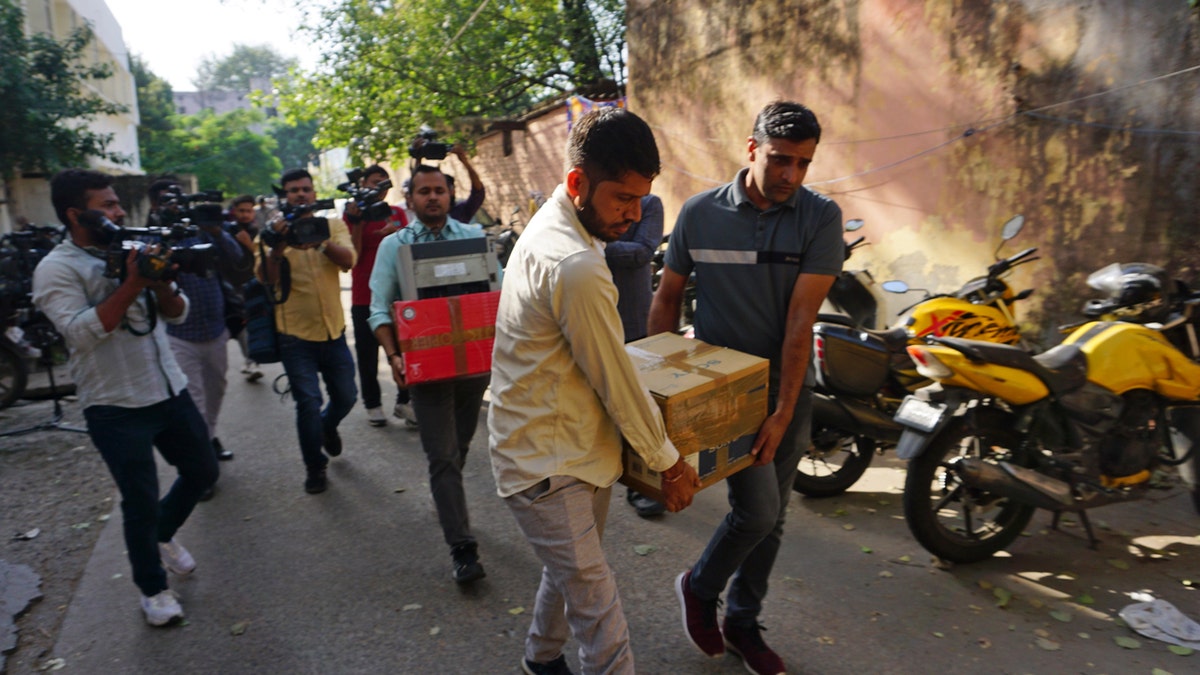 Security personnel are seen carrying seized materials from NewsClick's office in New Delhi, India, Tuesday, Oct. 3, 2023. (AP Photo/Dinesh Joshi)
"This is the latest attack on press freedom in India. We urge the Indian government to immediately cease these actions, as journalists must be allowed to work without fear of intimidation or reprisal," Beh Lih Yi, CPJ's Asia program coordinator, said in a statement.
The Editors Guild of India said it was worried the raids were intended to "create a general atmosphere of intimidation under the shadow of draconian laws."
In February, authorities searched the BBC's New Delhi and Mumbai offices over accusations of tax evasion a few days after it broadcast a documentary in Britain that examined Modi's role in anti-Muslim riots in 2002.
A number of other news organizations have also been investigated for financial impropriety. Independent media in India battle censorship and harassment and often face arrests while doing their work.
India's anti-terrorism law has stringent requirements for bail, which mean individuals often spend months, sometimes years, in custody without being found guilty. Successive Indian governments have invoked the law, but it has been used with increasing frequency in recent years.
Reporters Without Borders, an advocacy group for journalists, ranked India 161st in its press freedom rankings this year, writing that the situation has deteriorated from "problematic" to "very bad."
INDIA TELLS CITIZENS IN CANADA TO 'EXERCISE UTMOST CAUTION' IN DISPUTE OVER MURDERED SIKH ACTIVIST
Some independent Indian think tanks and international groups such as Amnesty International and Oxfam India also have been raided and had their access to funding blocked in recent years.
Journalist Abhisar Sharma, whose had his house raided and electronic devices seized Tuesday, said he won't back down from doing his job.
"Nothing to fear," Sharma wrote on X, formerly known as Twitter. "And I will keep questioning people in power and particularly those who are afraid of simple questions."
The raids against NewsClick also drew criticism from India's political opposition.
CLICK HERE TO GET THE FOX NEWS APP
"These are not the actions of a 'mother of democracy' but of an insecure and autocratic state," opposition lawmaker Shashi Tharoor wrote on X. "The government has disgraced itself and our democracy today."