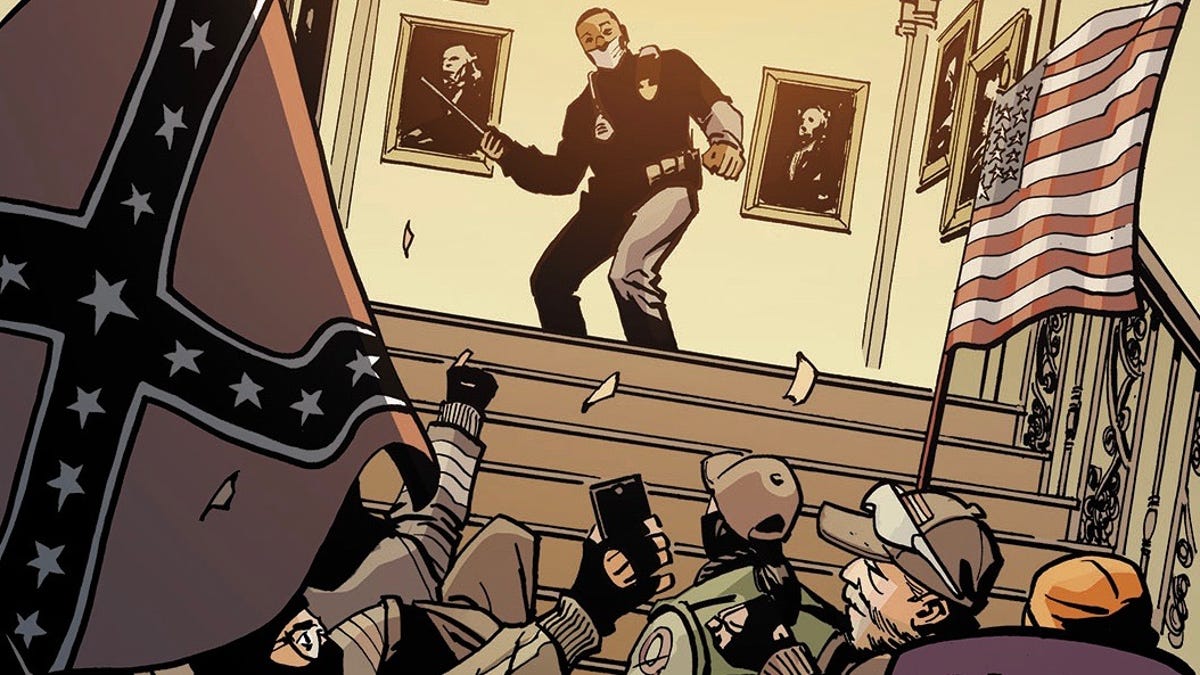 The new graphic novel 1/6 combines speculative fiction with carefully researched facts to ask what the US might look like had the Jan. 6, 2021 insurrection been successful. 
Shawn Martinbrough/Lee Loughridge
In the weeks following the insurrection of Jan. 6, 2021, Harvard Law School professor Alan Jenkins struggled to sleep. 
"I was waking up in a cold sweat at 3 a.m. morning after morning worrying about our democracy," he says. 
Jenkins believes the violent breach at the US Capitol represented an existential threat to America and its democratic institutions, and almost immediately, he knew he wanted to explore and amplify what he saw as the far-reaching implications. He also knew exactly how he wanted to do it: through a graphic novel that could, potentially, reach those who don't track politics beyond the immediate news cycle.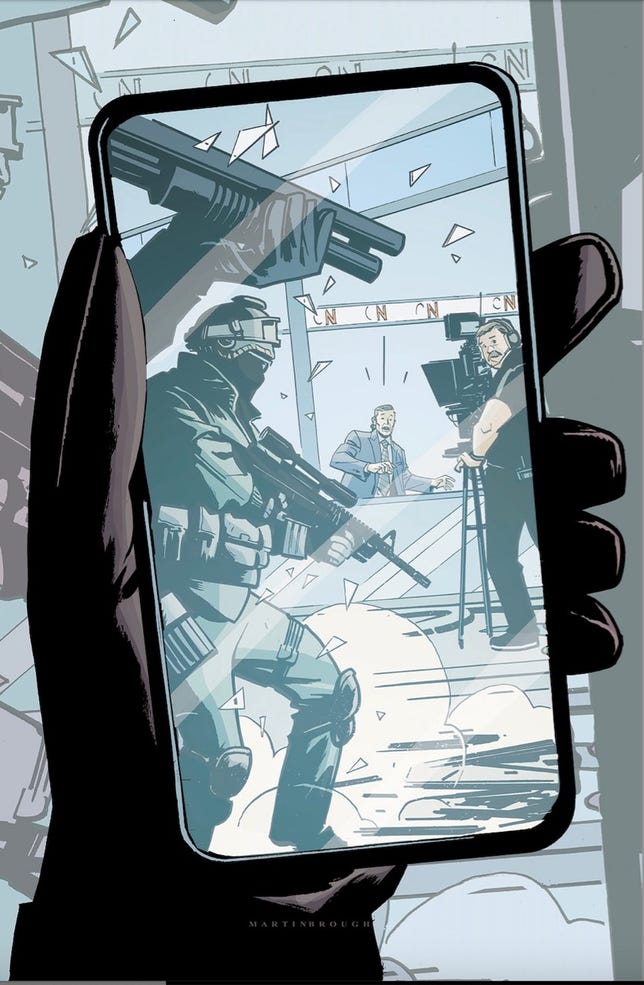 Enlarge Image
One chilling scenario in the graphic novel sees armed officers raiding a news station to stop a story from airing. "Under the authority of the Fair and Balanced Media Act of 2021, this network has been declared an enemy of freedom," they shout. "Turn off those cameras."

Shawn Martinbrough

So he teamed with artist and New York Times best-selling author Gan Golan to co-write the narrative for 1/6: The Graphic Novel, a four-part partially crowdfunded series that imagines what could have happened had the insurrectionists succeeded. Jenkins and Golan call their character-based graphic novel "a tale of what was, what could have been and what still might be." 
The first chapter became available for download, appropriately, on Friday, Jan. 6, the second anniversary of the attack. It's titled Remember This Day Forever and can be purchased on Amazon or Issuu for $2.99.   
"Comic books can be a way of saying the things that are not being spoken and bringing the stories that are under the surface into public conversation," Golan says. "And that's one of our main goals in doing this in such an accessible and entertaining art form."  
Expect the three remaining chapters of 1/6 to be published about once a quarter — the authors are still assimilating the copious amounts of information from the televised Jan. 6 congressional committee hearings. The bipartisan panel issued its 845-page final report in late December, making the case that former President Donald Trump was responsible for the riot and should be barred from holding office again. 
Like all dystopian fiction, it gives us a picture of the world we need to work very hard to avoid.
Gan Golan, 1/6 co-author
The graphic novel combines speculative fiction and carefully researched verified events, and the first chapter presents chilling scenarios. Armed militia regiments patrol the streets and storm a news station about to go live with a blockbuster story about the 2020 election. "Under the authority of the Fair and Balanced Media Act of 2021, this network has been declared an enemy of freedom," the officers shout, weapons drawn. "Turn off those cameras."
Art by veteran comic book artist Will Rosado adds to the uneasiness through engaging visual storytelling. Scenes featuring activists protecting crates of electoral ballots ("the last evidence of our democracy") unfold in icy blues, grays and greens for a decidedly post-apocalyptic feel. Pages with tanks and militia burst with incendiary oranges and reds that make it feel like bombs are about to explode. Faces across the political spectrum register powerful emotions: terror, rage, shock, worry.   
"There are hopeful notes and elements in subsequent chapters," promises Jenkins, who teaches courses on race and law, communications and Supreme Court jurisprudence. "Part of that hope comes from everyday people who believe in our democracy and are ready to take action to protect it."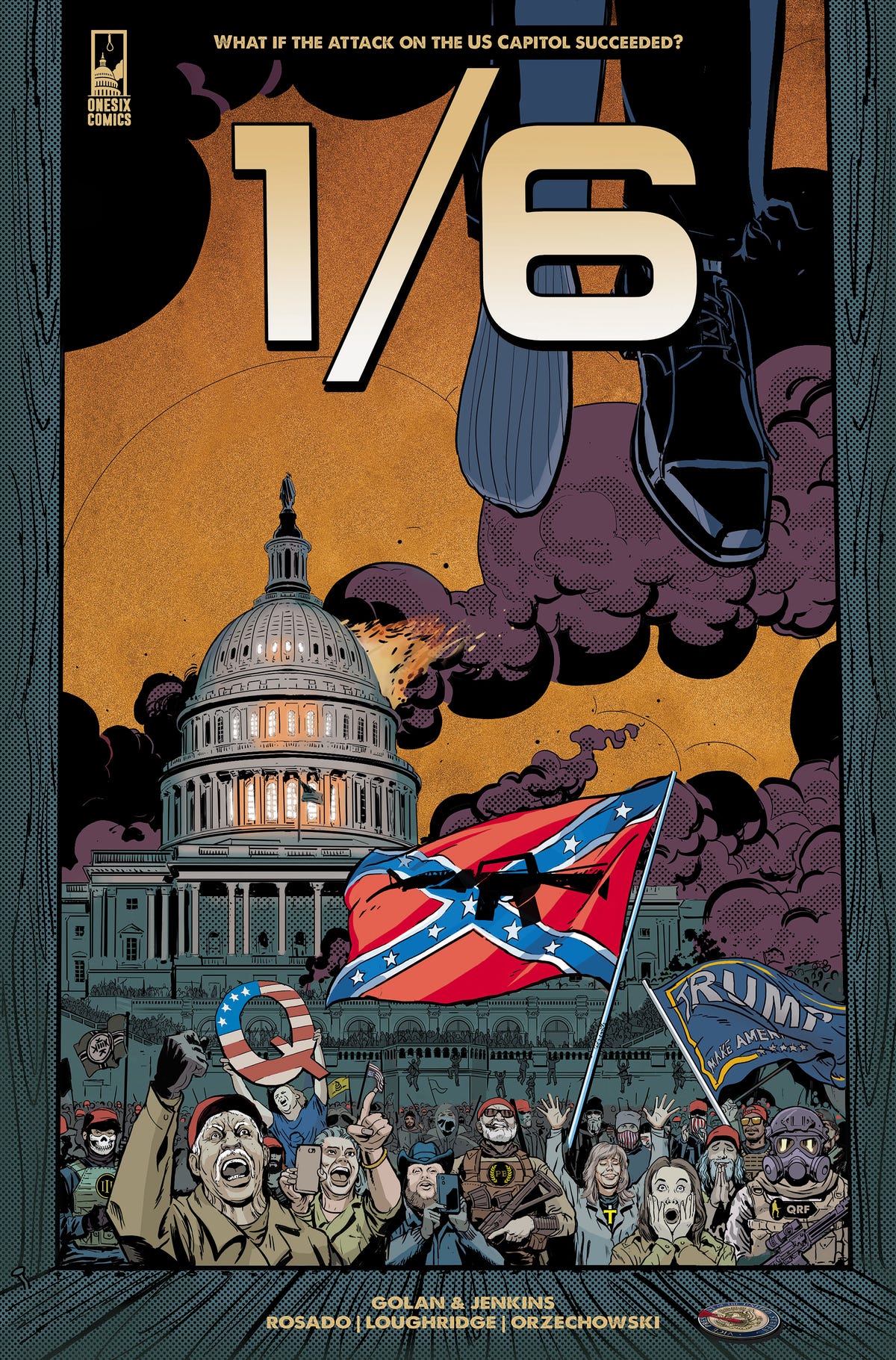 The narrative of 1/6 follows the lives of four characters from across the political spectrum whose lives are forever changed by the events of Jan. 6. 

Will Rosado and Gan Golan

Comics, of course, have a long history of tackling themes related to social justice and inequality. 
Pulitzer Prize-winning graphic novel Maus, by Art Spiegelman, depicts the horrors of the Holocaust. Captain America famously punched Adolf Hitler in the face when Marvel first introduced the American-flag-clad superhero in 1941. DC Comics powerhouse Superman exposed the secrets of the Ku Klux Klan in the 1940s, and he battled the hate group again a few years ago in a comic targeting young adults. Marvel's Black Panther has also fought the Klan, and the X-Men's mutant struggles serve as an allegory for racial persecution.
As Jenkins and Golan speak to that comics tradition over Zoom, it's clear I'm talking to two ardent fans of the genre.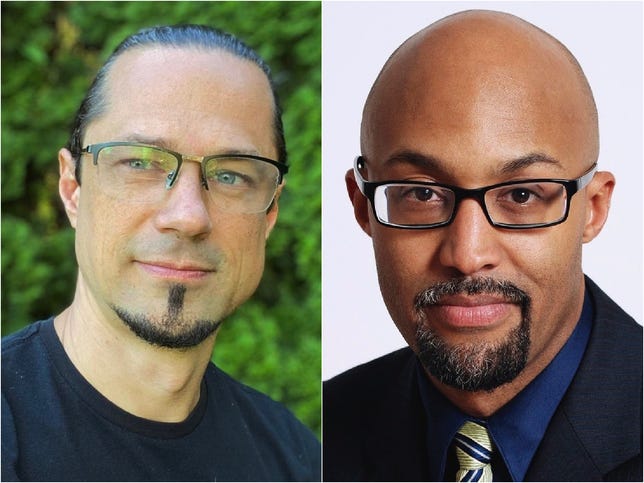 Gan Golan (left) and Alan Jenkins co-wrote the narrative for the graphic novel 1/6. Both trace their love of comic books back to age 10. 

One Six Comics

"Collectively, we have a shameful amount of comic book interest and history under our belts," laughs Jenkins, who first got into comics at age 10 and counts Daredevil, Submariner and Black Panther among his favorite characters.  
The authors hope their graphic novel will motivate people to act in the spirit of the pair's favorite comics heroes. It's published under the auspices of the Western States Center, a Portland, Oregon-based pro-democracy organization where both are senior fellows. The book comes with a digital toolkit that includes strategies for civic leaders to battle bigoted political violence and for schools to help kids distinguish between reliable information and falsehoods. 
Jenkins and Golan constantly rewrote their story during the hearings, investigating new revelations and details and trying to discern what to incorporate and how. 
However, "the one part of the story that can't be told through the January 6 final report is what could have happened and what still might happen, the long-term trajectory of this anti-democratic movement," says Golan, an architect of the large-scale activist event People's Climate March and author of the graphic novel The Adventures of Unemployed Man, which is about the adventures of a jobless crusader and his sidekick Plan B. 
"Like all dystopian fiction," Golan adds, "it gives us a picture of the world we need to work very hard to avoid."