close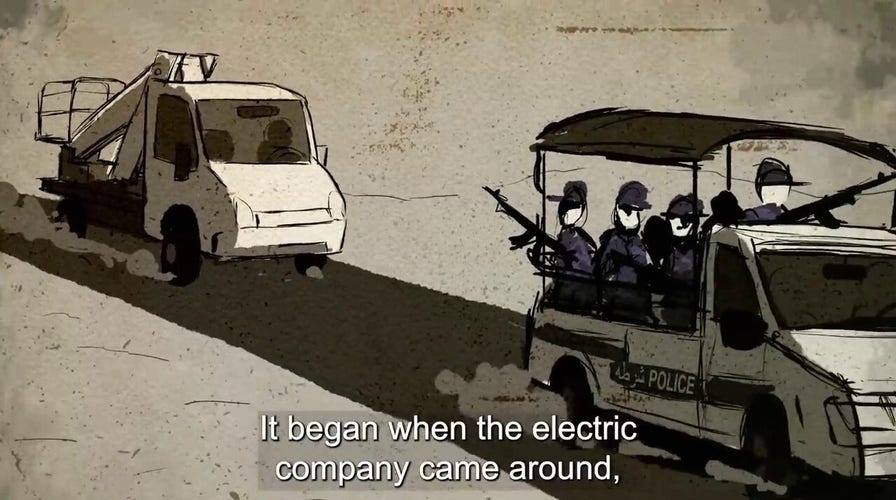 Video
Illustrated video of Gazans speaking out against Hamas in new project
The 'Whispered in Gaza' project interviewed Gazans from all walks of life, using video animation to protect their identities. The video series was requested by a member of the Islamic Fatwa Council, and reviewed as evidence. (Courtesy: The Center for Peace Communications.)
JERUSALEM – In a groundbreaking ruling, an official Islamic legislative body based in the Arab world declared a "fatwa," or a legal opinion, against the Islamist militant group Hamas Thursday, calling its treatment of millions of Palestinians living under its rule in the Gaza Strip "inhumane" and urging the terrorist organization and its followers to immediately give up arms, sit down and make peace.
The unprecedented declaration, published by the Islamic Fatwa Council, a non-government body of Shiite, Sunni and Sufi clerics headquartered in the Iraqi spiritual capital of Najaf, states that Hamas, an offshoot of the Muslim Brotherhood movement, "bears responsibility for its own reign of corruption and terror against Palestinian civilians within Gaza" and deems "it prohibited to pray for, join, support, finance or fight on behalf of Hamas."
"As an Islamic legal body, we take note of the condition of the oppressed all over the world," Muhammad Ali Al-Maqdisi, a cleric for the council, said in a video statement shared with Fox News Digital.
"We have seen what Gaza has been subjected to under Hamas' rule. We have also seen the atrocities which, in our view, have been perpetrated against Palestinians — faithful and unarmed civilians — who have neither strength nor recourse. And, so, we believed it was our Islamic obligation to aid the oppressed."
GAZA RESIDENTS SPEAK OF HAMAS' BRUTALITY AMID DESIRES FOR PEACE IN THE REGION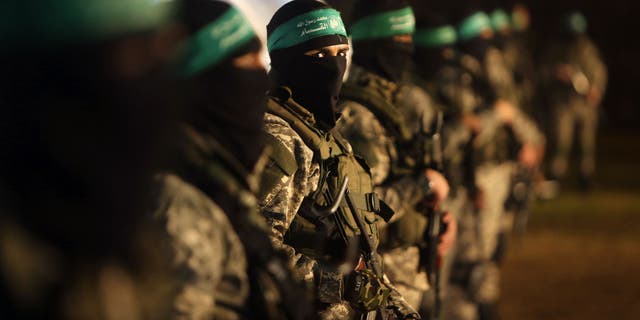 Palestinian members of the Ezzedine al-Qassam Brigades, the armed wing of the Hamas movement, take part in a gathering Jan. 31, 2016, in Gaza City to pay tribute to fellow militants who died after a tunnel collapsed in the Gaza Strip.  (Mahmud Hams/AFP via Getty Images)
Al-Maqdisi, who also serves as the council's official spokesman, added, "This is what our religion commands of us. Our faith, in its wisdom, enjoins us to be the enemy of the oppressor and an aid to the oppressed. That is why the fatwa was issued against Hamas."
According to the council, the decision to issue the legal ruling, which while being non-binding is considered highly influential in the Muslim world, came after the publication of a series of video testimonies from ordinary civilians in Gaza published last month by the U.S.-based Center for Peace Communications.
The series, "Whispered In Gaza," which used animation and voice-altering technology to protect the identity of the Gaza-based speakers, offered a rare and unfiltered glimpse into life in the poverty-stricken, embattled Palestinian enclave and highlighted the anger and fears ordinary people there have toward their autocratic Hamas rulers.
Hamas, a designated terrorist organization according to the U.S., EU and Israel, has maintained an iron-clad grip on Gaza since violently taking over the territory in 2007 after Israel unilaterally withdrew in 2005. The group, which receives funding and training from Iran, imposes a strict Islamic code on its 2 million-plus residents as it continues to engage in fighting Israel, including firing endless rounds of rockets and incendiary devices into Israeli territory and mass protests along the border fence.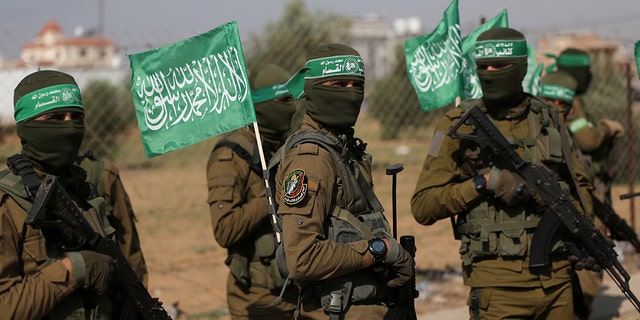 Life under Hamas in the Gaza Strip is exposed by locals living there in a new project with some locals discussing life under the iron-clad grip of the terror group. (Reuters)
Israel, together with Egypt on its southern border, continues to maintain a tight civilian and military blockade over the area, controlling the flow of goods and humans in and out of the Strip and responding to attacks perpetrated by Hamas and other militant Palestinian groups.
HAMAS' CYBER TERROR IS A TEST CASE FOR OTHER NON-STATE PLAYERS, REPORT SAYS
Joseph Braude, founder and president of the Center for Peace Communications, which created some 25 video testimonies, told Fox News Digital a member of the council's unit reached out to his organization for confirmation on the authenticity of the digitalized accounts.
"We responded, as we had done with several of our partnering media outlets, by organizing a secure private screening of the original footage for the researchers," Braude told Fox News Digital.
Grand Ayatollah Fadhil al-Budairi, one of the three chairmen of the Fatwa Council, said in a separate video statement that, after seeing the evidence, the "Islamic authority stands with the oppressed Palestinian people."
"We do not accept that any harm be done to them, whether it comes from Israel or from Palestinian governing elements, whether they be from Hamas or others," he said. "The Palestinian people have suffered enough, and we do not accept that this oppression continues. We implore the Islamic and humanitarian organizations to aid in the preservation and protection of human rights in the Palestinian context."
DEADLY GAZA STRIP HOUSE FIRE KILLS 21
While the fatwa marks the first time any accredited Islamic legislative body has explicitly declared Hamas to be illegitimate from the vantage point of Islamic law, it follows similar rulings by the UAE Fatwa Council and the Council of Senior Scholars of Saudi Arabia against the Muslim Brotherhood movement and all of its branches, declaring them terrorist organizations "that defame Islam and operate in opposition to mainstream Islamic unity, theology and jurisprudence."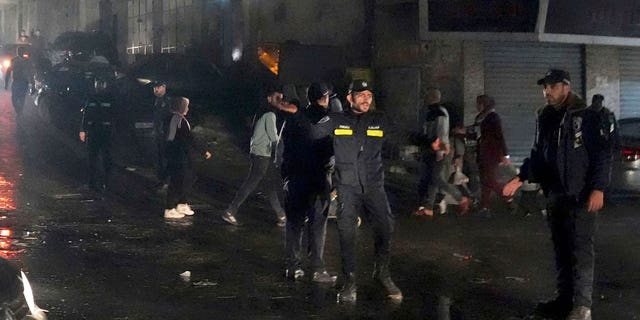 Hamas police officers secure the scene of a burned apartment on the third floor of a three-story building in Jebaliya refugee camp, northern Gaza Strip, Nov. 17, 2022. (AP Photo/Adel Hana)
For Hamas, a Sunni Muslim organization, the ruling by a council led by a Sunni mufti of stature — Grand Mufti Sheikh Abdullah al-Dheeban — could have deep consequences, and the fact the council also includes al-Budairi, a Shiite cleric, is a severe blow to Hamas' main backer Iran.
"As Hamas is an organization that defines itself along religious Islamic lines, this fatwa represents a direct challenge to Hamas' legitimacy and undermines its claim to represent Islam," Ghaith al-Omari, the senior Palestinian affairs expert at the Washington Institute for Near East Policy, said of the significance of the fatwa from a political standpoint.
"It may not immediately impact its rule over Gaza since it maintains this rule by force. But in the longer term, such a pronouncement represents a serious challenge to Hamas' narrative," he said.
Al-Maqdisi said the council was hopeful Muslims worldwide would embrace its position and put support for the ordinary citizens who live in Gaza above its rulers.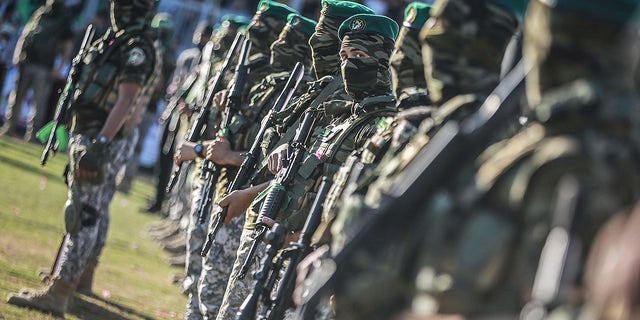 Members of Izz ad-Din al-Qassam Brigades, the military wing of the Palestinian Hamas Islamist movement in the Gaza Strip, take part in a rally to commemorate the martyrs of the last battle between Hamas and Israel May 24, 2021. (Mohammed Talatene/picture alliance via Getty Images)
"We are used to everyone appearing to support Hamas, but in reality, many ordinary people do not support Hamas' actions," he said in his statement. "Perhaps some governments support it because they have political interests, but we are not politicians, and we do not tie our judgments to political interests. What matters to us is supporting the oppressed in Gaza."
CLICK HERE TO GET THE FOX NEWS APP
Al-Maqdisi added that it was time for Hamas to lay down its arms and seek peace.
"To Hamas and its followers, I say, you have taken up arms since 1948 — nearly 75 years. In that time, thousands of innocents have been killed," he said. "My advice now is why not take up the weapons of peace and sit at the table of dialogue. … Seek peace and urge those who support you to earn the embrace of your fellow citizens and end this senseless killing."
Ruth Marks Eglash is a veteran journalist based in Jerusalem, Israel. She reports for Fox News Digital and covers the Middle East and Europe. She is a Senior Correspondent for Jewish Insider and previously served as the Deputy Bureau Chief for The Washington Post and as Deputy Managing Editor and senior reporter for The Jerusalem Post. Originally from the U.K, she has also freelanced for numerous news outlets including the Huffington Post, USA Today, and the Christian Science Monitor. Ruth can be followed on Twitter @reglash