close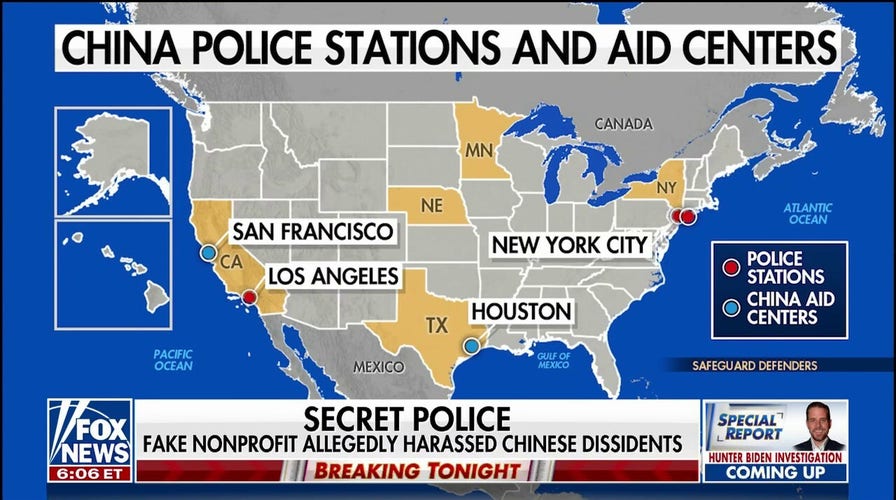 Video
US politicians warned to pay attention to China's efforts to advance agenda
Fox News correspondent Bryan Llenas has the latest on China's spying on 'Special Report.'
Virginia Gov. Glenn Youngkin signaled his intent to strengthen business ties with Taiwan during a visit to the island nation this week even as tensions between the U.S. and China remain high.
"As we celebrate many years of bilateral business relations between Taiwan and Virginia, I am committed to reinvigorating our partnership with this agreement," Youngkin said Tuesday after signing a Memorandum of Understanding on Economic and Trade Cooperation. "And as leaders at the forefront of innovation and capability, this Economic and Trade MOU will improve coordination and collaboration between Taiwan and Virginia,"
Youngkin spent four days on the island, meeting with Taiwanese President Tsai Ing-wen and Minister of Economic Affairs Chern-Chyi Chen. He concluded the visit by signing the memorandum, which "acknowledges Taiwan's importance to Virginia and the United States as an investment partner."
"The [memorandum] expands on our ongoing and thriving relations with a commitment to further our collaboration in research, innovation and critical global industries such as consumer electronics," Youngkin said after the signing Tuesday.
CHINA FUMES AS BIDEN PLOTS TO STARVE IT OF AI INVESTMENT: 'SCI-TECH BULLYING'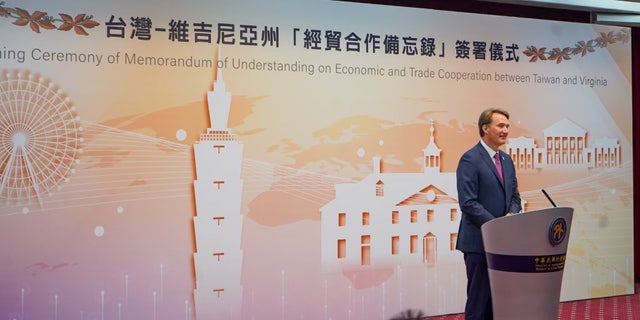 Gov. Glenn Youngkin speaks to the press following the signing of a commitment to economic ties between Taiwan and Virginia. (Office of Governor Glenn Youngkin)
According to Youngkin's office, Virginia exported $730 million in products to Taiwan in 2022 and imported $1 billion in goods. The governor also signed an executive order that established Virginia's first office for economic development in Taipei.
"I was thrilled to meet with President Tsai to strengthen Virginia's decades-old partnership with Taiwan," Youngkin said in a statement released Monday.
SOUTH KOREAN PRESIDENT TO MEET WITH BIDEN, CONGRESS FOLLOWING CONCERNS OVER INTEL LEAK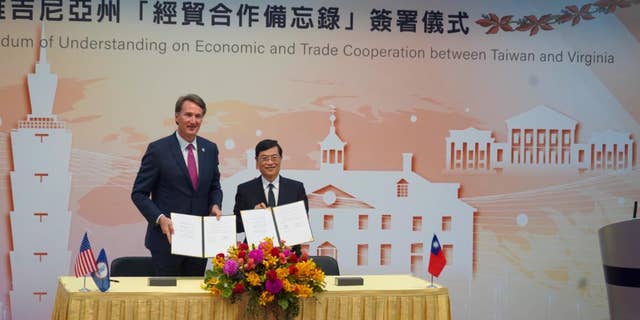 Gov. Glenn Youngkin and Taiwanese Minister of Economic Affairs Chern-Chyi Chen sign the Memorandum of Understanding on Tuesday. (Office of Governor Glenn Youngkin)
"As a former business leader, I appreciate the commitment to excellence that Taiwan demonstrates across sectors," he continued. "They are an important trading partner and model of prosperity for nations across the globe."
Youngkin's visit is just one stop during a trade mission through Asia, which will include visits to Tokyo and Seoul.
THE NEXT BATTLEFIELD WITH CHINA IS THE COLLEGE CAMPUS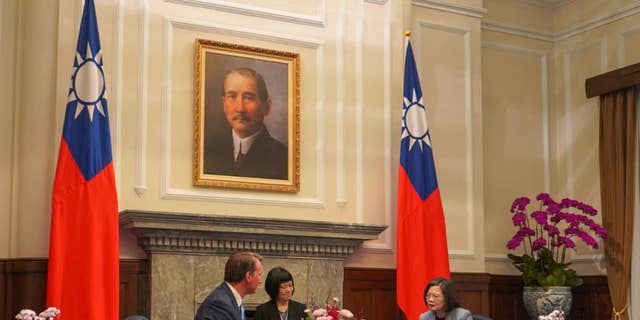 Gov. Glenn Youngkin and Taiwanese President Tsai Ing-wen discuss business ties and commitments on Monday. (Office of Governor Glenn Youngkin)
Beijing's threats have increased since former House Speaker Nancy Pelosi, D-Calif., visited the island last year. Youngkin's trip to Taiwan occurs during another period of heightened tensions between the U.S. and China following Taiwan's President Tsai's visit to California earlier this month.
China sanctioned a number of American organizations, including the Ronald Reagan Presidential Library, and commenced further, more aggressive military drills in response to her visit. The People's Liberation Army (PLA) sent 26 aircraft to conduct combat readiness patrols around the island, Taiwan claimed at the time.
The U.S. followed China's own drills around Taiwan with its largest-ever joint drills with the Philippines. The drills were planned for months, but the timing only helped the U.S. reaffirm its view that China's threat to Taiwan remains "a big deal."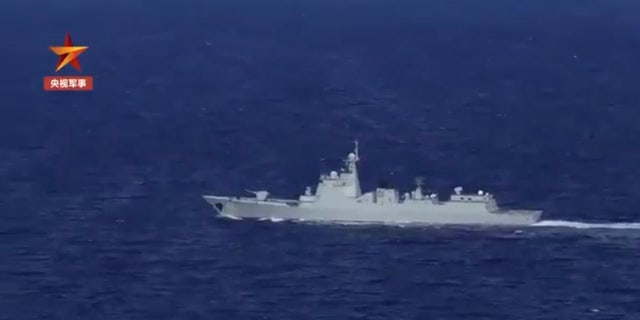 People's Liberation Army conducted military operations around Taiwan. (People's Liberation Army, China)
CLICK HERE TO GET THE FOX NEWS APP
"This is part of our effort to modernize our alliance, and these efforts are especially important as the People's Republic of China continues to advance its illegitimate claims in the West Philippine Sea," Defense Secretary Lloyd Austin said when he first announced the drills.
Youngkin's office did not respond to a Fox News Digital request for comment by time of publication.
Fox News Digital's Anders Hagstrom and Timothy Nerozzi and The Associated Press contributed to this report.
Peter Aitken is a Fox News Digital reporter with a focus on national and global news.