close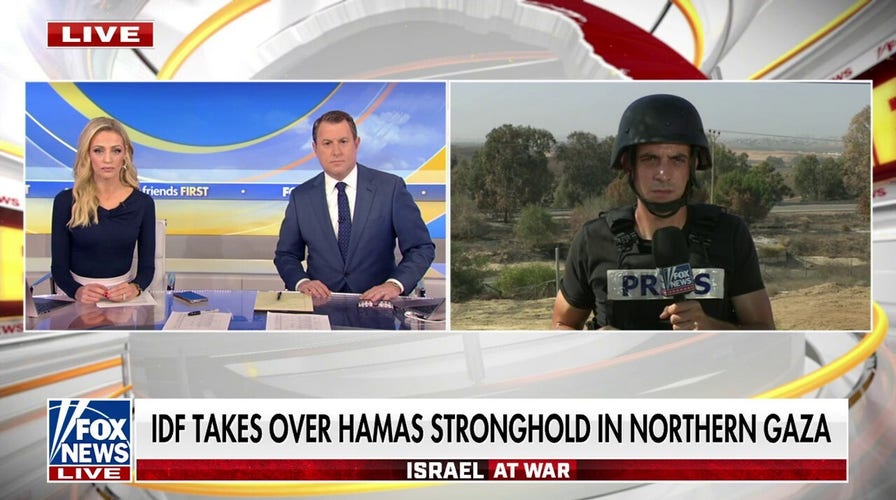 Video
Israeli military takes over Hamas stronghold in northern Gaza
FOX News' Trey Yingst reports the latest on the IDF's efforts from southern Israel. 
The Israeli Defense Forces (IDF) said Tuesday morning that it has taken control of a Hamas military stronghold in the northern Gaza Strip.
"Over the past day, IDF troops secured a military stronghold belonging to the Hamas terrorist organization in the northern Gaza Strip," the IDF said in a statement. "Anti-tank missiles and launchers, weapons, and various intelligence materials were located in the compound by the troops."
An IDF fighter jet, in coordination with soldiers on the ground, struck a cell holding about 10 Hamas terrorists, according to the IDF. Ground troops then identified an anti-tank missile cell operating in their vicinity, and an IDF aircraft was directed to the missile cell.
Since Hamas provoked a war with its bloody attack on Israel a month ago, Israeli forces have continued to pound Hamas military targets with airstrikes and are now conducting ground operations in the Palestinian territory.
BIDEN ADMIN NOTIFIED CONGRESS OF PLAN TO TRANSFER $320M WORTH OF PRECISION BOMBS TO ISRAEL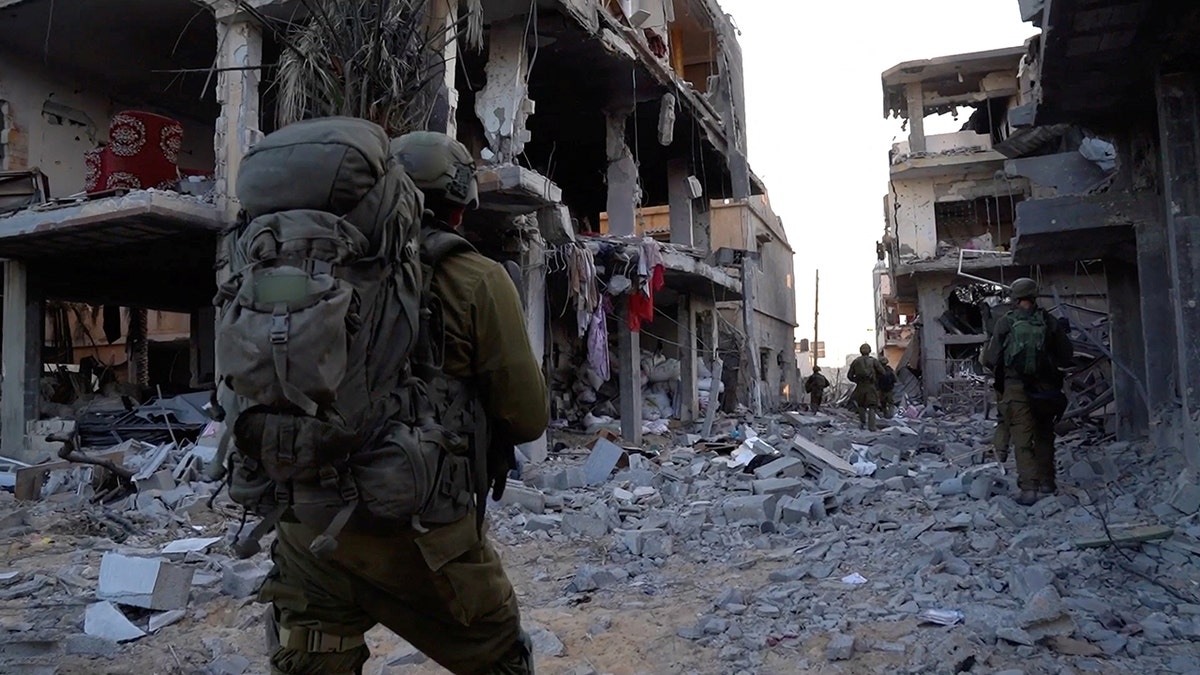 Israeli soldiers operate inside the Gaza Strip, amid the ongoing ground operation of the Israeli army against Palestinian Islamist group Hamas. (Israeli Defense Forces/Handout via REUTERS)
Thousands of Palestinian civilians have been caught in the crossfire, as Israel says Hamas terrorists hide rocket launch sites and other military targets inside civilian infrastructure. The Hamas-led Gaza Health Ministry claims more than 10,000 Palestinians have been killed by Israel's bombardment, including some 4,100 children, although those numbers cannot be independently verified.
More than 1,400 Israelis were killed in Hamas' unprecedented infiltration of Israel on Oct. 7, when men, women and children were butchered in the most horrific ways imaginable. Hamas terrorists seized 240 hostages in the assault and took them back to Gaza.
Both Israel and Hamas have rebuffed mounting calls for a halt in fighting. Israel says hostages should be released first. Hamas says it will not free them nor stop fighting while Gaza is under attack.
Israeli Prime Minister Benjamin Netanyahu said Monday Israel may consider "tactical little pauses" in fighting in the Gaza Strip for humanitarian relief, but again rejected international calls for a cease-fire.
ISRAELIS OVERWHELMINGLY ARE CONFIDENT IN THE JUSTICE OF THE GAZA WAR, EVEN AS WORLD SENTIMENT SOURS
Netanyahu has previously said to stop fighting would be to "surrender to Hamas." However, in an interview with ABC News on Monday, the prime minister said he was open to short-term pauses in fighting to allow hostages to leave Gaza or aid to be delivered to the Palestinian people — an idea supported by the United States.
"As far as tactical little pauses – an hour here, an hour there – we've had them before. I suppose we'll check the circumstances in order to enable goods, humanitarian goods to come in, or our hostages, individual hostages, to leave," Netanyahu said.
"But I don't think there's going to be a general cease-fire."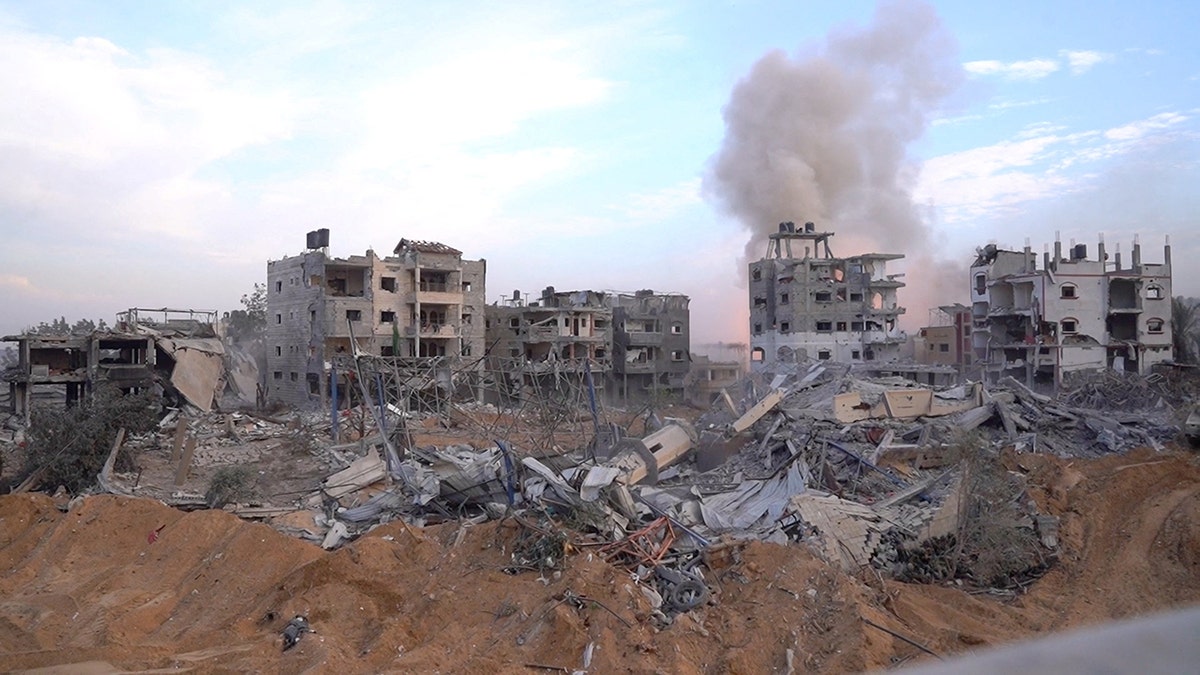 A smoke raises over the buildings as Israeli soldiers operate inside the Gaza Strip, amid the ongoing ground operation of the Israeli army against Palestinian Islamist group Hamas. (Israeli Defense Forces/Handout via REUTERS)
President Biden discussed such pauses and possible hostage releases in a phone call with Netanyahu on Monday, reiterating his steadfast support for Israel and the protection of Israeli citizens from Hamas and all other threats, while also emphasizing the imperative to protect Palestinian civilians and reduce civilian harm during the war, the White House said.
The United States has also rejected calls for a cease-fire, concurring that a full stop to the fighting would allow Hamas to regroup.
Meanwhile, United Nations Secretary-General António Guterres warned Monday that Gaza is becoming a "graveyard for children."
"Ground operations by the Israel Defense Forces and continued bombardment are hitting civilians, hospitals, refugee camps, mosques, churches and U.N. facilities – including shelters. No one is safe," Guterres told reporters, according to Reuters.
HAMAS TERROR LEADERS HIDING ACROSS MIDDLE EAST AWAY FROM WAR IN GAZA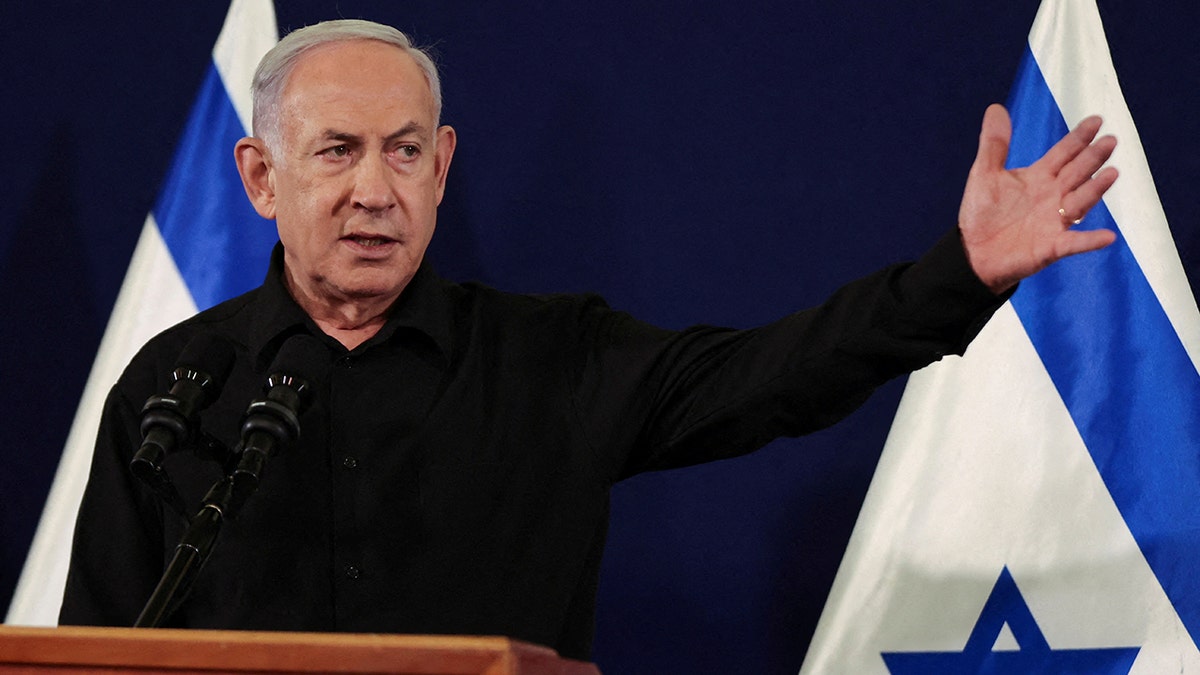 Israeli Prime Minister Benjamin Netanyahu holds a press conference with Defense Minister Yoav Gallant and Cabinet Minister Benny Gantz, not pictured, in the Kirya military base in Tel Aviv, Israel, Oct. 28, 2023. (ABIR SULTAN POOL/Pool via REUTERS)
"At the same time, Hamas and other militants use civilians as human shields and continue to launch rockets indiscriminately towards Israel," he said.
The United Nations Security Council met Monday but failed to pass a resolution on the Israel-Hamas war.
Council member nations discussed proposed resolutions for over two hours on Monday, but the body remains unable to agree on a resolution.
The Security Council has been unable to agree on the appropriateness of "humanitarian cease-fires" and "humanitarian pauses" requested by some council members to de-escalate the ongoing ground invasion by Israel.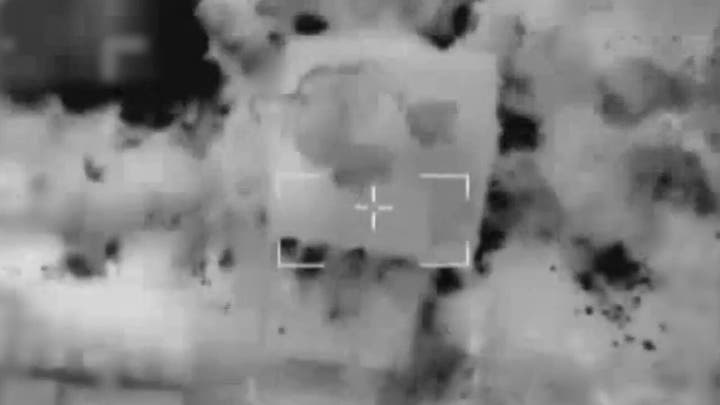 Video
The IDF on Monday released video showing Israeli tanks rolling through ruins in Gaza and troops on foot inside the territory. The military says it has surrounded Gaza City and is now hunting down Hamas field-level commanders to handicap the terrorists' ability "to carry out counter attacks," Reuters reported.
Netanyahu also said Monday that Israel will be responsible for the "overall security" of the Gaza Strip for an "indefinite period" once Hamas is defeated.
CLICK HERE TO GET THE FOX NEWS APP
"I think Israel will, for an indefinite period, will have the overall security responsibility because we've seen what happens when we don't have it," the prime minister told ABC News' David Muir. "When we don't have that security responsibility, what we have is the eruption of Hamas terror on a scale that we couldn't imagine."
Biden has previously said that an Israeli occupation of Gaza would be a "big mistake." In an interview with CBS' "60 Minutes" last month, he argued "there needs to be a Palestinian authority" in control of the Gaza Strip that would eventually lead a "Palestinian state."
Fox News Digital's Landon Mion, Timothy H.J. Nerozzi and Reuters contributed to this report.
Chris Pandolfo is a writer for Fox News Digital. Send tips to c[email protected] and follow him on Twitter @ChrisCPandolfo.