close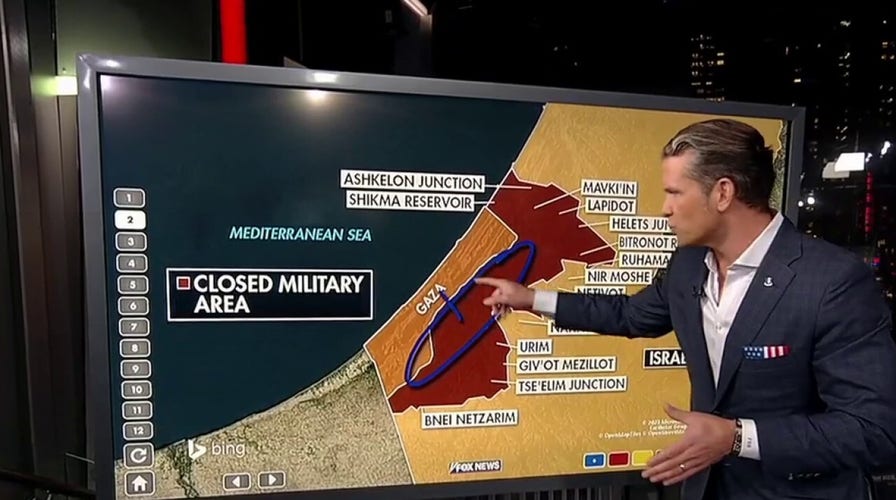 Video
Pete Hegseth: Israel needs to stage operations prior to ground assault
'FOX & Friends Weekend' co-host Pete Hegseth sheds light on Hamas' terror tunnels and what Israel's military will need to do to invade Gaza on 'Jesse Watters Primetime.'
The Israel Defense Force said it hit 750 military targets overnight Thursday in a response to the attacks launched on the country last weekend by terrorist group Hamas.
Dozens of fighter jets struck Hamas military targets in the Gaza Strip, including 12 Hamas military assets located in a multi-story building used by the group for terror purposes, according to the IDF.
The targets include underground Hamas terror tunnels, military compounds and posts, residences of senior terrorist operatives used as military command centers, weapons storage warehouses, communications rooms and targeted senior terrorist operatives.
In addition to the airstrikes, the IDF said soldiers from a special unit targeted three Hamas operatives that specialize in mortar fire at a military command center in Gaza City.
ISRAEL WARNS CIVILIANS IN NORTHERN GAZA TO EVACUATE FROM AREA WITHIN 24 HOURS: 'FOR YOUR SAFETY'
The Israel Defense Force said dozens of fighter jets and special unit soldiers hit 750 military targets in Gaza City overnight in response to Hamas' terrorist attacks on Israel. (Ahmad Hasaballah/Getty Images)
The overnight attacks into Friday morning come a day after Israel launched a "wave of strikes" that killed a senior Hamas leader and destroyed operational command centers in Gaza, IDF reported Thursday.
One of the airstrikes executed Thursday killed Muhammad Abu Shamla, a senior Hamas naval operative in the Rafah Brigade, while others struck operational command centers used by Hamas operatives, where the infiltration into Israeli communities surrounding Gaza on Saturday was organized.
"IDF aircraft struck Muhammad Abu Shamla, a senior Hamas naval operative in the Rafah Brigade. Abu Shamla's residence was used to store naval weapons designated for terror against the State of Israel," IDF said in a statement.
FORMER HAMAS LEADER URGES MUSLIMS, GLOBALLY, TO PROTEST ISRAEL AND JOIN THE FIGHT
On Friday, Hamas claimed that the Israeli military's airstrikes on the Gaza Strip have killed 13 of the hostages the group abducted during its deadly surprise attack in Israel on Saturday. Israeli officials have said as many as 150 people were taken hostage by Hamas.
Hamas' military wing said in a statement Friday that the 13 hostages died in various locations over the past 24 hours and did not share any identifying information. Israel has not confirmed the group's claim.
It is unknown how many of the hostages are Americans but the White House said Wednesday it is a "very small" number. Secretary of State Antony Blinken confirmed Thursday that 27 Americans have been killed in the ensuing war between Israel and Hamas.
CLICK HERE FOR THE LATEST UPDATES ON THE ISRAEL-HAMAS WAR
A Hamas spokesman threatened Monday that the group would kill one hostage for every unannounced Israeli airstrike that hit civilian homes in Gaza.
Hamas is known to hide in tunnels under civilian structures, using the people of Gaza as human shields against Israel's wrath.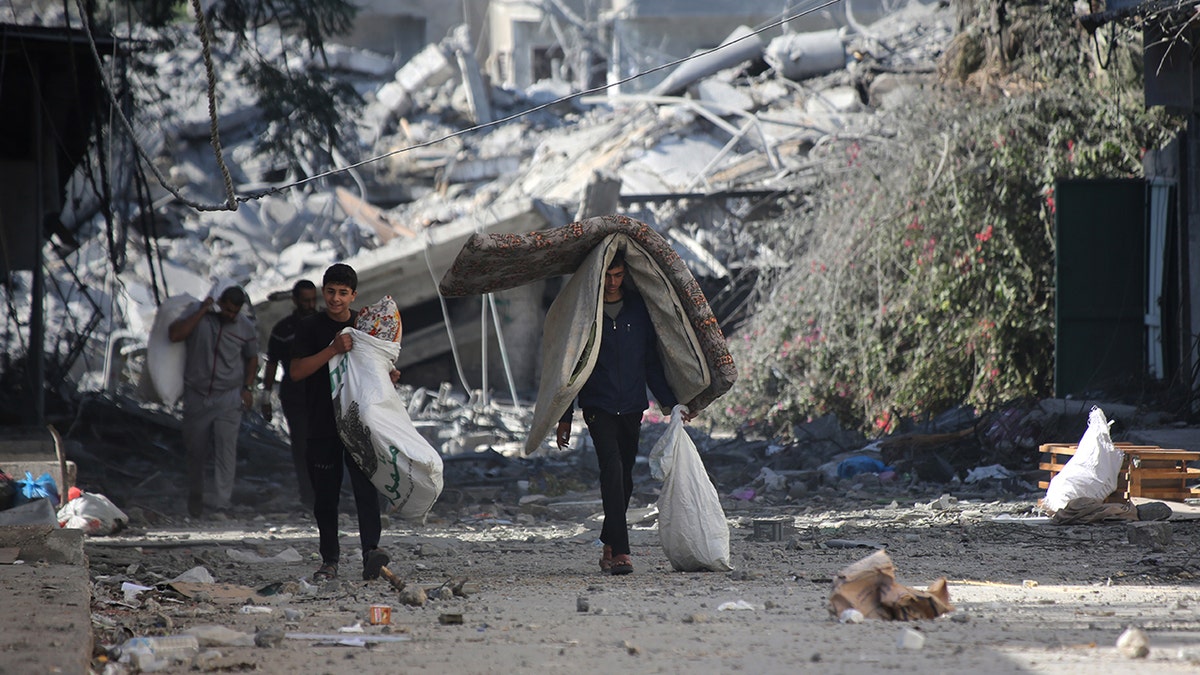 Palestinians displaced from their homes following Israeli raids on Oct. 13, 2023, in Gaza City, Gaza. (Ahmad Hasaballah/Getty Images)
CLICK HERE TO GET THE FOX NEWS APP
As of Friday morning, more than 2,800 Israelis and Palestinians have been killed and at least 9,800 have been wounded since Hamas launched its attack on Israel on Saturday.
The death toll is expected to rise as Israeli forces reportedly prepare for a ground invasion of Gaza.
Fox News Digital's Lawrence Richard contributed to this report.