close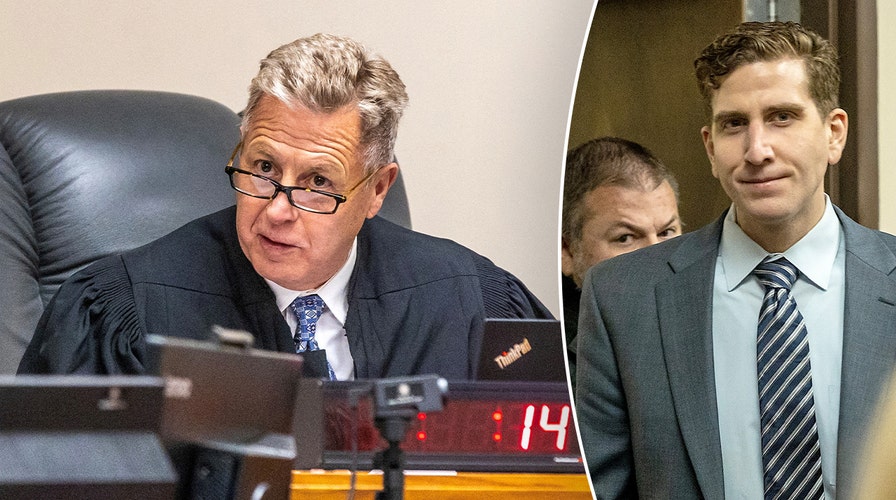 Video
Kohberger defense is 'gumming up the works': Nancy Grace
Fox Nation host Nancy Grace discusses the latest in the Idaho student murders case and the ex-wife of a Microsoft executive charged with murder. 
Idaho Judge John Judge has set a series of key deadlines for prosecutors and student massacre suspect Bryan Kohberger's defense as his looming trial approaches.
Discovery must be completed by Sept. 1.
The following week, on Sept. 8, Judge set several consequential deadlines. If Kohberger intends to buy more time and waive his right to a speedy trial, he must do so by then. Witness and evidence lists and all briefs and pre-trial motions are due the same day – and so are any motions regarding the death penalty, which is the maximum penalty Kohberger could face if convicted under Idaho law.
Edwina Elcox, a Boise-based defense attorney who is not connected to the case, said it's likely that Kohberger's defense waives his right to postpone the trial from its expected Oct. 2 start.
BRYAN KOHBERGER KICKED OUT OF HIGH SCHOOL COP CLASSES AFTER GIRLS COMPLAINED, FORMER ADMINISTRATOR SAYS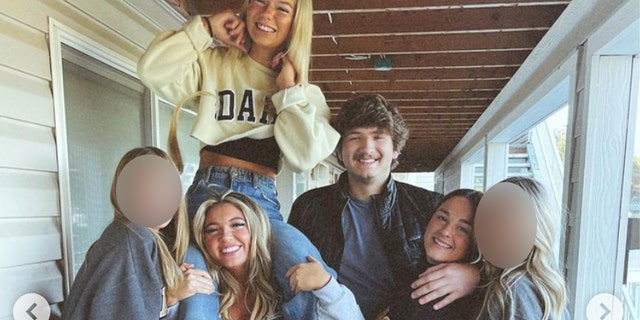 Madison Mogen, top left, smiles on the shoulders of her best friend, Kaylee Goncalves, as they pose with Ethan Chapin, Xana Kernodle, and two other housemates in Goncalves' final Instagram post, shared the day before the four students were stabbed to death. (@kayleegoncalves/Instagram)
"The reality is that many defendants whose cases are on the trial path waive their right to a speedy trial where evidence is much less voluminous and much less complicated," she told Fox News Digital. "In Kohberger's case, the discovery battles are obviously ongoing. To properly prepare for a jury trial of this magnitude with the amount of evidence and multi-jurisdictional agencies in a month after the discovery deadline is virtually an exercise in impossibility."
If the case continues as scheduled, response motions and briefs are due on Sept. 15 – and so are notices from the prosecution regarding what past "crimes, wrongs, or other acts" may be introduced as evidence.
Under Idaho law, these items cannot be used to prove the defendant's character – however, prosecutors can use them to illustrate a motive, intent, reparations or experience that proves the "absence of mistake, or lack of accident."
BRYAN KOHBERGER ALIBI: DEFENSE ATTORNEY SAYS IDAHO MURDERS SUSPECT WAS OUT DRIVING ALONE ON NIGHT OF KILLINGS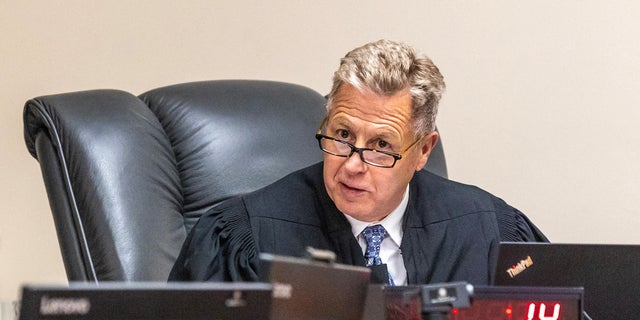 Judge John Judge speaks during a hearing Friday, Aug. 18, 2023, at the Latah County Courthouse in Moscow, Idaho. (August Frank/Pool via Reuters)
"If the prosecution wants to introduce I.R.E. 404(b) evidence, they have to put the defense on notice," Elcox explained. "The rule is meant to prevent propensity evidence so the jury renders a verdict based on the evidence presented related to the crimes charged, not because they hear about something Kohberger did previously."
"For example, if a person has a prior conviction for sexual abuse of a child and they are on trial for the same charge, the jury verdict should be based on the evidence presented on the current allegations, not because the jury heard about the prior conviction and doesn't want a child molester to go free."
IDAHO STUDENT MURDERS: DEFENSE GRILLS EXPERTS ON KNIFE SHEATH DNA MATCH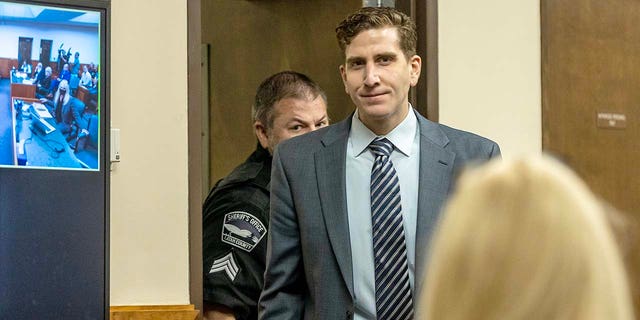 Bryan Kohberger enters the courtroom at the Latah County Courthouse in Moscow, Idaho on Friday, Aug. 18, 2023. Kohberger is accused of killing four University of Idaho students in November 2022. (August Frank/Lewiston Tribune)
Kohberger, who has a master's degree in criminal justice from DeSales University and barely completed his first semester studying for a Ph.D. in criminology at Washington State University, is accused of sneaking into a six-bedroom house near the neighboring University of Idaho and attacking four students with a large knife at 4 a.m. on Nov. 13.
He allegedly stalked the house a dozen times before the attack, turned off his cellphone the night of the crime, and left behind almost zero evidence – other than a DNA sample police recovered from a Ka-Bar knife sheath dropped at the scene.
The dead were later identified as Xana Kernodle, 20, her boyfriend Ethan Chapin, 20, and two 21-year-old housemates, Kaylee Goncalves and Madison Mogen.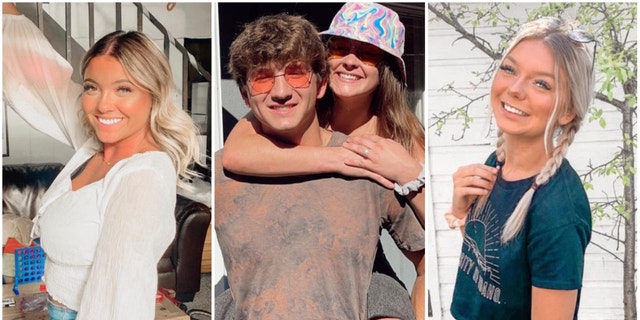 The victims of Nov. 13 University of Idaho massacre, from left, Kaylee Goncalves, Ethan Chapin, Xana Kernodle and Madison Mogen. (Instagram @xanakernodle / @maddiemogen / @kayleegoncalves)
The lone publicly identified eyewitness, a surviving housemate, told police she saw a tall, masked man with bushy eyebrows leaving through a sliding door.
Authorities have said at least some of the victims were asleep at the start of the attack.
Judge entered not guilty pleas on Kohberger's behalf to four charges of first-degree murder and a charge of felony burglary at his arraignment in May.
After his arrest at his parents' house in Pennsylvania, following a cross-country road trip he took home from Washington with his dad in the suspect vehicle, Kohberger through an attorney said he looked forward to being exonerated.
Kohberger, according to former classmates, family and public records, had struggled with obesity and drug abuse as a teen before returning to college. He briefly spent time at a vocational school, hoping to become a police officer, but was kicked out of the program for unspecified reasons, according to a former administrator.
Public records also show he was pressured to resign from a school security guard job at one point, and interviews with past employers indicate he struggled to hold down other jobs as well.
WATCH: Pennsylvania business owner who briefly employed Bryan Kohberger says job wasn't for him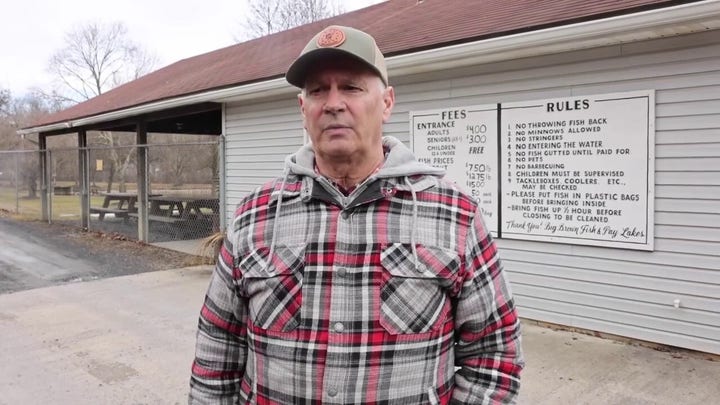 Video
CLICK HERE TO GET THE FOX NEWS APP
"A judge can allow 404(b) evidence to be admitted for reasons other than propensity," Elcox said. "Typically, an instruction is given to the jury that they must only consider the evidence for the limited purpose. But jurors are only human."
Kohberger was due back in court later Wednesday for a status conference.
Michael Ruiz is a reporter for Fox News Digital. Story tips can be sent to [email protected] and on Twitter: @mikerreports