President Biden's son Hunter Biden, who is facing wide-ranging probes into his business dealings, once noted that he and other family members "quarantined" at his father's home, where classified documents were recently found.
In his memoir published in April 2021, the president's son said he and other close family members spent election night on Nov. 3, 2020, at the Wilmington, Delaware, home. Hunter Biden wrote that he, his children, his wife Melissa Cohen, and his half-sister Ashley Biden and her husband Howard Krein watched coverage of the presidential election together as votes were counted.
"You would have loved the scene on election night, too, even though the night would've driven you nuts, not least because the vote counting dragged on for days," Hunter Biden wrote in the memoir.
"Yet one of the benefits of waiting so long for the race to be called was that we all waited it out together, at Mom and Dad's house – Melissa and the baby, my girls, Natalie and Hunter, Ashley and Howard," he continued in the passage. "More than waiting together, we were also quarantined together. There was no escaping one another."
FORMER BIDEN ASSISTANT QUESTIONED BY LAW ENFORCEMENT OVER CLASSIFIED DOCS REPEATEDLY APPEARED IN HUNTER EMAILS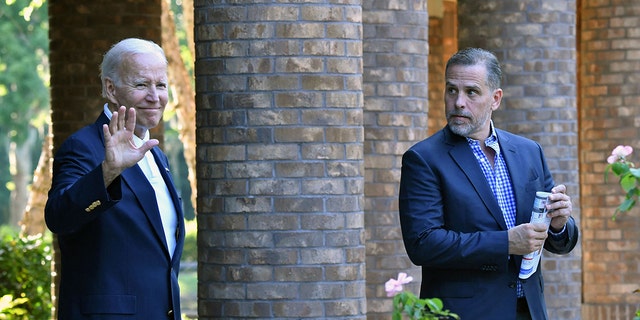 President Biden with his son Hunter Biden after attending Mass on Johns Island, South Carolina, on Aug. 13.
(Nicholas Kamm/AFP via Getty Images)
In addition to the revelation that Hunter Biden quarantined at the home during the 2020 presidential election, additional evidence has surfaced showing he has spent time at the home on numerous other occasions.
Hunter Biden was notably seen traveling with his father from the White House to Delaware on Dec. 16, just four days prior to the search of the residence that yielded the classified documents. According to the White House, the president's attorneys searched the Wilmington home and found the documents on Dec. 20.
HUNTER BIDEN, CHINA, CLASSIFIED DOCUMENTS: MYSTERY SWIRLS AROUND PENN BIDEN CENTER
Hunter Biden also spent time in Wilmington on at least five other instances since his father took office, according to various media reports of his whereabouts. For example, on March 26, 2021, Daily Mail reporter Rob Crilly tweeted footage of Hunter Biden traveling with the president to Wilmington.
The Washington Free Beacon reported Wednesday that it had obtained photos placing Hunter Biden at the Delaware home on July 30, 2017, shortly after his father departed the White House with documents from his tenure. The pictures showed Hunter Biden driving in his father's 1967 Corvette Stingray, which the president told reporters was parked next to where the classified documents had been found last month.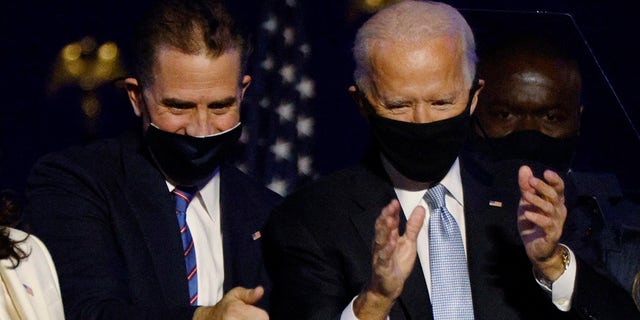 President Biden and his son Hunter Biden celebrate at an election rally in Wilmington, Delaware, after it was announced that he had won the presidential election on Nov. 7, 2020.
(Reuters/Jim Bourg)
The White House first revealed last week that a series of classified documents, including some marked "top-secret," dating back to Biden's time as vice president had been discovered at the Penn Biden Center. Later in the week, the White House acknowledged a second batch of classified documents was found in the garage of the president's Wilmington residence.
SEVERAL TOP WHITE HOUSE OFFICIALS WORKED FOR BIDEN AT HIS THINK TANK WHERE CLASSIFIED DOCS DISCOVERED
"As the President said, he takes classified information and materials seriously, and as we have said, we have cooperated from the moment we informed the [National] Archives that a small number of documents were found, and we will continue to cooperate," the president's lawyer Richard Sauber said in a statement on Thursday.
"We are confident that a thorough review will show that these documents were inadvertently misplaced, and the President and his lawyers acted promptly upon discovery of this mistake," he added.
Then, on Saturday, Sauber disclosed that yet another batch of five documents were discovered at the home despite earlier assurances from White House press secretary Karine Jean-Pierre that the search had been completed.
CLICK HERE TO GET THE FOX NEWS APP
Republicans, meanwhile, have zeroed in on whether Hunter Biden had access to the classified information – which included intelligence regarding Ukraine, Iran and the U.K. – in the aftermath of the discovery of the documents in the president's home. Hunter Biden is currently under federal investigation and faces congressional inquiries regarding his business dealings.
Attorney General Merrick Garland appointed career prosecutor Robert Hur to serve as a special counsel to investigate the president's handling of classified documents.
Fox News' Pat Ward contributed reporting