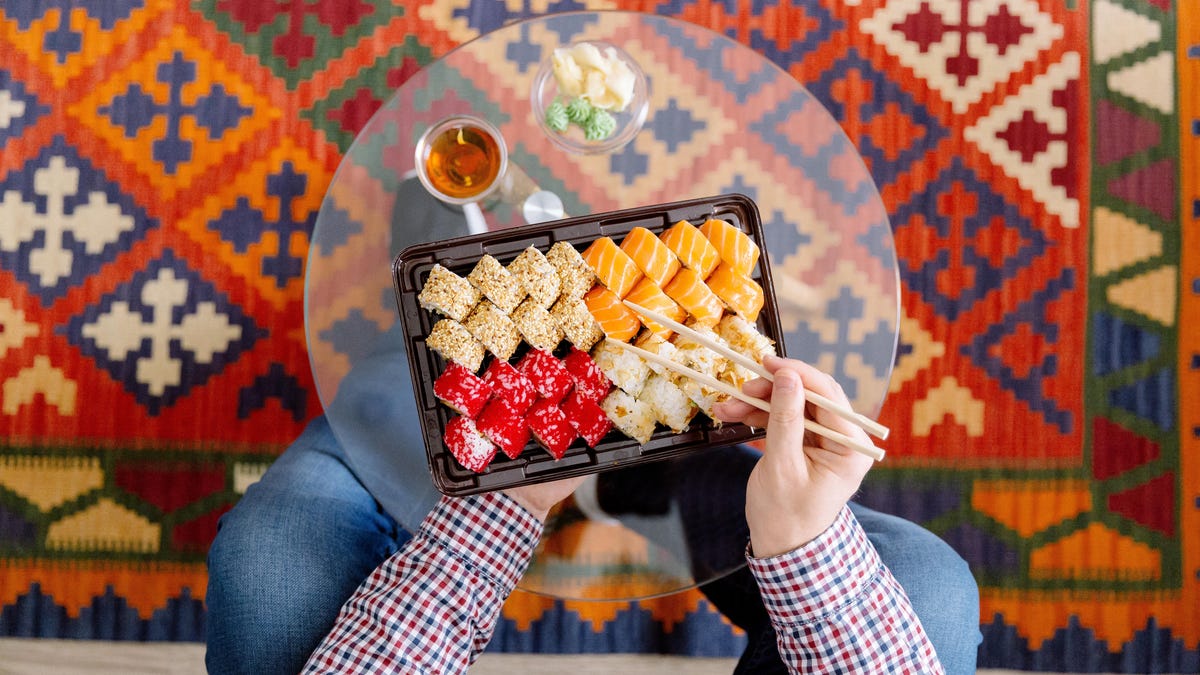 Food delivery doesn't have to cost you as much as your meal.
Getty/Alexander Spatari
Figuring out what to do for lunch can be annoying, and finding a food delivery service can be frustrating. When looking up nearby restaurants, you might switch between delivery service apps like DoorDash, Uber Eats and Grubhub to find the fastest, cheapest delivery. Switching between these services can be annoying and frustrating and can leave you feeling hungrier than before.
Two apps can put an end to that cycle. FoodBoss (for Android and iOS) and MealMe (for iOS) let you compare delivery time estimates and costs without switching between different platforms. 
Here's what to know about these two food delivery comparison apps.
Best Food Delivery Service: DoorDash, Grubhub, Uber Eats and More
See at CNET
FoodBoss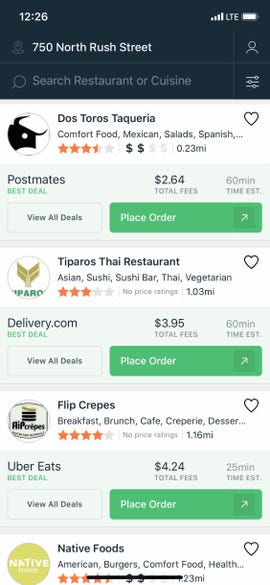 The FoodBoss interface.

FoodBoss

FoodBoss (including its browser version) launched in 2017, and it aggregates third-party delivery services like UberEats, Postmates, EatStreet and Delivery.com into one place. It's available in more than 80 metro areas across the US, including Atlanta, Chicago and New York City. 
When you go to the web version of FoodBoss, type in your address, and you'll see a list of restaurants and the delivery services they work with. You'll also see estimated total fees, including delivery fees, surge pricing, service fees and taxes, and delivery time estimates. From there, you can filter results based on cuisine type, fastest delivery time or least expensive total fees. 
MealMe
MealMe's business has transformed in recent years, but the company still has an app that lets you order food and compare delivery prices. It compares across delivery services like DoorDash, GrubHub, UberEats, Postmates, Caviar, Waitr, Delivery.com and Eatstreet. It's only available on iOS, but the company plans to roll it out on Android and the web later, according to co-founder Matt Bouchner. MealMe is available in cities across the US.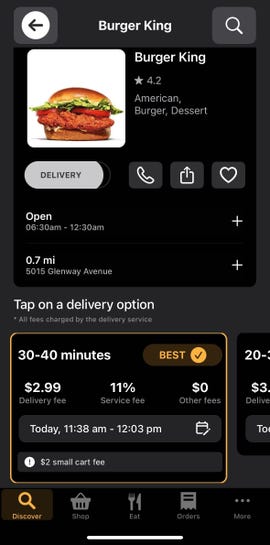 MealMe shows you different delivery options and the fees associated with them.

Screenshot by Zach McAuliffe/CNET

MealMe's app operates somewhat differently than FoodBoss. The app finds restaurants near you, or it lets you search for the restaurant you want. When you tap on the restaurant you want, you'll see different delivery options with estimated delivery times and delivery, service and other fees. The app will also flag which delivery option it deems "Best" or "Fastest." After tapping the option you want, you can add items to your order the way you would other food delivery apps. You then place your order when you're ready to checkout.
Which app should you use? 
Both FoodBoss and MealMe can help save you some money on delivery fees and satisfy your hunger, but they each have some caveats.
FoodBoss operates in fewer cities and has fewer delivery services to compare, but gives you more information in terms of fees and delivery time estimates. It's also available on more platforms. 
MealMe is available in more cities and it lets you order groceries, but it gives you less information before sending you to the delivery app. It's also only on iOS at the moment. 
Both apps have partnerships with delivery services, so customers don't get charged anything extra for using the apps — they're purely aggregators, the founders of each said. Deciding which one you use depends on your situation, including where you live and what device you use.
More delivery service recommendations

Best Food Delivery Service: DoorDash, Grubhub, Uber Eats and More
Best Meat Delivery Services for 2023: Porter Road, Rastelli's, ButcherBox and More
Don't Bother Leaving Home. Enjoy a Drink (Responsibly) and Get Alcohol Delivered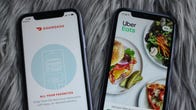 Now playing:
Watch this:

Food delivery apps compared: DoorDash vs. Uber Eats
11:35