Recently, I received an email from Michael who asked this question:
"My topic is about what to do with our parents' "Digital Footprints" after they pass or even footprints of someone who passes in our family. What options do survivors have and how can they close all digital accounts?"
CLICK TO GET KURT'S CYBERGUY NEWSLETTER WITH QUICK TIPS, TECH REVIEWS, SECURITY ALERTS AND EASY HOW-TO'S TO MAKE YOU SMARTER
When a loved one passes away, their Facebook account and all the accompanying memories, such as photos and other posts, may eventually be deleted due to inactivity.
However, you can also memorialize the account so that their content remains on the site for others who knew them to look back on and add posts.
What does memorializing a Facebook account mean?
Memorialization means that the Facebook account is transformed into a memorial page where friends and family can continue to share memories and connect.
If the account is not memorialized and no one reports the user's death to Facebook, the account will eventually be deleted due to inactivity. If the deceased person had a Facebook Legacy Contact, that person can request to have the account memorialized.
With no Legacy Contact already chosen, a close friend or family member can request memorialization by providing proof of death to Facebook.
IPHONE, IPAD AND MAC JUST LANDED ON DEPT. OF HOMELAND SECURITY WARNING LIST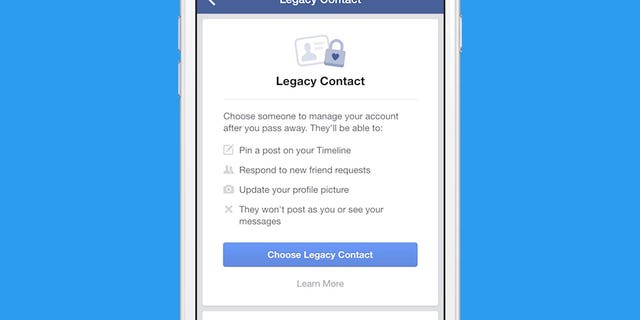 Screenshot of the Legacy Contact page on Facebook.
What can a Legacy Contact do?
Adding a Legacy Contact means that you are appointing someone else to look after your Facebook profile from their own account if you were to pass away. This allows them to write a pinned message giving service information and lets them decide who can post tributes on your page.
It also lets them delete any posts and remove tags to your profile that someone else has posted. The Legacy Contact can also remove your account entirely if that's what you wanted, update your profile and cover photos, download what you've previously shared to Facebook, and more.
THIS CREDIT CARD CAN HEAR WHAT YOU ARE SAYING AND IT'S COMING TO A WALLET NEAR YOU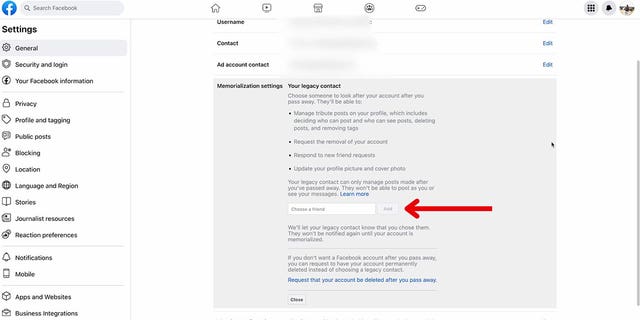 Screenshot of the settings page on Facebook showing how to select legacy contact.
How do I add a Legacy Contact to my Facebook account?
Note: you must be 18 years of age or older to add a Legacy Contact to a Facebook account.
To add a legacy contact on Facebook on a computer:
Tap your profile icon on the top right
Go to Settings & Privacy
Tap Settings
Next to Memorialization Settings, tap Edit
Under the Legacy Contact option, select which of your Facebook friends you'd like to control your profile after
To add a legacy contact on Facebook via the smartphone app:
Open the Facebook app and tap Menu
Click the gear icon in the top right
Select Personal and Account Information
Tap Account Ownership and Control
Click Memorialization Settings
Select Choose Legacy Contact (or Delete After Death if you'd rather have your account permanently deleted)
Choose a Facebook friend to be your legacy contact
DIGITAL BURGLARIES: THE THREAT FROM YOUR SMART HOME DEVICES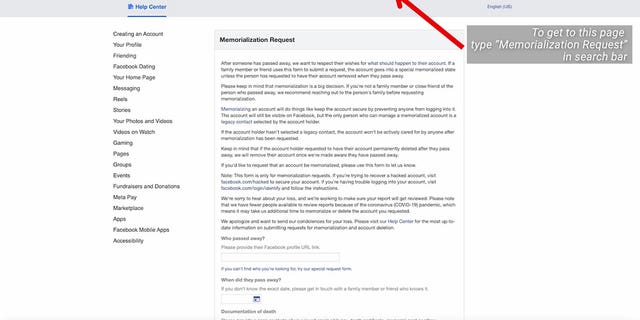 Facebook screenshot showing you how to request a legacy contact. (CyberGuy.com)
What if my loved one did not set up a Legacy Contact?
If someone you know passed away and didn't set up a Legacy Contact, you may send a request to Facebook to memorialize or remove an account on their website. To do this:
Go to Facebook's Memorialization Request page
Fill out their Facebook profile URL link, the exact day they passed away, and you'll need to provide a scan or photo of an obituary, death certificate, memorial card, or other documentation confirming they've passed away.
Give your email address and press Send. Facebook will then address your request
THE 5 BEST RADAR DETECTORS AND APPS
What if I can't get into my loved one's device?
Apple, Android, and Windows all have ways for you to unlock a device after your loved one has passed away. You can find instructions on how to do so for Apple devices here and for Android and Windows devices here.
Check out how to get unlock your loved one's devices after they've passed away by heading to CyberGuy.com and searching "unlock when the owner passes away" using the magnifying glass in the top right.
Was this helpful to you? We'd love to hear from you.
CLICK HERE TO GET THE FOX NEWS APP
For more of my tips, subscribe to my free CyberGuy Report Newsletter by clicking the "Free newsletter" link at the top of my website.
Copyright 2023 CyberGuy.com. All rights reserved. CyberGuy.com articles and content may contain affiliate links that earn a commission when purchases are made.