Republicans on the House Oversight Committee are looking for answers from DHS over allegations that President Biden's recent visit to El Paso, Texas, was "sanitized," with migrants cleared away before the president's first visit to the besieged southern border this month.
"For weeks, large encampments of homeless illegal border crossers—released by the Biden Administration—have encamped on the streets of El Paso," the letter to DHS Secretary Alejandro Mayorkas from House Oversight Committee Chairman James Comer said. "These encampments were cleared immediately prior to President Biden's visit to the city on January 8, 2023. We write to understand the circumstances surrounding the role DHS played in clearing homeless illegal border crossers for President Biden's visit to El Paso."
Biden visited El Paso earlier this month, meeting with elected officials, and community leaders and taking a walk along parts of the border barrier, days after announcing a number of border measures to deal with the ongoing crisis. But Customs and Border Protection (CBP) sources told Fox News that the Central Processing Center, which was previously overwhelmed with immigrants, was no longer at capacity and the camps of migrants vanished.
"El Paso is being cleared up as if nothing unusual ever happened there," the National Border Patrol Council tweeted ahead of the visit. "Just in time for Biden's 'visit to the border.'"
COMER CALLS ON BORDER OFFICIALS TO TESTIFY ON BIDEN POLICIES 'FUELING' MIGRANT CRISIS
CBP sources said that migrant camps in El Paso began a week earlier, but were in response to community complaints, including from the El Paso Police Department.
Sources had told Fox that the clearing was primarily to address large groups of mostly Venezuelan migrants who crossed into the U.S. without turning themselves into the Border Patrol out of fear that Title 42 rules would get them expelled.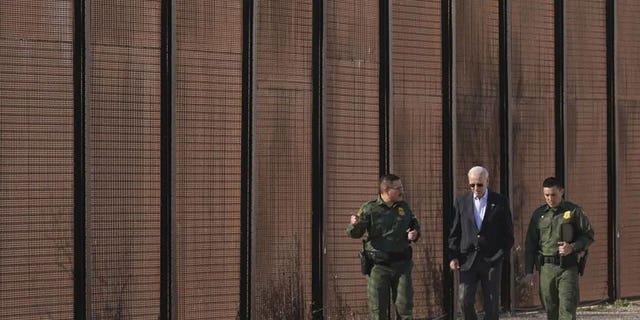 President Joe Biden walks with U.S. Border Patrol agents along a stretch of the U.S.-Mexico border in El Paso Texas, Sunday, Jan. 8, 2023. 
(AP Photo/Andrew Harnik)
Since the migrants could not get into shelters, they set up camps and the crime rate increased, with many Venezuelans getting arrested for breaking into cars. Community members complained, according to CBP sources, and Border Patrol agents started making arrests.
Biden's visit also combined with a sharp drop in migrant encounters. The El Paso sector saw an average of 2,150 daily migrant encounters in mid-December, but by the beginning of January dropped below 1,000 per day.
It's something the White House noted when responding to claims that Biden had seen a sanitized version of the border.
BIDEN SEES 'SANITIZED' BORDER CRISIS AS MIGRANT ENCOUNTERS PLUMMET AT EL PASO AND ENCAMPMENTS CLEARED: SOURCES
"El Paso [border encounters] did go down significantly prior to the President's visit by about 70%," White House Press Secretary Karine Jean-Pierre said on Jan. 11. "That's a good thing that we've seen the numbers go down."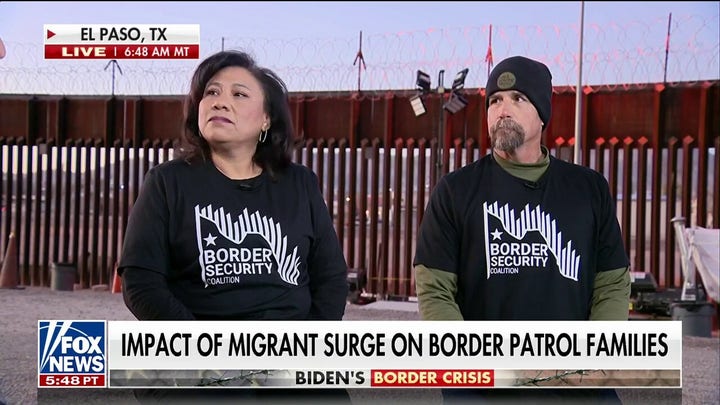 Video
"It has helped ease pressure all across the community. But the President's visit had nothing to do with it."
BORDER PATROL UNION RIPS BIDEN'S BORDER VISIT, SAYS EL PASO CLEANED UP 'JUST IN TIME'
But Comer is not yet convinced and are asking for documents and communications between DHS and other agencies, as well as the city of El Paso.
"Before the President's visit, El Paso's migrant camps were so overwhelmed and unsanitary that local officials were concerned that the camps would become hotbeds for infectious disease," Comer writes. "The President apparently did not see a single released illegal alien in a border town overwhelmed with illegal border crossers released by his Administration."
The letter comes as Republicans are ramping up their efforts to scrutinize the Biden administration over the raging crisis at the southern border, with has seen nine consecutive months of over 200,000 encounters.
CLICK HERE TO GET THE FOX NEWS APP
Comer on Thursday announced that the committee will hold a hearing on the border in early February, and has called on a handful of Biden administration career officials to testify, including Border Patrol Chief Patrol Agents Jason Owens, Gregory Bovino and Gloria Chavez and Acting Chief Border Patrol Agent Patricia McGurk-Daniel.
Fox News' Greg Wehner, Jessica Chasmar, Bill Melugin and Kelly Laco contributed to this report.