House Republicans laid out a busy agenda Tuesday that looks to end the Biden administrations' COVID-related policies on federal spending and remote work options.
GOP Conference Chairwoman Rep. Elise Stefanik said the first step in ceasing pandemic policies was to "force the federal government to acknowledge what the American people already know the pandemic is over."
Stefanik said House Republicans this week will look to pass a series of bills that would require the federal acknowledgment that the pandemic has ended, end vaccine mandates for healthcare workers and require in-person work for federal employees.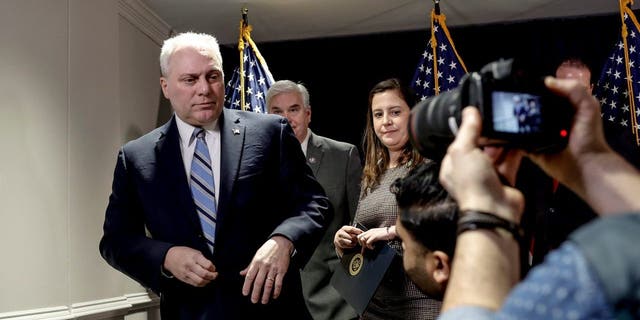 House Majority Leader Steve Scalise, left, departs after a press conference at the RNC headquarters on Capitol Hill on Jan. 25, 2023, in Washington, D.C.
(Anna Moneymaker/Getty Images)
BIDEN TELLS CONGRESS HE'LL END COVID-19 EMERGENCIES ON MAY 11
Chairman of the Oversight Committee GOP Rep. James Comer, said that "President Biden's unnecessary expansion of telework has crippled the ability of agencies to get their jobs done."
The chairman claimed that telework has "created massive backlogs" when it comes to veterans, taxes and senior needs.
"Seniors have experienced delays with the Social Security Administration, American taxpayers have struggled to get help from the IRS during tax filing season and veterans have been unable to access the records," he said.
House Majority Leader Steve Scalise echoed these complaints and said his office continues to receive messages from constituents over issues with obtaining tax returns, records, passports and veteran benefits.
"Washington shouldn't be the last place to get back to work. It should have been the first," Scalise told reporters. "But yet as we see today, at many agencies more than half of their federal workers are not showing up to work. And it's hurting families back home across America."
Comer said that pandemic relief not only needed to end, but an intensive look into federal spending needed to be reviewed to uncover "fraud, abuse and mismanagement in the federal government."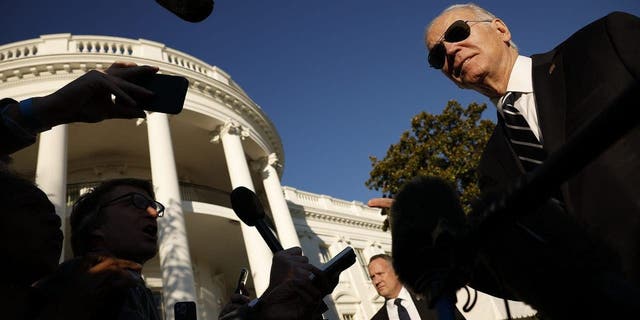 President Biden talks to reporters after returning to the White House on Jan. 30, 2023, in Washington, D.C.
(Chip Somodevilla/Getty Images)
RAND PAUL, ERNST INVESTIGATE 'DISTURBING' $5.4B IN PANDEMIC FRAUD AS BIDEN MOVES TO END COVID EMERGENCY
"Hundreds of billions of dollars have been stolen from American taxpayers lining the pockets of criminals and foreign adversaries," the chairman said. "We owe it to the American people to provide answers about how their money, whether spent under the Trump administration or Biden administration, was squandered."
President Biden told Congress on Monday he would end the national emergency and public health emergency declarations and countered GOP calls to end the emergency orders immediately.
"An abrupt end to the emergency declarations would create wide-ranging chaos and uncertainty throughout the health care system — for states, for hospitals and doctors' offices, and, most importantly, for tens of millions of Americans," the Office of Management and Budget said in a statement.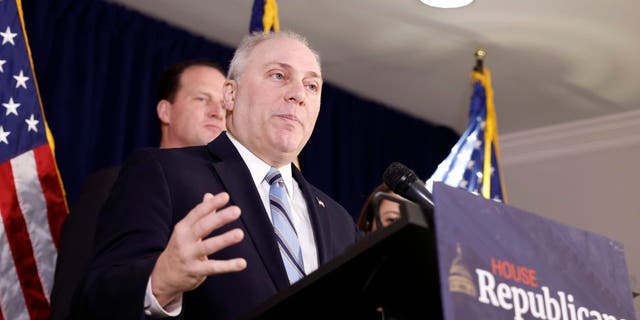 House Majority Leader Steve Scalise speaks at a press conference at the RNC headquarters on Capitol Hill on Jan. 25, 2023, in Washington, D.C. 
(Anna Moneymaker/Getty Images)
CLICK HERE TO GET THE FOX NEWS APP
Scalise on Tuesday pushed back on this and said Republicans want the orders ended sooner.
"Don't wait until May. Let's open our country back up again. Get our economy back up again. Let these families get their lives moving forward," he added.