House Democrats are launching a working group aimed at crafting artificial intelligence policy, the latest attempt by federal lawmakers to wrap their heads around legislating the rapidly-advancing sector.
The New Democrat Coalition, a group of nearly 100 House Democrats that touts itself as "pragmatic," unveiled the new initiative this week.
Rep. Don Beyer, D-Va., one of the initiative's vice chairs, told Fox News Digital he hopes the working group will "help develop real, practicable ideas that will put guardrails in place for AI.
"I continue to be focused on a variety of areas related to AI, including safety and security, transparency, the future of work, preventing civil rights abuses, health care and suicide prevention, and more, and have discussions ongoing about legislation in these areas with members of both parties," Beyer said. "Congress has to get up to speed on this issue, and I think the New Dems' AI working group will be a constructive setting for progress."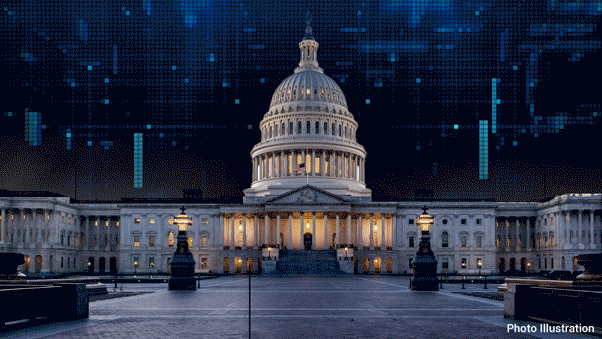 The Biden administration and Congress are examining how to regulate AI. The latest effort is the launch of a new working group by the New Democrat Coalition (Getty Images)
Working group Chair Rep. Derek Kilmer, D-Wash., suggested it could lay the groundwork for an AI regulatory framework in the House of Representatives. "We are already seeing how breakthroughs in this emerging technology present both great opportunities and challenges with potential disruptions for workers, for democracy, and for national security," Kilmer said.
"As AI's applications expand and change, it is incumbent on lawmakers to address its unique opportunities and challenges by creating a regulatory framework that both encourages growth while guarding against potential risks."
WHAT IS ARTIFICIAL INTELLIGENCE (AI)?
Rep. Seth Moulton, D-Mass., another member of the working group and a Marine veteran, said he was concerned with how AI would "transform warfare" and called on Congress to put up responsible guardrails against the technology's most devastating possibilities.
"It's going to be impossible for Congress to really stay ahead of AI, but what we can and should do is to take very seriously AI's most dangerous use cases and develop solutions and safeguards that apply directly to those cases," Moulton told Fox News Digital. "I'm also particularly concerned about how AI will transform warfare. We need a Geneva Convention for AI in warfare so that Beijing or Moscow aren't empowered to set the goalposts. The New Dems are known for prioritizing practical solutions to our biggest challenges, so this working group makes a lot of sense and I expect it to be very productive."
He also added, "I'm glad this working group will be focusing on protecting our democratic institutions from AI interference. Trust in our elections is already eroding and AI could do irreparable harm if left unchecked."
WHITE HOUSE GETS SEVEN AI DEVELOPERS TO AGREE TO SAFETY, SECURITY, TRUST GUIDELINES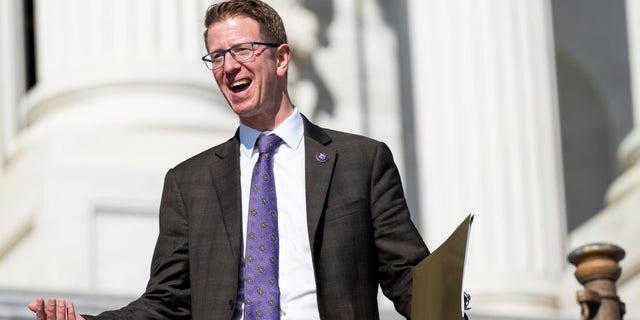 Rep. Derek Kilmer is the new AI working group's chair.
It follows a similar effort by Senate Majority Leader Chuck Schumer, D-N.Y., who launched a bipartisan AI working group with the aim of crafting regulation earlier this year.
And while efforts to regulate AI appear to be in their infancy so far, it's already clear that Democrats in Congress' lower chamber would have a more uphill battle than in the Senate.
CRUZ SHOOTS DOWN SCHUMER EFFORT TO REGULATE AI: 'MORE HARM THAN GOOD'
Speaker Kevin McCarthy, R-Calif., who set up a bipartisan group of AI learning sessions for House lawmakers alongside Minority Leader Hakeem Jeffries, D-N.Y., told Fox News Digital in April that it was early to start discussing regulatory barriers.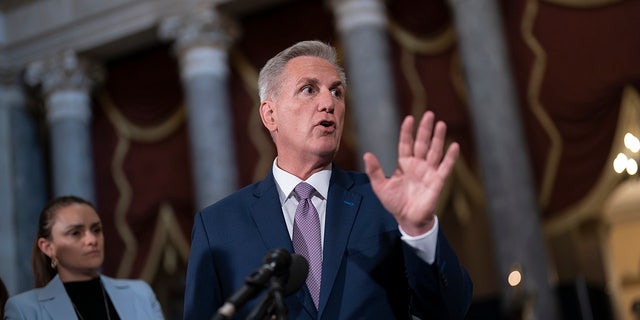 It's likely going to be an uphill battle to get an AI regulatory framework passed in the House, where Speaker Kevin McCarthy has signaled he would be opposed to it at the current moment (AP Photo/J. Scott Applewhite)
CLICK HERE TO GET THE FOX NEWS APP
"What you want to first do, you want to gather all the information," he said at the time. "That's why I think the best approach here is to bring in some of the brightest minds to talk about it before you're crafting any legislation on it."
Fox News Digital reached out to McCarthy's office to inquire whether his position has since shifted but did not immediately hear back.