close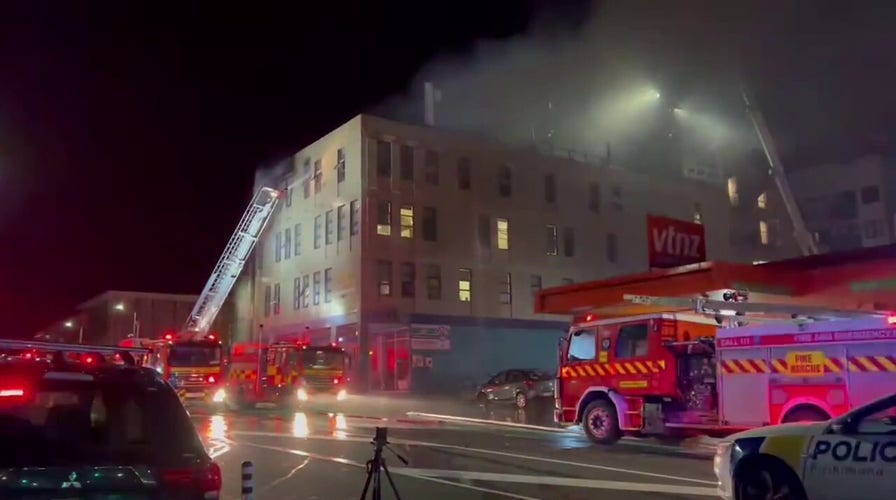 Video
New Zealand hostel fire kills 6 in capital city
A fire in the Loafers Lodge in Wellington, New Zealand, killed six people, with 11 remaining unaccounted for after emergency responders were able to safely evacuate or retrieve 52 people. SOURCE: @RDFurry via Spectee /TMX
Six people died in a New Zealand hostel fire Tuesday, with the toll possibly rising as 11 people remain missing.
"This is a tragic event for all involved," Fire and Emergency New Zealand District Commander Nick Pyatt said. "My heartfelt condolences go to the loved ones of those who have lost their lives."
The fire at the Loafers Lodge, a four-story hostel in the capital city of Wellington, started at around 12:30 a.m. local time. Emergency responders rescued 52 people before the building's roof collapsed.
Due to its location across from a hospital and the highly competitive housing market, the hostel's residents consisted of a number of medical professionals and a mix of unemployed and homeless people, the BBC reported. Some residents have been deported from Australia.
WYOMING HUNTER WHO ALLEGEDLY KILLED A GRIZZLY BEAR NEAR YELLOWSTONE FACES A YEAR BEHIND BARS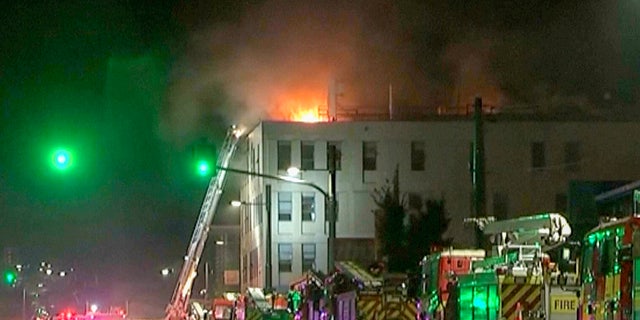 In this image made from video, firetrucks stage outside a hostel in central Wellington, New Zealand, early Tuesday, May 16, 2023. Several people were killed after a fire broke out overnight at the four-story building. (NewsHub via AP)
Wellington City Council spokesperson Richard MacLean said the hostel provided a combination of short-term and long-term rentals. He did not have all the details, he said, but he believed it was used by various government agencies to provide clients with needed accommodation.
The cause of the fire remains unknown, but police do not believe it was started deliberately despite treating the incident as suspicious, the New Zealand Herald reported. Officials could not confirm whether fire alarms worked, and the Herald reported that the building had no sprinklers.
The Herald reported that a convicted arsonist had stayed at the building, and police started questioning him at midday.
UTAH HIKER KILLED, SECOND HOSPITALIZED AFTER SLIPPING WHILE ROCK CLIMBING IN BIG COTTONWOOD CANYON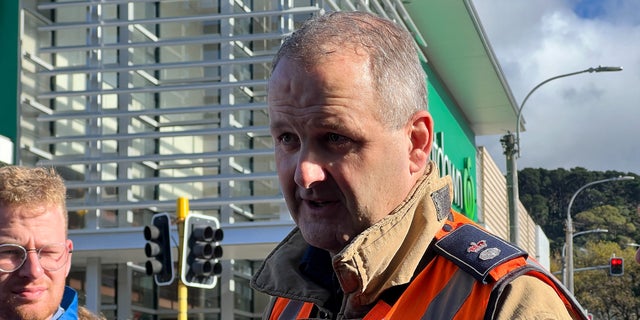 Fire and Emergency Wellington District Manager Commander Nick Pyatt speaks with the media outside the Loafers Lodge hostel after a fire, in Wellington, New Zealand, May 16, 2023. (Reuters/Lucy Craymer)
"The police are still interviewing me … but the detective is asking questions his boss is asking him to ask me," he said. "I don't even know why … but it's frustrating … he keeps saying 'we're almost finished'," the arsonist said, denying he started the fire and refusing to reveal what questions police asked him.
Police will wait until the building is safe to enter before they begin conducting a wider investigation. Acting District Commander of Police Dion Bennett said that the officers are working to reconcile the list of visitors.
Pyatt described the incident as the city's "worst nightmare," adding that the building contained asbestos. He urged residents to wear face masks and keep their windows shut to avoid inhaling smoke.
PIECES OF WETSUIT, SURFBOARD FOUND AFTER SHARK ATTACK IN SOUTH AUSTRALIA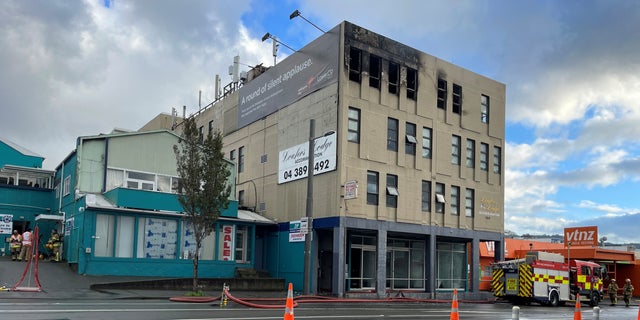 The exterior of a hostel, after a fire ripped through the building, resulting in a number of deaths, in Wellington, New Zealand, May, 16, 2023. (AAP Image/Ben McKay via Reuters)
"This is a once-in-a-decade fire for Wellington," he said.
Prime Minister Chris Hipkins visited the site and spoke with emergency service providers, saying, "It is an absolute tragedy and it is a horrific situation."
"In the fullness of time, of course there will be a number of investigations about what has happened and why it happened but for now, the focus needs to be on dealing with the situation," Hipkins added.
CLICK HERE TO GET THE FOX NEWS APP
The lack of sprinklers in the building has prompted demands of an inquiry from members of parliament.
The Associated Press and Reuters contributed to this report.
Peter Aitken is a Fox News Digital reporter with a focus on national and global news.