close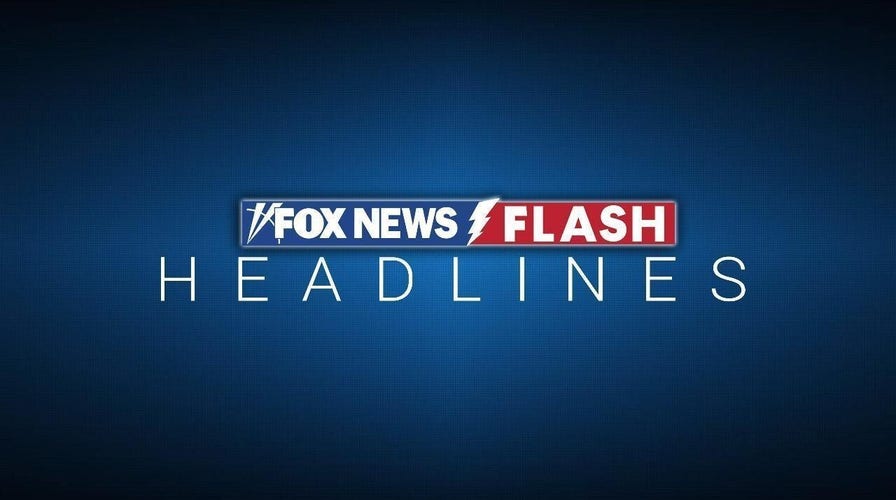 Video
Fox News Flash top headlines for May 11
Fox News Flash top headlines are here. Check out what's clicking on Foxnews.com.
A Hong Kong newspaper announced Thursday it will stop publishing drawings by the city's most prominent political cartoonist after they drew government complaints, in another example of restrictions on speech and media after a Beijing-led crackdown.
Chinese-language newspaper Ming Pao did not explain why it is ending its 40-year partnership with Wong Kei-kwan on Sunday. Wong, better known by the pen name Zunzi, told The Associated Press the decision was made through mutual consultation.
"Everyone knows why publication has to be halted, but no one will 'confirm' the reason," he said in a text message to the AP with two emojis showing a laughing face.
His comic drawings caricatured Hong Kong society's frustrations since before the then-British colony was returned to Chinese rule in 1997.
The newspaper has not responded to requests for further comment.
HONG KONG POLICE ALLOW PROTEST FOR FIRST TIME IN YEARS—UNDER STRICT RULES
Wong said he feels the city's freedoms of speech and expression are shrinking but that he will continue to create as long as he is able to. He will try to find other channels to publish his cartoons, he said.
"Honestly, I appreciate very much that Ming Pao let my cartoons be published until now. If it had been other platforms, the halting of publication would have happened way earlier," Wong said.
Since Beijing imposed a sweeping National Security Law following massive pro-democracy protests in 2019, the city's art and media communities have learned to be wary of crossing vaguely defined red lines in producing art and other content that might be perceived as challenging Communist Party control. Authorities have also increasingly used a colonial-era sedition law to target critical voices.
Multiple cartoons by Wong have been criticized in recent months by different government agencies, including the security bureau. Most recently, the Home and Youth Affairs Bureau slammed his work for "smearing" the government's role of appointing local committee members who will choose candidates in district council elections later this year.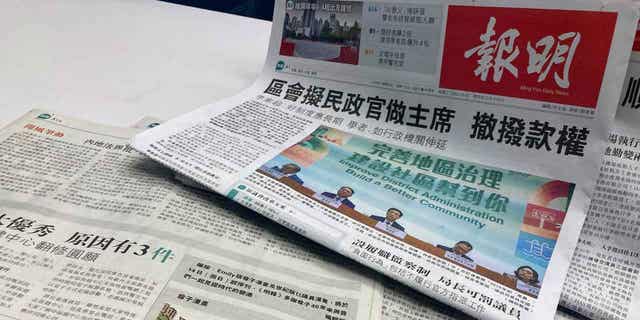 Copies of the Chinese-language newspaper Ming Pao and a cartoon by Wong Kei-kwan is shown in Hong Kong, on May 11, 2023. A Hong Kong newspaper will stop publishing works by Kei-kwan after his drawings drew government complaints. (AP Photo/Kanis Leung)
In his drawing, a man tells a woman that even if some people failed exams and have health problems, they can still be appointed to the committees as long as the "senior officers" deemed they are suitable.
According to the government plan to overhaul district councils, local committees staffed by many government supporters will choose about 40% of the 470 seats. The councils were the last major political representative bodies chosen by the public in Hong Kong and will be reduced from some 90% directly elected seats to about 20%, even lower than the level under British colonial rule.
Asked whether the newspaper's decision to halt publication of Wong's cartoons was related to the government's criticism, Secretary for Home and Youth Affairs Alice Mak said she wouldn't comment on decisions made by individual organizations.
MASSIVE HONG KONG FIRE CONSUMES SKYSCRAPER UNDER CONSTRUCTION, RAINING BURNING EMBERS ONTO STREET
"But for false statements or things that are far from facts, we have to clarify to let residents understand about the truth," she told reporters.
Security minister Chris Tang, who criticized Wong's work last month, insisted the city's residents have the right to freedom of speech and press under the city's constitution and the security law.
If some editors do not want to let someone use their platform to smear and incite dissatisfaction toward the government through misleading allegations, and they stop these activities, it is a very responsible way to handle this, he said.
Other government departments that complained about Wong's drawings have not responded to requests for comment.
In its announcement, Ming Pao's editorial department expressed the newspaper's gratitude to Wong for witnessing the changing times with them over the last four decades.
The Ming Pao Staff Association on its Facebook page expressed regret that Wong's cartoons will no longer be featured in the newspaper.
CLICK HERE TO GET THE FOX NEWS APP
"Other than news reports, the works of columnists are also a part of Ming Pao's core value," it wrote. "A diversified society should be inclusive of different voices. We hope all sectors can respect freedom of speech."
The Hong Kong Journalists Association said the incident showed that the space for freedom of speech in the city has further shrunk.
Hong Kong ranked 140th out of 180 countries and territories in Reporters Without Borders' latest World Press Freedom Index released last week. The global media watchdog said the city has experienced an unprecedented setback since 2020, when the security law was introduced.