close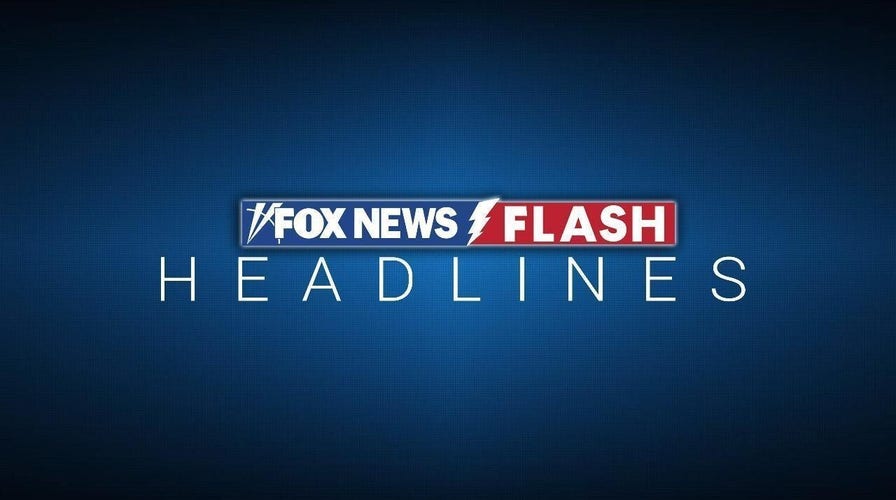 Video
Fox News Flash top headlines for March 15
Fox News Flash top headlines are here. Check out what's clicking on Foxnews.com.
Honduran President Xiomara Castro announced Tuesday that her government will seek diplomatic relations with China, a move which in turn implies severing ties with Taiwan.
The switch, if made official, would leave Taiwan recognized by only 13 countries, including Vatican City.
A source of friction in U.S.-Sino relations, the United States, while has no formal diplomatic ties with Taiwan, remains its most significant international backer and arms supplier, Reuters reported.
The announcement adds pressure ahead of Taiwan President Tsai Ing-wen's planned visit next month to the Central American countries of Guatemala and Belize and to the United States to meet with House Speaker Kevin McCarthy.
FBI DIRECTOR CHRIS WRAY TESTIFIES CHINESE-OWNED TIKTOK HAS POWER TO 'DRIVE NARRATIVES,' 'DIVIDE AMERICANS'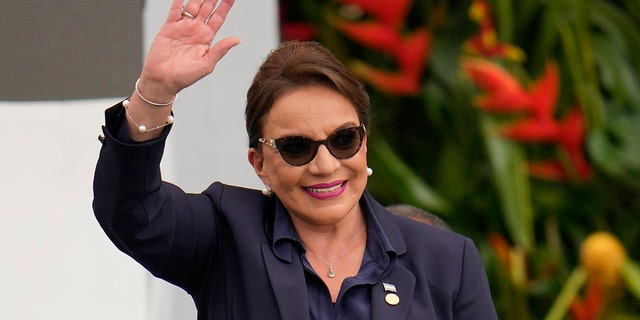 Honduran President Xiomara Castro announced her administration is opening diplomatic relations with the People's Republic of China. (AP Photo/Fernando Vergara, File)
China is reportedly spending billions to win recognition for its "One-China" policy.
Beijing claims self-ruled, democratic Taiwan is part of its territory, to be brought under its control by force if necessary, and refuses most contacts with countries that maintain formal ties with Taiwan.
On Twitter, Castro said she instructed Honduran Foreign Affairs Minister Eduardo Reina to manage the opening of official relations with the People's Republic of China, "as a sign of my determination to comply with the Government Plan and expand the borders freely in concert with the nations of the world."
In Taipei, the Ministry of Foreign Affairs warned Honduras ought "not fall into China's trap," expressing serious concerns to the Honduran government about damaging its "long-term friendship" with Taiwan, which remains "a sincere and reliable cooperative partner to our allies."
Taiwanese media reported that the Foreign Ministry had summoned Honduras' Ambassador Harold Burgos for discussions. Burgos told reporters he is currently awaiting orders from his government.
Nicaragua similarly broke longstanding ties with Taiwan in December 2021, declaring "Taiwan is an inalienable part of the Chinese territory."
CHINA, US HEADING FOR 'CONFLICT AND CONFRONTATION,' FOREIGN MINISTER WARNS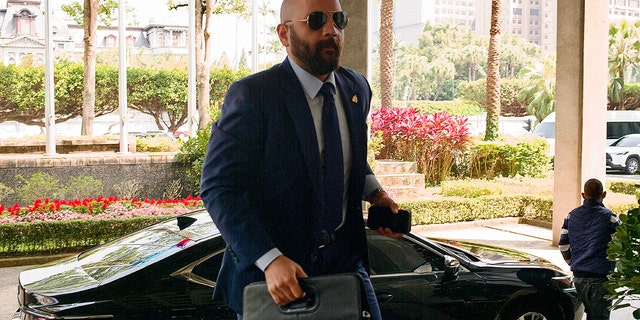 Honduran Ambassador to Taiwan Harold Burgos arrives at Taiwan's Ministry of Foreign Affairs in Taipei on March 15, 2023. Honduras President Xiomara Castro said her administration will establish diplomatic relations with China. (SAM YEH/AFP via Getty Images)
At a daily briefing on Wednesday, Chinese Foreign Ministry spokesperson Wang Wenbin applauded Honduras.
"China stands ready to establish diplomatic ties with countries in line with the One-China principle," Wang said, according to Reuters. "The fact that 181 countries in the world have established diplomatic relations with China on the basis of the one-China principle fully proves that establishing diplomatic relations with China is a correct choice in line with the general trend of historical development and the trend of the times."
In replying to Castro's tweet, China Ambassador to Mexico Zhang Run wrote, "The One-China principle is the consensus of the international community and one of the basic rules of international relations. Congratulations Honduras for this correct decision to embrace that principle! Hopefully it comes true."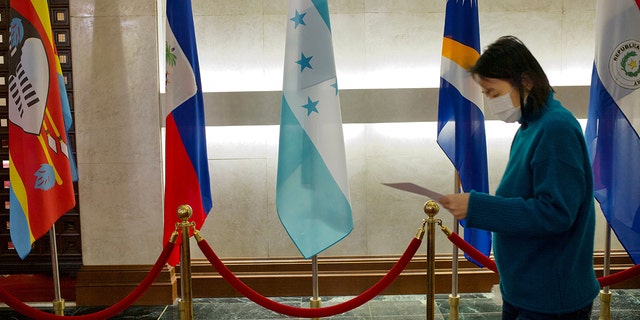 A woman walks past a Honduras flag at Taiwans Ministry of Foreign Affairs in Taipei. Honduras will establish diplomatic relations with China, President Xiomara Castro said Tuesday, without specifying if that means cutting ties with Taiwan. (SAM YEH/AFP via Getty Images)
It is not clear what influenced Honduras' government change. However, China, which is building a massive dam in Honduras, generally uses trade and investment as incentives for switching ties, as it has done successfully with Costa Rica, Panama, El Salvador, Nicaragua, and, most recently, South Pacific nations including the Solomon Islands.
CLICK TO GET THE FOX NEWS APP
Reuters reported that Tomas Zambrano, a Honduran opposition lawmaker, told local media the switch to Chinese allegiance could damage the Central American nation's own relations with the United States, its top trade partner, as many families rely on remittances from the north.
The Associated Press contributed to this report.
Danielle Wallace is a reporter for Fox News Digital covering politics, crime, police and more. Story tips can be sent to [email protected] and on Twitter: @danimwallace.