close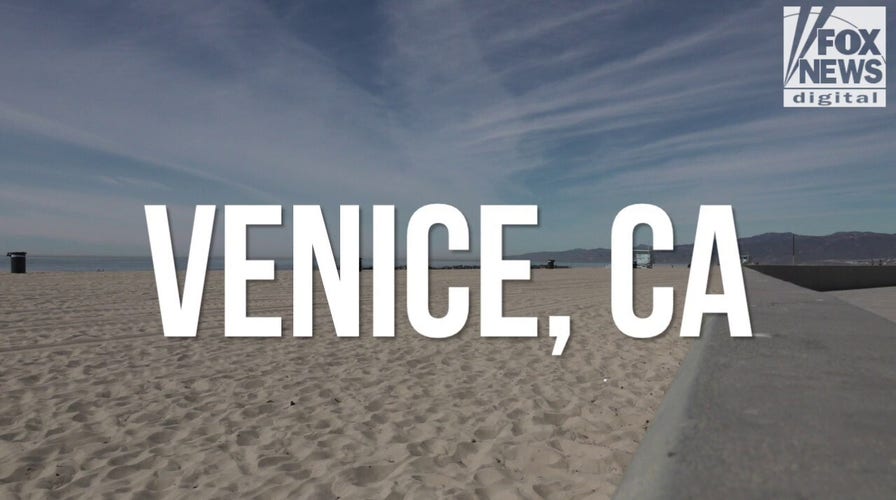 Video
WATCH NOW: Venice, CA residents speak to Fox News about homeless crisis
Three homeless residents who were removed from a San Bernardino park where they lived filed a lawsuit against the Southern California city alleging it disregarded their rights, trashed their property and left them in dangerous predicaments following their removal.
One plaintiff, Lenka John, 55, watched from her wheelchair as city workers tossed her walker, heart monitor, medical records and disability assistance paperwork into a trash truck in May, she told the Los Angeles Times. The suit, filed Aug. 2, argues that San Bernardino violated the Americans With Disabilities Act and the Fourth, Fifth and 14th amendments to the U.S. Constitution in destroying John's property without reasonable warning, justification or accommodation.
"I felt violated," John told the LA Times.
'THIS IS EMBARRASSING': CALIFORNIA BEACH TOWN RESIDENTS WARN OF HOMELESS CRISIS IMPACTS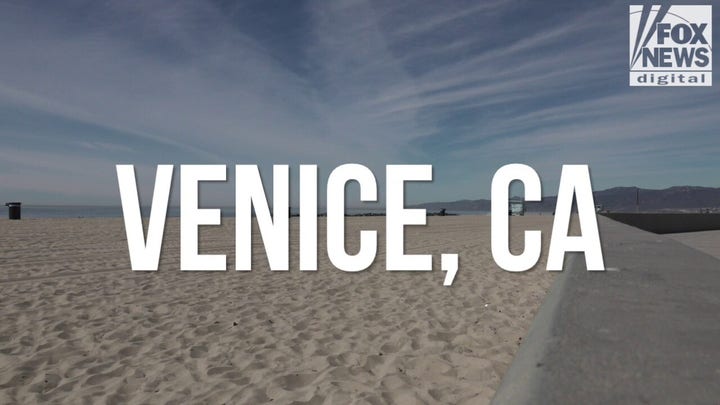 Video
WATCH MORE FOX NEWS DIGITAL ORIGINALS HERE
San Bernardino announced in May that Perris Hill and Meadowbrook parks would close temporarily for maintenance. John and another plaintiff, James Tyson, were staying at Meadowbrook Park at the time and, Noel Harner, the third plaintiff, was living at Perris Hill Park, the suit says.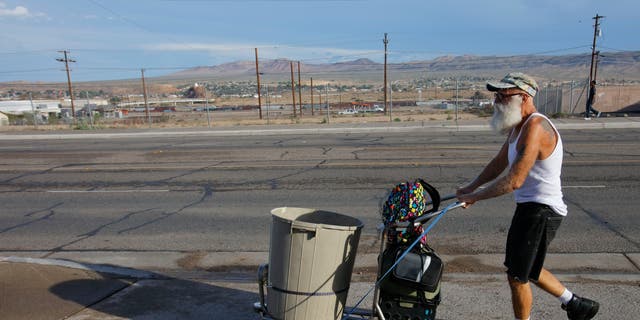 The homeless population in San Bernardino County has increased by 26% from 2022 to 2023, according to a county survey.  (Photo by: Joe Sohm/Visions of America/Universal Images Group via Getty Images)
"The City of San Bernardino has an obligation to ensure that its public parks are available and maintained for everyone to freely and safely use," city spokesman Jeff Kraus told Fox News in a statement. "When maintenance requires park closures, notices are provided, and services are offered to the unhoused who are impacted."
"The ACLU, Elder Rights, and their attorneys were invited to discuss solutions but instead decided to file a lawsuit," he continued. "The City and its hard-working staff members look forward to proving that they do their jobs responsibly, legally and with care for the disabled and unhoused."
POLICE TOWED RVS FROM A HOMELESS CAMP TO HER STREET. NOW RESIDENTS ARE MOVING OUT, 'OUR TENANTS HAVE LEFT'
John had contacted city officials requesting accommodations for moving from Meadowbrook Park before the city's maintenance operation, but her requests were unanswered, she told the LA Times.
"I asked specifically if they could help me move, and they didn't," she said. "I don't feel that they were listening. I don't feel they actually cared."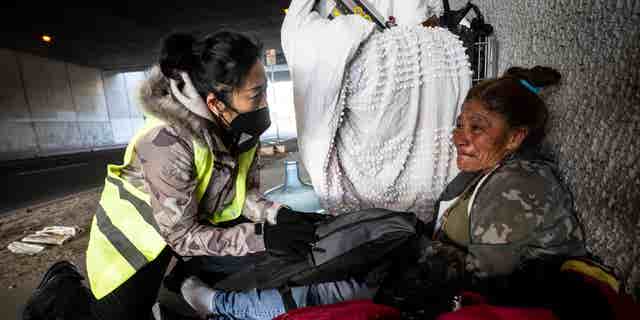 A homeless woman becomes emotional after receiving a care package from San Bernardino Mayor Helen Tran during the San Bernardino County's 2023 Point-in-Time homeless count in downtown San Bernardino on Thursday, Jan. 26, 2023.  (Watchara Phomicinda/MediaNews Group/The Press-Enterprise via Getty Images)
The ACLU Foundation of Southern California, the law firm O'Melveny & Myers and Santa Ana's Elder Law and Disability Rights Center are representing the three plaintiffs. The lawsuit is requesting the city establish a protocol for accommodation requests, evaluate policing practices related to park closures and property removal and suspend operations removing homeless individuals and their property until the plaintiffs' complaints are addressed. The plaintiffs are also seeking punitive damages and compensation for their destroyed belongings.
CLICK HERE TO GET THE FOX NEWS APP
Over 1,000 unsheltered homeless people live in the city of San Bernardino, according to a county survey. It also found the number of homeless individuals living in San Bernardino County has increased by 26% since 2022, bringing the total to nearly 4,200.
The ACLU Foundation of Southern California did not respond to a request for comment.
To watch the full report on what Venice residents said about homelessness, click here.
Jon Michael Raasch is an associate producer/writer with Fox News Digital Originals.