close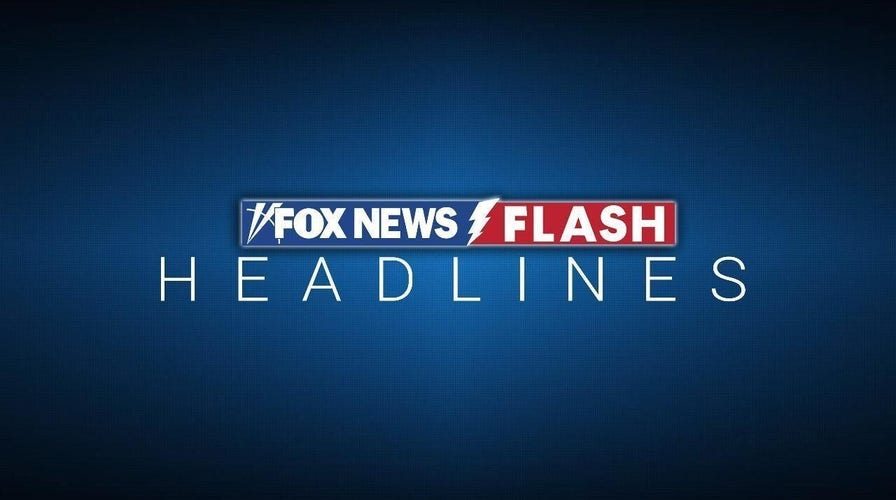 Video
Fox News Flash top headlines for March 29
Fox News Flash top headlines are here. Check out what's clicking on Foxnews.com.
This year's holy month of Ramadan coincides with the longest drought on record in Somalia. As the sun sets and Muslims around the world gather to break their daily fasts with generous dinners, Hadiiq Abdulle Mohamed and her family have just water and whatever food might be at hand.
Mohamed is among more than 1 million Somalis who have fled their homes in search of help while an estimated 43,000 people died last year alone. She and her husband and their six children now take refuge in one of the growing displacement camps around the capital, Mogadishu.
Ramadan brought an increase in food prices for a country already struggling with inflation caused in part by Russia's invasion of Ukraine and the withering of local crops by five consecutive failed rainy seasons. Millions of livestock that are central to people's diets have died.
MUSLIM AUTHORITIES SAY RAMADAN FASTING SET TO BEGIN THURSDAY
Now food is even harder to come by for those displaced. For Ramadan, Mohamed and her family rely on well-wishers to provide their single meal a day. First, they break their fast with water and pieces of dates, then spoons of rice. Finally, they eat the donated meal of rice cooked with mixed meat, bruised banana and a small plastic bag of juice, which Mohamed waits in line for hours under the searing sun to obtain.
"I recall the Ramadan fast we had in the past when we were enjoying and prospering," she said. "We would milk our goats, cook the ugali (maize porridge) and collard greens and drink water from our catchment. However, this year we are living in a camp, without plastic to cover us from rain, without food to eat, thirsty and experiencing drought. We have this small hot meal, but do you think that this can feed a family of six children, plus a mother and father? That is not possible." The family once was prosperous and owned farmland and goats in a village about 87 miles west of the capital. Now they try to get by on the little money her husband makes by carrying goods in a wheelbarrow. But food prices have soared so much that his income is no longer enough to buy a 2.2 pound bag of rice.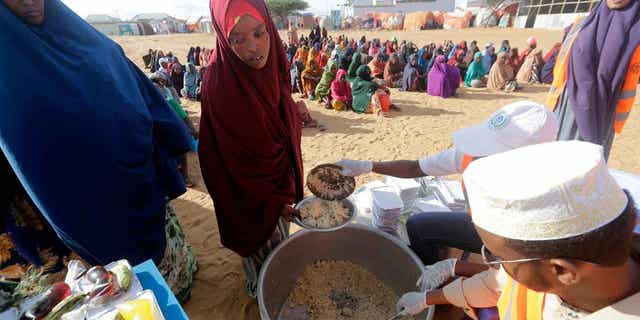 Food is prepared for people at a camp on the outskirts of Mogadishu, Somalia, on March 24, 2023. This year's holy month of Ramadan coincides with the longest drought on record in Somalia. (AP Photo/Farah Abdi Warsameh)
The inflation in Somalia pinches the more well-off, too. The typical Ramadan fast-breaking meal includes samosas and other snacks; juice and tea and coffee; the main dish of rice or spaghetti or flatbread with camel, goat, chicken or fish; and finally, dessert.
RAMADAN KICKS OFF IN MUCH OF MIDDLE EAST AMID SOARING PRICES
The Horn of Africa country imports the majority of its food, from Ukraine-grown wheat to the bottles of Mountain Dew stocked in some gleaming Mogadishu shops. Meanwhile, prices of basics like rice and cooking oil continue to rise in parts of the country.
This month, World Food Program monitoring reported that supply chain resilience was generally good in Somalia, but the spike in demand for Ramadan would be "a disadvantage to vulnerable households who depend on local markets."
"We are really experiencing a soaring price of food and another basic commodities," said Ahmed Khadar Abdi Jama, a lecturer in economics at Somalia University. "Whenever there is an external factor that can reduce the supply of food, such as the Russia-Ukraine conflict, it is more likely that Somalis will feel a low supply."
For example, a kilogram of camel meat that cost about $4 before the holy month now costs about $6. But this inflation will subside after the month is over, Khadar said.
CLICK HERE TO GET THE FOX NEWS APP
Ramadan is a month of alms and forgiveness throughout the Muslim world. With the growing number of Somalis displaced by the drought, the imams of the mosques in Mogadishu are leading efforts to encourage the city's wealthy and others who can afford it to sympathize with the poor and give generously.
"Some people need food to afford to break their fast," said one imam, Sheikh Abdikarim Isse Ali. "Please help them."