Fifty years ago this week hip-hop was born in the United States.
But it would take a little longer to reach the island of Ireland.
While hip-hop artists like A Tribe Called Quest, LL Cool J, Dr Dre and Public Enemy dominated the American charts in the late '80s, new-age artist Enya and the Celt-rock Saw Doctors reigned supreme on Irish radio.
But a new sound, and attitude, was about to disrupt the airwaves.
Enter, Scary Éire.
The group, consisting of Dada Sloosh, DJ Mek, Mr Browne and Rí Rá, was formed in 1990 and are considered by many to be the forefathers of Irish hip-hop.

Their sound was a melting pot of genres proudly delivered with an Irish accent, and they soon found themselves opening for the likes of Madness, U2 and the Beastie Boys.
"Hip-hop was fundamental, that was always the base, but we listened to all sorts – reggae, funk, jazz, punk," Rí Rá told BBC News NI.
"Sloosh brought the traditional Irish element in, we stewed it all together and made music that could've went anywhere."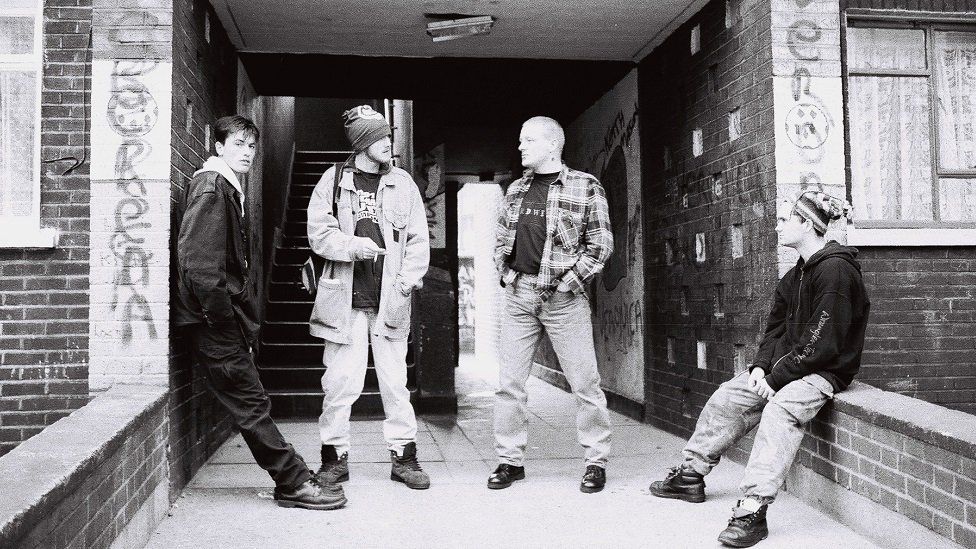 Image source, Paul TarpeyImage caption, Scary Éire are considered by many to be the first Irish hip-hop act
Capturing the bleak realities of life in a pre-Celtic Tiger Ireland, the group's music caught on with many remembering their live session for RTÉ 2FM's Dave Fanning.
Others, Rí Rá recalled, looked on with bemusement: "Not quite sure what they were hearing but kind of liking it, and some not so keen on it."
He added: "From people within the hip-hop crowd it was a big thing. The support was massive. Like they had their own group now, their representatives, and we were it."
Scary Éire subsequently became the first Irish rap act to sign a major label deal with Island Records but it was to be short-lived with only one single release, 1993's Dole Queue.
The album was shelved, only to emerge 13 years later followed by some high-profile reunion gigs, including a set at Electric Picnic festival in 2019.
'We made enough noise'
Looking back on their success, Rí Rá – who still releases solo material – said he was grateful for the experience and is proud of the group's legacy.
"There's never been a time when we weren't mentioned in some capacity by people who came after us," he said.
"I meet young people now who tell me their da' had a tape, or their uncle used to play them this and that song, and they're passing it on to their younger siblings and their own kids now.
"It's a good feeling to know we made enough noise to still be heard."

BBC hip-hop at 50
On 11 August 1973, Cindy Campbell hosted a "back-to-school" party at 1520 Sedgwick Avenue in the Bronx, New York City.
More than 300 people attended and her brother DJ Kool Herc was recruited to showcase his innovative mixing style that extended percussion samples, creating instrumental dance breaks.

Image source, Getty ImagesImage caption, In 2007 the New York State Office officially recognized 1520 Sedgwick Avenue as the "birthplace of hip-hop"
The event marked the birth of hip-hop, leading to its global cultural impact over the next 50 years.
READ: The party where hip-hop was born
WATCH: How hip-hop changed the world
LISTEN: Hip-hop at 50

Irish hip-hop appeared to disappear for a few years after the Scary era, resurfacing during the early noughties when budding MCs took to online forums with digital space giving rise to emerging talent like Rob Kelly, Lunitic and Collie Collins.
And then, in 2010, The Rubberbandits and their Horse Outside arrived – a surreal time in the Irish media-landscape – which led to a number two single and a lasting career for the artist, author and commentator Blindboy Boatclub.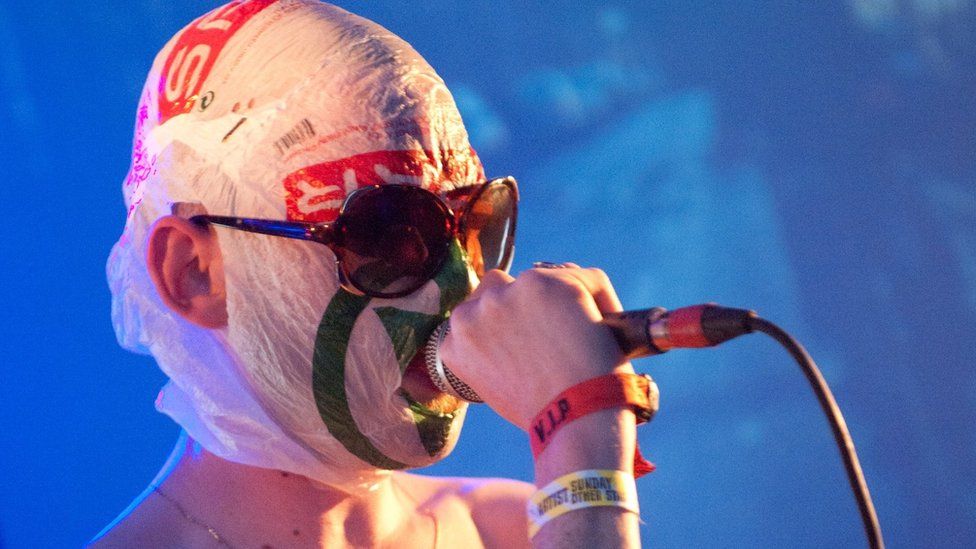 Image source, Ollie MillingtonImage caption, Comedy-rap duo The Rubberbandits from Limerick rose to prominence in 2010 with a viral music video
Those artists were respected at home but commercial success and wider industry recognition was not forthcoming.
Of course, there's always been one or two exceptions, like Ciarán McDonald, also known as Bearface, from Belfast.
The producer and performer's career highs include two sets at 2022's Coachella festival as part of the Brockhampton hip-hop collective – a group he joined after connecting with members online.
Brockhampton are changing music – here's everything you need to know
Quips and insults galore at NI battle rap
Brockhampton released eight studio albums, with McDonald serving as executive producer for their penultimate release, The Family, before disbanding last year.
This YouTube post cannot be displayed in your browser. Please enable Javascript or try a different browser.View original content on YouTubeThe BBC is not responsible for the content of external sites. YouTube content may contain adverts.Skip youtube video by Ayyyyylmaoo
Allow YouTube content?
This article contains content provided by Google YouTube. We ask for your permission before anything is loaded, as they may be using cookies and other technologies. You may want to read Google's cookie policy, external and privacy policy, external before accepting. To view this content choose 'accept and continue'.
Accept and continueThe BBC is not responsible for the content of external sites. YouTube content may contain adverts.End of youtube video by Ayyyyylmaoo
For solo artists, it would take until 2013 for an Irish act to really challenge the hip-hop industry in a serious way.
Rejjie Snow, formerly known as Alexander Anyaegbunam, was born in 1993 in Drumcondra to a Nigerian father and an Irish-Jamaican mother.
He later relocated to the US but returned to Ireland to pursue a music career, debuting with his Rejovich EP in June 2013.
Featuring a cameo from English-rapper Loyle Carner, the record topped the iTunes hip-hop chart, ahead of a release from Kanye West.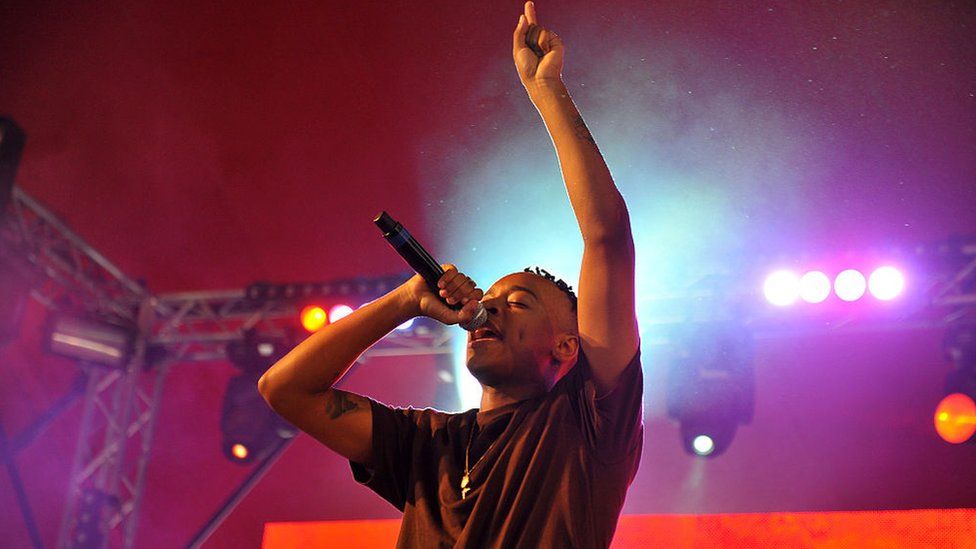 Image source, Getty ImagesImage caption, Rejjie Snow from Dublin launched his music career in 2013 to critical acclaim
Millions of streams followed, a stint touring with Madonna for her Rebel Heart tour and the release of his first album Dear Annie.
The album was well received, touted as the first major Irish hip-hop record.
But his music is a massive contrast to the thick-accented Versatile – the first Irish hip-hop act to sell out Dublin's 3Arena – and Belfast-based Kneecap, who rap in both Irish and English.
Image source, Steve ThorneImage caption, Versatile become the first Irish rap group to headline the 3Arena in Dublin
"I think in Ireland for a long time, hip-hop was looking outwards… they were performing with American accents but there's a big change now with people using their own accents and trying to be authentic and looking inwards," Kneecap's Móglaí Bap told BBC News NI.
"We had a big interest in hip-hop and that genre of music and there was really no representation of this growing [Irish speaking] community."
But that could be about to change.
With an increasing number of acts – such as Imlé, Ushmush and Hazey Haze – spitting bars in Irish, there has seemingly never been a better time to express Irish identity through the genre.