close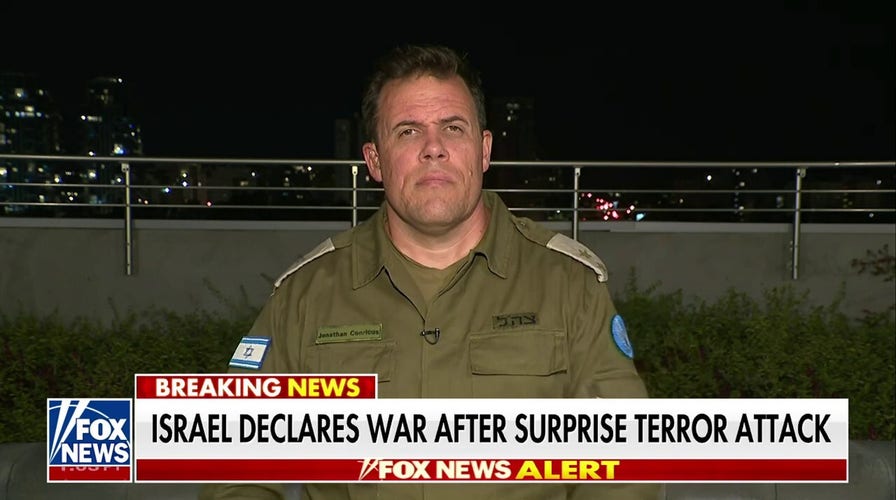 Video
'Unprecedented attack' requires 'unprecedented response': Ret. Lt. Col. Conricus
Ret. Lt. Col. Jonathan Conricus joins 'FOX News Live' to describe the 'barbaric crimes' on the Israeli community by Hamas terrorists.
JERUSALEM – After more than 12 hours of ongoing terror and rocket attacks by Palestinian terrorists from Gaza in Israeli communities in the south, Israeli civilians along the country's northern border – close to Lebanon – slept uneasily on Saturday night, fearing a similar attack by the Iranian-backed terrorist group Hezbollah.
On Sunday morning, even as Israeli forces continued to battle Hamas fighters near Gaza, Hezbollah claimed responsibility for firing shots into a disputed area known as Mount Dov. Israel retaliated by striking Hezbollah infrastructure, according to the IDF spokesperson, including taking out two tents that the terrorist group erected there in June.
Amir Avivi, CEO of the Israel Defense and Security Forum (IDSF), told Fox News Digital that he was surprised that Hamas's attack on Saturday was not coordinated with Hezbollah or that Hezbollah did not take advantage of the events unfolding to also attack Israel.
IRAN-FUNDED TERROR PROXIES LAUNCH WAR AGAINST ISRAEL AMID SURPRISE INVASION AGAINST JEWISH STATE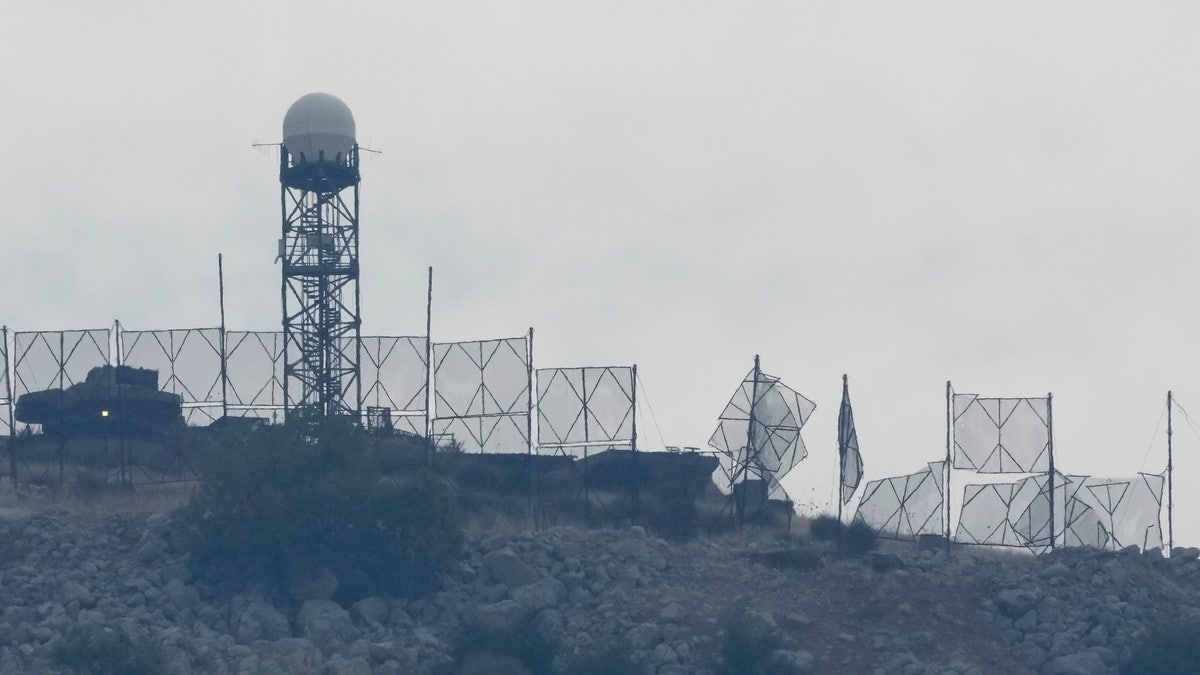 The fence of an Israeli military position is seen damaged after Hezbollah targeted it by rockets, on an occupied hill of Kfar Chouba village, southeast Lebanon, Sunday, Oct. 8, 2023. Israeli soldiers battled Hamas fighters in the streets of Israel's south on Sunday and exchanged strikes with Lebanon's Hezbollah militant group in the north, while Israel's retaliation strikes leveled buildings in Gaza. The prospect of Hezbollah joining the fighting a day after an unprecedented surprise attack from Gaza raised the chances of a broader conflict.  (AP Photo/Hussein Malla)
Avivi, a Brigadier General (Res), and former deputy commander of the Israel Defense Forces' Gaza Division, told Fox News Digital that "This was really the big chance for Iran to start, by surprise, a multi-fronted war against Israel, which would have been much more devastating because they would have conquered all of Israel's towns in the north," he said.
Avivi said that Hezbollah's failure to join forces with Hamas could have been due to an Iranian desire to keep the Shiite group intact for any future confrontations. If both groups attacked Israel together, he theorized, they might end up being destroyed and leaving Iran more vulnerable.
He said that the shooting on Sunday was definitely a message from Hezbollah. "It was very pinpointed and, in a place, where no people live," said Avivi.
"Officially our routine here has continued, but I don't think anybody slept well last night," Sarit Zehavi, founder and president of the Alma Education and Research Center, which focuses on Israel's security challenges on its northern border, told Fox News Digital.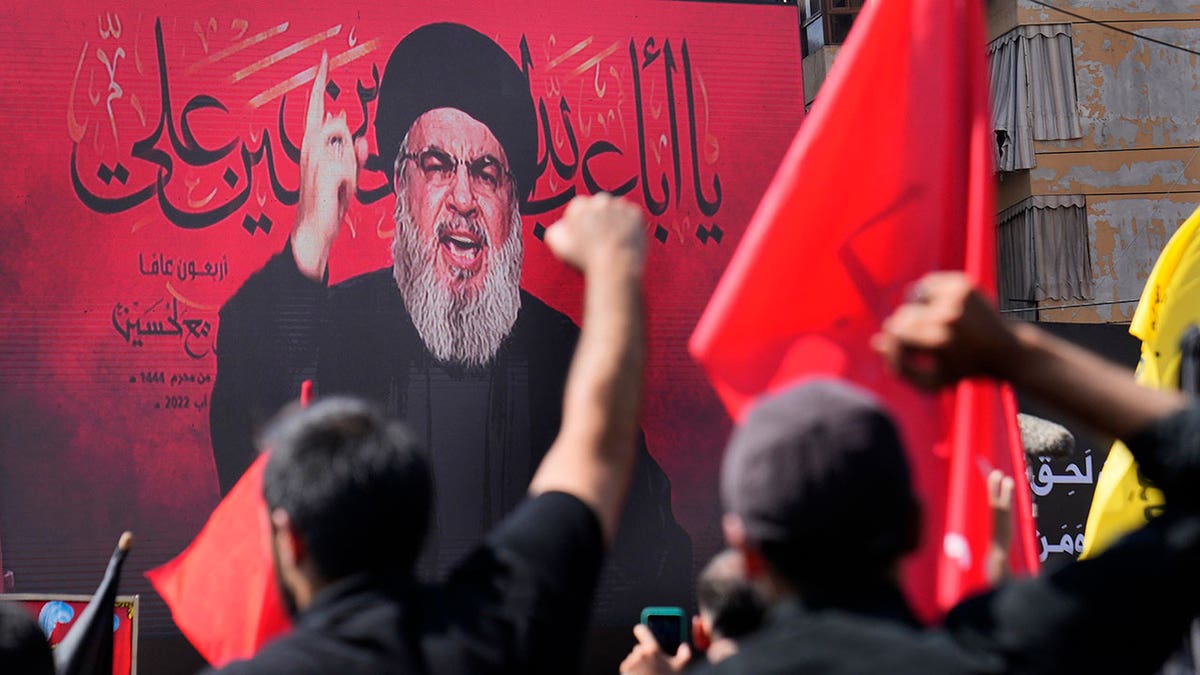 Hezbollah leader Sheik Hassan Nasrallah speaks via a video link, as his supporters raise their hands, during the Shiite holy day of Ashoura, in the southern suburb of Beirut, Lebanon, in Beirut, Lebanon, Tuesday, Aug. 9, 2022. The leader of Lebanon's militant Hezbollah group has issued warning to archenemy Israel over the two countries' maritime border dispute.  (AP Photo/Hussein Malla)
IRAN OFFICIAL ADMITS COUNTRY'S ROLE IN TERROR BOMBING THAT KILLED 241 US MILITARY MEMBERS: REPORT
"We've opened our [bomb] shelters and the communities along the border understand that there may be an escalation, so they are making the necessary preparations," said Zehavi, who lives with her family in Kfar Vradim, which is just six miles from the border. She said that she wants to believe Israel's military is also preparing for any possible confrontations with Hezbollah.
"Right now, we are focusing on the next steps, and clearly on a political level the next step is trying to prevent the opening of another front, while militarily it is trying to prepare for the possibility of another front," said Zehavi. "And there is no doubt that the Iranians are interested in opening other fronts."
Orna Mizrahi, a senior researcher at the Institute for National Security Studies in Tel Aviv, said that whether other fronts might erupt for Israel was the "six million dollar question."
A huge mural of Ayatollah Seyyed Ali Khamenei Iran's Supreme Leader painted next to a smaller one of Ayatollah Ruhollah Khomeini (R) seen on Motahari street on March 8, 2020 in Tehran, Iran.  (Kaveh Kazemi/Getty Images)
She said that the Sunday morning shooting appeared to be an act of solidarity with Hamas as opposed to a declaration of war but "as I understand it the war in Gaza will take a long time and there might be other occasions for Hezbollah to try something while the IDF is busy in the South."
"According to my understanding, Hezbollah does not want to be dragged into a situation where Hamas is leading them," said Mizrahi, who previously served as Israel's deputy national security advisor on foreign policy. "But there might be a temptation to take advantage of this opportunity."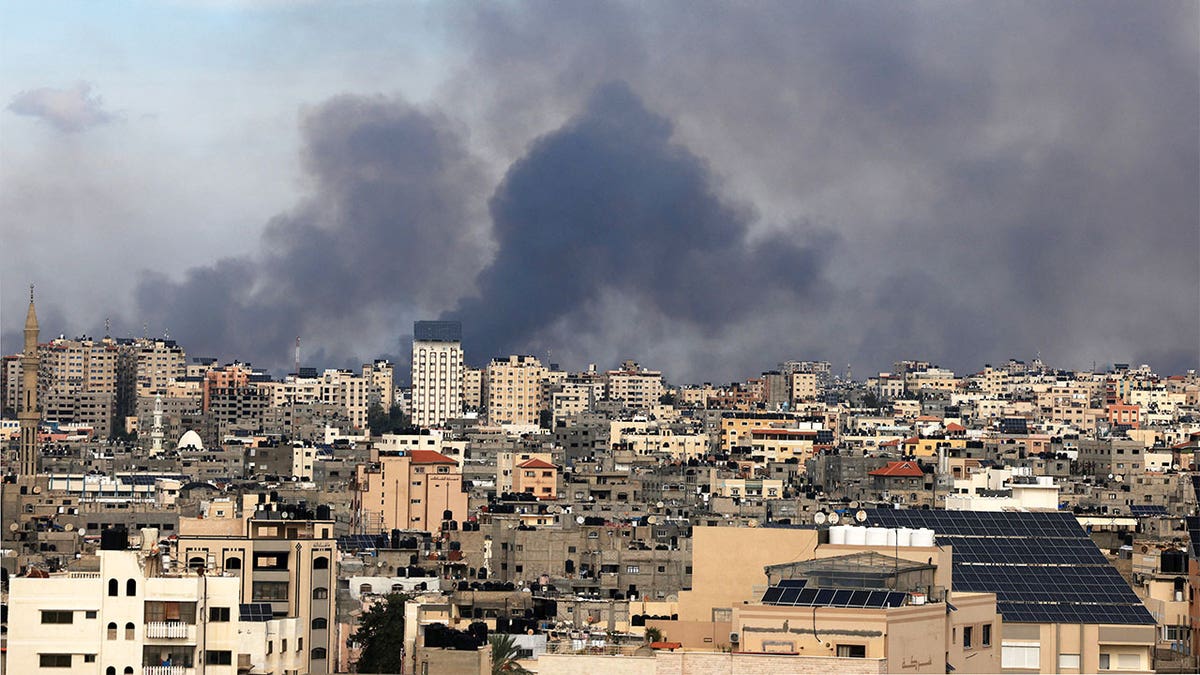 Smoke rises over Gaza City on October 7, 2023 during Israeli air strikes. (MAHMUD HAMS/AFP via Getty Images)
Mizrahi said that the scenario of terrorists infiltrating Israeli border communities was usually one applied to the north and the discovery several years ago of attack tunnels dug by Hezbollah fueled that possibility. Now that Hamas has used this tactic, taking Israel by surprise on Saturday, killing more than 300 people, and taking multiple hostages, Hezbollah has lost its advantage, she explained.
"Maybe they will try some small acts of solidarity or maybe there will be some accidents, but not a very wide war that will open a second front," said Mizrahi, highlighting that there are strong voices in Lebanon cautioning Hezbollah against taking such action.
"Besides, the IDF is now ready and prepared for them on the northern border, so they have lost the element of surprise," she added.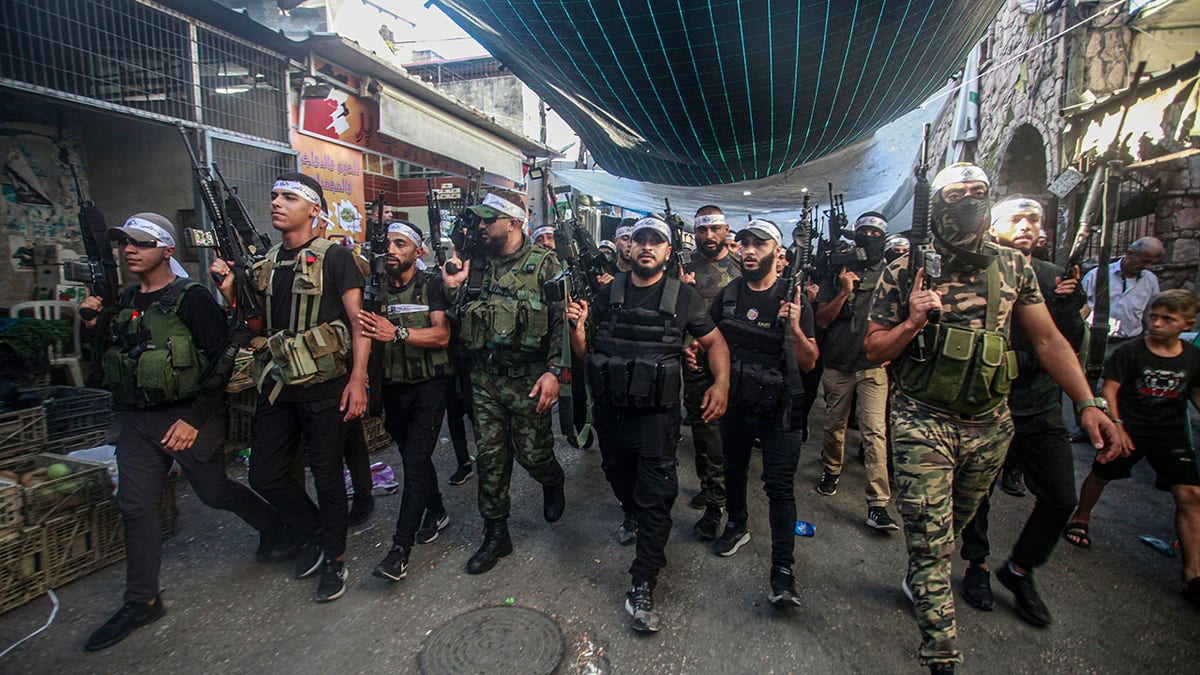 Palestinian gunmen from the Al-Aqsa Martyrs Brigades appear carrying their weapons during a military parade in the Balata refugee camp, east of Nablus, in the northern West Bank. A spokesman for Al-Aqsa Martyrs Brigades said during the parade that "our battalions will continue the struggle until the liberation of Palestine.".  (Nasser Ishtayeh/SOPA Images/LightRocket via Getty Images)
CLICK HERE TO GET THE FOX NEWS APP
As for other areas of potential conflict for Israel, such as the West Bank, where Hamas has large pockets of power, or internally in Israel where tensions have risen among Arab communities in the past, Avivi said that this round of fighting appeared to be quite different.
"I think Israeli Arabs and also the Palestinians living in Judea and Samaria are in shock over what has happened," he said, using the biblical name for the West Bank area. "The IDF is now mobilizing hundreds of thousands of soldiers and compared to what happened [two years ago], I think we are experiencing something very different."
"The more determined IDF is in gaining control of Gaza and destroying Hamas, the less chance there will be of more fronts happening," Avivi added. "If Israel does not conquer Gaza and eliminate Hamas, if Hamas survives and is able to rebuild its capabilities over the next year or two, then [this operation] will be a win for them."
THE Associated Press contributed to this report.
Ruth Marks Eglash is a veteran journalist based in Jerusalem, Israel. She reports and covers the Middle East and Europe. Originally from the U.K, she has also freelanced for numerous news outlets. Ruth can be followed on Twitter @reglash