The National Park Service said Wednesday that peak bloom for the world-famous Washington, D.C., cherry trees around the Tidal Basin and the Washington Monument is predicted to fall between March 22 and 25.
The trees, represented by 12 different varieties, were given as a gift from Japan in 1912. While the initial gift totaled 3,020 trees, there are now approximately 3,800 cherry trees within the park.
Peak bloom is defined as the time when 70% of the Yoshino cherry blossoms are open.
This time varies annually depending on weather conditions.
LINCOLN MEMORIAL MUSEUM, EXHIBITS PART OF $69 MILLION UPGRADE PROJECT: 'CRUCIBLE OF AMERICAN DEMOCRACY'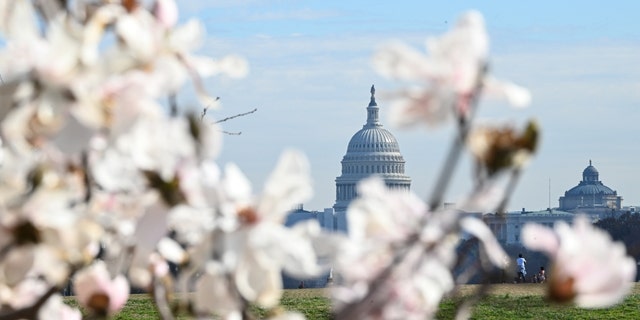 Peak bloom for the Washington, D.C., cherry trees is expected to be March 22 to 25, according to the National Park Service. (Celal Gunes/Anadolu Agency via Getty Images)
However, the most likely time to reach peak bloom is between the last week of March and the first week of April.
Previously, extraordinarily warm or cool temperatures have resulted in peak bloom as early as March or as late as April.
ON THIS DAY IN HISTORY, MARCH 1, 1872, MAJESTIC YELLOWSTONE BECOMES AMERICA'S FIRST NATIONAL PARK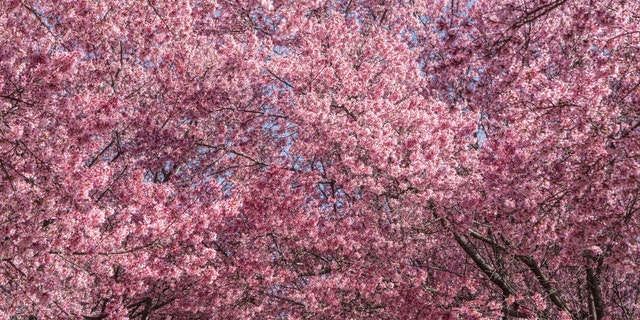 Cherry trees blossoming at the Congressional Cemetery during unseasonably warm weather in Washington, D.C., on Feb. 23, 2023. (Anna Rose Layden/Bloomberg via Getty Images)
Forecasting the bloom is almost impossible more than 10 days in advance, as development is dependent on conditions. National Park Service horticulturists monitor bud development and report the status of the blossoms.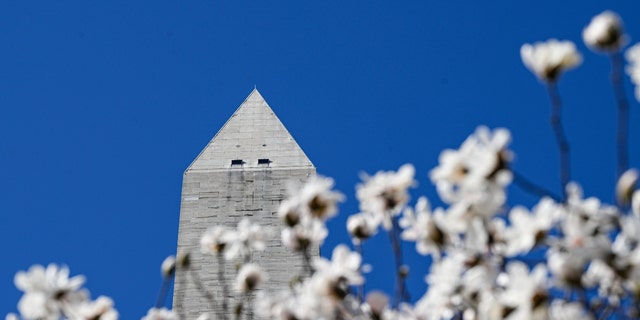 Cherry trees in bloom on Feb. 23, 2023, in Washington, D.C. (Celal Gunes/Anadolu Agency via Getty Images)
The Yoshino trees typically bloom for several days, although the length of the blooming period is dependent upon the weather. Cool and calm weather can extend the length of the bloom and a rainy or windy day can bring an end to the blossoms.
CLICK HERE TO GET THE FOX NEWS APP
A late frost can prevent the trees from blooming at all.
The 2023 National Cherry Blossom Festival dates are March 20 through April 16.