close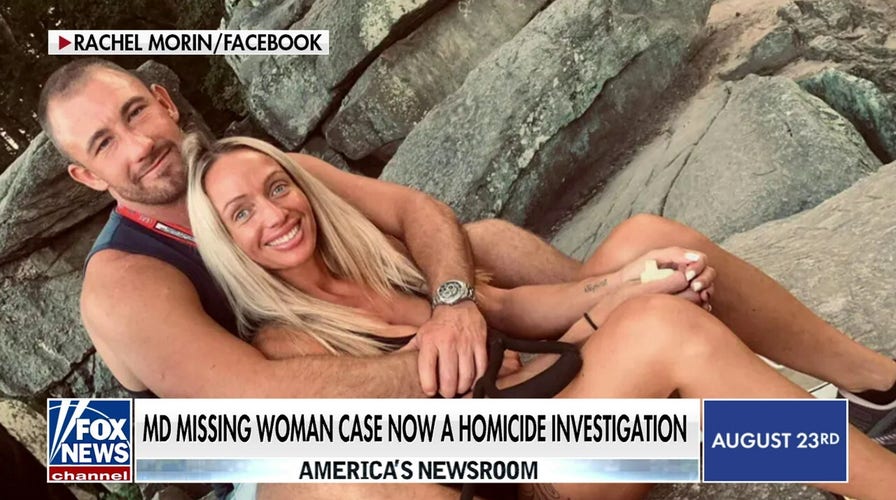 Video
Case of missing Maryland woman now a homicide investigation
Fox Nation host Nancy Grace analyzes the case of Rachel Morin and the latest in the Gilgo Beach, NY, investigation.
The man accused of abducting and murdering a 19-year-old Los Angeles woman who had been on a date with her boyfriend in a park allegedly tried to rape her as she was dying, prosecutors revealed Wednesday.
Gabriel Esparza, 20, allegedly shot and kidnapped Andrea Vazquez on Sunday in the parking stalls area of Penn Park in Whittier, about 20 miles southeast of Los Angeles, in a "randomly targeted" attack, according to the police.
"He drove her to a remote area of Moreno Valley in Riverside County where he attempted to rape her before dumping her body in a field," Los Angeles District Attorney George Gascón announced in a press release.
Esparza is charged with one count of kidnapping to commit rape and two counts of attempted forcible rape, in addition to murder and other charges.
MISSING LA WOMAN SHOT, KIDNAPPED IN 'RANDOMY TARGETED' ATTACK AT PARK FOUND DEAD: POLICE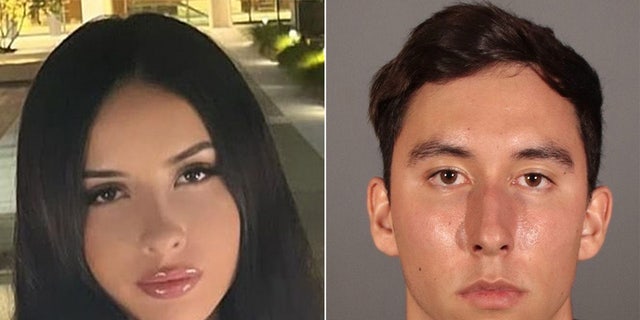 Gabriel Esparza is charged with the August 20 kidnapping, attempted rape and murder of Andrea Vazquez, while she was on a date with her boyfriend in a California park. (Facebook/Whittier Police Department)
He pleaded not guilty and is being held without bail.
Gascón said the "heinous nature of this crime" against an innocent woman "shocks our community to its core."
MISSING LA WOMAN SHOT, YANKED FROM CAR BY KIDNAPPER: 'WE'RE SCARED,' RELATIVE SAYS
On Sunday, shortly after midnight, Esparza allegedly approached Vazquez and her boyfriend, who were sitting on the trunk of his car, and opened fire with a rifle.
Vazquez's boyfriend fled for cover. When he returned to the car, there was a trail of blood, and she was gone, he told police.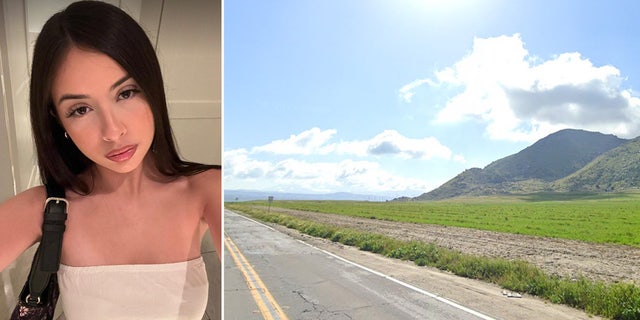 Andrea Vazquez's body was found late Monday in Moreno Valley, California, right, after she was shot and abducted by a stranger while on a date with her boyfriend. (Courtesy of Emily Martinez/Google Maps)
Prosecutors say Esparza drove off with Vazquez, who was seriously wounded, in the bed of his Toyota Tacoma truck.
Her sister, Edlyn Vazquez, tracked her phone using an app and saw that it was moving along the 60 Freeway toward Riverside, the Los Angeles Times reported.
TWO WOMEN VANISH FROM SMALL COLORADO RESORT AREA
She and a friend tried to follow the car and lost the signal in Moreno Valley, she told the local newspaper.
"They were way ahead of us," she said. "There was no way to catch them." When they reached the World Logistics Center Parkway, where the phone last pinged, they found blood.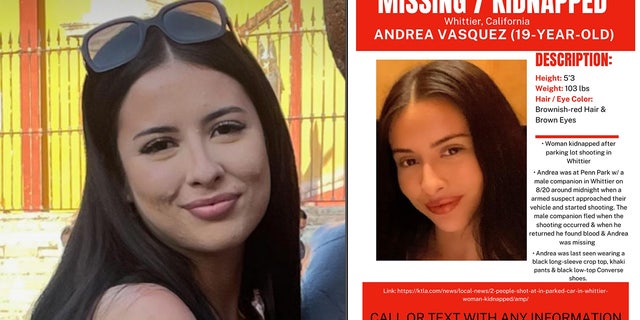 Andrea Vazquez was kidnapped and murdered in Whittier, California, Aug. 20. Gabriel Esparza has been arrested for her abduction and murder.  (Courtesy of Emily Martinez/Whittier Police Department)
An extensive search located Vazquez's body the next day a short distance from her phone's last known location. Esparza was arrested at his workplace in Lakewood the same day.
Edlyn Vazquez left a heartbreaking tribute to her sister Wednesday on Facebook.
"My beautiful angel, I'm completely destroyed!! Words cannot describe this pain!!" she wrote. "I love you with all my heart and my soul. Until we meet again my beautiful baby, R.I.P."
CLICK HERE TO GET THE FOX NEWS APP
A relative of the victim, Emily Martinez, previously told Fox News Digital that she had been adored by their whole family and had planned to pursue a career in cosmetology.
Rebecca Rosenberg is a veteran journalist and book author with a focus on crime and criminal justice. Email tips to [email protected] and @ReRosenberg.