close
Video
Hawaii Gov: Climate change 'amplified' human errors on wildfire response
Hawaii Gov. Josh Green discussed the impact of climate change on the improper responses to the Maui wildfires while appearing on CBS' "Face the Nation" on Sunday.
Officials in Maui County have released the names of people still missing more than two weeks after a fire on the Hawaiian island left 115 dead.
Following the deadliest U.S. wildfire in more than a century, the FBI compiled a list of 388 people, and officials in the Lahaina community are asking for assistance in their rescue. They are encouraging anyone who knows the whereabouts of a person on the list to contact authorities.
"We're releasing this list of 388 names today because we know that it will help with the investigation but we're also balancing that because we know that once those names come out it can and will cause pain for some folks that are affected by this," Police Chief John Pelletier said in a statement.
Some 1,732 people who were reported missing have already been found safe, officials said.
HAWAII GOV AGREES CLIMATE CHANGE 'AMPLIFIED THE COST OF HUMAN ERROR' ON MAUI FIRES
A missing person flyer for Joseph "Lomsey" Lara is posted on the door of a business in a shopping mall in Lahaina, Hawaii, Monday, August 21, 2023. Wildfires devastated parts of the Hawaiian island of Maui earlier this month.  (AP Photo/Jae C. Hong)
The FBI only included the names of people who had a first and last name as well as a verified contact for the person who reported them missing, officials said.
The list of names can be seen by clicking here.
Pelletier said Tuesday that his team faced difficulties in compiling a solid list as, in some cases, people provided only partial names for those who were missing. In other cases, some names might be duplicated.
He added: "This is not an easy thing to do, but we want to make sure that we are doing everything we can possibly to make this investigation the most complete and thorough to date."
Authorities said the list does not include more than a thousand people whose identities have not yet been validated and are reportedly still missing.
On Wednesday, officials said that 1,000 to 1,100 names remained on the FBI's tentative, unconfirmed list of still-unaccounted-for people.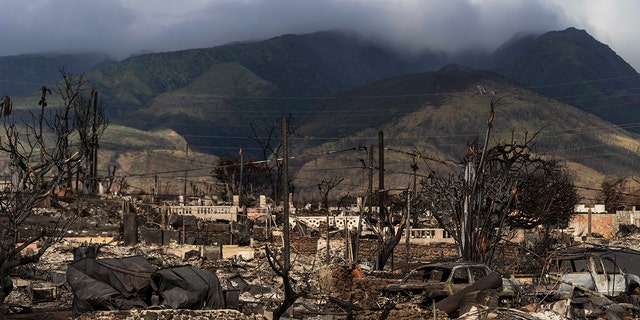 A general view shows the aftermath of a wildfire in Lahaina, Hawaii, Monday, Aug. 21, 2023.  (AP Photo/Jae C. Hong)
The county said it expects the current death toll to rise, however, as the recovery effort for the devastated seaside community continues.
Some Hawaii officials had expressed concern over releasing the list as it may inadvertently confirm the identities of people who have died.
MAUI HOME LEFT UNTOUCHED BY WILDFIRES WHILE LAHAINA NEIGHBORHOOD DESTROYED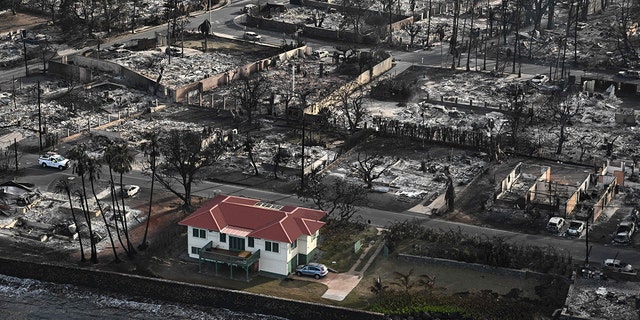 An aerial image shows a "miracle home" that survived the fires surrounded by destroyed homes and buildings burned to the ground in the historic Lahaina in the aftermath of wildfires in western Maui in Lahaina, Hawaii, on August 10, 2023.  (PATRICK T. FALLON/AFP via Getty Images)
Also on Thursday, Maui County announced that it was suing Hawaiian Electric Co., which the county alleges was negligent in failing to shut off power ahead of a passing hurricane. It also claims that live power lines contributed to the spread of the flames.
Witness accounts indicated, and online video appeared to show, that sparks from power lines ignited fires as utility poles collapsed.
The sparks, with the exceptionally high winds of the storm and dry conditions on the island, created a ripe environment for what became a major wildfire.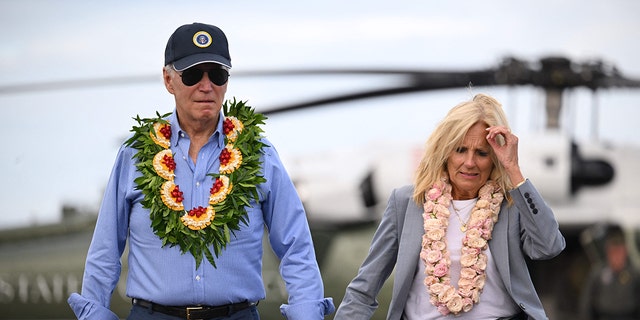 The Bidens spent the day meeting with first responders, survivors and local officials following deadly wildfires in Maui.  (MANDEL NGAN/AFP via Getty Images)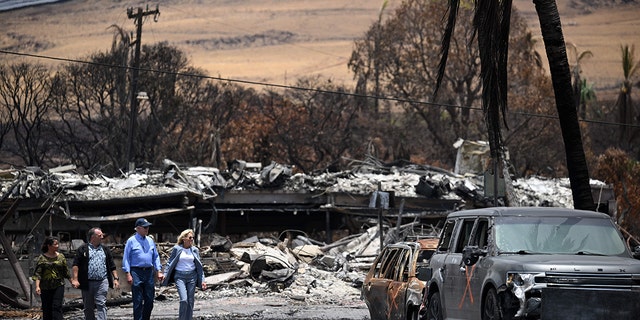 President Biden, First Lady Jill Biden, Hawaii Governor Josh Green, 2nd left, and Jaime Green, First Lady of Hawaii, visit an area devastated by wildfires in Lahaina, Hawaii on August 21, 2023.  (MANDEL NGAN/AFP via Getty Images)
Hawaii Electric said in a statement that it is "very disappointed that Maui County chose this litigious path while the investigation is still unfolding."
CLICK HERE TO GET THE FOX NEWS APP
President Biden and First Lady Jill Biden visited Hawaii, meeting with local officials and witnessing the impact of the wildfire on August 21.
Anyone with pertinent information on the missing persons — including knowing the person to be safe or any additional information that may help locate them — is encouraged to call the FBI at 808-566-4300.
The Associated Press contributed to this report.