close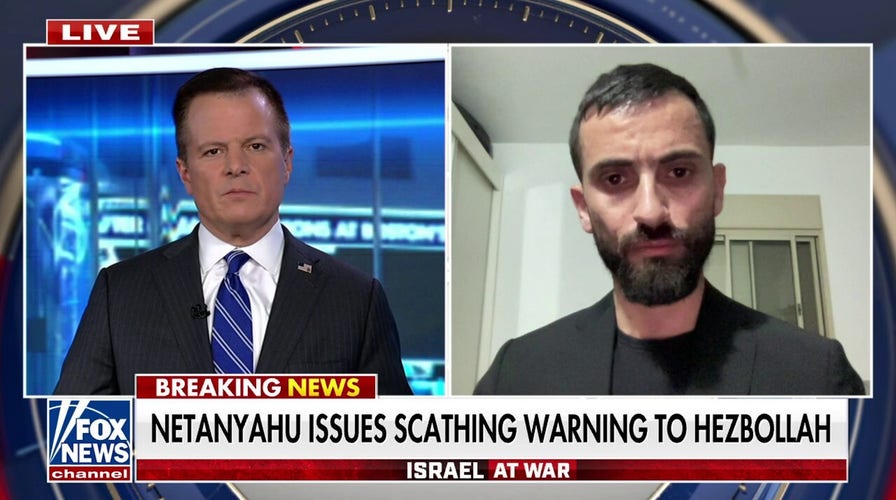 Video
Hamas is using Palestinian people as human shields for their agenda: Mohammad Kabiya
Pro-Israel Arab Muslim and former senior adviser to Nentanyahu, Mohammad Kabiya discusses the October 7 Hamas attack and why he supports Israel.
Israeli officials say Hamas terrorists killed during the Oct. 7 attack in the southern portion of the country were found to be carrying instructions on how to use cyanide-based chemical bombs, according to reports.
The massacre at the kibbutz is one of many scenes of unspeakable bloodshed perpetrated by Hamas.
Axios reportedly reviewed Israeli intelligence that showed Hamas terrorists carried instructions stored on USB devices that included detailed diagrams for a "cyanide dispersion device."
ISRAEL SECURITY AGENCY CREATES NEW UNIT TO HUNT, KILL EVERY HAMAS TERRORIST IN OCT. 7 SURPRISE ATTACKS: REPORT
Israeli soldiers carry the body of a Hamas militant in Kibbutz Beeri on Wednesday, Oct. 11, 2023. The kibbutz was overrun by Hamas militants from Neraby Gaza Strip Saturday when they killed and captured many Israelis. (AP Photo/Baz Ratner)
The intelligence was found on the USB devices discovered on the dead bodies of militants who invaded Kibbutz Be'eri near the Gaza Strip in Southern Israel.
"This finding points to an intention by Hamas to use chemical weapons as part of its terror attack against civilians," Israel said in a cable to its embassies.
Israeli officials also told the embassies the terrorists were ordered to "conduct attacks in a similar way that ISIS tried to do."
MCCONNELL CALLS CHINA, RUSSIA, IRAN NEW 'AXIS OF EVIL' THAT US MUST DEAL WITH: 'THIS IS AN EMERGENCY'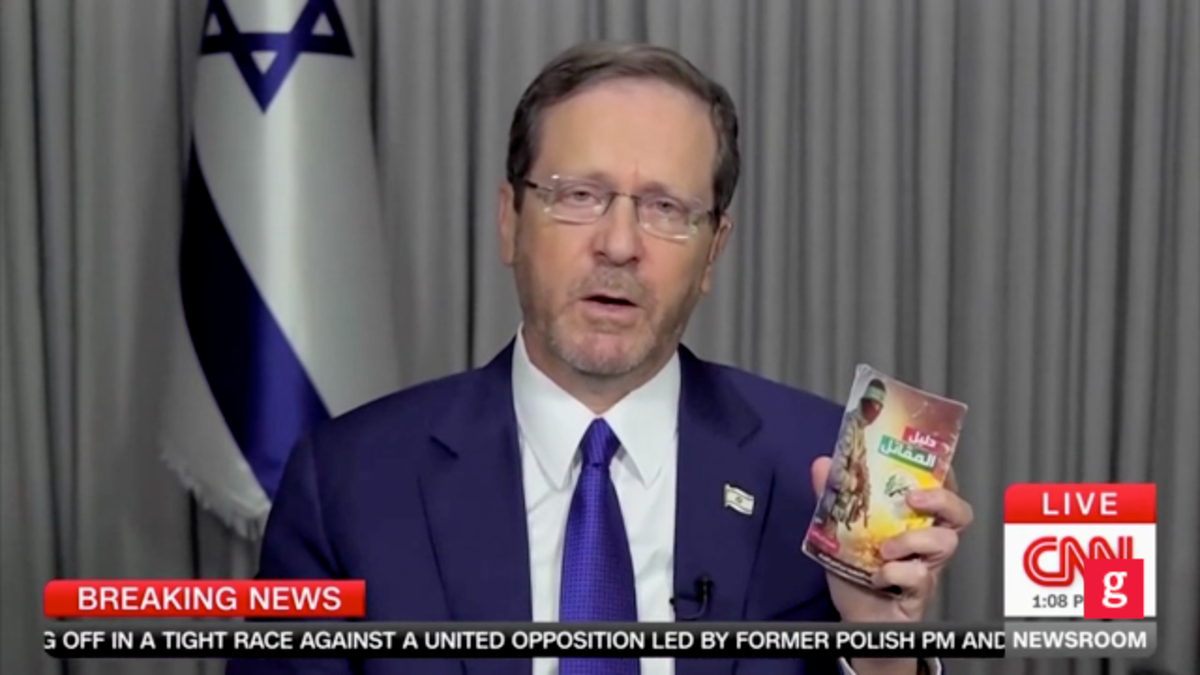 President of Israel, Isaac Herzog, told CNN that they found a torture manual for civlians on a Hamas terrorist.  (CNN/Screenshot)
Sky News interviewed Israeli President Isaac Herzog on Sunday, who confirmed the instructions and said they dated back to 2003 and were from an Al Qaeda design for chemical weapons.
"It's Al Qaeda material. Official Al Qaeda material. We are dealing with ISIS, Al Qaeda and Hamas," President Herzog said. "This is how shocking the situation is where we're looking at the instructions that are given on how to operate and how to create a kind of non-professional chemical weapon with cyanide."
Hamas has been compared to ISIS by Israeli leaders like Prime Minister Benjamin Netanyahu, who after the Oct. 7 attacks said, "Hamas is ISIS."
ISRAELI-AMERICAN RESERVIST KILLED BY HEZBOLLAH MISSILE IN ISRAEL, IDF SAYS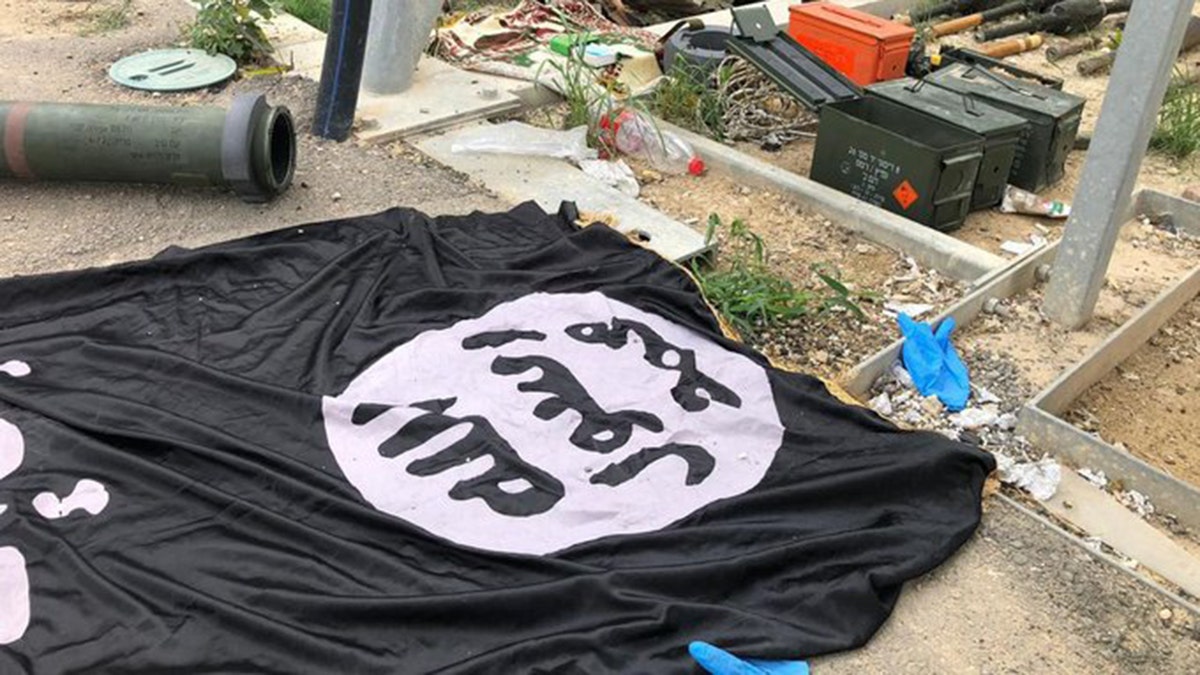 A photo provided by the Israeli Defense Forces (IDF), showing an ISIS flag among the belongings of a Hamas fighter. (Israeli Defense Forces)
"Just as ISIS was crushed, so too will Hamas be crushed and Hamas should be treated exactly the way ISIS was treated," the Prime Minister said. "They should be spit out from the community of nations. No leaders should meet them. No country should harbor them. And those that do should be sanctioned."
Israel Defense Forces (IDF) even said Hamas brought ISIS flags when they massacred Israeli children, women and men.
"Hamas is a genocidal terrorist organization," IDF officials said. "Hamas is worse than ISIS."
CLICK HERE TO GET THE FOX NEWS APP
Israel also said the bodies of Hamas terrorists who died on Oct. 7 were in possession of battle plans to "kill as many people as possible," and take hostages while raiding and burning villages.
The plans also included directions of targeting schools for kidnapping children, pointing to areas where large groups of civilians would likely be found.
Greg Wehner is a breaking news reporter for Fox News Digital.