close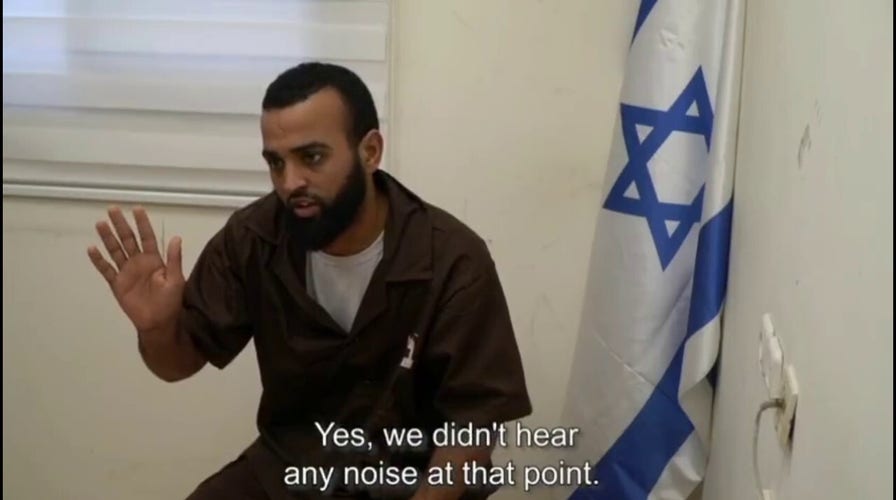 Video
Hamas terrorists confirms they heard children, shot at door until crying stopped
A Hamas terrorist told Israel Defense Forces he and another member of Hamas heard children crying before shooting at the door until they were no longer heard. (Credit: Israel Defense Forces)
A Hamas terrorist told an Israel Securities Authority (ISA) official he and another man shot and killed crying children who were inside a safe room, until the sounds could no longer be heard, while acknowledging he entered the house simply to kill.
In a video posted by the Israel Defense Forces (IDF) to the social media platform X, formerly known as Twitter, the Hamas terrorist is seen wearing prison garb while sitting in a chair with an Israeli flag behind him.
The unnamed man tells the ISA official, who cannot be seen in the video, that he and other members of Hamas entered a house through the window. While checking the house, he told the official, they heard sounds of young children in the safe room and shot at the safe room.
ISRAEL RELEASES UNEDITED VIDEO OF OCT 7 HAMAS ATTACK TO COUNTER 'HOLOCAUST DENIAL-LIKE PHENOMENON'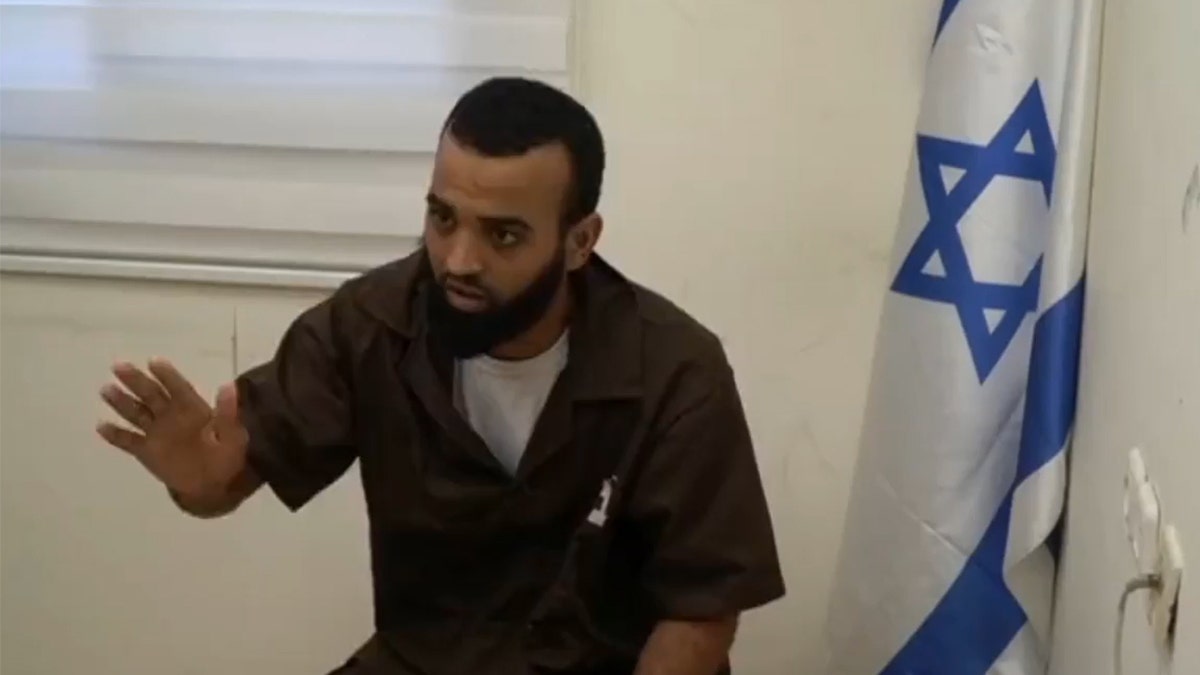 Israel Securities Authority questions Hamas terrorist who admitted to shooting children through a door of a safe room. (Israel Securities Authority)
"At the beginning, we didn't shoot. We passed by and didn't hear anything," he said, adding that he and others ate dates and drank water.
After having a quick snack, the terrorist said he and others heard sounds of young children.
"What sounds did you hear," the man was asked.
REMEMBERING US VICTIMS KILLED AND MISSING IN THE ISRAELI-HAMAS WAR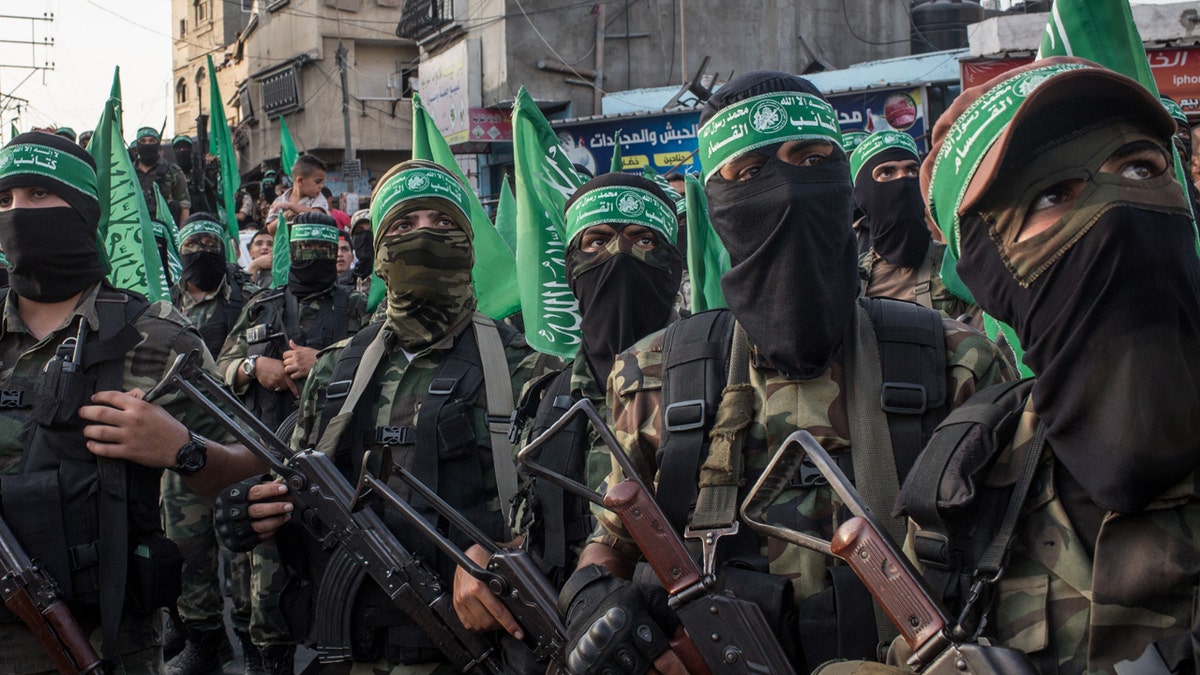 Palestinian Hamas terrorists are seen during a 2017 military show in Gaza City, Gaza. (Chris McGrath/Getty Images/File)
"Young children's crying," he told the ISA official, who asked him to demonstrate the sounds he was hearing.
The terrorist reiterated that he heard the sound of a child crying.
"I shot and Ahmad Abu Kamil shot, we shot at the door," he said. "Until we didn't hear noise anymore."
When the terrorist was asked what he meant, he said that the children died.
ISRAEL AMBASSADOR BLASTS UN 'SILENCE' OVER HAMAS ATROCITIES; TO WEAR YELLOW STAR UNTIL TERRORISTS CONDEMNED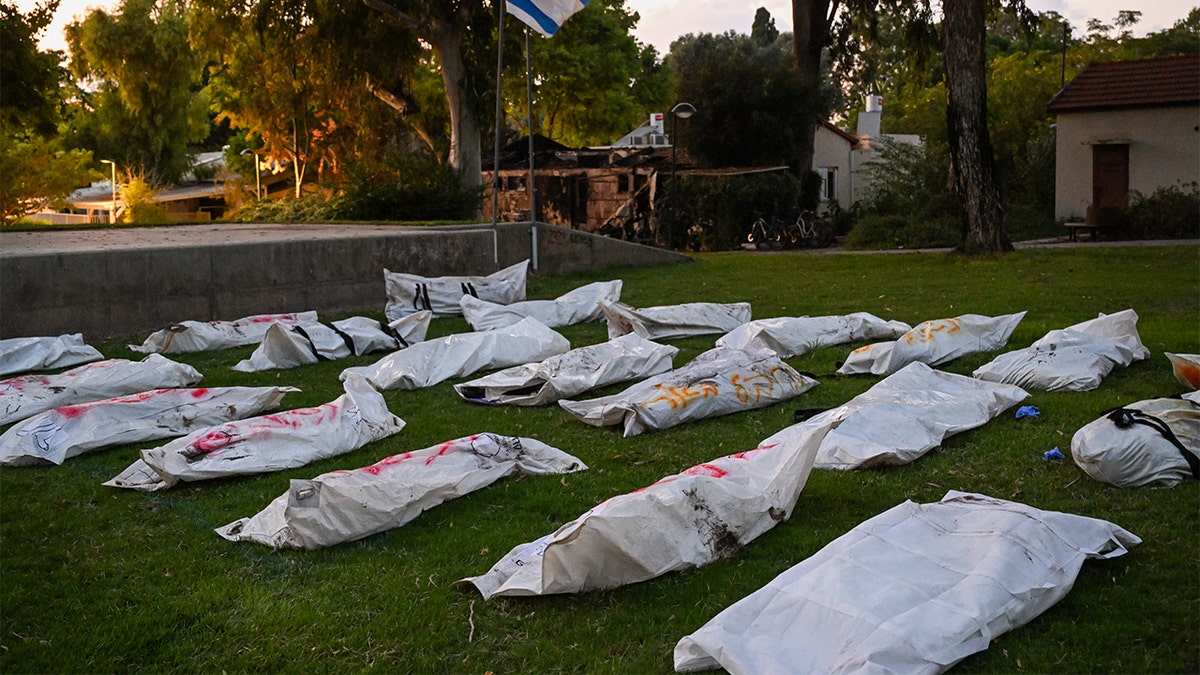 Body bags of over 20 dead Hamas militants with the word "terrorist" written in Hebrew, on a main field at Kibbutz Be'eri, where dozens of civilians were killed days earlier near the border with Gaza in Be'eri, Israel. (Alexi J. Rosenfeld/Getty Images/File)
"I want to ask you a question. Is killing children logical in the Muslim religion," the ISA inquisitor asked.
"No," the imprisoned man answered.
"What did the prophet Muhammad say regarding this," the inquisitor asked.
"Children are not involved," the man answered.
ISRAELI UN AMBASSADOR DEMANDS UN SECRETARY-GENERAL RESIGN AFTER 'SHOCKING' SPEECH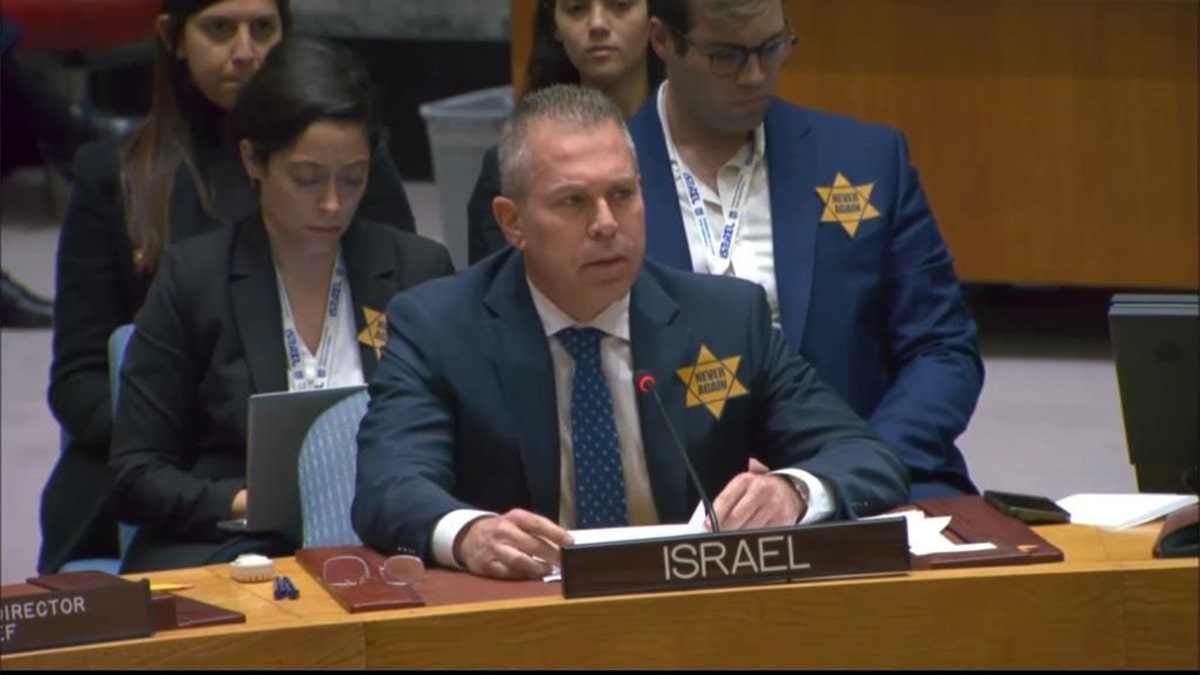 Israel's ambassador to the United Nations vowed to wear a yellow star until the Security Council wakes up and condemns the "atrocities" committed by Hamas. (UNTV)
The ISA official then asked the Hamas terrorist if he entered the house as an order to kill from Hamas, and he nodded.
He was also asked what the difference between him and ISIS are, and told the official there was no difference, based on videos he was shown of Hamas spreading terror.
"I saw videos worse than ISIS, the ones the interrogator showed me," he told the agent.
The ISA official then asked the man if his mother or father would be proud of the actions he and Hamas committed.
HAMAS LAUNCHES MASSIVE ROCKET BARRAGE AS ISRAEL DELAYS INVASION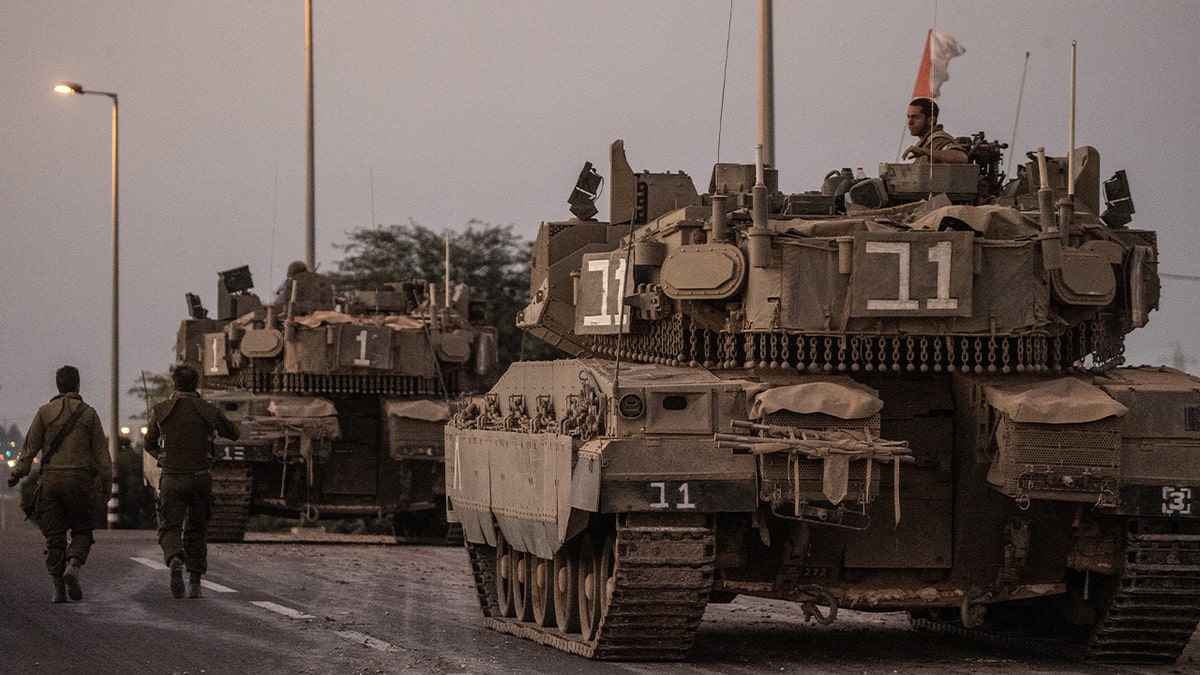 Israeli tanks move near Gaza border as Israeli army deploys military vehicles around the Gaza Strip, Israel, Oct. 12. (Mostafa Alkharouf/Anadolu via Getty Images/File)
"They don't know I'm part of Hamas. If my father sees me, he will shoot me. He will kill me," he answered before being asked why. "Because I did those actions."
On Oct. 7, Hamas-led forces crossed the Israel-Gaza border while residents were sleeping, dragging people into the street, taking some hostage while beading and killing others.
Over 1,300 Israelis were killed in the attack, with thousands more wounded and many taken hostage by Hamas, and raped, tortured and murdered.
CLICK HERE TO GET THE FOX NEWS APP
The war between Israel and the Palestinian terrorist group Hamas is now in its fourth week. At least 5,700 people have been reported killed in the war on both sides, including at least 1,400 Israeli civilians and soldiers and 36 Americans. The Hamas-run Gaza health ministry claims at least 4,385 Palestinians have been killed in Gaza and the West Bank and more than 13,561 wounded.
Greg Wehner is a breaking news reporter for Fox News Digital.