close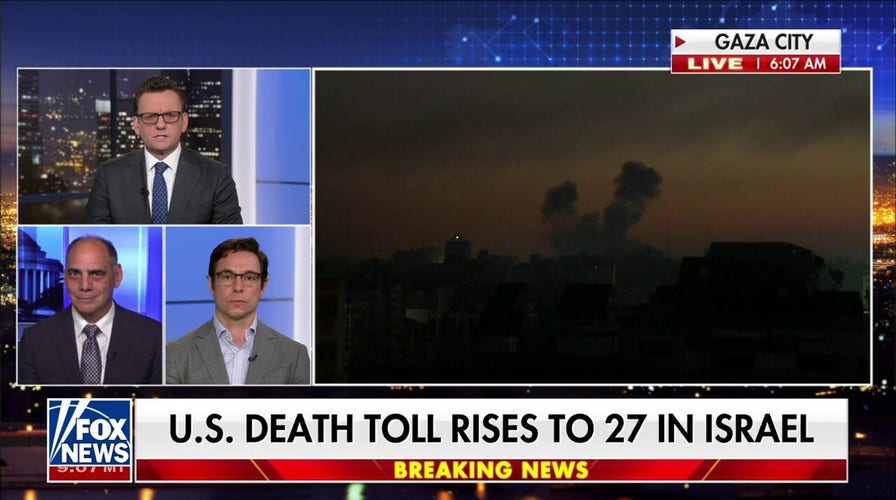 Video
Hamas will kill the hostages rather than give them up: James Carafano
'FOX News @ Night' panelists James Carafano and Dov Waxman discuss an expected Israeli ground invasion of Gaza and reports the IDF has given Palestinians 24 hours to evacuate. 
Security around the world has been ramped up on Friday as Israeli authorities are warning the public about Hamas' call for a "Day of Rage" targeting its people and Jews.
The Israel National Security Council and Ministry of Foreign Affairs says it is recommending all Israelis abroad to "be alert, keep away from the demonstrations and protests and – if necessary – check with local security forces regarding possible protests and disturbances in the area."
"Against the background of Operation Swords of Iron, the Hamas leadership has called on all of its supporters around the world to hold a 'Day or Rage'… (Friday, 13 October 2023) and attack Israelis and Jews," the agencies said in a joint statement. "It is reasonable to assume that there will be protest events in various countries that are liable to turn violent."
"The National Security Council, the security services and Ministry of Foreign Affairs will continue to act everywhere in order to safeguard the security of Israeli citizens around the world," the statement added.
LIVE UPDATES: ISRAEL AT WAR WITH HAMAS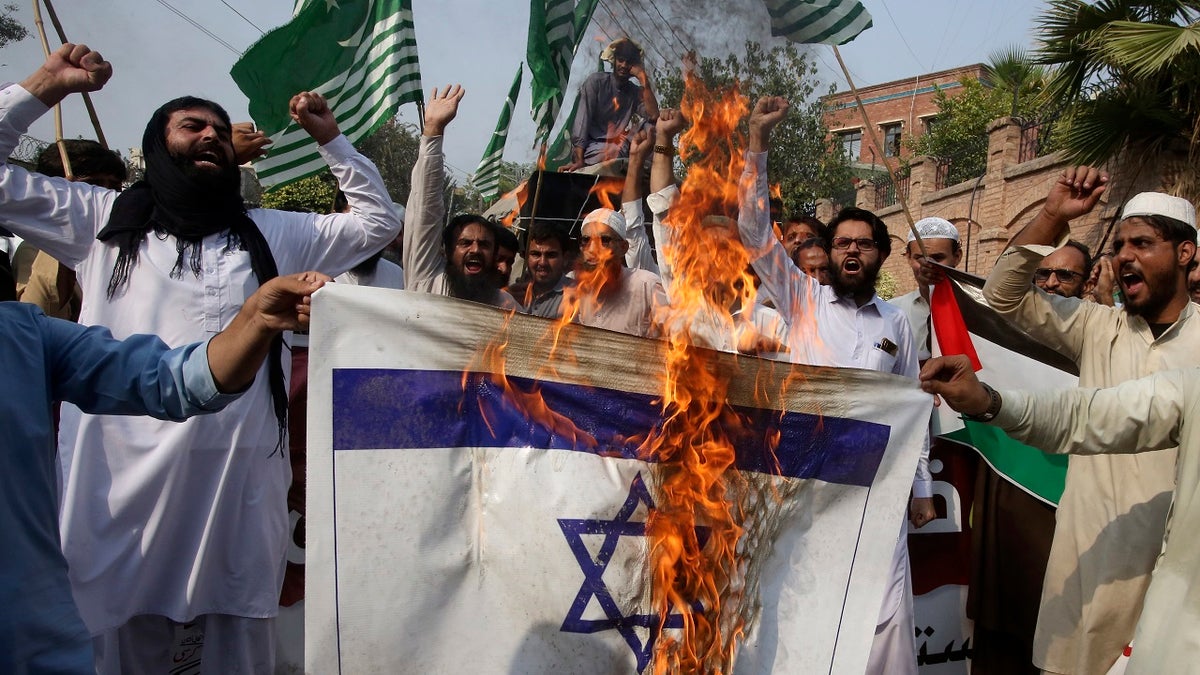 Supporters of the Pakistan Markazi Muslim League burn a representation of the Israeli flag during a demonstration against Israeli airstrikes on Gaza and to show solidarity with Palestinian people in Peshawar, Pakistan, on Friday. (AP/Muhammad Sajjad)
The FBI also told Fox News on Thursday that it is aware of "calls for global action on Friday, October 13th that may lead to demonstrations in communities throughout the United States.
"We are working closely with our law enforcement partners across the country to share information and identify and disrupt any threats that may emerge. As always, we take seriously any tips or leads we receive regarding potential threats and investigate them rigorously to determine their credibility," the FBI said. "The FBI encourages members of the public to remain vigilant and report anything they consider suspicious to law enforcement."
On Wednesday, former Hamas leader Khaled Meshaal called for protests in support of the Palestinians.
"[We must] head to the squares and streets of the Arab and Islamic world on Friday," Reuters quoted him as saying in a recorded statement.
Meshaal specifically mentioned Jordan, Israel's neighbor, in his plea. The news agency reports that Jordan and Lebanon are home to the largest number of Palestinian refugees.
ISRAEL, AUSTRALIA, JAPAN, UK, US AND OTHERS HAVE OFFICIALLY DESIGNATED HAMAS A TERRORIST ORGANIZATION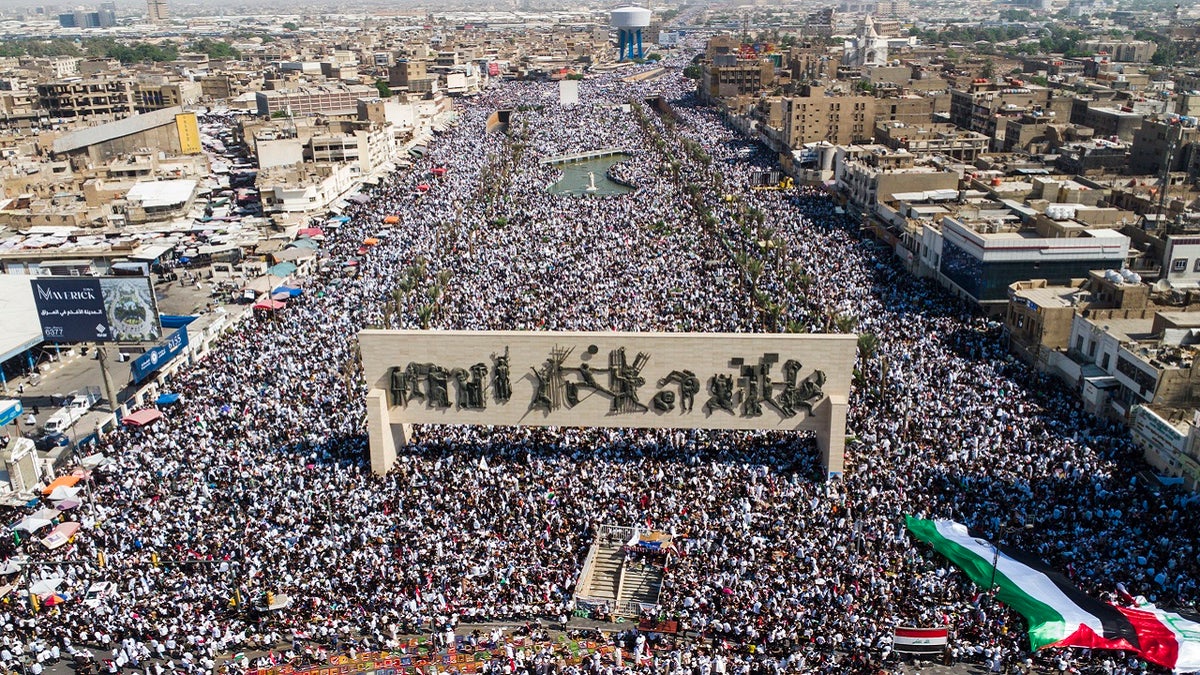 Iraqis hold a mass rally supporting the Palestinians in the Gaza Strip on Friday in Baghdad, Iraq. (AP/Anmar Khalil)
"Tribes of Jordan, sons of Jordan, brothers and sisters of Jordan… This is a moment of truth and the borders are close to you, you all know your responsibility," Meshaal reportedly said, adding "To all scholars who teach jihad … to all who teach and learn, this is a moment for the application."
The Israel-Hamas war – which began Saturday following an attack by the terrorist group in Israel – has left at least 2,800 people dead as of Friday, including at least 1,300 Israeli civilians and soldiers and 27 Americans.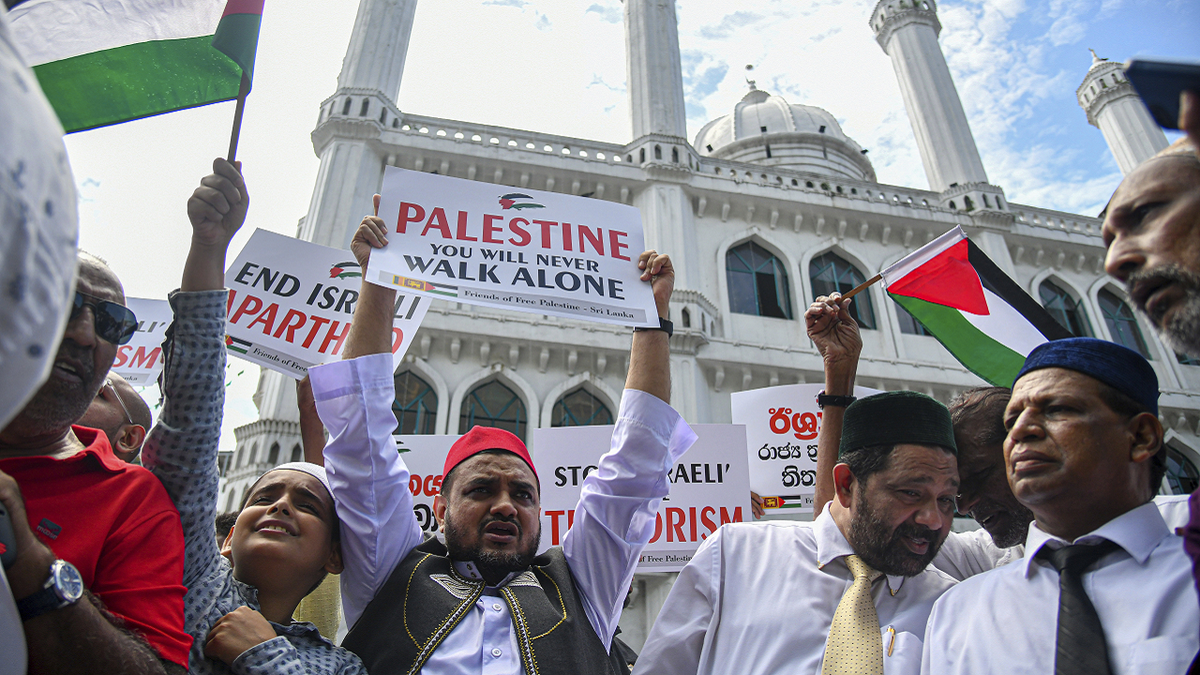 Sri Lankan Muslims participate in a protest against Israeli airstrikes on Gaza and to show solidarity with Palestinian people, in Colombo, Sri Lanka, on Friday.
CLICK HERE TO GET THE FOX NEWS APP
Security has already been stepped up in major American cities and countries around the globe as law enforcement is working to prevent acts of antisemitism and violence against Jewish people.
Fox News' Brooke Singman contributed to this report.
Greg Norman is a reporter at Fox News Digital.