Republican presidential candidate Nikki Haley slammed her 2024 rival Vivek Ramaswamy on Thursday, calling out comments he made opposing U.S. military intervention against Iran to defend Israel.
Ramaswamy, an entrepreneur and political newcomer, on Monday told Israel Hayom in an interview that he would "remain supportive of Israel" but would not "put our own men and women on the line in a war with Iran." The outlet noted that his rejection of a U.S. strike on Iran is a departure from past presidential administrations, which have used the explicit and implicit threat of military force to defend Israel from Iranian aggression.
Haley, a former U.S. ambassador to the U.N., suggested Ramaswamy's position was disqualifying for a presidential candidate.
"Vivek must have missed that the fanatical Islamic terrorist regime in Iran regularly calls for 'Death to America.' If he doesn't see a nuclear Iran as a threat to American security, then he should take his place beside AOC and the Squad and get nowhere near the White House," Haley said in a statement.
NIKKI HALEY PUSHES FOR ISRAEL AID AFTER DEBATE BRAWL WITH VIVEK RAMASWAMY: 'WE HAVE NOT HAD A BETTER ALLY'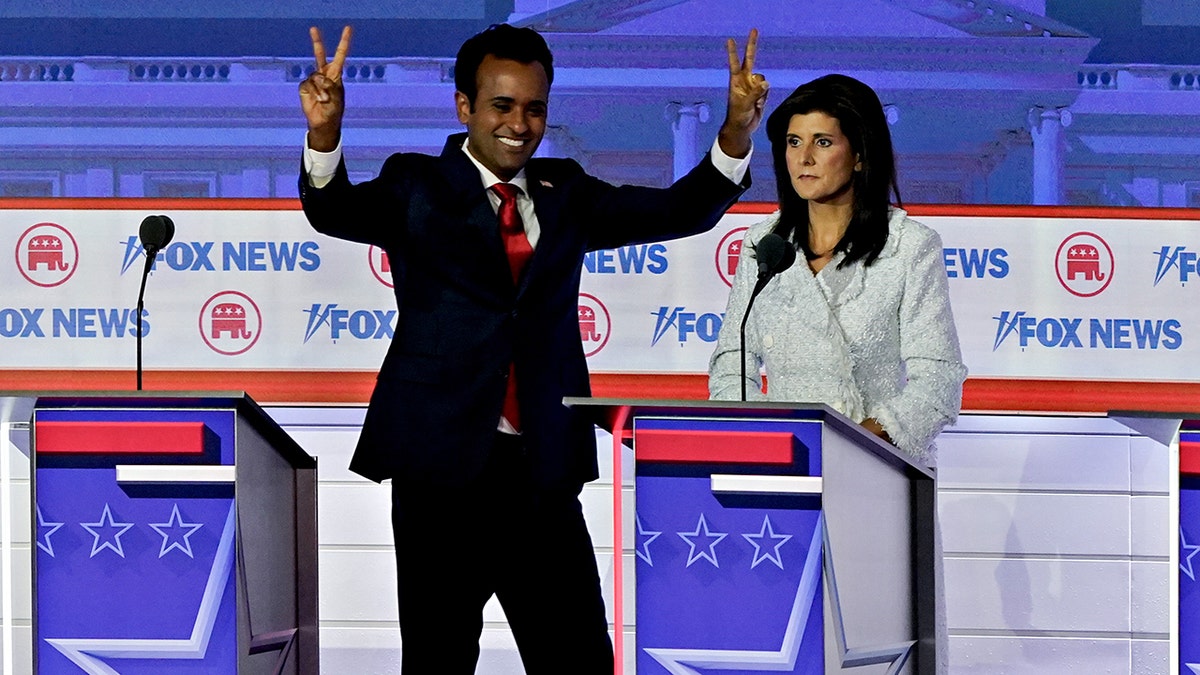 Vivek Ramaswamy, chairman and co-founder of Strive Asset Management and 2024 Republican presidential candidate, left, and Nikki Haley, former ambassador to the United Nations and 2024 Republican presidential candidate, during the Republican primary presidential debate hosted by Fox News in Milwaukee on Wednesday, Aug. 23, 2023. Haley and Ramaswamy have traded barbs on foreign policy since last week's debate. (Al Drago/Bloomberg via Getty Images)
When reached for a response, Ramaswamy accused Haley of misrepresenting his views.
"Another flagrant distortion by the neocons," he said in a statement to Fox News Digital. "Watch the actual video. I said we would fully support Israel, including militarily, but that we should *not* want U.S. men and women dying in a war between Israel and Iran."
"If [Former Vice President Mike] Pence, Haley, [Former New Jersey Gov. Chris] Christie, and [Karl] Rove feel differently, they should have the spine to say how many Americans they'd be prepared to see die in that conflict. I'll wait," he added.
This back and forth is the latest escalation of a feud between Haley and Ramaswamy that started at last week's first Republican presidential debate on Fox News.
VIVEK RAMASWAMY WAS THE MOST GOOGLE-SEARCHED CANDIDATE AT THE GOP DEBATE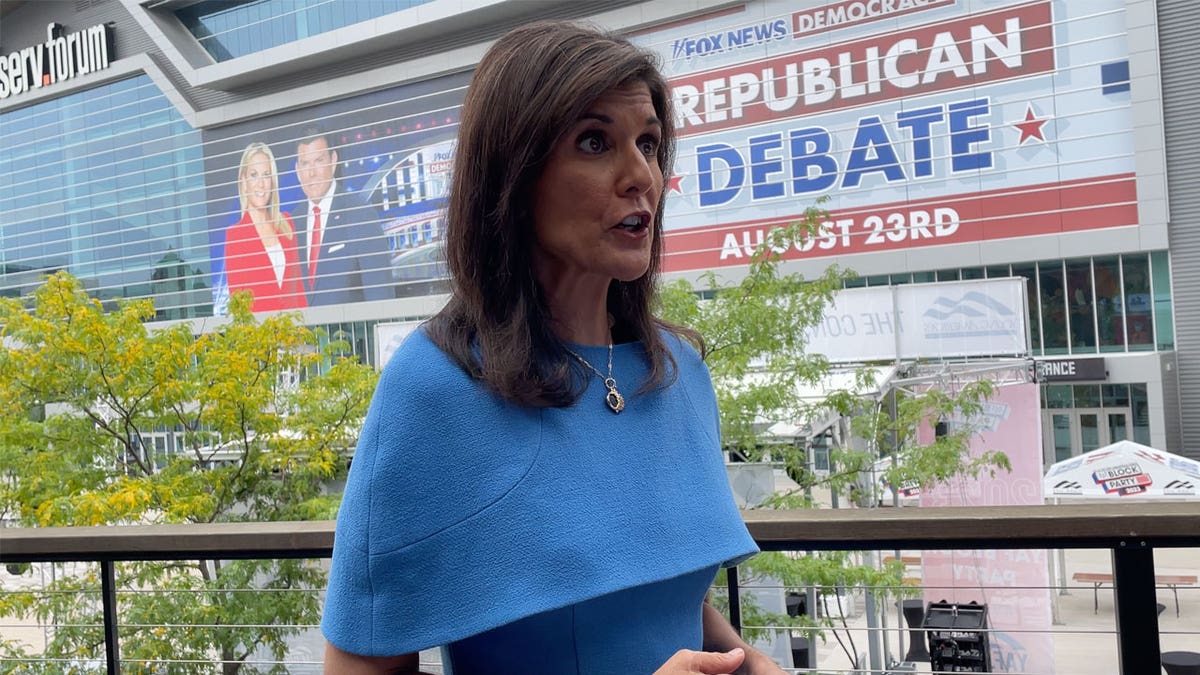 Former U.N. ambassador and South Carolina Gov. Nikki Haley ill-favorably compared Vivek Ramaswamy's foreign policy towards Israel and Iran to far-left members of Congress including Rep. Alexandria Ocasio-Cortez, D-N.Y., and the "Squad."  (Joseph A. Wulfsohn/Fox News Digital)
A highlight of the debate was when Haley confronted Ramaswamy over his foreign policy positions, specifically on Ukraine, Taiwan and Israel.
"Under your watch, you will make America less safe. You have no foreign policy experience, and it shows. It shows," she told Ramaswamy.
Ramaswamy pushed back, saying America's relationship with Israel "will never be stronger than by the end of my first term" and that it should be a "friendship" instead of a "client relationship."
"And you know what friends do? Friends help each other stand on their own two feet. So I will lead Abraham Accords 2.0. I will partner with Israel to make sure Iran never is nuclear armed," Ramaswamy said.
RAMASWAMY CAMP USES HALEY'S FIRST NAME IN ATTACK THAT HAS CRITICS RAISING EYEBROWS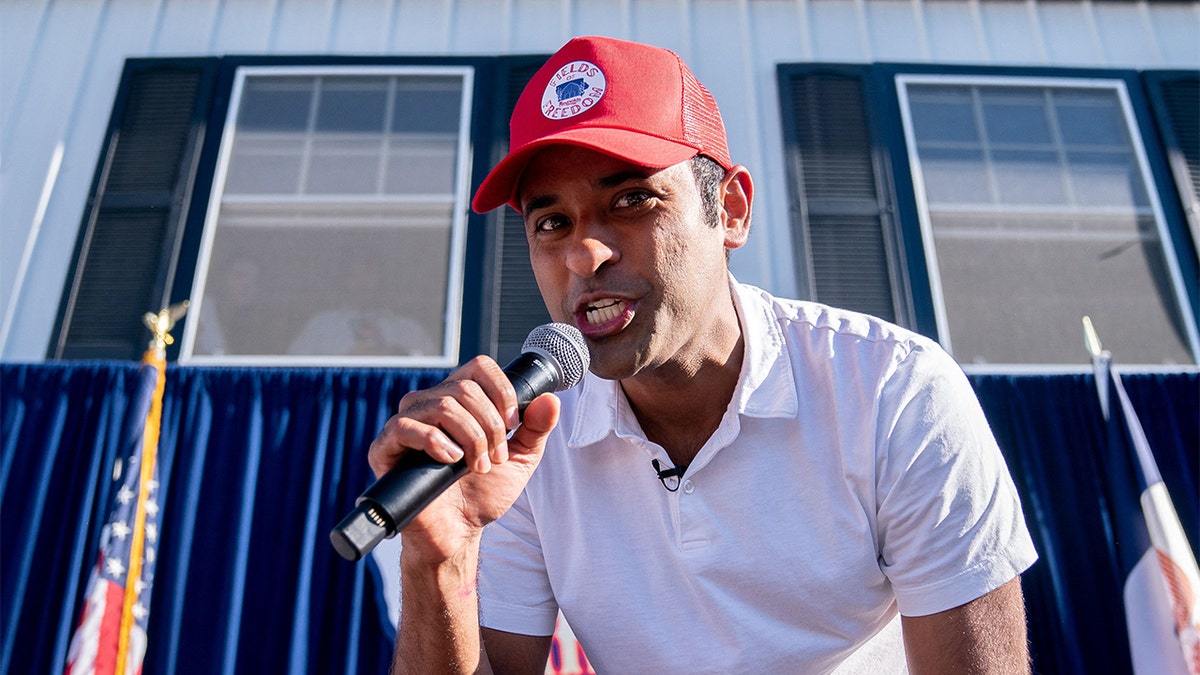 Entrepreneur and 2024 Presidential hopeful Vivek Ramaswamy shot back at former South Carolina Gov. Nikki Haley, calling her a "neocon" and accusing her of misrepresenting his views on Israel and the Middle East. (STEFANI REYNOLDS/AFP via Getty Images)
He continued, "But you know what I love that Israel — and I've been there probably in the last 10 years more than most people on this stage — you know what I love about them? I love their border policies. I love their tough-on-crime policies. I love that they have a national identity and an Iron Dome to protect their homeland. And so, yes, I want to learn from the friends that we're supporting."
"No, you want to cut the aid off," Haley interjected. "And let me tell you, it's not that Israel needs America. America needs Israel. They are the front-line defense to Iran."
The rivalry continued over the weekend when Haley characterized Ramaswamy's debate performance as "narcissism" and "arrogance" and said he does not understand the U.S.-Israeli relationship.
Ramaswamy fired back, "By the end of my first term, the U.S.-Israel relationship will be deeper and stronger than ever because it won't be a client relationship, it will be a true friendship."
CLICK HERE TO GET THE FOX NEWS APP
His campaign communications director Tricia McLaughlin added, "She is intentionally misleading people, and it should be called out for what it is."
While both candidates continue to distinguish themselves on foreign policy, they remain backbenchers in the GOP presidential primary. According to the RealClearPolitics average, the entrepreneur is polling third in the GOP primary with just over 7% support, while the former U.N. ambassador is placing in fifth with 3.7%.
Former President Trump holds a commanding lead in the race, averaging a dominant 55% support among likely primary voters.
Fox News' Joseph Wulfsohn contributed to this report.