close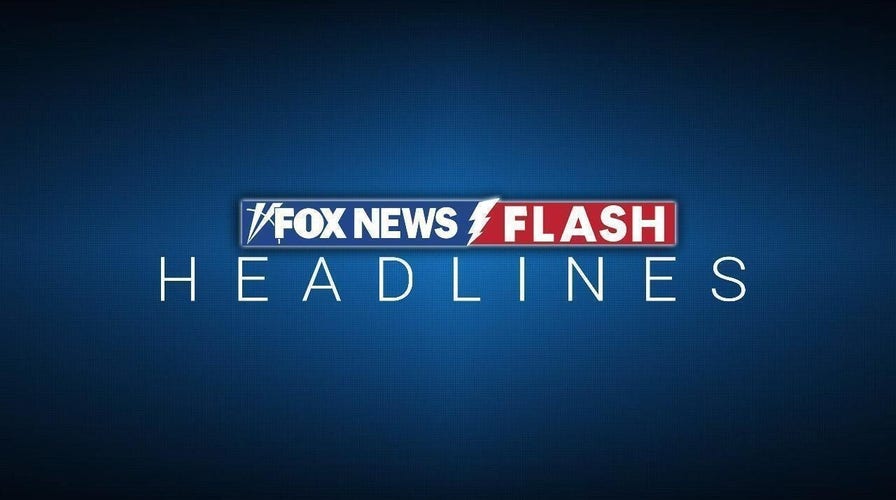 Video
Fox News Flash top headlines for September 8
Fox News Flash top headlines are here. Check out what's clicking on Foxnews.com.
The reported death toll from severe flooding in Greece has risen to 10, according to the Balkan nation's civil protections minister.
12 others have been reported dead from floodwaters in neighboring Bulgaria and Turkey.
"The situation is tragic," Ioanna Gana, a local resident, told Greek media, noting that water levels in her neighborhood were rising "minute by minute."
The death toll from severe flooding in central Greece rose to 10 people Friday, while another four remained missing, the country's civil protection minister said. Rescue crews in helicopters and boats ferried hundreds of people from inundated villages to safety.
Flooding triggered by rainstorms also hit neighboring Bulgaria and Turkey, killing a total of 22 people in all three countries since the rains began Tuesday.
In Greece, the rainstorms turned streams into raging torrents that burst dams, washed away roads and bridges and hurled cars into the sea. Authorities have said some areas received twice the average annual rainfall for Athens in the space of just 12 hours.
AT LEAST 6 DEAD, 6 MISSING AS FLOODS OVERTAKE CENTRAL GREECE
Although the rainstorms had ebbed by Friday, floodwater continued to rise after the Pineios River burst its banks near the city of Larissa, one of Greece's largest cities with a population of around 150,000, triggering evacuation orders for several areas.
"The situation is tragic," Larissa resident Ioanna Gana told Greece's Open television channel, adding that water levels in her flooded neighborhood were rising "minute by minute."
Climate Crisis and Civil Protection Minister Vassilis Kikilias said the Pineios River levels were "keeping us on constant alert."
"Great care must be taken by all as the flooding could intensify at any moment," he said.
By Friday afternoon, Kikilias said, 1,700 people had been rescued by boat and vehicles, while another 296 had been plucked from the flooded areas by helicopter from 14 villages, including 150 people who were in need of immediate medical care.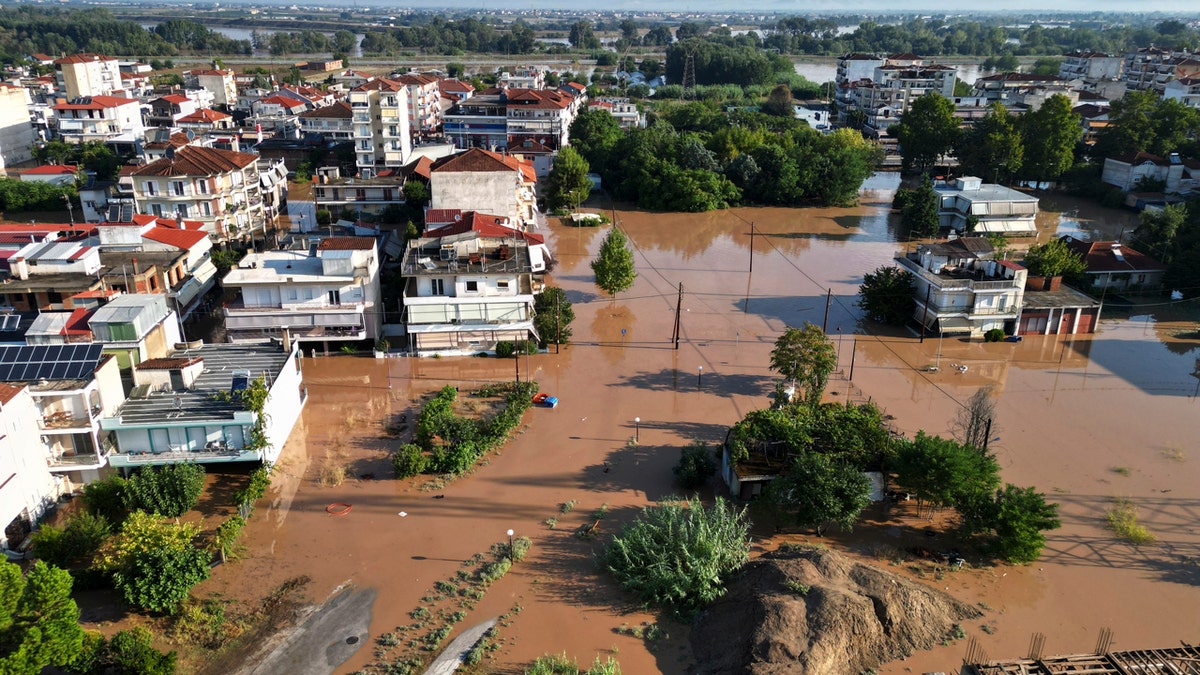 A suburb is seen submerged by floodwaters, Larissa, Greece, Friday, Sept. 8, 2023. (AP Photo/Vaggelis Kousioras)
More than 1,000 rescuers and 20 helicopters were involved in the rescue operation, including three Swiss helicopters that had been in Greece to assist in efforts to battle recent deadly wildfires. They were being used to ferry food and water to inundated villages, Kikilias said.
Prime Minister Kyriakos Mitsotakis, who canceled his annual state of the economy speech scheduled for the weekend and was visiting the flooded areas on Friday, said that he had contacted the European Union to request financial assistance from the 27-member bloc for rebuilding.
"Our first priority over the next few days is to ensure we can evacuate our fellow citizens from areas where they might be in danger," Mitsotakis said.
Hundreds of people were trapped in villages unreachable by vehicle as roads were washed away or severed by rockfalls. Rescue crews helped young children, the elderly and people on stretchers from helicopters as they landed in a staging area in the town of Karditsa. Local media showed scenes of devastation.
DEATH TOLL REACHES 14 AFTER FIERCE STORMS, FLOODING RAVAGE GREECE, TURKEY, BULGARIA
Rescuers chest-deep in water carried an elderly evacuee on a stretcher on their shoulders, while residents of villages left without electricity or drinking water dialed in to Greek television and radio stations, appealing for help and saying people were still trapped without food or water.
In the Pilion area, residents and tourists were ferried to safety by sea late Thursday as all access roads to some villages were severed.
Authorities have deployed swift water rescue specialists and divers as floodwaters rose above six feet high in some areas, leaving many houses flooded up to their roofs. Residents of some villages have reported buildings collapsing completely.
CLICK HERE TO GET THE FOX NEWS APP
The flooding followed on the heels of devastating wildfires that destroyed vast tracts of forest and farmland, burned homes and left more than 20 people dead.