close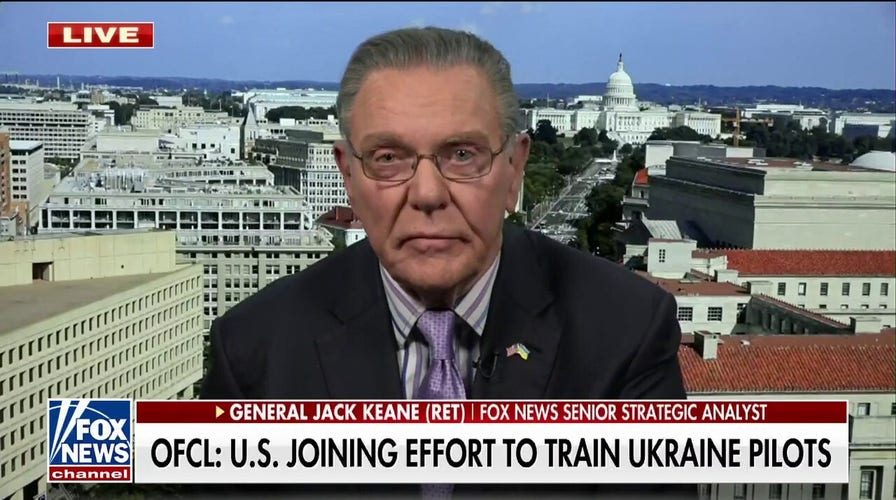 Video
U.S., like-minded democracies are 'losing their influence' in the world to China, Russia: Gen. Jack Keane
Fox News senior strategic analyst Gen. Jack Keane unpacks reports that the U.S. will participate in training Ukrainian pilots and discusses foreign policy implications of President Biden's G-7 schedule.
Greece will go to the polls this Sunday with Prime Minister Kyriakos Mitsotakis and his center-right New Democracy party fighting to hold the center of Greek and European politics as tensions flare ahead of the vote.
"Prime Minister Mitsotakis is a unique figure in world politics. He embodies a center right that seems to have faded away in Western democracy," Endy Zemenides, Executive Director of the Hellenic American Leadership Council, told Fox News Digital. "His free enterprise and national security credentials wouldn't surprise anyone, but his stances on climate change, abortion, LGBTQ rights are certainly not mirrored by the political right in other countries. Both in tone and substance he has avoided the populism that the hard right around the world uses. The attempt to paint him as an Orban type character is disingenuous and may well be motivated by a fear that he can keep attracting centrist voters like he did in 2019. The continuation of a traditional center right (as opposed to a populist hard right) in Europe may very well rest on his continued electoral success."
The main leftist opposition party, Syriza, is hoping to use recent scandals to its advantage and has even accused the Mitsotakis government and Greek police of collaborating with organized criminal gangs, undermining the rule of law and Western democratic values. The accusations from Syriza leader and former Prime Minister Alexis Tsipras are raising the intensity of the election cycle in a closely watched election.
Mitsotakis's party so far has an edge over Syriza. Both major centrist parties staunchly defend Greece's position in western institutions like NATO and the EU, while smaller, more marginal parties on the far left and right remain openly pro-Russian.
EUROPEAN NATIONS SHIFT RIGHT AS ECONOMIC WOES GRIP CONTINENT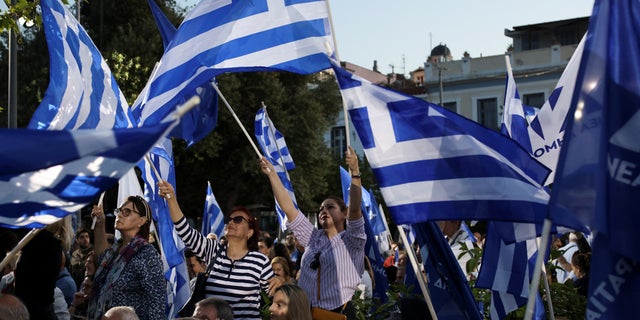 Supporters of conservative New Democracy ruling party wave flags as they attend a pre-election rally of party leader Kyriakos Mitsotakis in Athens, Greece, May 19, 2023. REUTERS/Alkis Konstantinidis (REUTERS/Alkis Konstantinidis)
Looking to exploit Greece's turbulent election cycle and drive a wedge between the main centrist parties is Russia. "Russia's preferred outcome is political instability in Greece," Zemenides noted.
"A coalition that would include figures that are openly hostile to traditional Western security policy might keep Greece from continuing its strident stances in favor of Ukraine and against Russia," he warned.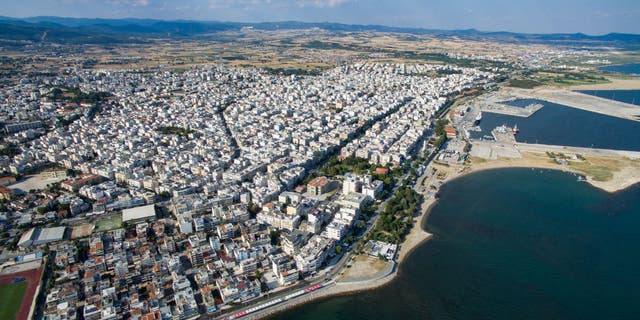 Drone images of Alexandroupolis, the capital city of the Evros Region in East Macedonia and Thrace in Greece. It is located near the Greek-Turkish landborders, borders also for the EU. (Photo by Nicolas Economou/NurPhoto via Getty Images) (Nicolas Economou/NurPhoto via Getty Images)
And while it may not seem like Russia has many interests in Greece, Greece plays a pivotal role in the eastern Mediterranean and has become a crucial bridge to helping Ukraine in its war against Russia.
In the port town of Alexandroupolis along the Aegean Sea and near the border with Turkey, American military equipment, including arms and tanks, is being delivered and transferred to Ukraine to fight off the Russian army. The port city could also be used as a regional energy hub, which would allow Europe to diversify its energy imports and become less reliant on Russia.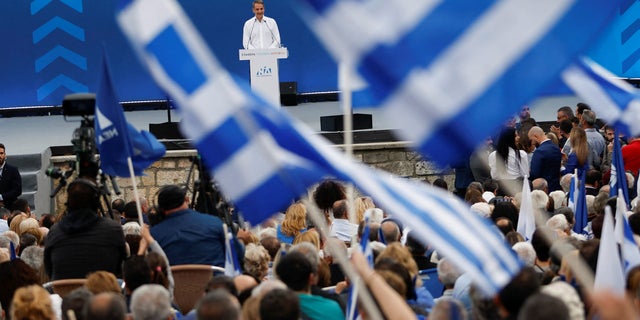 Greek Prime Minister Kyriakos Mitsotakis gives a speech during an election campaign event in Heraklion on the island of Crete, Greece, May 15, 2023. REUTERS/Louiza Vradi (REUTERS/Louiza Vradi)
Russian officials have taken notice and sounded the alarm. Kremlin spokesperson Dmitry Peskov and Foreign Minister Sergei Lavrov both raised concerns to Greece over their territory being used to ship weapons to Ukraine. Russia views the dynamics at the Alexandrouplolis port as a threat, and the tension highlights Greece's vulnerable position between the U.S. and Russia.
GREECE EXPERIENCING ITS OWN 'WATERGATE' AS CALLS FOR PRIME MINISTER'S RESIGNATION GROW
"The main channels of cultural reach for Russia in Greece are through the Orthodox Church and long-standing affinity between the two countries in the region, including the perception in Greece of Russia's defense of Greek territorial claims and integrity over islands in the Aegean," Donatienne Ruy, associate fellow at the Center for Strategic and International Studies, told Fox News Digital.
Despite being an EU and NATO member, Greek society has traditionally been somewhat friendly territory for Russian interests, especially in some conservative circles. But while Moscow does hold some sympathy among some Greeks, others say it shouldn't be overplayed.
"Russophilia, as an ideological trend in Greek society, could be considered as a minoritarian, though not insignificant, traditional trend of the Greek public opinion, particularly related to the poorer and less-educated strata of the country," Nikos Marantzidis, professor of Balkan studies at the University of Macedonia, told Fox News Digital.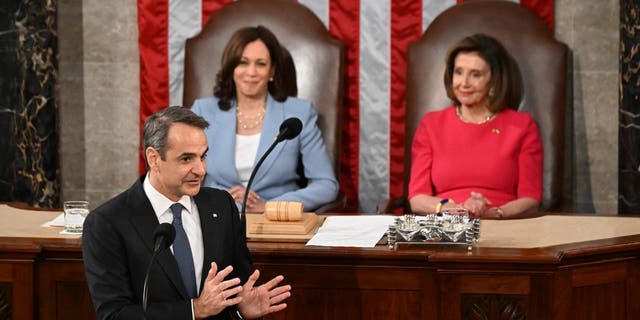 U.S. Vice President Kamala Harris and U.S. House Speaker Nancy Pelosi (D-CA) look on as Greek Prime Minister Kyriakos Mitsotakis addresses a joint session of Congress at the U.S. Capitol in Washington, D.C., on May 17, 2022. (Photo by Jim WATSON / AFP) (Photo by JIM WATSON/AFP via Getty Images) (Photo by JIM WATSON/AFP via Getty Images)
Another big issues is Turkey, which will also go to the polls again in a run-off election after neither incumbent President Recep Tayyip Erdogan nor his main challenger, Kemal Kilicdaroglu, was able to win 50 percent of the vote. Greece and Turkey have been rivals since Greece was under the Turkish Ottoman Empire. Tensions remain over the island of Cyprus, which has been separated between Greek and Turkish communities since the Turks invaded in 1974. There also have been ongoing disagreements over maritime boundaries and territorial claims in the Mediterranean and Aegean seas, with Erdogan and allies often making threats against its fellow NATO member.
"The present government has successfully countered Turkey's provocations the last four years with diplomatic dexterity, including Prime Minister Mitsotakis' address to a joint session of Congress; defense arrangements – especially the mutual defense agreement with France and the new Mutual Defense Agreement with the U.S.; and an aggressive rearmament program," Zemenides noted.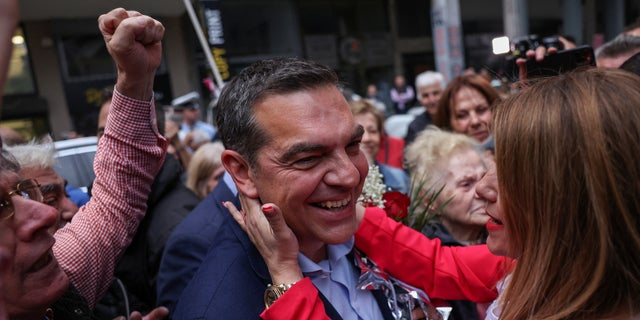 Leftist Syriza party leader Alexis Tsipras is greeted by supporters at the neighbourhood of Piraeus, near Athens, Greece, May 9, 2023. REUTERS/Alexandros Avramidis (REUTERS/Alexandros Avramidis)
RUSSIAN INFLUENCE PEDDLING ADDS TO FEARS AFTER ELECTION OF UNTESTED PRESIDENT IN EUROPEAN NATION
Another big issue is illegal immigration. Mitsotakis has promised to build a border fence along the entire border with Turkey to stem the flow of migration coming from places like war-torn Syria. The influx of migrants in 2015 led to a rise in populist and nationalist governments sweeping to power across Europe over public anger and dissatisfaction with the migrant crisis.
Lingering resentment also remains over the mass surveillance of journalists and prominent opposition figures in 2021. Mitsotakis survived a vote of no confidence in the parliament in early 2023, but the scandal was a major blow to his government, which was fairing well with the Greek public at the time.
On top of the wiretapping scandal, there's still widespread anger over Greece's poor infrastructure, highlighted by a train derailment where a passenger and freight train collided head on, killing 57 people. Crowds took to the streets of Athens to voice frustration, and many blame the current government for not improving Greece's crumbling infrastructure.
To Mitsotakis' credit, the economy has improved since the financial crisis, but the effects of global inflation and Russia's war in Ukraine have driven energy prices and the cost of living to unbearable heights.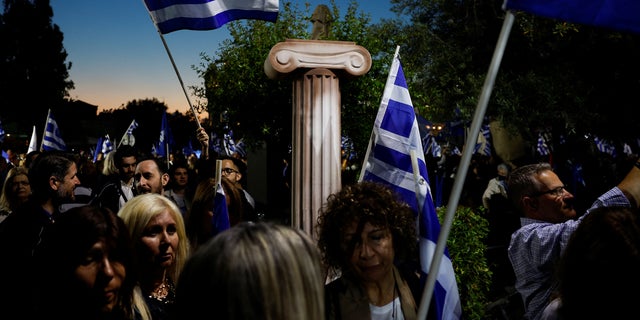 A supporter of conservative New Democracy ruling party waves a Greek flag, as they attend party leader and Greek Prime Minister Kyriakos Mitsotakis' pre-election rally in Athens, Greece, May 19, 2023. REUTERS/Louiza Vradi (REUTERS/Louiza Vradi)
Zemenides credits the present government's economic policies as a major factor in Sunday's vote. "Greece's economic recovery has been nothing short of a miracle. For many, this election is about keeping the progress going, attracting more investments like the ones Pfizer, Microsoft and JP Morgan have made recently, and for making Barclay's predicted "megacycle" a reality. There are others (especially the youth – which still suffers from a high rate of unemployment) who will cast their vote with a hope that they can benefit more from this astonishing economic rise or make up for what they lost during the years of economic austerity … wage growth is key here."
TURKISH, GREEK TENSION PLACES PRESSURE ON NATO ALLIANCE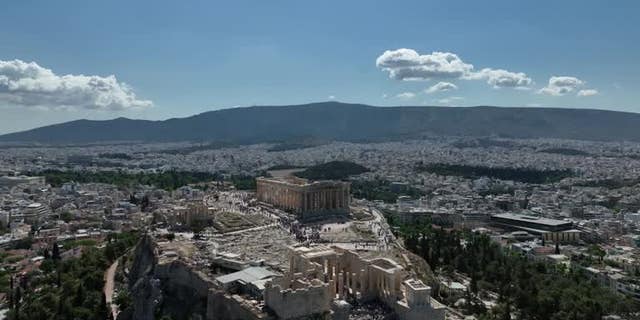 Greeks go to the polls on Sunday to vote for a new leader in a closely contested election. (Reuters) (Reuters)
Russia's invasion of Ukraine shifted the tone and policy in Greek politics with Greece taking a firmly pro-Ukrainian position following the outbreak of hostilities. Mitsotakis strongly condemned Russia's invasion and broke longstanding policy of involving Greece in foreign conflicts. Greece was one of the first countries to send arms to Ukraine and most recently in April, Greek Defense Minister Nikos Panagiotopoulos promised more security assistance for Ukraine and said that Greece would support Ukraine for as long as it takes.
Greece, under both the Syriza government from 2015 to 2019 and followed through under the Mitsotakis government, continued to cultivate closer ties with the U.S., looking to expand security cooperation as well.
Russia's invasion of Ukraine provided the opportunity for the U.S. to step up its efforts in the Mediterranean. In addition to the Alexandroupolis port, which has an airport and military barracks, the modernized Larissa air base allows the U.S. to patrol NATO's southern and eastern borders, and the Stefanovikeio army base provides a venue where U.S. and Greek forces train and conduct joint military exercises.
CLICK HERE TO GET THE FOX NEWS APP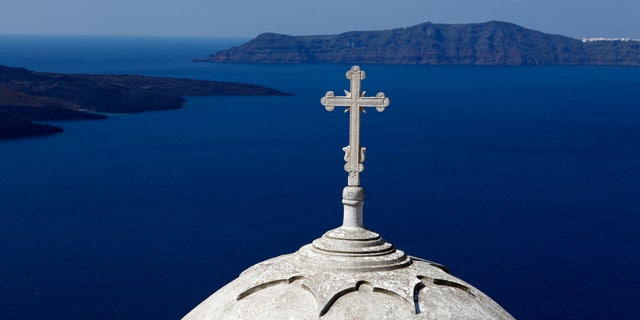 Volcanic islets are seen behind a Greek Orthodox church built on the edge of the caldera at the volcanic island of Santorini March 15, 2012. (REUTERS/Yannis Behrakis.)
As for Russia's invasion, some analysts say that Greece's unwavering support for Ukraine has its limits, especially with rampant inflation across the world. George Andreopoulos, professor of political science at the City University of New York, said that a large portion of the population thinks the EU needs to reconsider its sanctions' policy. Not because of any sympathy with Russia's aims, Andreopolous notes, "but because they feel that the economic implications of the sanctions have adversely affected the living conditions of the citizens. This is consistent with several polls that identify the rising cost of living as the number-one issue of concern."