Georgia Gov. Brian Kemp says ill-fated attempts by state Republicans to call a special session to remove Fulton County District Attorney Fani Willis are not going to work.
Kemp made the comments during a press conference on Thursday, saying it has nothing to do with his personal feelings surrounding the district attorney's case against former President Trump.
"Up to this point, I have not seen any evidence that DA Willis's actions or lack thereof warrant action by the prosecuting attorney oversight commission. As long as I'm governor, we are going to follow the law and the Constitution — regardless of who it helps politically," Kemp said.
GOV. BRIAN KEMP HASN'T RECEIVED 'ANY EVIDENCE' STATE SEN. MOORE HAS MAJORITY NECESSARY FOR WILLIS IMPEACHMENT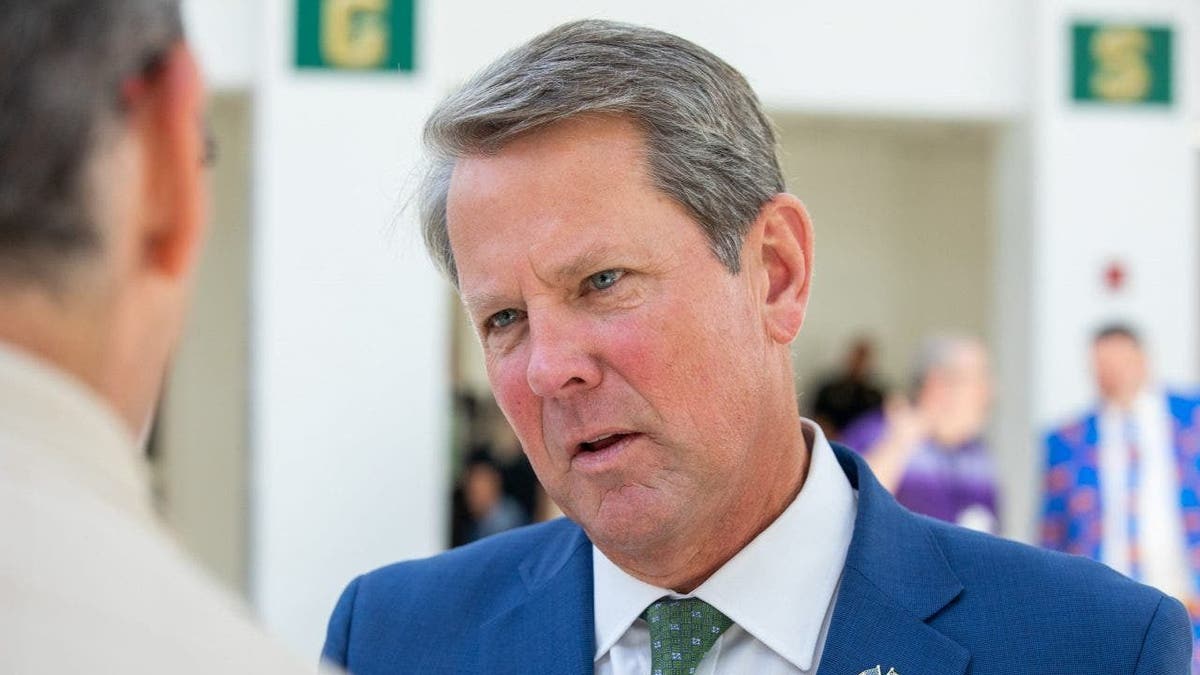 Georgia Gov. Brian Kemp speaks to members of the media after a Back-To-School kick off event at Ola High School in McDonough, Georgia, July 29, 2020. (Photographer: Dustin Chambers/Bloomberg via Getty Images)
In a letter to the governor filed earlier this month, State Sen. Colton Moore claimed to have the support of "3/5 of each respective house" in the state legislature regarding his efforts to impeach Willis.
Moore, in a statement to Fox News Digital, later admitted that the statement in the letter alluding to having a majority in both houses was not accurate.
"We have a law in the state of Georgia that clearly outlines the legal steps that can be taken if constituents believe their local prosecutors are violating their oath by engaging in unethical or illegal behavior," Kemp said Thursday at the press conference.
HOUSE JUDICIARY COMMITTEE PROBING DA FANI WILLIS REGARDING MOTIVATIONS FOR TRUMP PROSECUTION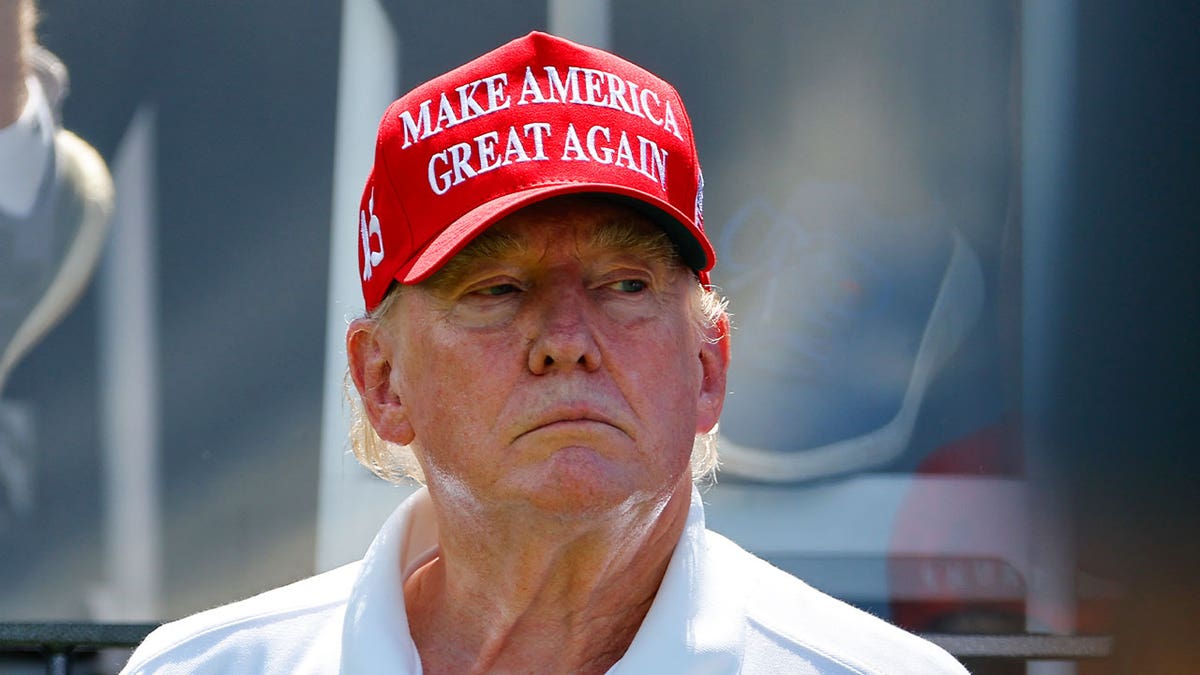 Former President Trump at the first tee during the final round of LIV Golf Bedminster at Trump National Golf Club in Bedminster, New Jersey. (Rich Graessle)
Since Moore's stunt, other state Republicans have demanded similar obstructions to the Georgia case against Trump with similar lack of success.
Willis filed a motion Tuesday afternoon asking the Fulton County, Georgia, judge presiding over the case against former President Trump and 18 others to expedite the trial.
All 19 defendants – Trump, former White House chief of staff Mark Meadows, his former attorneys Rudy Giuliani, Sidney Powell, Jenna Ellis, Kenneth Chesebro, and others – are being tried together on charges related to Georgia's Racketeer Influenced and Corrupt Organizations (RICO) Act.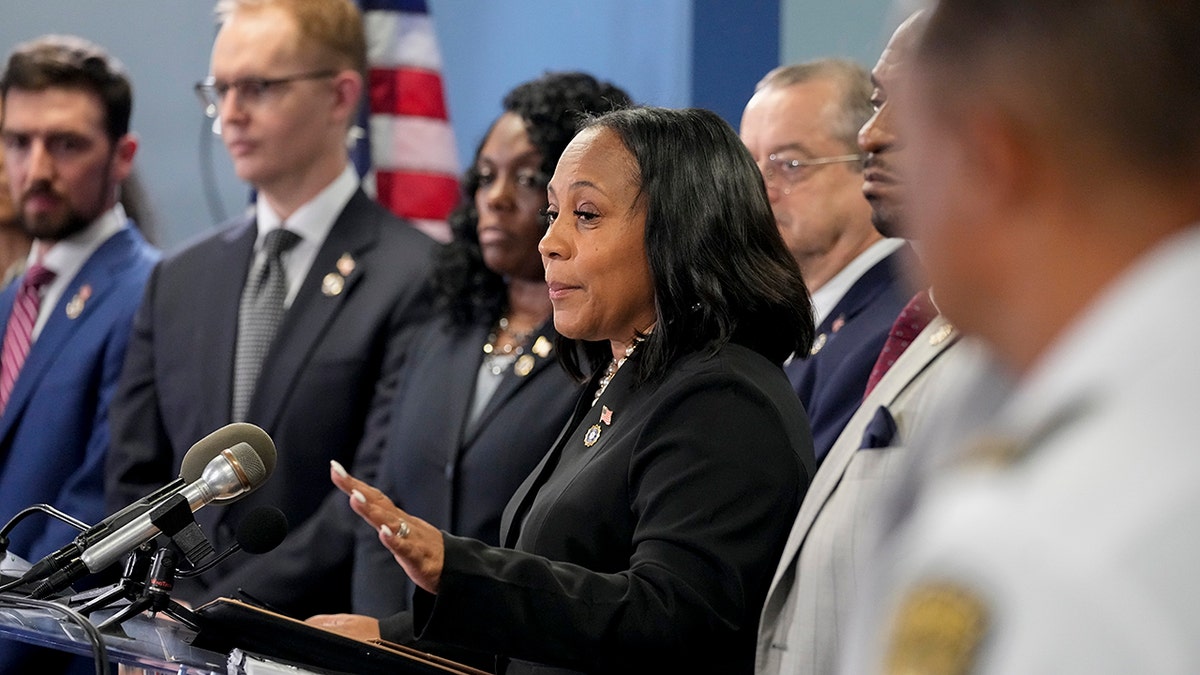 Fulton County District Attorney Fani Willis, center, speaks in the Fulton County Government Center during a news conference in Atlanta. (AP Photo/John Bazemore)
CLICK TO GET THE FOX NEWS APP
Willis' motion asks that the defendants be given a deadline to be able to sever themselves from the larger case.
"The State of Georgia further respectfully requests that the Court set a deadline for any Defendant wishing to file a motion to sever, allow the parties, including the State of Georgia, sufficient time to brief the severance issue, and hold a hearing on any filed motion to sever so that the Court may consider the factors set forth in Cain and its progeny, as required by Georgia law," the motion states.
Fox News Digital's Jessica Chasmar contributed to this report.