Republican Rep. Victoria Spartz of Indiana came out strongly against House Speaker Kevin McCarthy's plan to kick some Democrats off their committees.
Before winning the House majority, McCarthy, R-Calif., had pledged to kick Reps. Adam Schiff, D-Calif., and Eric Swalwell, D-Calif., off the House Intelligence committee, as well as Rep. Ilhan Omar, D-Minn., from the House Foreign Affairs Committee. Spartz strongly condemned any such effort Tuesday, saying, "two wrongs do not make a right."
"Speaker Pelosi took unprecedented actions last Congress to remove Reps. Greene and Gosar from their committees without proper due process. Speaker McCarthy is taking unprecedented actions this Congress to deny some committee assignments to the minority without proper due process again," Spartz said in a statement.
"As I spoke against it on the House floor two years ago, I will not support this charade again. Speaker McCarthy needs to stop 'bread and circuses' in Congress and start governing for a change," she added.
DEMOCRATIC HOUSE LEADER JEFFRIES DEMANDS MCCARTHY REAPPOINT SCHIFF, SWALWELL TO INTELLIGENCE COMMITTEE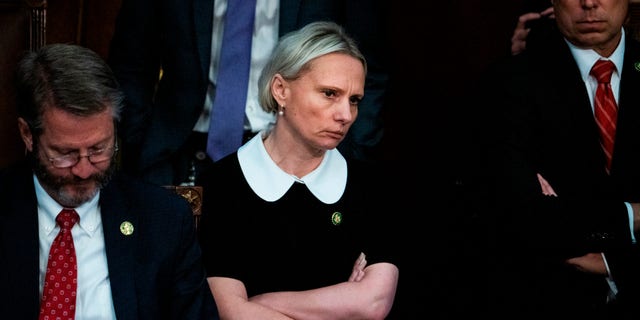 Rep. Victoria Spartz is seen on the House floor during a vote to make Kevin McCarthy speaker on Jan. 4, 2023.
(Tom Williams/CQ-Roll Call, Inc via Getty Images)
With only a narrow GOP majority, Spartz's opposition could make it harder for McCarthy to keep his campaign promise.
The speaker of the House determines which members comprise the Intelligence panel, which is organized as a permanent select committee, granting McCarthy unilateral authority over it. But removing Omar from the Foreign Affairs Committee would require a majority vote in the House. Spartz and Rep. Nancy Mace of South Carolina have said they won't support a GOP-led effort to kick the Democratic lawmakers to the curb.
MCCARTHY CONFIRMS SCHIFF, SWALWELL, OMAR WILL LOSE COMMITTEE SEATS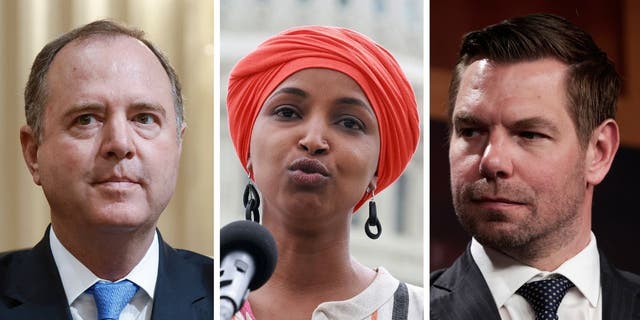 Reps. Adam Schiff, left, Ilhan Omar and Rep. Eric Swalwell
(Getty Images)
Schiff, Swalwell and Omar made formal requests to the Steering Committee to be reinstated on their committees this month, supported by Democratic Minority Leader Hakeem Jeffries, D-N.Y.
"It is my understanding that you intend to break with the long-standing House tradition of deference to the minority party Intelligence Committee recommendations and deny seats to ranking member Schiff and Rep. Swalwell," Jeffries wrote to McCarthy on Saturday. "The denial of seats to duly elected members of the House Democratic Caucus runs counter to the serious and sober mission of the Intelligence Committee."
ERIC SWALWELL DENIES WRONGDOING IN CHINESE SPY SCANDAL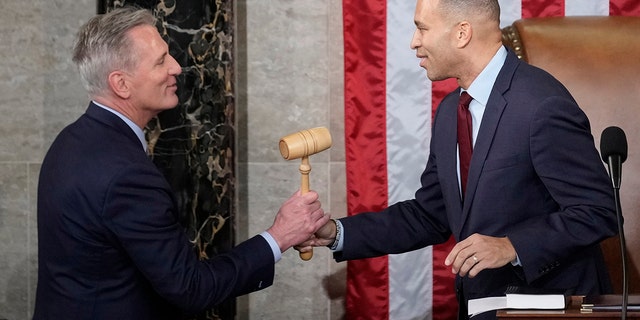 Incoming House Speaker Kevin McCarthy receives the gavel from House Minority Leader Hakeem Jeffries at the U.S. Capitol on Jan. 7, 2023.
(AP Photo/Andrew Harnik)
In the last Congress, House Speaker Nancy Pelosi, D-Calif., removed Reps. Marjorie Taylor Greene, R-Ga., and Paul Gosar, R-Ariz., from their committees after separate controversies involving each lawmaker.
The House voted in 2021 to oust Greene from the Committee on Education and Labor and the House Budget Committee after she made several conspiratorial posts on social media and shared a picture of herself holding a gun alongside images of Reps. Omar, Rashida Tlaib, D-Mich., and Alexandria Ocasio-Cortez, D-N.Y. Greene has since renounced some of the conspiracy theories she once espoused.
Gosar was censured by the House and stripped of his committee assignments after posting a video of an animated cartoon that showed him killing Ocasio-Cortez and attacking President Biden.
At each time, Republicans said Democrats were setting a dangerous precedent by kicking members of the minority off their committees. Democrats have since accused McCarthy of retaliating by threatening to kick their members of committees.
"It does not serve as precedent or justification for the removal of Reps. Schiff and Swalwell, given that they have never exhibited violent thoughts or behavior," Jeffries said.
McCarthy has given several reasons for removing each Democrat from their committee assignments.
CLICK HERE TO GET THE FOX NEWS APP
He recently told Punchbowl News that "Swalwell can't get a security clearance in the private sector. I'm not going to give him a government security clearance." He also said Schiff has "lied too many times to the American public," and accused Omar of making borderline antisemitic statements with her outspoken criticism of Israel.
Fox News' Greg Wehner contributed to this report.