Republican lawmakers are reacting to the indictments handed up by a Georgia grand jury in the state's case against former President Donald Trump and his allies over his alleged efforts to undo the 2020 election results.
The Fulton County grand jury handed up 19 indictments in the years-long investigation, charging the former president, as well as former Trump White House chief of staff Mark Meadows, attorneys Rudy Giuliani, Jenna Ellis, Kenneth Chesebro, Jeff Clark, John Eastman, and 12 others.
"Justice should be blind, but Biden has weaponized government against his leading political opponent to interfere in the 2024 election," House Speaker Kevin McCarthy wrote on X. "Now a radical DA in Georgia is following Biden's lead by attacking President Trump and using it to fundraise her political career. Americans see through this desperate sham."
GRAND JURY RETURNS TEN INDICTMENTS IN TRUMP GEORGIA CASE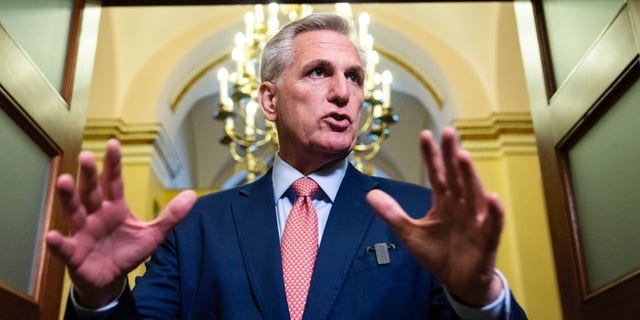 Speaker of the House Kevin McCarthy, R-Calif., conducts a news conference in the U.S. Capitol on Tuesday, July 25, 2023.
"This is another rogue Far Left radical District Attorney weaponizing their office to target Joe Biden's top political opponent President Trump," said Elise Stefanik, R-N.Y. "President Trump had every legal right to challenge the results of the election. This radical DA displayed political bias toward President Trump so much that a judge disqualified her from part of this case. This blatant election interference by the Far Left will not work, President Trump will defeat these bogus charges and win back the White House in 2024."
"Not sure how any of this can be taken serious when the indictment was leaked hours before the grand jury deliberated while at the same time the DA is fundraising off the indictment," Rep. Nancy Mace, R-S.C., said in a statement to Fox News Digital.
"This is another sad prosecutor trying to make a career out of indicting Trump. That's all this is about," she said.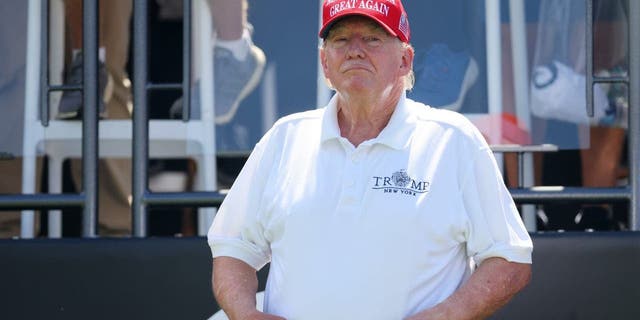 Former President Donald Trump looks on at the first tee prior to the start of day three of the LIV Golf Invitational – Bedminster at Trump National Golf Club on August 13, 2023 in Bedminster, New Jersey. (Photo by Mike Stobe/Getty Images)
"Electing Trump for the third time, putting him back in the White House, and saving our country is plan A," said Rep. Clay Higgins, R-La. "I advise all Democrats…pray for plan A."
"I'm so over this – the first 73 indictments, I was hanging in. The last 48, kind of repetitive," added Jonathan Wilcox, communications director for Rep. Darrell Issa, R-Calif.
"If there are indictments tonight, it will be the fourth indictment of Donald Trump," Sen. Ted Cruz, R-Texas, said. "This is disgraceful. We had never indicted a former president or a leading presidential candidate. Joe Biden & Democrats are weaponizing the justice system because they fear the voters."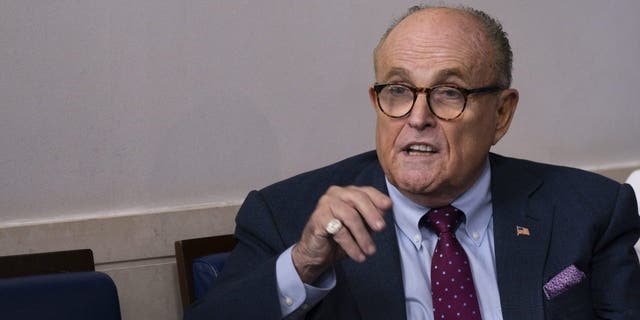 Rudy Giuliani, personal lawyer to U.S. President Donald Trump, speaks during a news conference in the James S. Brady Press Briefing Room at the White House in Washington, D.C., U.S., on Sunday, Sept. 27, 2020. (Photographer: Chris Kleponis/Polaris/Bloomberg via Getty Images)
On March 30, Trump was indicted by a Manhattan grand jury on 34 felony counts of falsifying business records stemming from a $130,000 hush-money payment to an adult film actress.
"Like Manhattan DA Alvin Bragg, Deranged Jack Smith, and New York AG Letitia James, Fulton County, GA's radical Democrat District Attorney Fani Willis is a rabid partisan who is campaigning and fundraising on a platform of prosecuting President Trump through these bogus indictments," the Trump campaign told Fox News Digital.
"Ripping a page from Crooked Joe Biden's playbook, Willis has strategically stalled her investigation to try and maximally interfere with the 2024 presidential race and damage the dominant Trump campaign," they continued.
"All of these corrupt Democrat attempts will fail," the campaign added.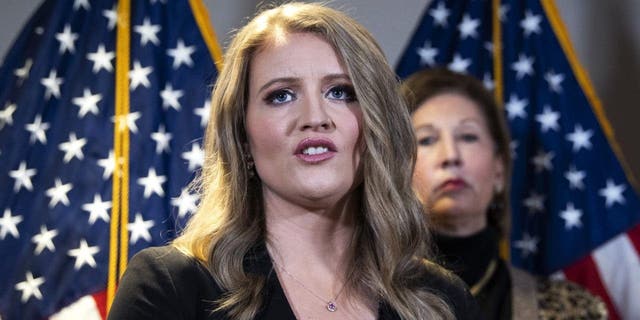 Jenna Ellis and Sidney Powell, right, attorneys for President Donald Trump, conduct a news conference at the Republican National Committee on lawsuits regarding the outcome of the 2020 presidential election on Thursday, November 19, 2020. (Photo By Tom Williams/CQ-Roll Call, Inc via Getty Images)
The charges include violating the Georgia RICO Act—the Racketeer Influenced And Corrupt Organizations Act; Solicitation of Violation of Oath by a Public Officer; Conspiracy to Commit Impersonating a Public Officer; Conspiracy to Commit Forgery in the First Degree; Conspiracy to Commit False Statements and Writings; Conspiracy to Commit Filing False Documents; Conspiracy to Commit Forgery in the First Degree; Filing False Documents; and Solicitation of Violation of Oath by a Public Officer.
CLICK HERE TO GET THE FOX NEWS APP
This is the fourth time Trump has been indicted. Trump is the first former president in U.S. history to be indicted on criminal charges.
Fox News' Brooke Singman contributed to this report.