Republicans remain in disarray as House leader Kevin McCarthy attempts to persuade a handful of his GOP colleagues to support his bid for speaker, with some political insiders weighing how the intraparty chaos could influence voters who are looking ahead to 2024.
Congress voted for the 13th time on Friday, with McCarthy failing to garner votes from a group of Republican holdouts who are refusing to support his goal of obtaining the speaker's gavel.
Following the 13th vote, the House voted to adjourn until 10 p.m. ET Friday. Congress is expected to take part in the 14th vote at that time.
All the while McCarthy continues negotiations and talks, the feud among Republicans who oppose his nomination and the vast majority who favor it has some insiders telling Fox News Digital that it could enhance Florida GOP Gov. Ron DeSantis' appeal should he make a 2024 run for the White House.
TRUMP, NEWSOM, DESANTIS? A LOOK AT WHO'S RUNNING, AND WHO'S OUT OF THE 2024 PRESIDENTIAL ELECTION.
Alex Conant, the former communications director for Sen. Marco Rubio's 2016 presidential campaign, insists voters could grow weary of the current state of the party. He pointed out the differences in DeSantis' "smooth inauguration" and the "dysfunction" currently playing out in D.C.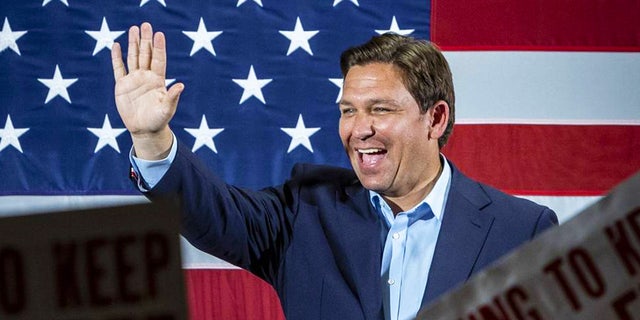 Florida Gov. Ron DeSantis, rumored to toss his hat into the ring of 2024 presidential contenders, has not said whether he is weighing a run for the White House.
(Jose A. Iglesias/Miami Herald/Tribune News Service via Getty Images)
"A lot of voters wish D.C. was more like the low-drama state capitols," said Conant, a founding partner of Firehouse Strategies. "The contrast between the GOP dysfunction in D.C. and DeSantis' smooth inauguration could not have been starker."
"If the next two years are filled with gridlock and dysfunction, many voters will want an outsider to shake up Washington," he added.
In agreement, Justin Sayfie, a spokesman and policy adviser for former Florida Gov. Jeb Bush, believes the contrast between leadership offered in Florida and that which is offered in D.C. could not be "starker."
"The split screen between Washington, D.C., Republicans wheeling and dealing to get someone to sit in the speaker's chair and Gov. DeSantis' emphatic declaration Tuesday that 'Florida is where woke goes to die' could not be starker," Sayfie said. "On one half of the screen is palace intrigue and drama, on the other half is resolute leadership."
But not everyone agrees.
Douglas Heye, once the deputy chief of staff for communications for former House Majority Leader Eric Cantor, R-Va., said he believes the current disagreements among House Republicans may not even have an impact on voter thoughts ahead of the 2024 election.
REPUBLICANS EXPLODE IN UPROAR AS GAETZ ACCUSES MCCARTHY OF 'VANITY' IN HOUSE SPEAKER SHOWDOWN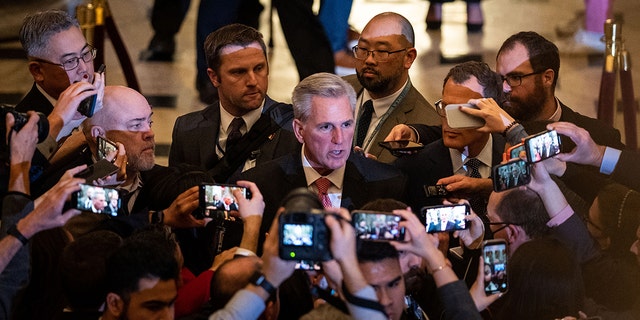 Rep.-elect Kevin McCarthy, R-Calif., talks with reporters in National Statuary Hall of the U.S. Capitol Building in Washington, D.C., on Thursday.
(Kent Nishimura / Los Angeles Times via Getty Images)
"If this gets wrapped up rather quickly, it won't be on the minds of Republican primary voters in a year's time," Heye said of the vote for House speaker.
And if there is an impact, he argues that all governors who are rumored to make a run for president would benefit from the current situation in the party.
"It's hard to see how one has anything to do with the other, especially because a lot of the folks who were also talking about running are also governors," Heye said of whether the intraparty spar boosts DeSantis' appeal. "So if this were to benefit, DeSantis, then it would also potentially benefit [South Dakota Gov.] Kristi Noem, [former South Carolina Gov.] Nikki Haley, [New Hampshire Gov.] Chris Sununu or [Virginia Gov.] Glenn Youngkin."
After narrowly winning election as Florida governor in 2018, DeSantis won by a landslide in the Sunshine State's 2022 gubernatorial election.
DeSantis won his first election as governor thanks in part to a major assist from the then-President Donald Trump, but he's become a force of his own as he's built a political brand that stretches from coast to coast.
Since taking office, DeSantis has witnessed his popularity soar among conservatives across the country. He has remained strong on numerous issues that conservatives prioritize, including immigration, spending and efforts to push back against coronavirus pandemic restrictions.
Trump, the only declared GOP candidate in the 2024 presidential race so far, has stuck by his endorsement of McCarthy for House speaker.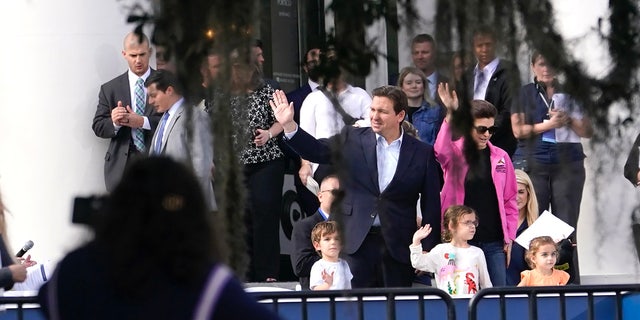 Florida Gov. Ron DeSantis waves with his wife Casey and their children Mason, left, Madison, center, and Mamie, right, as he does a run-through in preparation for his inauguration at the Old Capitol, in Tallahassee, Fla., on Monday.
(AP )
CLICK HERE TO GET THE FOX NEWS APP
While DeSantis routinely discounted talk of a 2024 White House bid as he stayed laser-focused on his gubernatorial re-election last year, several prominent Republicans have pushed him to enter the race.
Ad spending tracked by FWIW, which was released late last month, showed DeSantis spent nearly $90,000 — more than any other Republican rumored to enter the race — on ads nationwide or that were targeted towards early voting states.
Fox News' Paul Steinhauser contributed to this article.