While the Republican presidential candidates hashed out their differences during their first debate Wednesday night, one thing they all agreed on is that President Biden's policies are destroying the country.
Eight of the candidates participated in the Fox News-hosted debate in Milwaukee, where they attacked the president on issues like the economy and foreign policy.
"Our country is in decline," Florida Gov. Ron DeSantis said in his opening remarks that sparked a round of applause. "This decline is not inevitable, it's a choice. We need to send Joe Biden back to his basement and reverse American decline, and it starts with understanding we must reverse Bidenomics so that middle-class families have a chance to succeed again."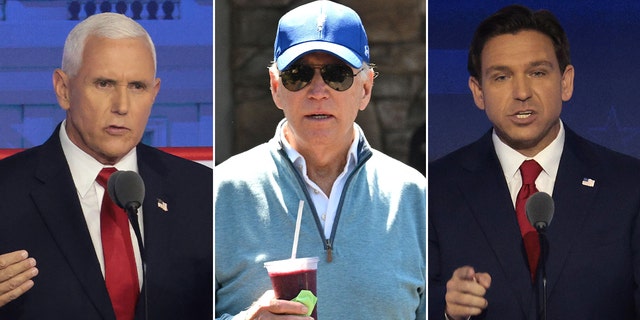 Former Vice President Mike Pence, left, President Biden and Florida Gov. Ron DeSantis are pictured separately on Aug. 23, 2023. (Fox News)
DESANTIS JABS TRUMP WITH FAUCI LINE AT FOX NEWS DEBATE: 'WHY ARE WE IN THIS MESS?'
"We cannot succeed as a country if you are working hard, and you can't afford groceries, a car or a new home while Hunter Biden can make hundreds of thousands of dollars on lousy paintings. That is wrong," he said.
Sen. Tim Scott of South Carolina said Biden's so-called Bidenomics have made Americans poorer.
"Joe Biden's Bidenomics has led to the loss of $10,000 of spending power for the average family," he said. "When you see 16% inflation, your gas is up 40%, your food is up 20%, your electricity is up 20%, we can stop that by turning the spigot off in Washington, sending the money back to the states and allowing the decisions to be made at their own houses."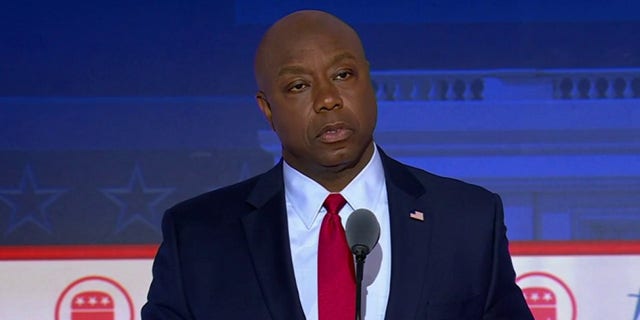 Sen. Tim Scott, R-S.C., speaks during Wednesday night's GOP debate in Milwaukee. (Fox News)
"We cannot sit by any longer and allow the kind of spending that's going on in Washington because every dollar they spend is a dollar that these people are not allowed to spend on their children and their grandchildren," said former New Jersey Gov. Chris Christie. "It's robbing our country, and it's wrong."
The candidates also pointed to Biden's "failed leadership" on immigration, crime, energy and his withdrawal from Afghanistan as weakening America's position in the world.
"Biden has weakened America at home and abroad," said former Vice President Mike Pence. "The disastrous withdrawal from Afghanistan, the war on energy, runaway spending that launched the worst inflation in 40 years, a crisis at our southern border, an assault on our values and liberties – and the American people have had enough."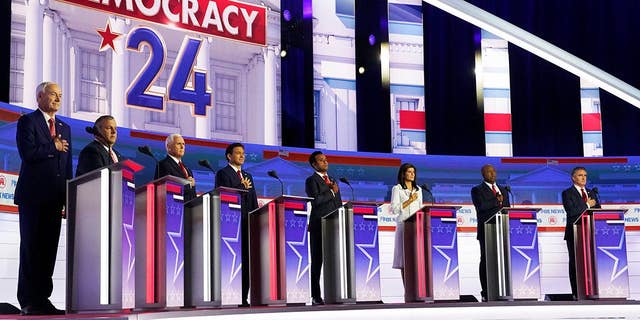 GOP presidential candidates are shown onstage for the first Republican debate at Fiserv Forum in Milwaukee on Wednesday night.
"If you want to go and really change the environment, then we need to start telling China and India that they have to lower their emissions," said former U.N. ambassador and former South Carolina Gov. Nikki Haley. "That's where our problem is. And these green subsidies that Biden has put in, all he's done is help China because he doesn't understand all these electric vehicles that he's done – half of the batteries for electric vehicles are made in China."
"That's not helping the environment, you're putting money in China's pocket, and Biden did that," she said.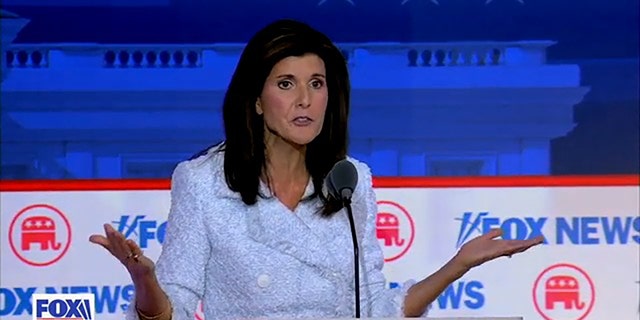 Nikki Haley speaks during the Republican presidential primary debate on Wednesday. (Fox News)
CLICK HERE TO GET THE FOX NEWS APP
"I understand why America is hurting: Biden's inflation is choking us," said North Dakota Gov. Doug Burgum. "Our economy is being crushed by Biden's energy policies, which are raising the cost of every product you buy."
"Our nation is in trouble, and it's in trouble because of failed leadership. And the solution is not four more years of Joseph Biden," said former Arkansas Gov. Asa Hutchinson. "The solution is not four more years of Donald Trump. The solution is new leadership that can bring bold ideas to America and to bring out the best of America."
Former President Donald Trump, the current GOP front-runner, declined to attend the debate one day ahead of his expected surrender to Georgia authorities on felony charges.