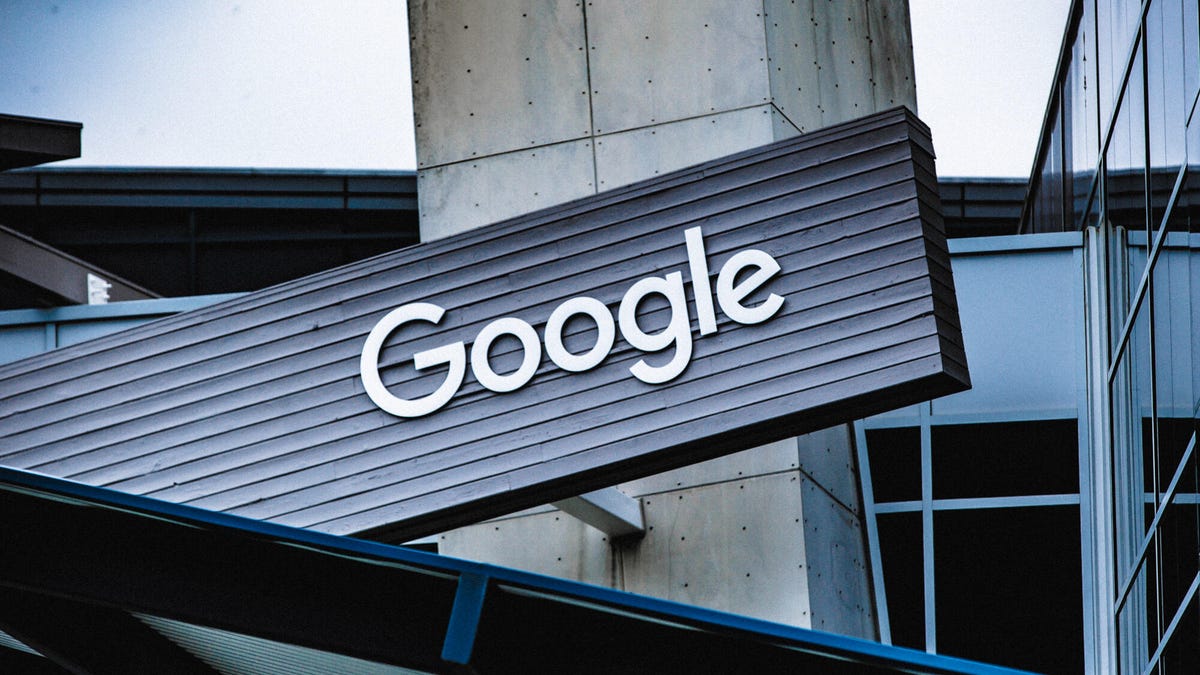 Google signage at the company's headquarters.
James Martin/CNET
The US Department of Justice and eight states on Tuesday sued Google over its advertising business, alleging it engages in monopolistic behavior.
The complaint, filed in federal court in Virginia, alleges that Google has "corrupted legitimate competition in the ad tech industry" through a campaign of seizing control of tools and inserting "itself into all aspects of the digital advertising marketplace." Google allegedly has done so by eliminating competition through acquisitions and exploiting its dominance to push advertisers to use its products over those of others. The complaint only names Google as the defendant and not any specific individuals. It also calls for a divestiture of a part of the ad tech stack.
The DOJ also said that Google punishes websites that "dare to use competing ad tech products" and uses its dominance in ad technology to "funnel more transactions to its own ad tech products, where it extracts inflated fees to line its own pockets at the expense of the advertisers and publishers it purportedly serves."
The case is the newest example of government efforts to rein in Big Tech. The most financially successful companies on the planet  wield immense power over our lives and over businesses around the world.
Google rejected the allegations.
"Today's lawsuit from the DOJ attempts to pick winners and losers in the highly competitive advertising technology sector," Google ads leader Dan Taylor said in a blog post. The DOJ lawsuit largely duplicates an "unfounded lawsuit" by Texas attorney general Ken Paxton that was dismissed in federal court, Google argued. The DOJ's case is flawed and will "slow innovation, raise advertising fees and make it harder for thousands of small businesses and publishers to grow," Taylor said.
The Department of Justice didn't respond to a request for comment.
Although there are some similarities with the Texas case, the DOJ did conduct its own years-long investigation that showed Google maintained "numerous monopolies," Assistant Attorney General Jonathan Kanter said at a press conference Tuesday.
The DOJ lawsuit is a rare case in which department has called for the breakup of a major company. Other instances include its faceoffs with mainframe maker IBM in the 1970s, telephone giant AT&T in 1982 and Windows creator Microsoft in 2000.
It comes as governments around the world are looking to curb Big Tech. The US Senate in the last year or so has contemplated the American Innovation and Choice Online Act to curb the influence of Amazon, Apple and Google in digital marketplaces. Last year, Google was fined in France over user tracking and agreed to a $391.5 million settlement with state attorneys general for location tracking practices.
Kanter said Google's dominance in digital ads is the equivalent of banking firms like Goldman Sachs or Citibank owning the New York Stock Exchange. Google has been engaging in this behavior for 15 years, inflating advertising costs, reducing website revenues, stifling innovation and "flattening out public marketplace of ideas," he said. Kanter also alleged Google's behavior harmed the US government and military.
Among examples of alleged abuse, Kanter said Google:
Used tie-in arrangements to lock content creators into Google's system.
Manipulated ad auctions by giving itself first-look and last-look advantages over the bidding process.
Blocked websites from using rival tech and punished those that tried.
Collected and used rivals' bidding data.
Kanter also used information from Google's documents and employees to make an argument for the company's dominance:
A Google employee said the company's ad exchange is an "authoritarian intermediary."
Senior executives said switching ad servers for publishers is "a nightmare" that "takes an act of God."
A Google manager said, "Our goal should be all or nothing. Use Google's ad exchange or don't get access to our advertiser demand."
A Google employee said the company "overcharged" advertisers $3 billion a year, passing the money to publishers to get them to stick with Google's ad technology.
A Google executive detailed steps to "dry out" rivals.
This is the second antitrust lawsuit filed by the DOJ against Google but the first from the Biden administration. An October 2020 case filed during the Trump administration alleged Google blocked competitors by making deals with Apple and Samsung to be the default search engine on their devices.
Google is also facing an antitrust lawsuit led by Texas, along with 16 states and territories, alleging the search giant worked with Facebook to give the social network an advantage in online advertising auctions. The DOJ, per the Clayton Antitrust Act, is also allowed to sue if the federal government believes it's been harmed.
Last year, Google tried to fend off the DOJ lawsuit by offering to split its ad tech business, The Wall Street Journal reported.