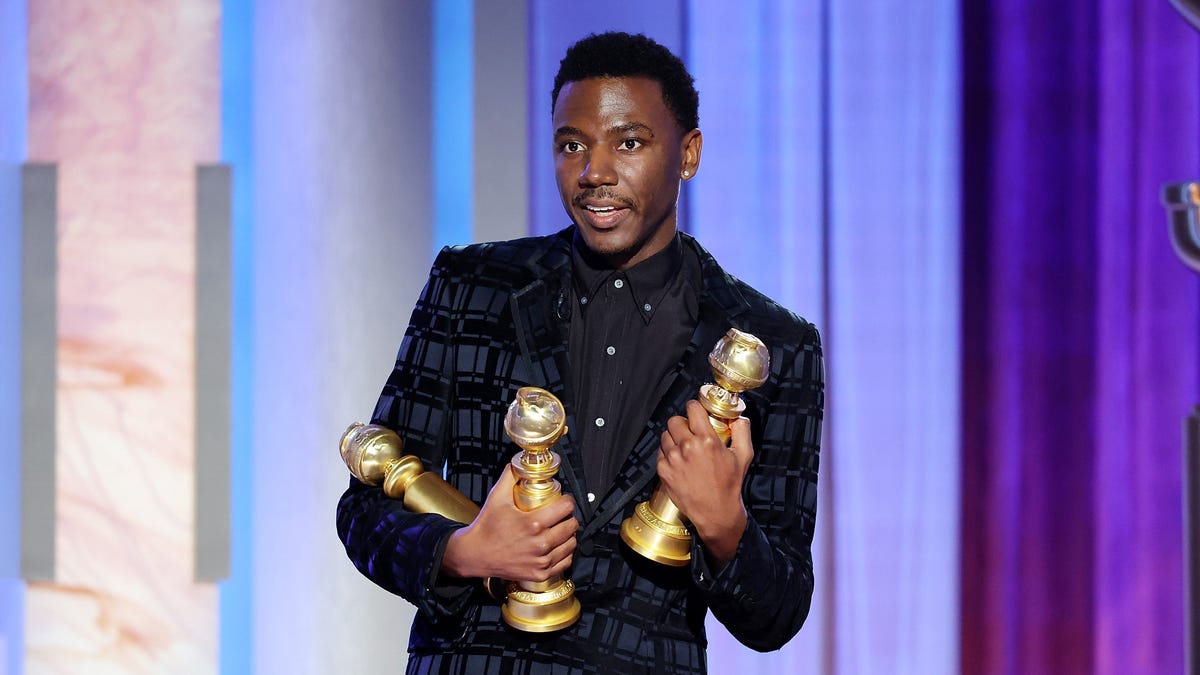 Jerrod Carmichael at the 80th Annual Golden Globe Awards, which took place Monday night.
Rich Polk/NBC via Getty Images
The Golden Globes 2023 Monday night celebrated the finest movies and TV from the past year, with The Banshees of Inisherin and Steven Spielberg's The Fabelmans among the winners. The speeches also provided a few laughs and notable moments — including Abbott Elementary's Quinta Brunson getting starstruck, Jerrod Carmichael telling it how it is and Eddie Murphy's three priceless pieces of advice.
On a night when the Hollywood Foreign Press Association brought back a ceremony that in recent years has been mired in controversy, many worthy winners took home awards. Potentially heralding a year of diverse winners at 2023's awards ceremonies including the Oscars, Everything Everywhere All At Once stars Michelle Yeoh and Ke Huy Quan scooped both the Best Actress and Best Supporting Actor gongs. Black Panther: Wakanda Forever star Angela Bassett became the first actor to win a Golden Globe for a Marvel movie. And winning TV shows including The Bear and House of the Dragon.
Here are some of our favorite moments from the show.
Jerrod Carmichael is the host with the most
Comedian and host Jerrod Carmichael began by acknowledging the elephant in the room: the HFPA's lack of diversity. "I won't say [the HFPA] was a racist organization, but they didn't have a single Black member until George Floyd died, so do with that information what you will," he said within moments of taking the stage (to nervous laughter).
And here is your host for the 80th Annual #GoldenGlobes… It's Jerrod Carmichael! 🎤 pic.twitter.com/tc8KIyt1E5

— Golden Globe Awards (@goldenglobes) January 11, 2023
Carmichael later drew shocked gasps when he walked onstage holding three Golden Globe statuettes, which he joked were the awards returned by Tom Cruise in protest at the scandal-ridden HFPA. But the Top Gun star is connected to a few scandals of his own, mainly as a high-profile figure in the controversial Church of Scientology. Carmichael suggested swapping the awards for the safe return of Shelly Miscavige, wife of Scientologist leader David Miscavige. Shelly Miscavige is rarely seen in public.
#GoldenGlobes host Jerrod Carmichael makes a dig at Scientology: "Backstage, I found these three Golden Globe awards that Tom Cruise returned…I think maybe we take these three things and exchange them for the safe return of Shelly Miscavige." https://t.co/m069JEKekW pic.twitter.com/fw25ng5nU2

— Variety (@Variety) January 11, 2023
Quinta Brunson is all of us
Brunson took to the stage to accepting the award for Best TV Series, Musical or Comedy for Abbott Elementary, the show she created, writes and stars in. "Comedy brings people together. Comedy gives us all the same laugh," she said earnestly, before being distracted by a face near the front of the audience. "Hey, Brad Pitt," she added.
Quinta Brunson cutting off her own Golden Globes speech because she saw Brad Pitt in the audience…a MOOD

"Comedy brings people together. Comedy gives us all the same laugh– hey, Brad Pitt!" pic.twitter.com/HWXqqazaye

— Spencer Althouse (@SpencerAlthouse) January 11, 2023
Eddie Murphy's career advice
Accepting a lifetime achievement award, comedy legend Eddie Murphy offered his definitive blueprint for success, prosperity, longevity and peace of mind: pay your taxes, mind your business, and — in reference to last year's infamous Oscars slap — watch what you say at awards ceremonies… 
Eddie Murphy shares three pieces of advice for up-and-comers in the industry:

1) Pay your taxes.
2) Mind your business.
3) Keep Will Smith's wife's name out your f—ing mouth.https://t.co/YDe7QBg9R9 pic.twitter.com/1iH3iHGBiz

— Variety (@Variety) January 11, 2023
Regina Hall prays for Kevin Costner
Accepting the award for Best Television Actor – Drama Series on behalf of Yellowstone star Kevin Costner, Regina Hall learned as she read from the teleprompter that he couldn't be there because flooding forced him to shelter in place… in Santa Barbara. "Let's pray, everyone," she joked.
Regina Hall finding out why Kevin Costner couldn't be at the #GoldenGlobes just won next year's #GoldenGlobes for Best Actress in a TV Comedy pic.twitter.com/5WjI6zosdn

— Jarett Wieselman (@JarettSays) January 11, 2023
Jennifer Coolidge earns a standing ovation
The crowd went wild for White Lotus star Jennifer Coolidge, who delivered a moving and hilarious acceptance speech.
Jennifer Coolidge delivers an epic #GoldenGlobes acceptance speech that makes #TheWhiteLotus creator Mike White cry. https://t.co/m069JEKekW pic.twitter.com/WBWx9H6BCj

— Variety (@Variety) January 11, 2023
Austin Butler is still Elvis
Winning Best Actor for a movie drama, Austin Butler seems to still be stuck with the voice he adopted to play Elvis Presley.
Congratulations to our Golden Globe winner for Best Actor – Motion Picture – Drama, @austinbutler! 🏆 #GoldenGlobes pic.twitter.com/3J0s10IeXs

— Golden Globe Awards (@goldenglobes) January 11, 2023
Colin Farrell thanks Jenny the Donkey
Having won Best Actor – Musical or Comedy, a delighted Colin Farrell was midway through professing his admiration for Banshees of Inisherin co-star Brendan Gleeson when he was signaled to wrap things up. "You can forget that piano," he said. He refused to be played off long enough to berate co-star (and Supporting Actor nominee) Barry Keoghan for eating his cereal, as well as thanking Best Supporting Actress nominee Kerry Condon and the locals of the islands where they filmed, his kids, and of course Jenny the Donkey (who he revealed is now retired from acting). 
Just made up for Colin Farrell. The little moment here with Brendan Gleeson is heart-meltingly pure. Lovely stuff.

pic.twitter.com/gUrUf38YLv

— Richard Chambers (@newschambers) January 11, 2023
New Movies Coming in 2023 From Marvel, Netflix, DC and More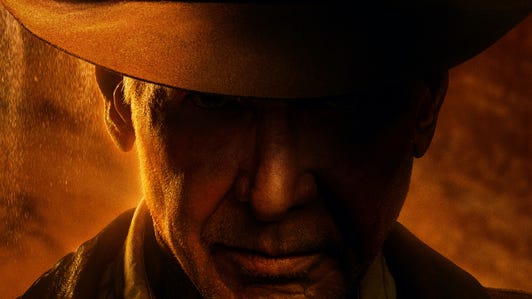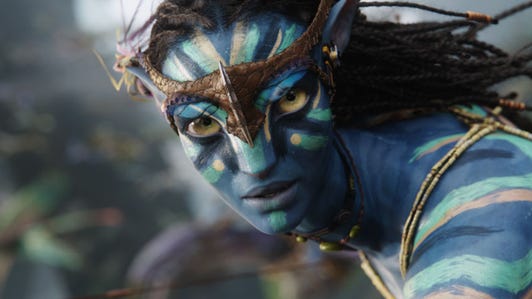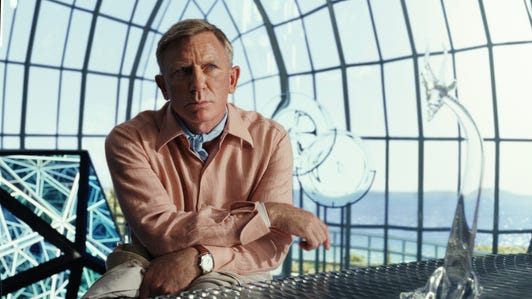 +45 more
See all photos
2023's Best TV and Streaming Shows You Can't Miss on Netflix, HBO, Disney Plus and More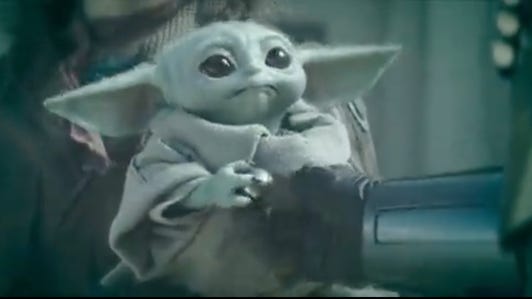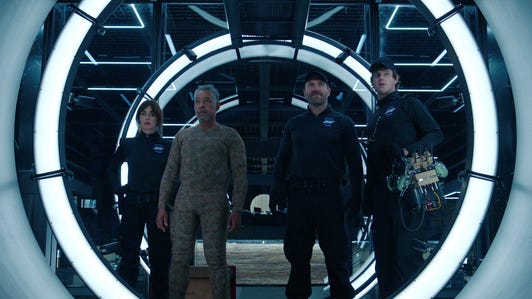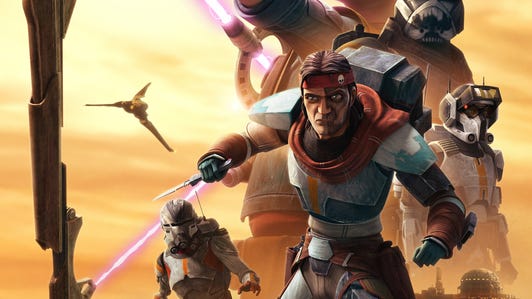 +59 more
See all photos