close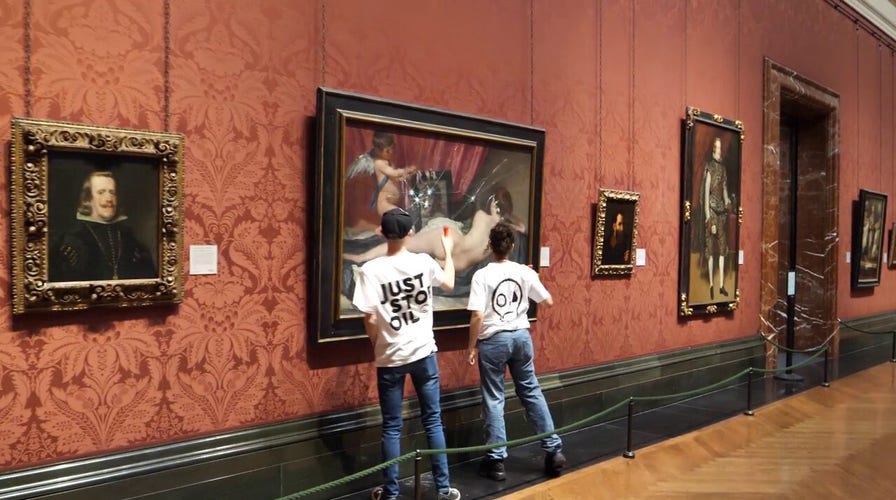 Video
Climate activists take hammers to famous painting in UK museum
Just Stop Oil activists took "safety hammers" to the famous Rokeby Venus painting in London's National Gallery while calling for the UK to end new oil and gas leases.
British authorities have charged four men involved in the theft of a nearly $6 million gold-plated toilet from Blenheim Palace, the birthplace of former Prime Minister Winston Churchill.
Crown prosecutors on Monday addressed the men, ages between 35 and 39 years old, who stand accused of planning and executing the 2019 heist. Neither authorities nor the prosecutors revealed if they had recovered the toilet.
Michael Jones, 38, and James Sheen, 39, face burglary charges, while Fred Doe, 35, and Bora Guccuk, 39, face charges of conspiracy to transfer criminal property, the BBC reported.
Thames Valley Police, who led the investigation, said in 2021 that they found it a "challenge" to recover the toilet.
TARGET CLOSES NINE STORES DUE TO THEFT, PROGRESSIVE LEADERS DENY IT: JASON RANTZ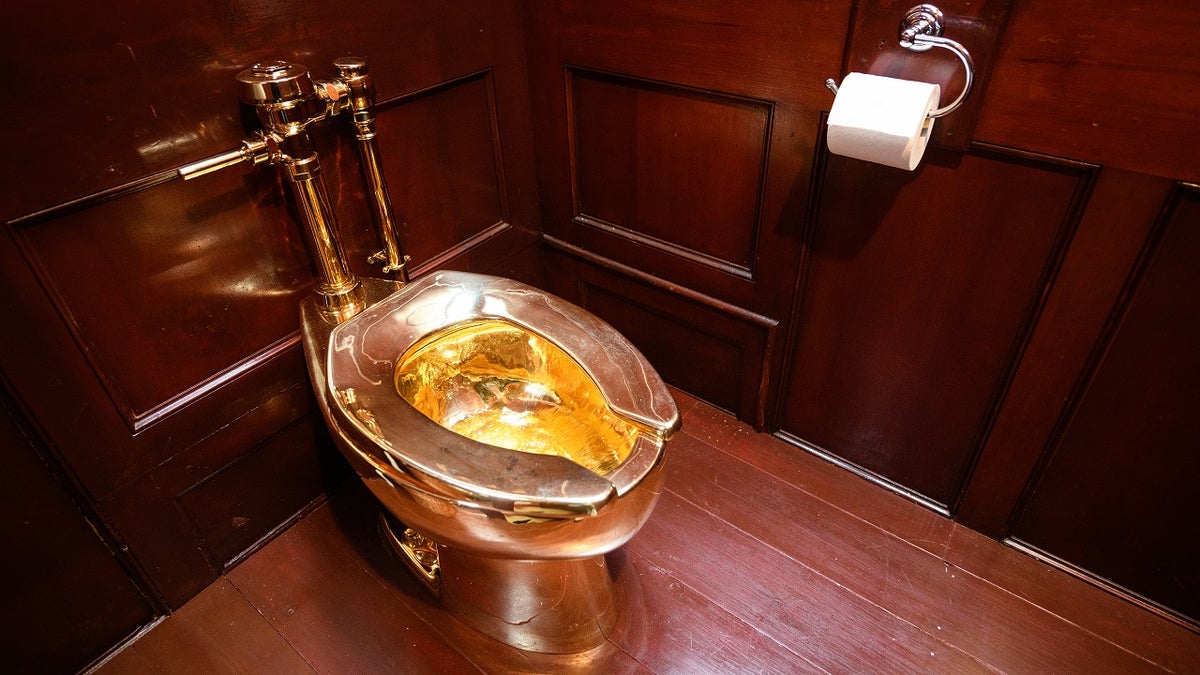 "America," a fully-working solid gold toilet, created by Maurizio Cattelan, is seen at Blenheim Palace on Sept. 12, 2019 in Woodstock, England. (Leon Neal/Getty Images)
"Will we ever see that toilet again? Personally, I wonder if it's in the shape of a toilet to be perfectly honest," Police and Crime Commissioner Matthew Barber told the BBC. "If you have that large amount of gold I think it seems likely that someone has already managed to dispose of it one way or another."
Italian artist Maurizio Cattelan had designed the 18-carat art piece, which he named "America," as a satirical jab at the rich and excessive wealth.
NAKED MAN TUSSLES WIHT LAS VEGAS COP BEFORE STEALING, CRASHING PATROL CAR: VIDEO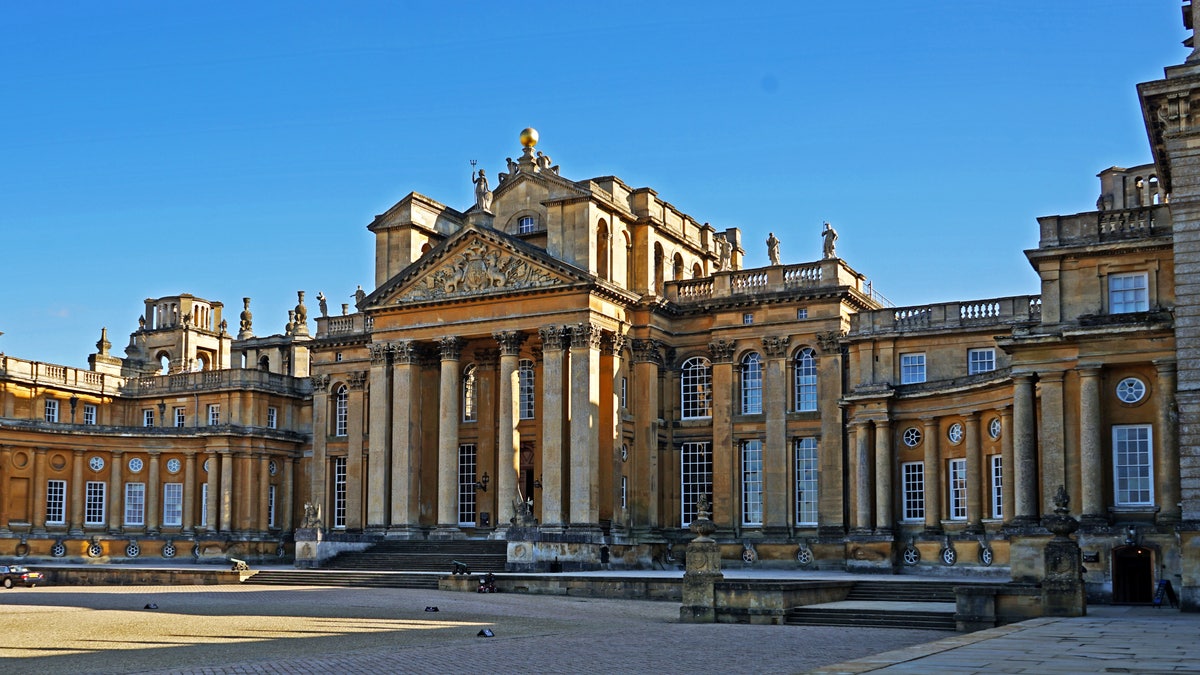 Blenheim Palace in Oxfordshire, England, is the principal residence of the Dukes of Marlborough, and the only non-royal, non-episcopal country house in England to hold the title of palace. The palace, one of England's largest houses, was built between 1705 and 1722. (Universal History Archive/Universal Images Group via Getty Images)
The fully functioning piece first stood in the Guggenheim Museum in New York City before moving to Blenheim Palace, where visitors could even reserve a three-minute slot to use it.
Museum workers at the Guggenheim said the artwork invited viewers to "make use of the fixture individually and privately" to experience "unprecedented intimacy with a work of art."
SQUATTER SPOTTED CRUISING IN HOMEOWNER'S CAR AFTER SETTING UP GAME ROOM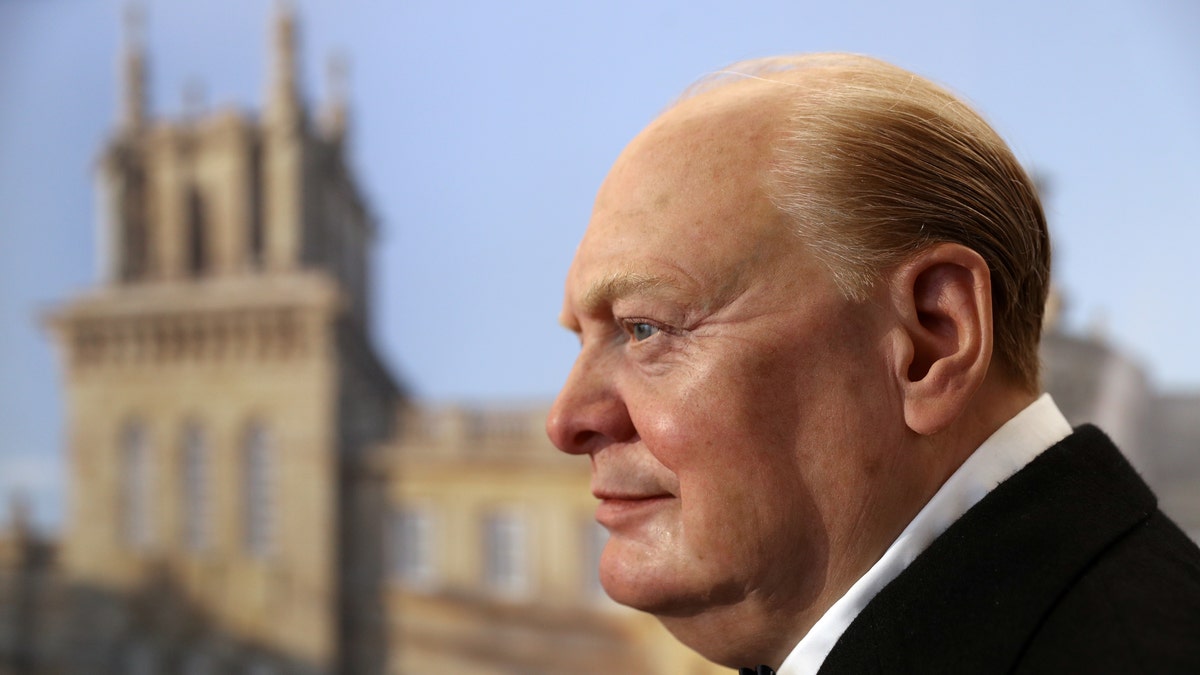 Waxwork of Winston Churchill, by sculptor Jethro Crabbe, which forms part of a new Churchill exhibition at Blenheim Palace in Oxfordshire, England. (Andrew Matthews/PA Images via Getty Images)
The thieves stole it overnight in Sept. 2019 just two days after its installation in Blenheim, where it was connected to the building's plumbing system. Police responded to a break-in, which they determined involved the use of two vehicles, at around 5 a.m.
The heist caused flooding and damage to the stately manor, which is registered as a UNESCO World Heritage site filled with priceless art and furniture.
CLICK HERE TO GET THE FOX NEWS APP
Blenheim Palace serves as the home for the Duke of Marlborough. Winston Churchill was the grandson of the 7th duke and cousin of the 9th duke. The current duke's brother founded the Blenham Art Foundation, which uses some of the palace space for contemporary art exhibitions such as "America," in 2014, according to the foundation's website. Thousands of tourists visit the site every year.
The accused will appear in the Oxford Magistrates' Court on Nov. 28 to stand trial.
The Associated Press and Reuters contributed to this report.
Peter Aitken is a Fox News Digital reporter with a focus on national and global news.