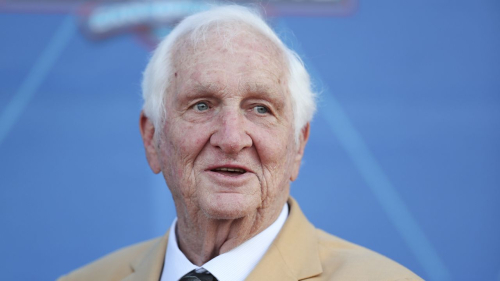 Former Dallas Cowboys executive Gil Brandt looks on during the Pro Football Hall of Fame Enshrinement Ceremony on August 3, 2019 in Canton, Ohio. Ben Liebenberg/AP CNN —
Pro Football Hall of Famer Gil Brandt, widely regarded as the architect who helped build the Dallas Cowboys into one of the most successful and popular sports franchises of all time, died on Thursday, according to the Cowboys. Brandt was 91.
"Gil was at the very core of the early success of the Dallas Cowboys and continued to serve as a great ambassador for the organization for decades beyond that," Cowboys owner Jerry Jones said.
After a six-decade NFL executive career – 29 years with the Cowboys – Brandt was inducted into the Hall in 2019.
As the vice president of player personnel for the Cowboys, Brandt was lauded for his acute ability to recognize player talent – having drafted nine Cowboys players who, like Brandt, are Pro Football Hall of Famers.
His first draft selection in 1960 was stellar defensive tackle Bob Lilly. His final marquee draft influence came in 1989 when the Cowboys selected a quarterback named Troy Aikman, according to the Hall of Fame.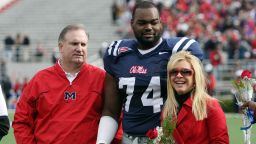 OXFORD, MS – NOVEMBER 28: Michael Oher #74 of the Ole Miss Rebels stands with his family during senior ceremonies prior to a game against the Mississippi State Bulldogs at Vaught-Hemingway Stadium on November 28, 2008 in Oxford, Mississippi. (Photo by Matthew Sharpe/Getty Images) Matthew Sharpe/Getty Images
In 1964, Brandt appeared to see the future when selecting a kid from the US Naval Academy in the 10th round of that year's draft. Although a Heisman Trophy winner in college, Roger Staubach needed to complete his four years of service before joining the team in 1969.
"Staubach came to us as a 27-year-old rookie," Brandt told NFL.com in 2016. "Even while he was in the service, he'd write to me, asking for footballs to practice with – one time, he asked me to send more after the shipment we'd sent had been blown up by a mortar shell."
Brandt and the Cowboys' patience in Staubach paid off. The two-time Super Bowl champion was 85-29 as a starter and inducted into the Hall in 1985.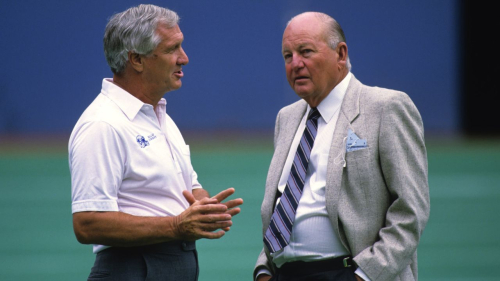 Then Cowboys Vice President of Player Personnel Brandt (L) and President and General Manager Tex Schramm talking before a game against the Pittsburgh Steelers on September 4, 1988. George Gojkovich/Getty Images
With Brandt behind the scenes, Dallas appeared in five championship games, winning Super Bowls VI and XII. The team dominated between 1966-1985, producing 20 consecutive winning seasons while adopting the nickname "America's Team."
According to the Hall of Fame, Brandt is credited with being the "first person to incorporate computers for scouting and talent evaluations and the first individual to use psychological tests to evaluate the mental makeup of prospective players under pressure."
These types of successful evaluations were copied and grown into what is now known as the NFL Scouting Combine. Brandt is also credited in helping build the annual player draft into a three-day, made-for-TV event.
"His innovative approach to scouting and player evaluation helped the organization find players others overlooked. The result was discovering future Cowboys from smaller colleges, or even off college basketball or track teams," said Pro Football Hall of Fame President Jim Porter.
"He is credited with advancing the use of computers in the front office of pro football teams, but the real computer was the one in his own head, where he stored an incredible amount of information that he loved to share with anyone who appreciated the game like he did."
Following his long stint with the Cowboys, Brandt utilized his expertise as an analyst for NFL.com and on national radio broadcasts, according to the Hall of Fame.
Jones culminated his dedication to Brandt by saying, "There are very few people that have been able to have the kind of generational impact that he did. Gil was as dedicated to growing this league and sport as anyone ever was, and we are all grateful and better for it."