House of Representatives has been full of twists and turns that have captured America's attention, as the fate of the Republican controlled Congress lay in the hands of 20 Never-Kevin members.
With the vote entering into its fourth day and an expected 12th vote Friday, here are some of the craziest moments from the past week that has captured the eyes of America
1. AOC gets cozy with Republicans
TWITTER FREAKS OUT OVER AOC CHATTING WITH GOP LAWMAKER DURING SPEAKER VOTE: WASN'T ON MY 2023 'BINGO CARD'
After the House vote to elect a speaker adjourned on Tuesday, the internet went into a frenzy over footage of progressive Rep.-elect Alexandria Ocasio-Cortez chatting with Republicans Rep-elect. Matt Gaetz and Rep.-elect Paul Gosar between ballots.
The unexpected pairs were seen chatting on the House floor as the two Republicans worked to deny McCarthy the speakership.
After the internet tried out their lip-reading skills and attempted to decipher what exactly was talked about between the members, AOC explained what was discussed.
"McCarthy was suggesting he could get Dems to walk away to lower his threshold," Ocasio-Cortez said of her mysterious conversation with Gaetz. "And I fact-checked and said absolutely not."
After several days, Gosar and Gaetz have not revealed their sides of the conversations.
2. The Kat fight
As the House entered its sixth vote for speaker of the House on Wednesday, Rep.-elect Kat Cammack, R-Fla., accused her Democratic colleagues of bringing "popcorn and blankets and alcohol" to the House Chamber during her nomination speech for McCarthy.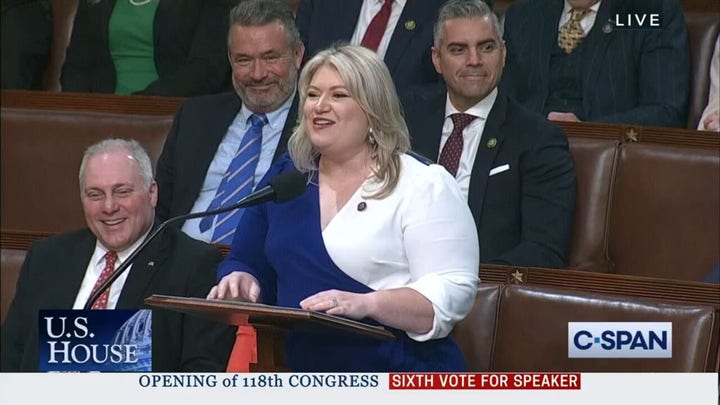 Video
"They want us divided. They want us to fight each other," Cammack said to the floor on Wednesday afternoon. "That much has been made clear by the popcorn and blankets and alcohol that is coming up over there."
The remarks were met with a flurry of boos and jeers from the Democratic caucus before the clerk gaveled four times to restore order. House Republicans appeared amused in response to the accusations.
3. Santos gets the cold shoulder
Rep.-elect George Santos received an awkward welcome to Washington this week. The newly elected New York congressman, who has been embattled in scandal over his fabricated resume, appears to have received the cold shoulder from many of his GOP colleagues throughout the tumultuous House speaker race.
On the first day of voting, Santos was seen sitting by himself toward the back of the chamber on his phone while a group of New York Republicans chatted nearby. Santos will represent New York's 3rd Congressional District once sworn into office.
EMBATTLED REP-ELECT GEORGE SANTOS GETS THE COLD SHOULDER DURING DAYS-LONG HOUSE SPEAKER RACE
At one point on Wednesday as voting entered its second day, Twitter users circulated a photo of Santos appearing to hover in the background of a conversation between Rep.-elect Matt Gaetz, R-Fla., and a group of GOP lawmakers.
On two occasions, the New York lawmaker nearly missed casting his vote for McCarthy, appearing to not recognize his name being repeatedly called over the loudspeaker.
4. Trump in the House
Florida Rep.-elect Matt Gaetz on Thursday made headlines when he voted for former President Donald Trump during the seventh ballot for speaker of the House, replying "Donald John Trump" when his name was called during the roll call vote.
Though Trump was not formally nominated on the seventh ballot for speaker, Gaetz chose to cast his vote for the former president in lieu of McCarthy or Rep.-elect Byron Donalds, the only two Republican congressmen nominated at the time.
The move followed Trump's endorsement of McCarthy's nomination for speaker on Wednesday, sparking backlash among several of Trump's close allies in the House who have been vehemently opposed to McCarthy's speaker bid.
The former president, during an exclusive interview with Fox News on Wednesday, said lawmakers opposing McCarthy are playing a "dangerous game," and urged support for the GOP leader.
TRUMP WARNS LAWMAKERS OPPOSING MCCARTHY FOR SPEAKER ARE PLAYING A 'DANGEROUS GAME,' THE DEAL MUST GET DONE
"Let's get this thing over with," Trump told Fox News Digital on Thursday. "I think it is a dangerous game, and, frankly, if they are not happy with him, they can do something about it at a later date."
After casting two votes for Trump, Gaetz formally nominated the former president for speaker in the eleventh round of voting Thursday night.
"I nominate President Trump because we must make our country great again, and he can start by making the House of Representatives great again," Gaetz said to the House chamber.
Trump received a sole vote from Gaetz on the eleventh ballot with McCarthy receiving 200, Rep.-elect Byron Donalds of Florida receiving 12, and Rep.-elect Kevin Hern of Oklahoma receiving seven. The Democratic nominee for speaker, Rep.-elect Hakeem Jeffries of New York, received 212 votes from his caucus.
5. Treading Waters
Rep.-elect Maxine Waters of California yelled at Rep.-elect Matt Rosendale of Montana on the House floor Thursday, one of 20 Never-Kevin Republicans who are vying for a candidate other than McCarthy to take the position.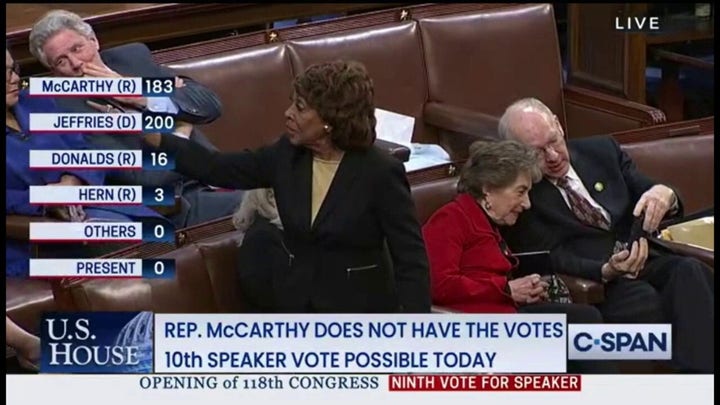 Video
"This is my 9th vote for Hakeem Jefferies," Waters said when called on by the clerk, before turning around and calling out a Republican member. "Matt Rosendale, get it together."
Waters' dig at Rosendale came after he named the California Democrat during his nomination speech an hour earlier.
CLICK HERE TO GET THE FOX NEWS APP
"Last summer we began to negotiate, a group of us in good faith, a list of changes, amendments, to the rules of this body. Not to empower ourselves, not to bring personal benefit to ourselves, but to empower you and you and you, Maxine, and you, and you, and everyone sitting in this chamber equally," Rosendale said.
"There's no rules, I did not use anyone's name… Excuse me, Maxine."
Lawmakers are forbidden to direct comments towards individual members while on the House floor, but as this rule has not been acknowledged by all incoming representatives, the instances in the chamber will be permanently recorded. Cheryl Johnson, the House clerk, reiterated the rule and pleaded for decorum on the House floor Thursday, insisting that members address only the clerk, not individual members.
Fox News' Brooke Singman contributed to this report.